Instrumentl creates easy-to-read 990 Reports based on digitized IRS Form 990s for thousands of private foundation and nonprofits to make it easier for you to find good fit funders like Belhaven University.
If you'd like to get matched to similar funders to Belhaven University, create a free Instrumentl account.
Based on most recent IRS 990 filing (2022)
Questions about this data?
Title
Name
Trustee
Alan Walters See Sch O
Past Chairman Of The Board
Cal Wells See Sch O
Vice Chairman Of The Board
Charles Cannada See Sch O
Trustee
Charles Doty See Sch O
Trustee
Dolphus Weary See Sch O
See more
Trustee
Earl Fyke Iii See Sch O
Trustee
Forrest Berry See Sch O
Trustee
Gaines Sturdivant See Sch O
Trustee
Jerry Young See Sch O
Chairman Of The Board
Jimmy Hood See Sch O
Trustee
Karen Taylor See Sch O
Trustee
Leisha Pickering See Sch O
Trustee
Liza Cirlot Looser See Sch O
Trustee
Mark Windham See Sch O
Trustee
Peter Jernberg See Sch O
Trustee
Rick Whitlock See Sch O
Trustee
Sam Lane See Sch O
Trustee
Scott Castleman See Sch O
Trustee
Steve Edwards See Sch O
Trustee
Tray Hairston See Sch O
Trustee
Verne Kennedy See Sch O
Trustee
Virginia Morris See Sch O
Board Secretary
Wa Taylor Iii See Sch O
Trustee
Wayne Husband See Sch O
Trustee
Will Vise See Sch O
President
Roger Parrott See Sch O
Vp For Adult, Grad & Online
Audrey Kelleher See Sch O
Provost
Bradford M Smith See Sch O
Vp For Enrollment & Univ Mktg
Kevin Russell See Sch O
Vp & Director Of Athletics
Scott Little See Sch O
Vp For University Advancement
Jeffrey L Rickels See Sch O
Vp
Shelley Smith See Sch O
Cfo Start:8/21
Sheryl Vittitoe See Sch O
Cfo End: 10/21
David Tarrant See Sch O
Professor
Eric Harter See Sch O
Head Coach
Samuel Blaine Mccorkle See Sch O
Avp
Rick Upchurch See Sch O
Avp
David Potvin See Sch O
Avp
Stephanie Steelman See Sch O
Don't miss out on other good fit funders!
See even more similar funders by creating a free 14-day account. Get personalized grant recommendations, tracking and more.
"Through Instrumentl, I was able to accomplish in 6 hours...SIX HOURS...what would have taken days or weeks with [another] search engine."

The funder insights you need
start your free trial & get a competitive edge
SAMPLE DATA
For preview purposes only;
not actual funder's data
Grant Amounts
Easily see the range of award sizes given over time. See key stats such as the most common award size, min/max, and more.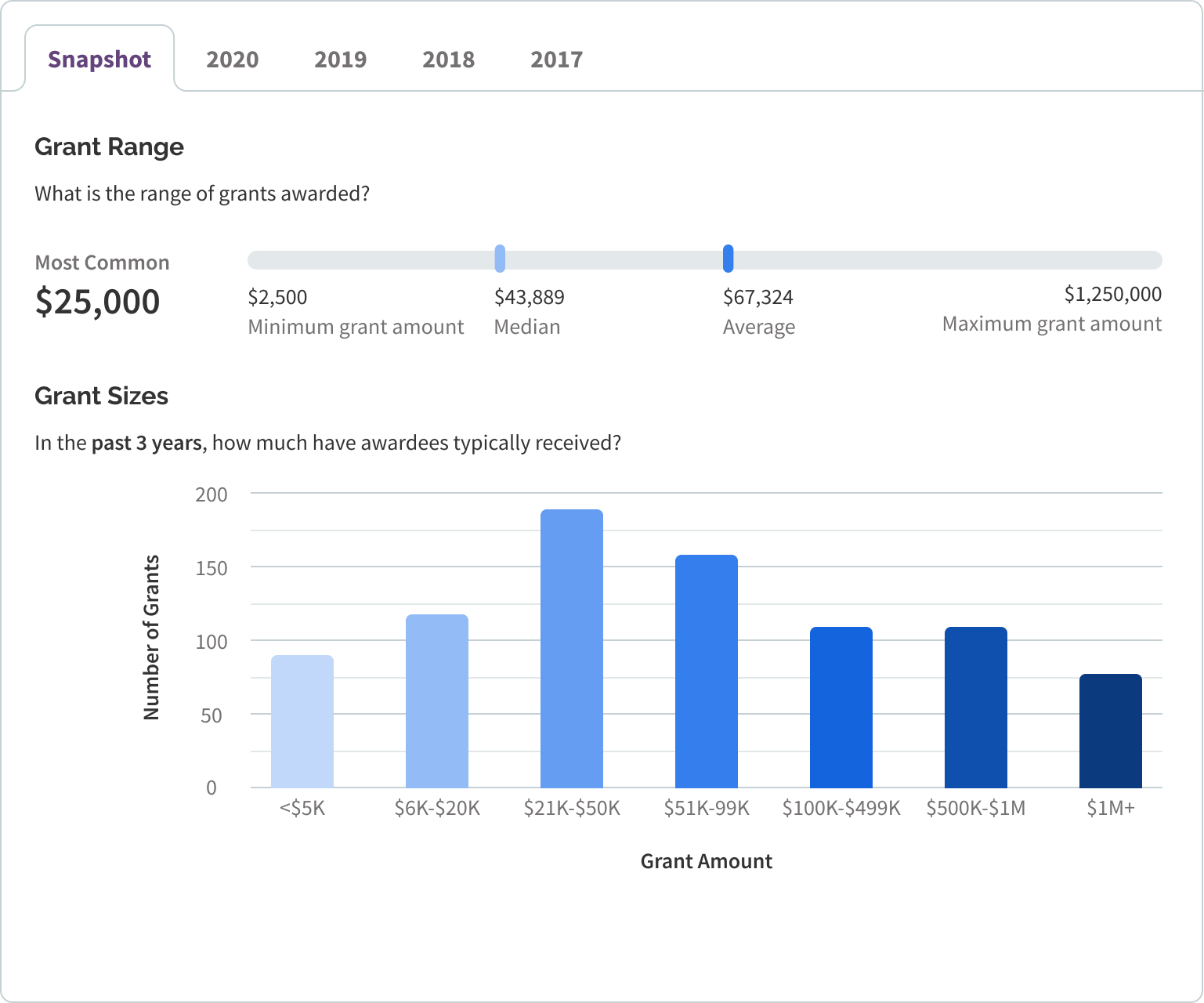 Openness to New Awardees
At a glance, see past and new awardees. See a snapshot over the past three years or dive into individual awards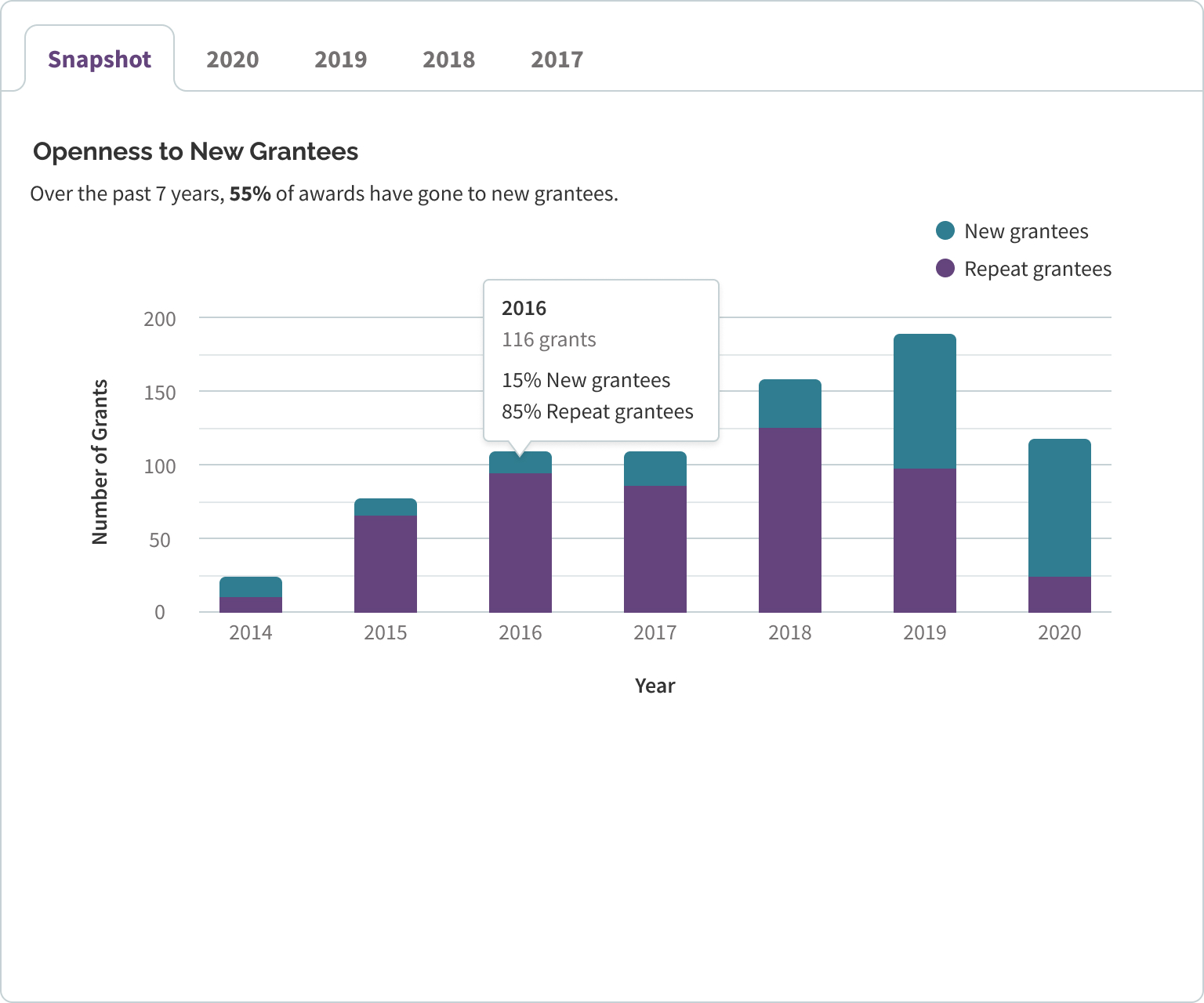 Category Insights
Find out funders' interests by seeing their top giving categories. Drill down into giving patterns per category.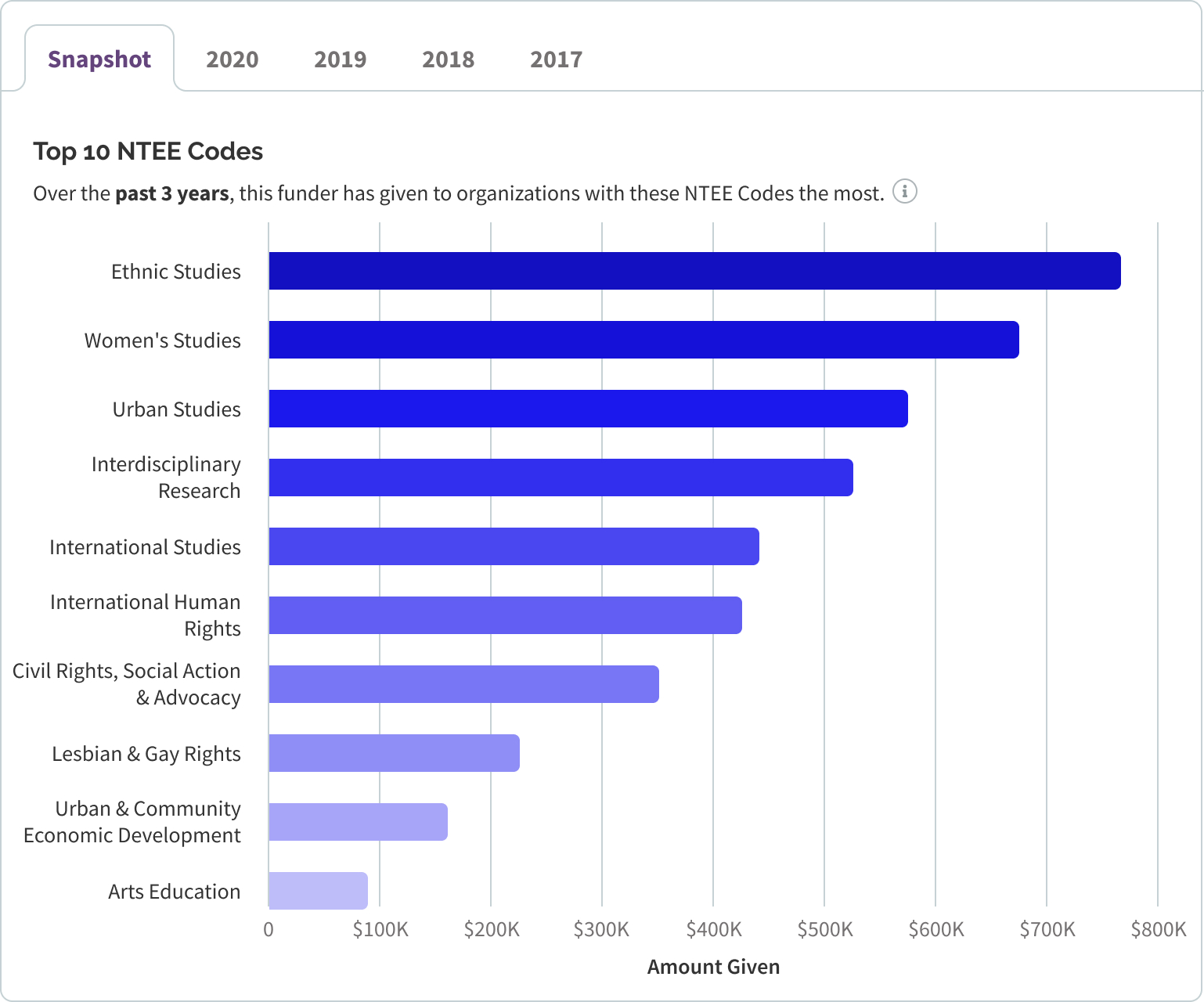 Previous

Next