Instrumentl creates easy-to-read 990 Reports based on digitized IRS Form 990s for thousands of private foundation and nonprofits to make it easier for you to find good fit funders like Berklee College Of Music Inc.
If you'd like to get matched to similar funders to Berklee College Of Music Inc, create a free Instrumentl account.
Based on most recent IRS 990 filing (2022)
Questions about this data?
Title
Name
President (End 7/21)
Roger H Brown
President (Begin 07/21)
Erica Muhl
Trustee
G Leonard Baker
Trustee
David Clem
Trustee
John Connaughton
See more
Trustee
Cynthia Curme
Trustee (End 3/22)
Carla Martinez Denicola
Co Vice Chair (End 3/22)
Michael R Eisenson
Trustee
Emilio Estefan
Trustee
Gloria Estefan
Trustee
Francesca Frederick
Trustee
David Gross Loh
Trustee
Josh Gruss
Trustee
Thomas Hagerty
Trustee
Charles Hirschorn
Trustee
Steven Holtzman
Trustee (Begin 03/22)
Bill Kaiser
Trustee (End 10/21)
Bj Krintzman
Trustee (End 3/22)
Sara Lawrence Lightfoot
Trustee
Mie Kyung Lee
Co Vice Chair
Martin Mannion
Trustee
Hassell Mcclellan
Trustee
Jane Mendillo
Trustee
Frederick T Miller
Trustee (Begin 03/22)
Peter Muller
Trustee
Robert Murley
Trustee
Anthony Pangaro
Trustee
Jon Platt
Trustee
Snow Qin
Trustee
Alex Rigopulos
Trustee
Steve Ruchefsky
Trustee
Jeff Shames
Trustee
David Scott Sloan
Trustee
Darius Sidebotham
Trustee
Susan Solomont
Trustee
Elizabeth Carillo Thomas
Trustee
Paul D Wachter
Trustee
Tarik Ward
Chair Of The Board
Susan Whitehead
Trustee
Andy Youniss
Trustee
Marillyn Zacharis
Trustee (End 3/22)
Barry Zubrow
Sr Vice President/Treasurer
Richard Hisey
Executive Director (End 5/22)
Cathleen Young
Secretary
Melissa Howe
Senior Vice President
Lawrence J Simpson
Senior Vice President
Deborah Cavalier
Senior Vice President
Elizabeth Newman
Senior Vice President (End 5/22)
Cynthia Link
Vice President (End 5/22)
Michael King
Vice President (End 10/21)
David Gregory
Vice President
Thomas Riley
Don't miss out on other good fit funders!
See even more similar funders by creating a free 14-day account. Get personalized grant recommendations, tracking and more.
"Through Instrumentl, I was able to accomplish in 6 hours...SIX HOURS...what would have taken days or weeks with [another] search engine."

The funder insights you need
start your free trial & get a competitive edge
SAMPLE DATA
For preview purposes only;
not actual funder's data
Grant Amounts
Easily see the range of award sizes given over time. See key stats such as the most common award size, min/max, and more.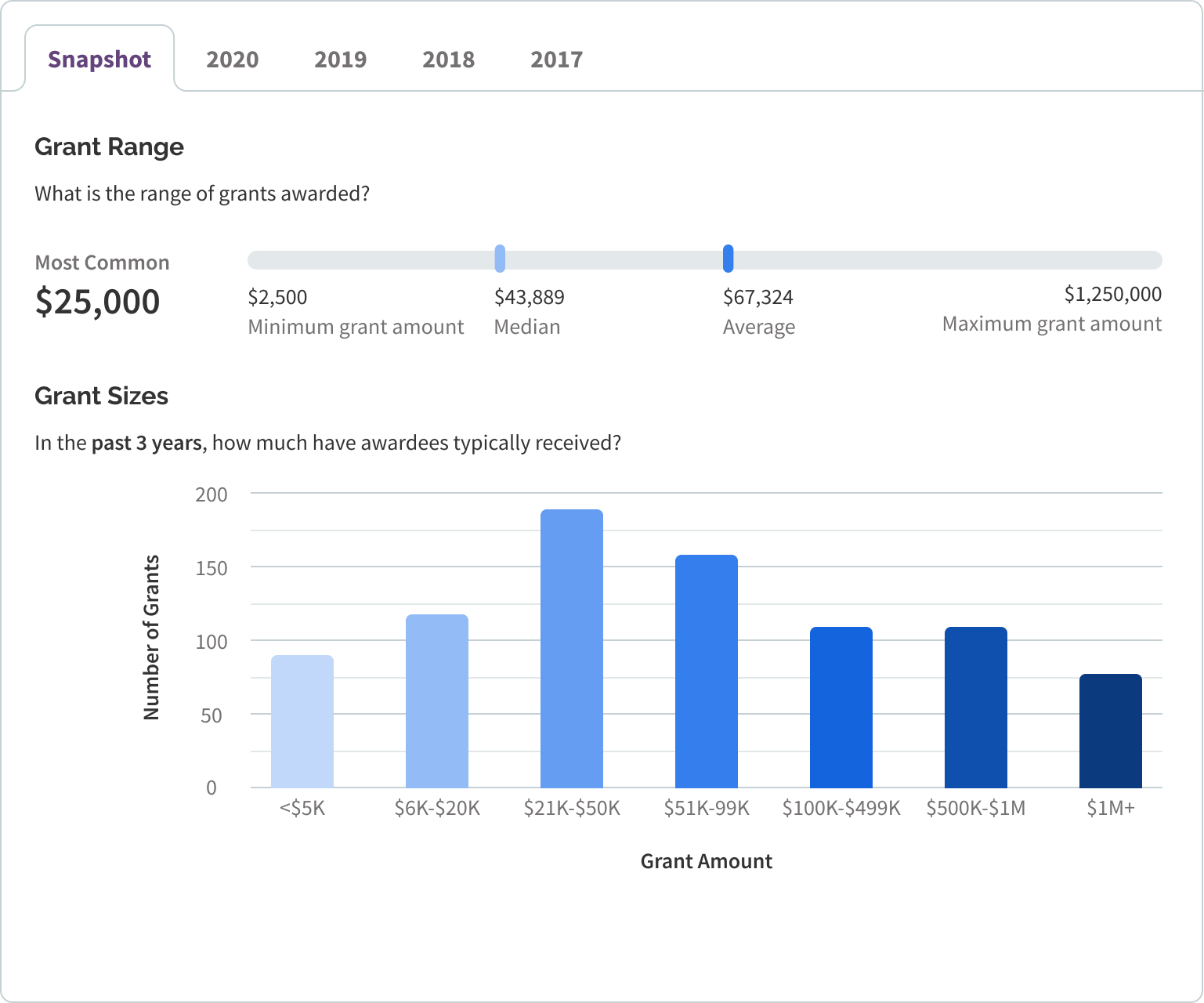 Openness to New Awardees
At a glance, see past and new awardees. See a snapshot over the past three years or dive into individual awards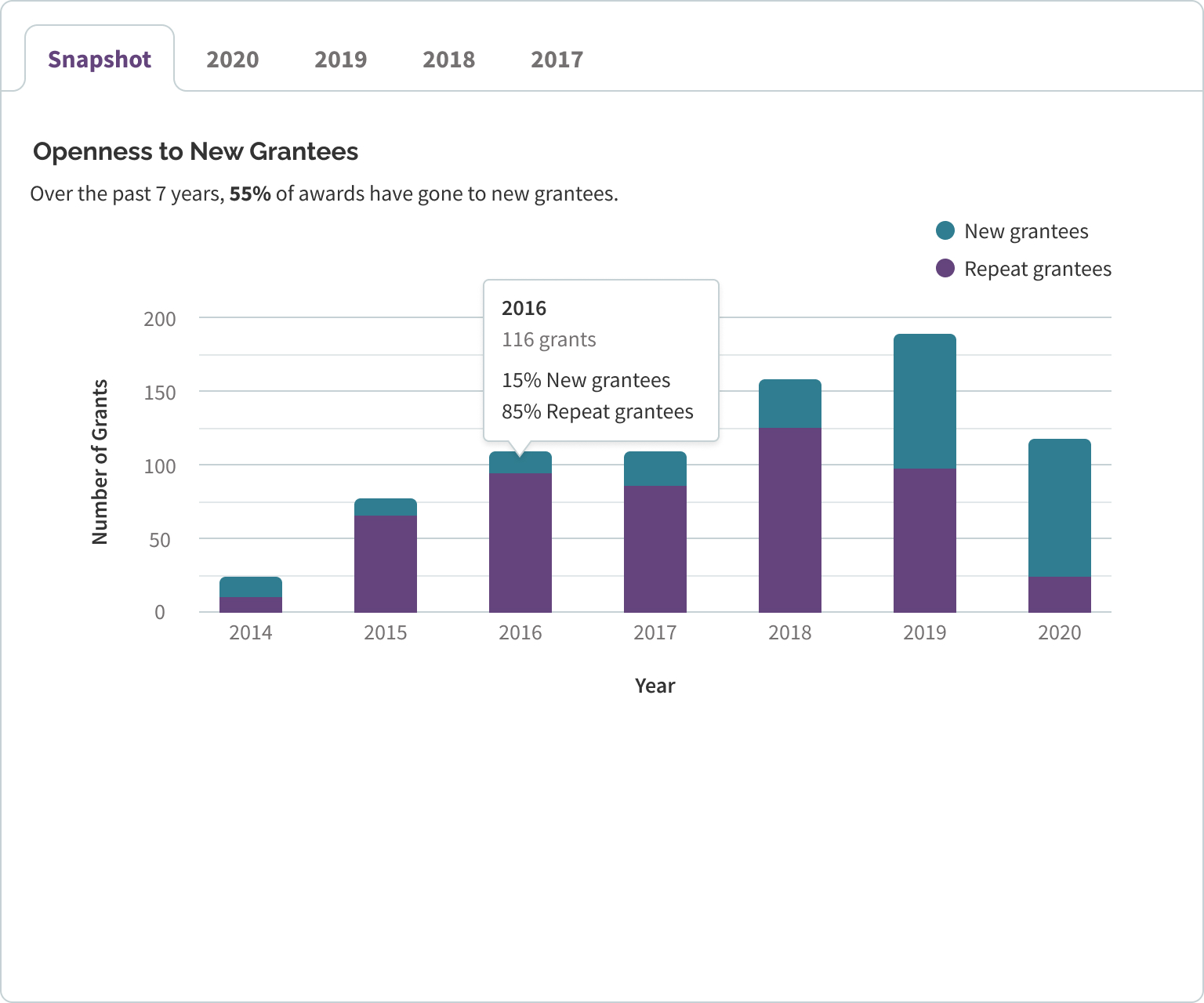 Category Insights
Find out funders' interests by seeing their top giving categories. Drill down into giving patterns per category.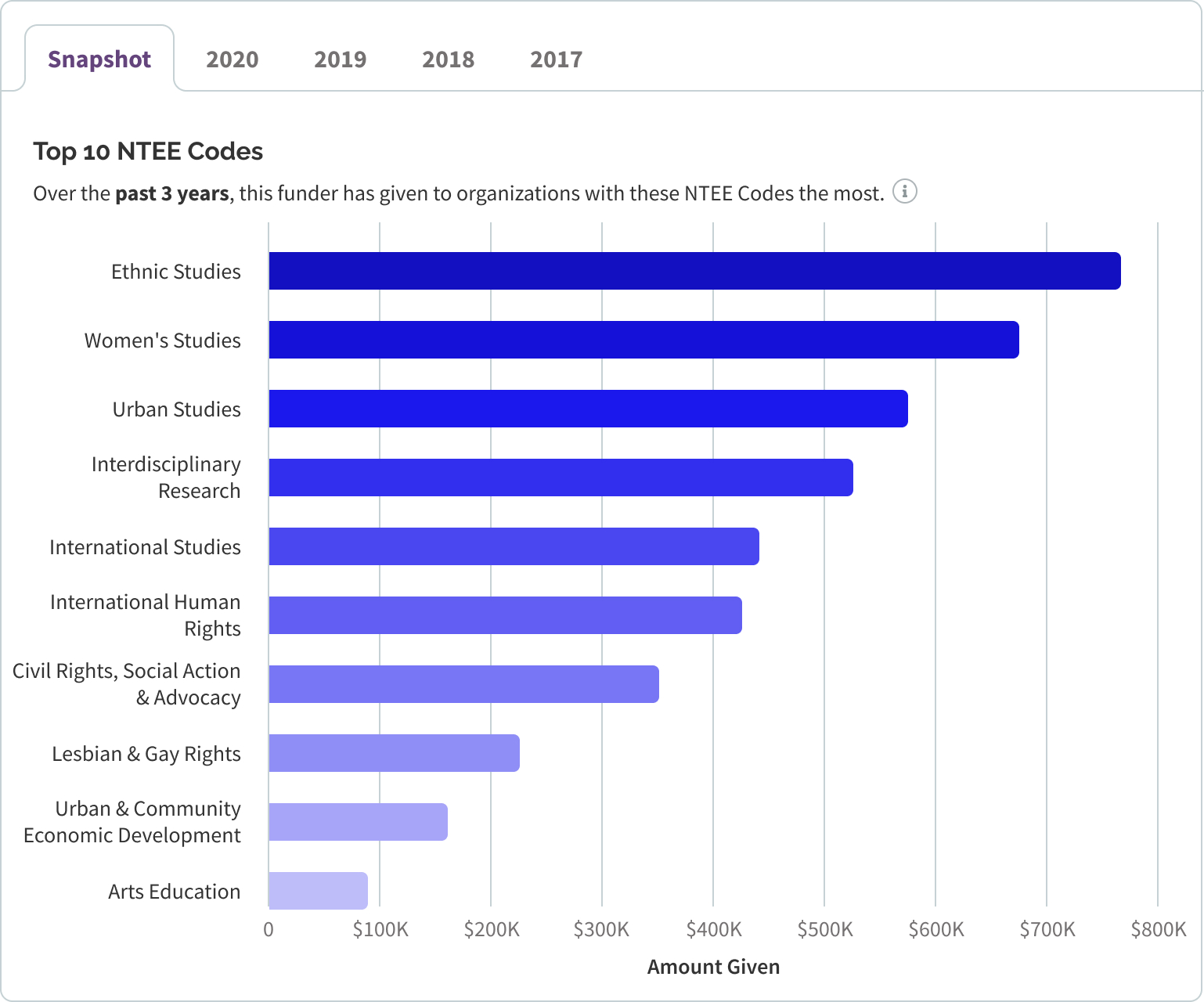 Previous

Next