Instrumentl creates easy-to-read 990 Reports based on digitized IRS Form 990s for thousands of private foundation and nonprofits to make it easier for you to find good fit funders like Brown University.
If you'd like to get matched to similar funders to Brown University, create a free Instrumentl account.
Based on most recent IRS 990 filing (2021)
Questions about this data?
Title
Name
Vp & Chief Investment Officer
Jane Dietze
President/Fellow
Christina Paxson
Exec Vp Of Fin And Admin
Barbara Chernow
Ceo Of Investment Office
Joseph Dowling
Managing Director
Joshua T Kennedy
See more
Provost
Richard Locke
Sr Vp For Health Affairs
Jack Elias
Managing Director
Peter Levine
Svp For Advancement
Sergio Gonzalez
Chair Of Medicine
Louis Rice
Head Of Operations Investments
Erica Nourjian
Professor Of Medical Science
William Cioffi
Dean Of The Faculty
Kevin Mclaughlin
Vp Of Research
Jill Pipher
Vp For Facilities Mgmt
Michael Guglielmo
Vice President For Fin & Cfo
Michael White
Professor Of Epidemiology
David Savitz
Professor Of Chemistry
Vicki Colvin
Vp For Fin & Cfo
Joseph S Calhoun
Senior Fellow/Trustee
Pamela Reeves
Chancellor/Trustee
Samuel M Mencoff
Vice Chancellor/Trustee
Alison S Ressler
Secretary/Fellow
Richard A Friedman
Treasurer/Trustee
Theresia Gouw
Fellow
Sangeeta N Bhatia
Fellow
Laura Geller
Fellow
Jim Yong Kim
Fellow
Brian T Moynihan
Fellow
Jonathan M Nelson
Fellow
Thomas J Tisch
Fellow
Jerome C Vascellaro
Fellow
Peter S Voss
Trustee
Maria T Zuber
Trustee
John C Atwater
Trustee
Bernadette Aulestia
Trustee
Preetha Basaviah
Trustee
Brian A Benjamin
Trustee
Amanda Boston
Trustee
Orlando Bravo
Trustee
Kate Burton
Trustee
A Richard Caputo Jr
Trustee
Guoqing Chen
Trustee
Brickson E Diamond
Trustee
Joseph E Edelman
Trustee
John B Ehrenkranz
Trustee
Jill Furman
Trustee
Charles H Giancarlo
Trustee
Oliver Haarmann
Trustee
Libby A Heimark
Trustee
Galen V Henderson
Fellow
Jeffrey F Hines
Trustee
Mitchell R Julis
Trustee
Pablo G Legorreta
Trustee
Frayda B Lindemann
Trustee
Jennifer B Moses
Trustee
Perri A Peltz
Trustee
Barry Rosenstein
Trustee
Pablo J Salame
Trustee
Sara Leppo Savage
Trustee
Zachary J Schreiber
Trustee
Matthew I Sirovich
Trustee
Preston C Tisdale
Trustee
Donna Mcgraw Weiss
Trustee
Nancy G Zimmerman
Fellow
Joan Wernig Sorenson
Trustee
Marcia Dunn
Trustee
Robert P Goodman
Trustee
Alan G Hassenfeld
Trustee
Earl E Hunt Ii
Trustee
Divya Mehta
Trustee
Joelle A Murchison
Trustee
Greg Penner
There were 183 awards in 2021. Who received these awards, and where are they located?
There were 157 awards in 2020. Who received these awards, and where are they located?
There were 153 awards in 2019. Who received these awards, and where are they located?
There were 131 awards in 2018. Who received these awards, and where are they located?
There were 134 awards in 2017. Who received these awards, and where are they located?
There were 118 awards in 2016. Who received these awards, and where are they located?
Don't miss out on other good fit funders!
See even more similar funders by creating a free 14-day account. Get personalized grant recommendations, tracking and more.
"Through Instrumentl, I was able to accomplish in 6 hours...SIX HOURS...what would have taken days or weeks with [another] search engine."

The funder insights you need
start your free trial & get a competitive edge
SAMPLE DATA
For preview purposes only;
not actual funder's data
Grant Amounts
Easily see the range of award sizes given over time. See key stats such as the most common award size, min/max, and more.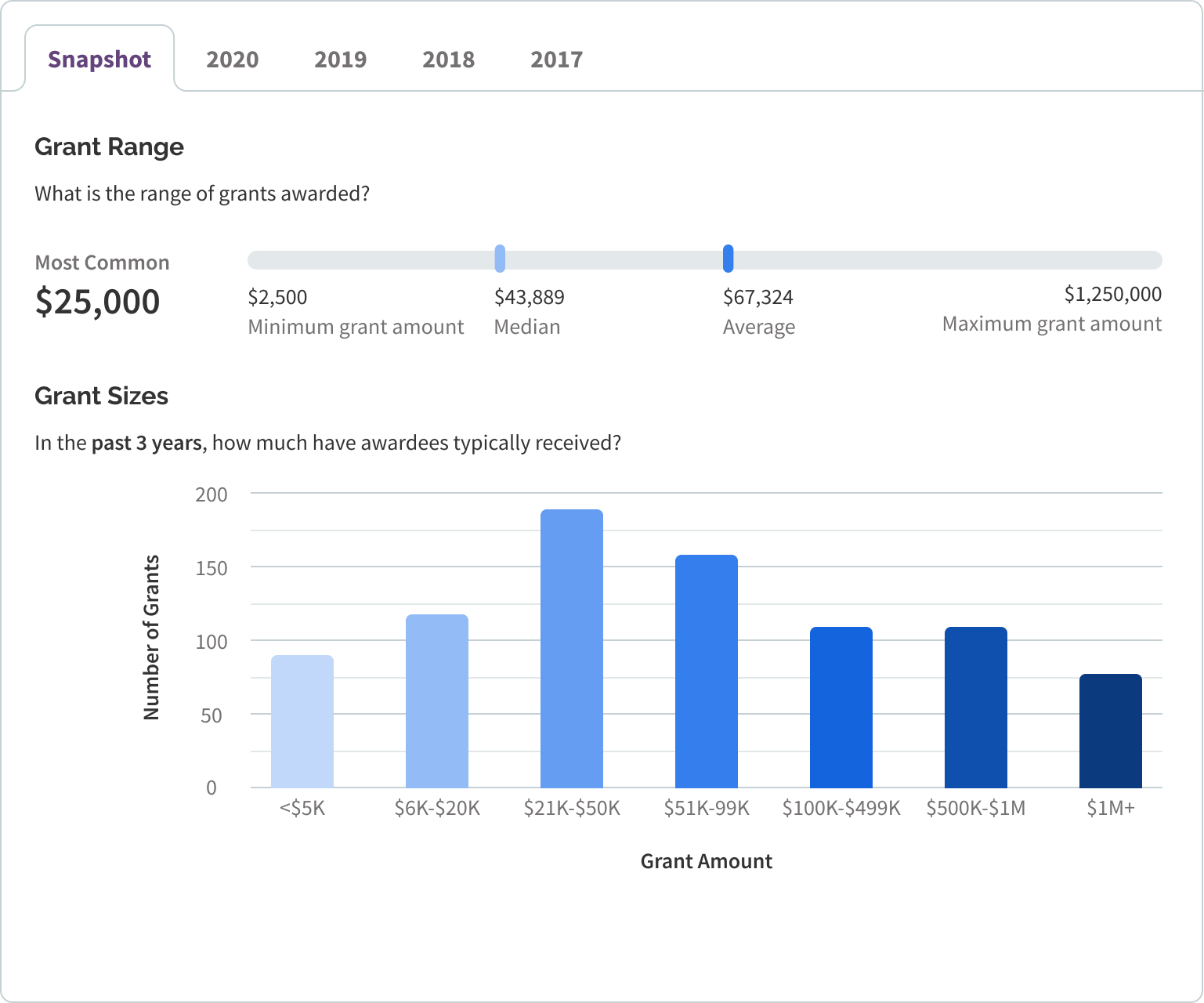 Openness to New Awardees
At a glance, see past and new awardees. See a snapshot over the past three years or dive into individual awards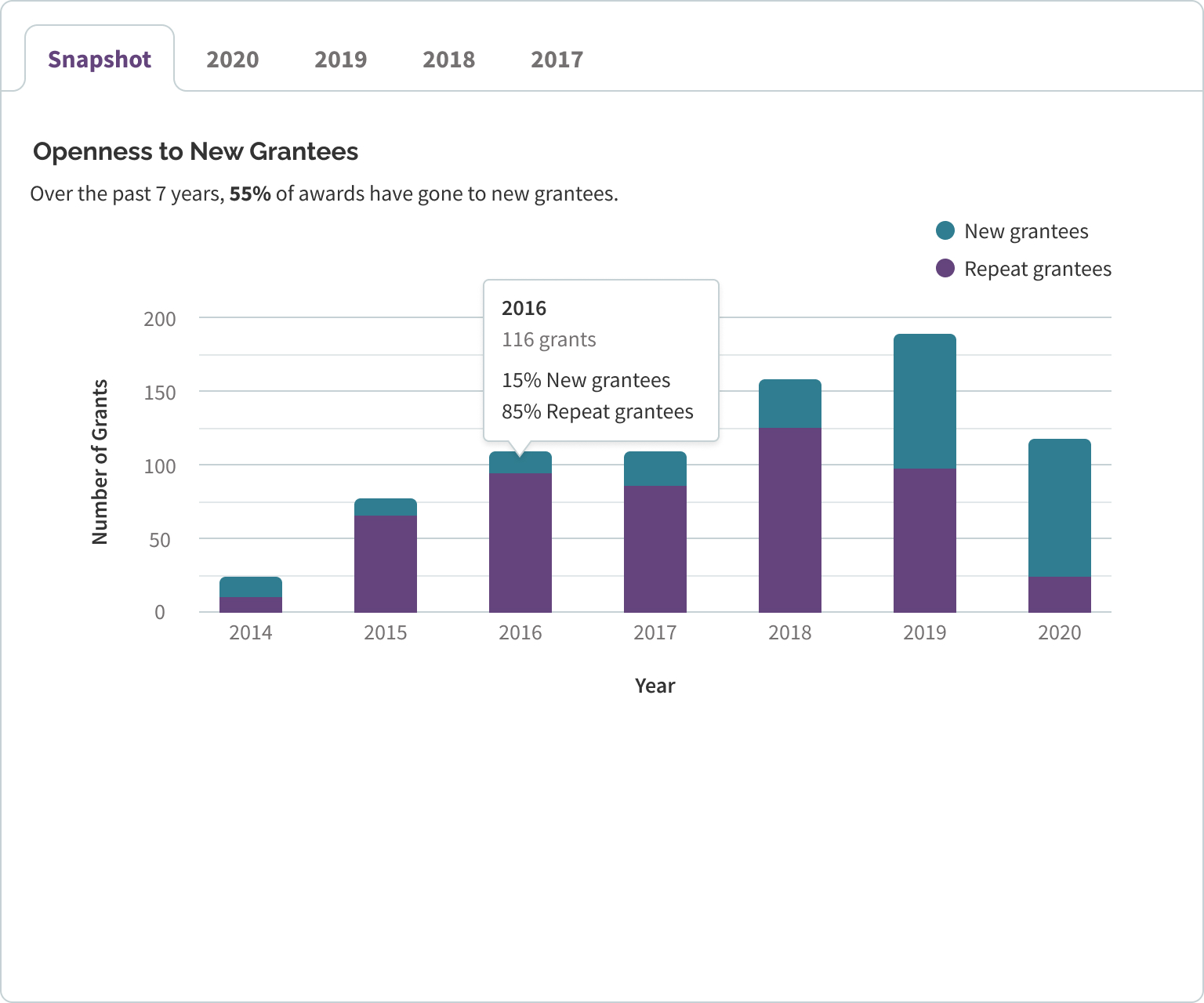 Category Insights
Find out funders' interests by seeing their top giving categories. Drill down into giving patterns per category.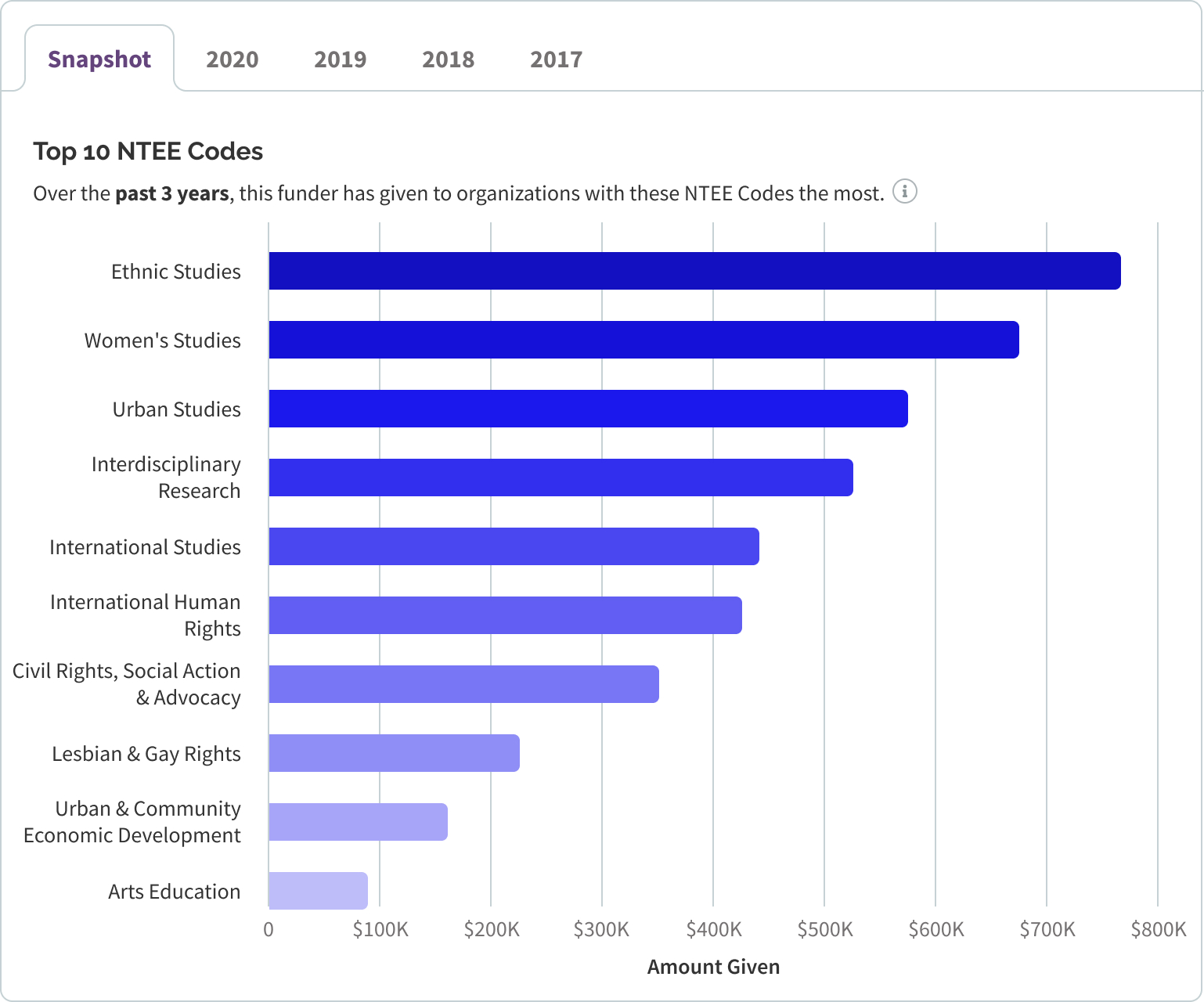 Previous

Next