Instrumentl creates easy-to-read 990 Reports based on digitized IRS Form 990s for thousands of private foundation and nonprofits to make it easier for you to find good fit funders like Catholic Charities Of The Archdiocese Of Galveston Houston.
If you'd like to get matched to similar funders to Catholic Charities Of The Archdiocese Of Galveston Houston, create a free Instrumentl account.
Based on most recent IRS 990 filing (2022)
Questions about this data?
Title
Name
Director
Alex Borlenghi
Vice Chair
Alicia Reggie Freysinger
Director
Avalyn Langemeier
Director
Bichlan N Thai
Director
Cheryl Malden
See more
Director
Chuck Gremillion
Director
Daniel Cardinal Dinardo
Director
David Doherty
Director
David Harvey Jr
Director
David Titus
Director
Debbie Kemple
Treasurer
Dennis Malloy
Secretary
Elizabeth Husseini
Past Chair
Ellen Ginty
Director
Francois Bardi
Director
Gene Reed
Director
Greg Turner
Director
Gregory Phillips
Chair
Gretchen Penny
Director
Jacqueline Moy
Director
Jim Stevenson
Director
John Gillespie
Director
John Rossettie
Director
Karen White
Director
Karina Amelang
Immediate Past Chair 2021
Kevin Rech
Director
Mark Serice
Director
Michael Mengis
Director
Mimi Ribeiro
Director
Patrick Leung
Director
Paul Layne
Director
Pius Leung
Director
Reginald Samuels
Director
Rosaliz Ufret
Director
Soledad Tanner
Ex Oficio
Sr Maureen O' Connell
Director
Stan Marek
Vice Chair 2021
Steve Gilliland
Director
Susanne H Sullivan
Director
T Douglas Lawson
Director
Tommy Hernandez
Secretary
William Bill Neeson Iii
Chief Operating Officer
Bart Ferrell
President/Ceo
Cynthia Colbert
Vp Of Development & Stewar
Brian Gillen
Vp Finance
Carisa Jacquenette Hill
Vp Of Legal Services
Constance Linbeck Casey
Senior Vp Of Programs
Natalie Wood
Vp Of Case Management And
Shannon Strother
Don't miss out on other good fit funders!
See even more similar funders by creating a free 14-day account. Get personalized grant recommendations, tracking and more.
"Through Instrumentl, I was able to accomplish in 6 hours...SIX HOURS...what would have taken days or weeks with [another] search engine."

The funder insights you need
start your free trial & get a competitive edge
SAMPLE DATA
For preview purposes only;
not actual funder's data
Grant Amounts
Easily see the range of award sizes given over time. See key stats such as the most common award size, min/max, and more.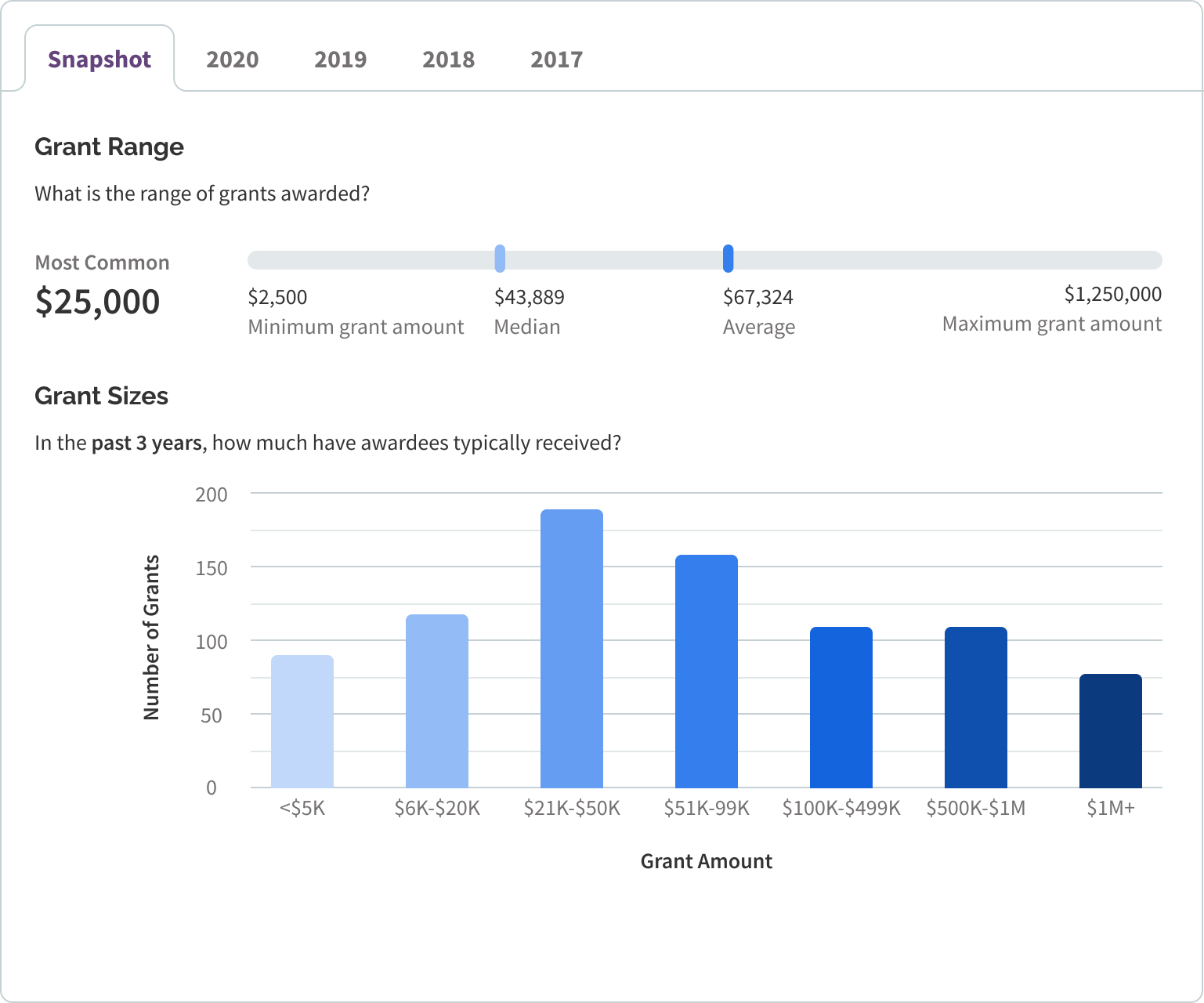 Openness to New Awardees
At a glance, see past and new awardees. See a snapshot over the past three years or dive into individual awards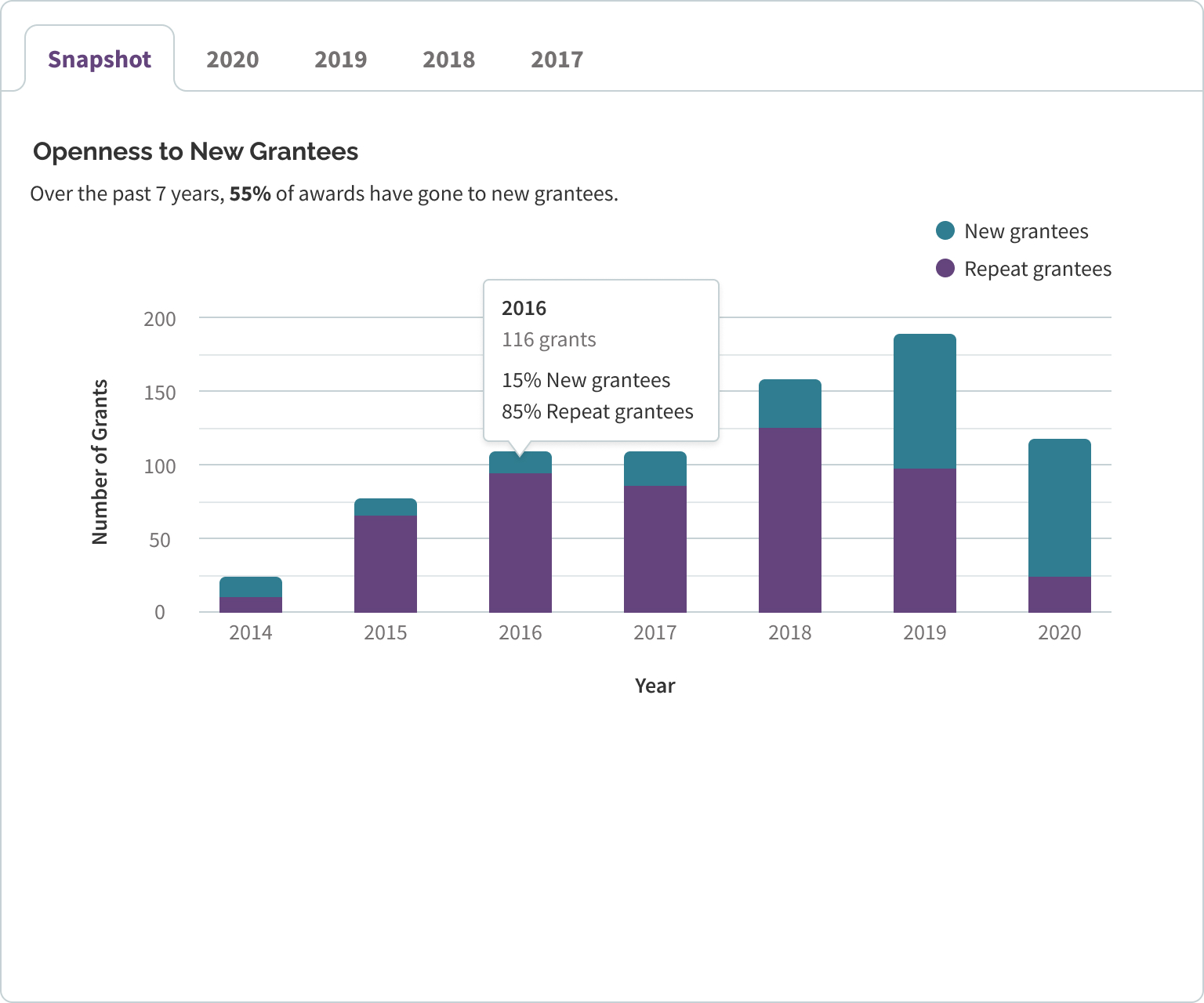 Category Insights
Find out funders' interests by seeing their top giving categories. Drill down into giving patterns per category.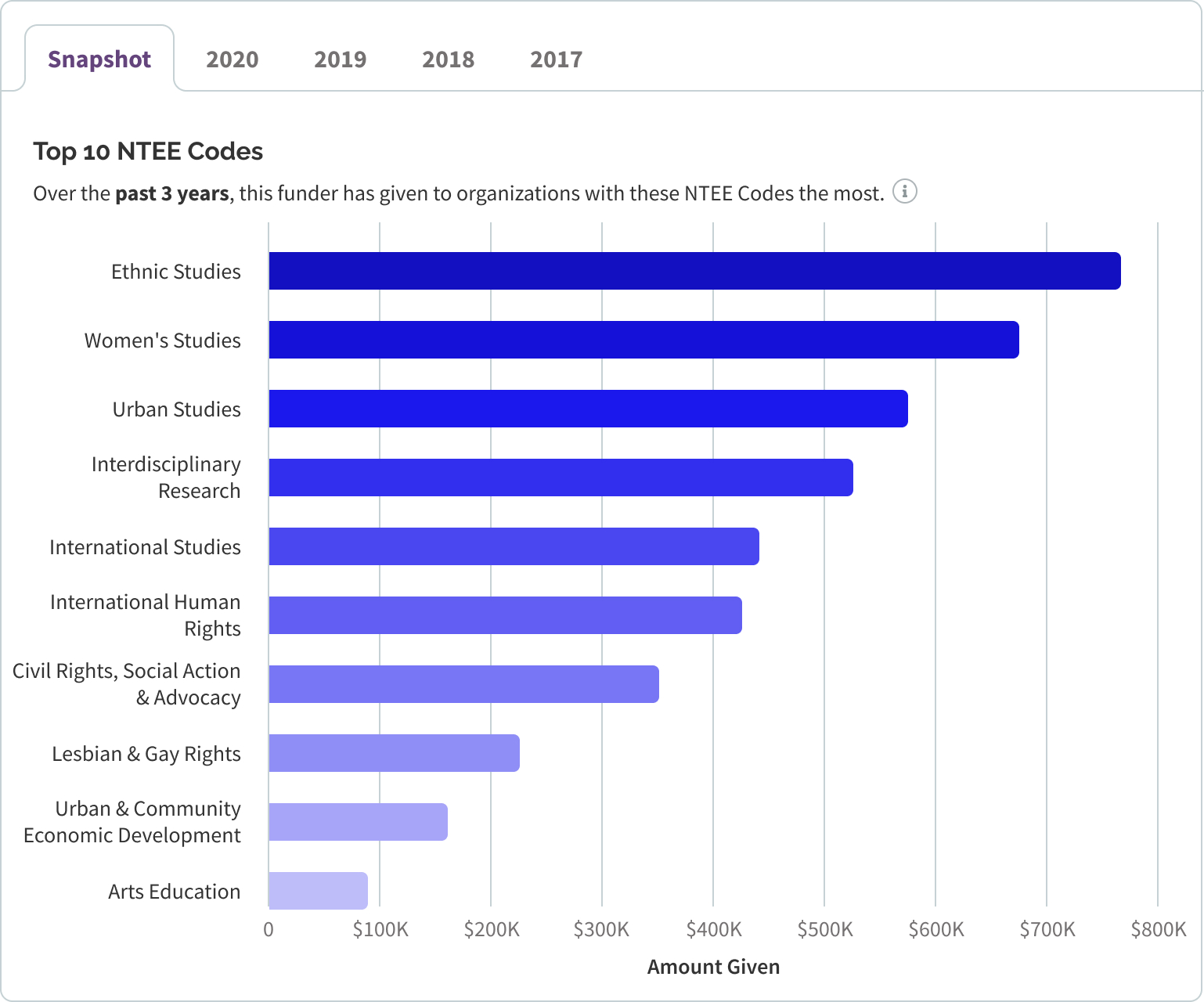 Previous

Next