Instrumentl creates easy-to-read 990 Reports based on digitized IRS Form 990s for thousands of private foundation and nonprofits to make it easier for you to find good fit funders like Cleveland Clinic Foundation.
If you'd like to get matched to similar funders to Cleveland Clinic Foundation, create a free Instrumentl account.
Based on most recent IRS 990 filing (2019)
Questions about this data?
Notice: The Internal Revenue Service (IRS) is delayed in releasing 990 filings from 2021 and 2022. Due to this delay, 990 information available on Instrumentl may not represent the most recent 990s filed by the organization. Instrumentl's 990 pages will be updated automatically as soon as the IRS releases this information.
Title
Name
Former Off Ccf, Cc London Ceo
Donley Md Brian
Director, Pres & Ceo Ccf
Mihaljevic Md Tomislav
Retired Physician (Part Yr)
Kranyak Md Margaret
Physician Ccf
Brooks Md Peter
Ceo Ccad
Suri Md Rakesh
See more
Director Cc Fla Reg Hs, Coo Ccf
Peacock William
Chief Academic Off Ccad
Tuzcu Md E Murat
Director, Cfo & Treas Ccf
Glass Steven C
Physician Ccf
Najm Md Hani
Dir, Sec, Chief Gov Off, Chief Legal Off Ccf
Rowan David
Chair Hvi Ccf
Svensson Md Lars
Dir, Chief Of Staff Ccf
Wiedemann Md Herbert
Dir, Ceo, Pres Cc Fla Reg Hosps
Barsoum Md Wael
Inst Chair Cole Eye
Martin Md Daniel
Former Officer
Erzurum Md Serpil
Dir Ccf, Ccef, Reg Hosp, Physician
Gutierrez Md James
Dir Cc Fla Reg, Martin, Irmh, Chief Of Staff
Iannotti Md Joseph
Director, President Martin
Lord Robert
Hos Pres Hillcrest & East Region
Parker Md Richard
Treasurer/Cfo/ Asst Treas (Martin)
Cleaver Charles
Director Kma, Physician
Machado Md Andre
Dir, Pres, Cc Main, Reg Hosps, Fhcs
Sabanegh Md Edmund
Former Key Employee
Muakkassa Md Farid
Former Key Employee Fairview
Small Deborah
Chief Academic Off Ccf & Ccef
Young Md James P
Former Officer
Mchugh Linda
Chief Medical Officer Ccms
Miller Md Charlie
Former Ccf Ceo, Exec Advisor
Cosgrove Md Delos
Hospital President Euclid Hosp
Dews Md Teresa
Trustee Ccchr, Physician
Borden Md Brad
Hospital President Lutheran
Malone Jr Md Donald
Director, President Cchspa
Rasmussen Md Peter
Trustee, President Weston
Blandon Md Rodolfo
Former Officer
Nogueras Md Juan
Former Officer
Rosenthal Md Raul
Former Key Employee
Abdenour Stephen
Dir Cc Fla Reg, Union, Strategy Off
Beran Josette
Dir, President Agmc & South Reg
Harte Md Brian
Director, President Indian River
Rosencrance Md J Gregory
Hospital President Avon
Starck Md Rebecca
Dir Ccf, Ccef & Reg Hosp, Physician
Isaacson Md J Harry
Dir, Chair Ppg, Physician
Bologna Md Raymond
Former Officer
Hamilton Thomas
Asst Sec Mmhsi
Thomas Ramona
Vp Coastal Care
Flippo Libby
Dir Agmc, Lodi, Physician
Breaux Md Todd
Secretary Coastal Care
Petry Do Fernando
Pres Mm & Euclid (Part Yr)
Napierkowski Md Daniel
Dir, Pres, Sec Ccf Ny Med Svcs
Grooff Md Paul
Dir Agmc, Lodi, Physician
Horattas Md Mark
Ccef Chair, Education Inst
Stoller Md James
Dir Kma, Philanthropy Chair
Kalafatis Lara
Dir Kma, Cao & Controller Ccf
Longville Timothy
Dir, Asst Sec, Gen Counsel Weston
Del Castillo Barbara
Former Officer
Piedimonte Md Giovanni
Dir Agmc, Lodi, Physician
Thompson Md Thomas
Director Agp, Vns, Coo
Papa Alan
Director Irhs, Physician
Peter Md David
Director, Secretary Hsiri
Larcombe Valerie
Dir, Pres S Pointe Hosp
Mckenzie Md Margaret
President Fairview & West Reg
Smith Do Neil
Director (Fla Pharm), Cfo Ccfps
Nilsson Keith
Dir Agmc, Lodi, Physician
Talmage Md Lance
Dir, Vice Chair Ppg, Physician
Fenton Md Andrew
Former Key Employee
Wright Md Dennis
Director, Coo Cc Fla Reg
Delgado Osmel
Asst. Secretary Ccf, Ccef
Davis Marleina
Director Coastal Care, Physician
Vickers Md Jean
Former Officer
Slifko Jessica
Trustee, President Union
James Bruce
Director Ppg, Physician
Russell Md Rebecca
Director, Secretary Agp
Barrett Lisa
Trustee, Interim Pres Ccchr
Pappas Md Rita
Dir Kma, Physician
Sabbagh Md Marwan
Vice President Clinic Care
Smith Brian
Director Agmc, Lodi, Physician
Zink Md Jill
Director, Vp/Cpo Mmfi
Mclain Jessica
Dir Lrbi, Cao/Controller, Assoc Cfo Ccf
Harrington Michael
Dir Agmc, Lodi, Physician
Sheers Md Titus
Dir Agmc, Lodi, Union, Oh Reg Cfo
Chhabra Ankit
Recording Sec Ccf, Regionals
Meehan Michael J
Hospital President Medina
Shewbridge Md Richard
Trustee Union Hosp, Physician
Lash Ritter Md Teri
President Ppg
Davis Do Dennis
Director Ppg, Physician
Matt Amaral Md Laurie
Director Ppg, Physician
Chandurkar Do Rohit
Coo Hillcrest, Marymount Hosp
Kolonick Renee
Former Key Employee
Mackett Md Charles
Former Officer
Ford Md Donald
Dir Agmc, Lodi, Exec Dir Reg Hosp
Bennett Kris
Trustee, President Ccchr
Murray Md Karen
Coo South Pointe
Bruyere John
Trustee Lakewood, Physician
Freeman Md Richard B
Former Officer
Davidson Md Elliot
Former Officer
Juhasz Do Robert
Dir Health Sys Of Indian River, Coo
Turner Ralph
Coo Fairview & Avon
Mills John
Former Officer (Retired)
Susi Jeffrey
Vp Nursing, Cno Hillcrest
Collier Susan
Cno Cc Fla Region
Major Kerry
Former Officer
Meyerhoefer Todd
Dir Agmc, Lodi, Ppg, Physician
Harley Do Douglas
Trustee, Med Dir Ccchr, Physcian
Marks Do Michelle
Director Mmfi, Asst Treas Ccc
Moehring Michael
Director, Chief Med Off Ppg
Braman Do Kenneth
Former Officer
Tulisiak Md Thomas
Dir Agmc, Lodi, Physician
Mendiola Md Amanda
Director Med Hosp Fdn, Coo
Snyder Vicky
Director Ppg, Physician
Greene Md Kathie
Former Key Employee
Carroll Donald
Cno Aghs
Miller Sheila
Director Ppg, Physician
Markovich Md Renee
Former Officer
Thorn Iii Eugene A
Director Med Hosp Fdn, Physician
Sheridan Md Catherine
Former Key Employee
Ribley Douglas
Trustee Lakewood, Physician
Bekeny Md James
Cno Marymount
Zinner Barbara
Director Kma, Physician
Cummings Jeffrey
Former Key Employee
Foster Susan
Former Key Employee
Vanlith Richard
Vice President Coastal Care
Clark Cno Susan
Coo Cc Fla Health Sys
Espinosa Alexis
President, Director Vns
Mullen Rn Mba Karen
Director, Treas Indian River
Eighmy George
Former Officer
Funk Md Jonathan R
Director, Treasurer Agp
Frigo David
Cno Avon
Sauer Mary
Cno Euclid Hospital
Bailey Dawn
Cno Fairview
Thoburn Mary Beth
Cno Euclid Hospital
Lowery Richard
Former Key Employee
Bibens Todd
Asst. Sec Ccf & Regionals
Oblander Jason
Cno Indian River
Walton Linda
Director, Secretary Agp
Williams Emily
Cno Lutheran Hospital
Schuster Janet
Trustee Union, Cno Medina
Fetto Julie
Coo Euclid
Stepp Leonard
Trustee Ccchr, Physician
Rome Md Ellen
Cno Union
Kocsis Dana
Admin Director Cc Nv
Vidmar Erick
Former Officer
Vanhorn Amanda
Coo Marymount Hosp
Kane Percival
Former Officer
Craig Robert
Former Key Employee
Fuller Warren
Former Key Employee
Schmiedel Justin
Former Officer
Smith Darwin K
Director Ppg,Fhc Admin
Grubb Michelle
Director, Vp Kma
Modic Md Michael
Director Ppg, Physician
Madasz Md Jim
Former Officer
Beck Chris
Coo Lutheran Hospital
Mattner Matthew
Vp Nursing & Ops Lodi
Baker John T
Director Ppg, Medical Staff Admin
Sahadi Lee
Sr. Director Of Philanthropy
Morris Delesa
President Ppg
Alvarez Md Benito
Trustee Lakewood, Physician
Culley Md Carl A Jr
Former Officer Ir
Bruner Lisbeth
Director, Secretary Medina
Mau Kathleen
Former Key Employee (Retired)
Lytle Md Bruce W
Director, Sec Medina Hosp Fd.
Finding Msn Mba Donielle
Director Ppg, Administrator
Elliott Sarah
Former Officer (Retired)
Hahn Md Joseph
Former Officer
Boyd Diana
Former Key Employee (Retired)
Emmelhainz Larry
Dir Agmc, Lodi, Physician
Litman Md George
Dir Coastal Care, Physician
Edelman Do Dan
Director Kma, Physician
Bernick Md Charles
Director Irmhi, Physician
Brown Md Hal
Director Irmhi, Physician
Ramdev Md Pranay
Trustee Union Hosp Assoc, Physician
Soehnlen Md Michael W
Trustee Lakewood, Physician
Tabbaa Mousab
Director, Vice Chair Vns
Aber Roberta
Dir, Vice Chair Agmc, Lodi
Alemagno Phd Sonia
Director, Bd Chair Uhchf
Andreas Lois
Trustee, Bd Chair Lakewd
Bryztwa Ellen
Dir, Vice Chair Medina Hosp Fd
Carrino Frank
Director, Chair Agmc
Carter Theresa
Trustee, Board Chair Lkwd
Gable Thomas J
Director, Secretary Uhchf
Herzig John
Trustee, Chair Union
Horn Robert A
Director, Bd Chair Medina Hosp Fd
Hunter Ellen
Trustee, Vice Chair Ccchr
Kay Harvey
Trustee, Vice Chair, Treas Union
Laughlin Craig B
Dir, Bd Chair Ccf, Ccef, Reg Hosps
Mooney Beth E
Public Trustee, Pres Lord Fdn
Morris James
Trustee, Asst Sec Ccchr
Neville James R
Trustee, Board Chair Ccchr
O'brien Timothy
Director, Treas Medina
Plazek Ronald
Director, President Lodi
Rice James
Director, Board Chair Ccf
Rich Robert E Jr
Director, Chairman Kma
Ruvo Larry
Dir, Vice Chairman Kma
Ruvo Camille
Dir, Bd Vice Chair Ccf, Ccef, Reg Hosp
Scaminace Joseph M
Director, Chair Vns
Selby Sandra
Director, President Uhchf
Swigart Agnes K
Director, Vice Chair Irhfi
Barefoot Brian
Director, Asst Sec Irhfi
Bauchman Robert W
Director, Vice Chair Irhfi
Clifford J Christopher
Director, Secretary Mmfi
Crowder Mccoy Nancy
Director, Asst Secretary Irhfi
Daly James J
Director, Chair Of Bd (Union)
Gray Kevin
Director, Asst Treasurer Irhfi
Gullquist Herbert
Director, Vice Chair Irmhi
Hammes Michael J
Director, Chair Irmhi
Hockmeyer Phd Wayne
Dir, Vice Chair Med Hosp Fd
Huston William
Director, Chairman Mmfi
Keller John
Director, Secretary Irhfi
Lafage Judith
Director, Vice Chair (Martin)
Lichtenberger William
Dir, Chair Cc Fla Reg Health Sys
Maroone Michael
Director, Vice Chair Mmfi
Mondello James
Dir, Chairman Emeritus Irhfi
Rogers Jr Cb
Director, Chair Mmhsi
Salerno Frederic
Director, Vice Chair Irhfi
Scully William P
Director, Asst Treasurer Irhfi
Tansill Douglas T
Dir, Vice Chair Agmc, Lodi
Treier J Briet
Director, Secretary Mmhsi
Webb Theora
Director, Chair Irhfi
Woodruff Anthony C
Director, Treasurer Irhfi
Zielsdorf Robert L
Public Trustee Lord Fdn
Amos Ret Gen James
Director Ccf, Ccef & Regionals
Auletta Patrick V
Director Ccf, Ccef & Reg Hosp
Benz Michael
Dir Agmc, Lodi, Vns
Billow Charles
Director Ppg
Bradford John
Trustee Lakewood
Brosky Curtis M
Director Irhfi
Brown Kathryn
Trustee Ccchr
Brown Stephen
Dir Agmc, Lodi
Caporale Michael
Director Ccf, Ccef & Reg Hosps
Chack Dennis M
Dir Agmc, Lodi
Cherkala Brian
Trustee Ccchr
Chin Jennifer
Trustee Ccchr
Cole Allison
Director Med Hosp Fdn
Corwin Russell
Trustee Lakewood
Coury Thomas J
Director Ccf, Ccef & Reg Hosps
Crawford Deborah
Director Vns
Crouse James
Dir Agmc, Lodi
Culp Laura
Dir Agmc, Lodi
Davis Carol
Director Kma
Davis Mark
Director Medina
Dunn Lisa A
Director Regional Hospitals
Ebert Phd Robert
Director Medina
Falconi Ronald
Trustee Lakewood
Fancher Jon M Rev
Director Ccf, Ccef & Regionals
Fedeli Umberto P
Dir Agmc, Lodi
Fedorovich Richard
Dir Agmc, Lodi
Feth Willam
Trustee Union
Geib Anne E
Director Kma
Goldstein Sherry
Trustee Lakewood
Gorton William R
Director Medina
Grice Terry
Trustee Ccchr
Gunning David
Director Kma
Gutwald Dennis
Trustee Lakewood
Haber Kenneth
Dir Agmc, Lodi
Harris Richard
Dir Agmc, Lodi
Hayek Md Anthony
Trustee Union
Hershberger Perry
Director Ccf
Hoover Carole
Director Agmc, Lodi
Johnson Cindy
Trustee Union Hosp Assoc
Knisely James E
Director Ccf, Ccef, Reg Hosps
Kohl Stewart
Director Ccf, Ccef, Reg Hosps
Kramer Richard
Director Ccf, Ccef, Reg Hosps
Lerner Mark
Director Ccf, Ccef, Reg Hosps
Lerner Norma
Director Medina Hosp Fd
Long Jarrod
Director Ccf, Ccef, Reg Hosps
Macdonald William Iii
Dir Agmc, Lodi
Marks Jeannine
Director Kma
Matthews Thomas Tj
Trustee Lakewood
Mcgorray Kathleen T
Director Medina Hosp Fd
Miksch Donald
Director Reg Hospitals
Miller Pamela
Dir Ccf, Ccef & Reg Hosp (Part Yr)
Miller Samuel H
Dir Agmc, Lodi
Miller Dawson Diane
Director Ccf, Ccef, Reg Hosps
Morino Mario
Director Kma
Mulroy Patricia
Director Ccef, Ccf, Reg Hosps
Nance Frederick
Director Medina Hosp Fd
Nann Vicky
Director Vns
O'leary Bs Mpa Anthony
Trustee Lakewood
Patton Rebecca
Director Kma
Petit Dan
Director Ccf, Ccef, Reg Hosps
Petras Jr Michael
Public Trustee Lord Fdn
Pohl Paul M
Director Ccf, Ccef, Reg Hosps
Pollock Larry
Trustee Lakewood
Pritts Gary
Director Mmfi
Ratcliffe George
Director Irmhi
Reiser Matthew
Trustee Ccchr
Rice Ronald
Trustee Lakewood
Roche Dennis J
Director Kma
Rogich Sigmond
Director Regional Hosps
Ross Md Ronald J
Director Medina
Salek Ann
Director Ccf, Ccef, Reg Hosps
Scott Harold Lee
Director Kma
Severino Michael
Director Kma
Snyder Jerome F
Director Kma
Steelman Paul
Director Kma
Steinberg David
Director Ccf, Ccef, Reg Hosps
Stevens Mark
Director Kma, Lrbi
Sturm Roland
Director Kma
Taffer Jon
Director Ppg
Trundle Sylvia
Director Regional Hospitals
Vega Lorraine
Trustee Union Hosp Assoc
Warther Pat A
Director Ccf, Ccef, Reg Hosps
Weber Robert
Director Ccf, Ccef, Reg Hosps
Weinberg Ronald
Director Ccf, Ccef, Reg Hosps
Weiss Morry
Director Kma
Wexler Nancy
Director Irhfi
Alden John W
Director Vns
Ballard Rev Karen
Director Irhfi
Barrow Chrisopher T
Director Mmfi
Beres Steven
Director Mmfi
Bousquette Margaret
Director Mmfi
Boyle Richard
Director Mmfi
Croce Karen
Director Irmhi
Cunningham Marybeth
Director Mmfi
Dakers Karen
Director Mmfi
Dockery Joseph
Director Mmfi
Doody John
Trustee Union
Dooling John E Jack
Director Irhfi
Feinour Eugene P
Director Mmfi
Forde John
Director Mmfi
Ginsburg Merle
Director Mmfi
Grimm Peter
Director Irhfi
Hayes Samuel
Director Mmfi
Heidenreich Per
Trustee Union Hosp Assoc
Johnson Md Nathan
Director Irhfi
Kemp Iii John B
Director Ccf, Ccef, Reg Hosps
Kilbane Catherine
Director Mmfi
Knapp Jules
Director Mmfi
Lambert William
Director Mmfi
Levitt Marylin
Director Irmhi
Lomax Homier Md Juliette
Director Mmfi
Lytle Tom
Director Mmfi
Meyer Rosemary
Director Irhfi
Milsten Md Richard
Director Irhfi
Munn William H
Director Irhfi
Nichols Anna P
Trustee Lakewood
O'neill John
Director Mmfi
Palombi Mark
Director Mmfi
Pfeiffer Md Eric
Director Irhfi
Rohrbach N Jack
Director Irhfi
Sameth Richard E
Director Mmfi
Sarner George
Director Irhfi
Scheer Ruth C
Director Irhfi
Sherwood Emily
Director Irhfi
Shropshire Donald
Director Mmfi
Taylor Nancyann
Director Mmfi
Weissman Robert
Director Mmfi
Wong Nancy
Director Mmfi
Wright Rita May
Vice President Lodi
Barkheimer Marlene
Loading...
Note: We've gone ahead and added 2020 — 2021 assets data before the final 990 filings become available from the IRS.
There were 125 awards in 2019. Who received these awards, and where are they located?
There were 115 awards in 2018. Who received these awards, and where are they located?
There were 140 awards in 2017. Who received these awards, and where are they located?
There were 132 awards in 2016. Who received these awards, and where are they located?
There were 119 awards in 2015. Who received these awards, and where are they located?
There were 145 awards in 2014. Who received these awards, and where are they located?
There were 170 awards in 2013. Who received these awards, and where are they located?
There were 141 awards in 2012. Who received these awards, and where are they located?
There were 148 awards in 2011. Who received these awards, and where are they located?
There were 132 awards in 2010. Who received these awards, and where are they located?
Don't miss out on other good fit funders!
See even more similar funders by creating a free 14-day account. Get personalized grant recommendations, tracking and more.
"Through Instrumentl, I was able to accomplish in 6 hours...SIX HOURS...what would have taken days or weeks with [another] search engine."

The funder insights you need
start your free trial & get a competitive edge
SAMPLE DATA
For preview purposes only;
not actual funder's data
Grant Amounts
Easily see the range of award sizes given over time. See key stats such as the most common award size, min/max, and more.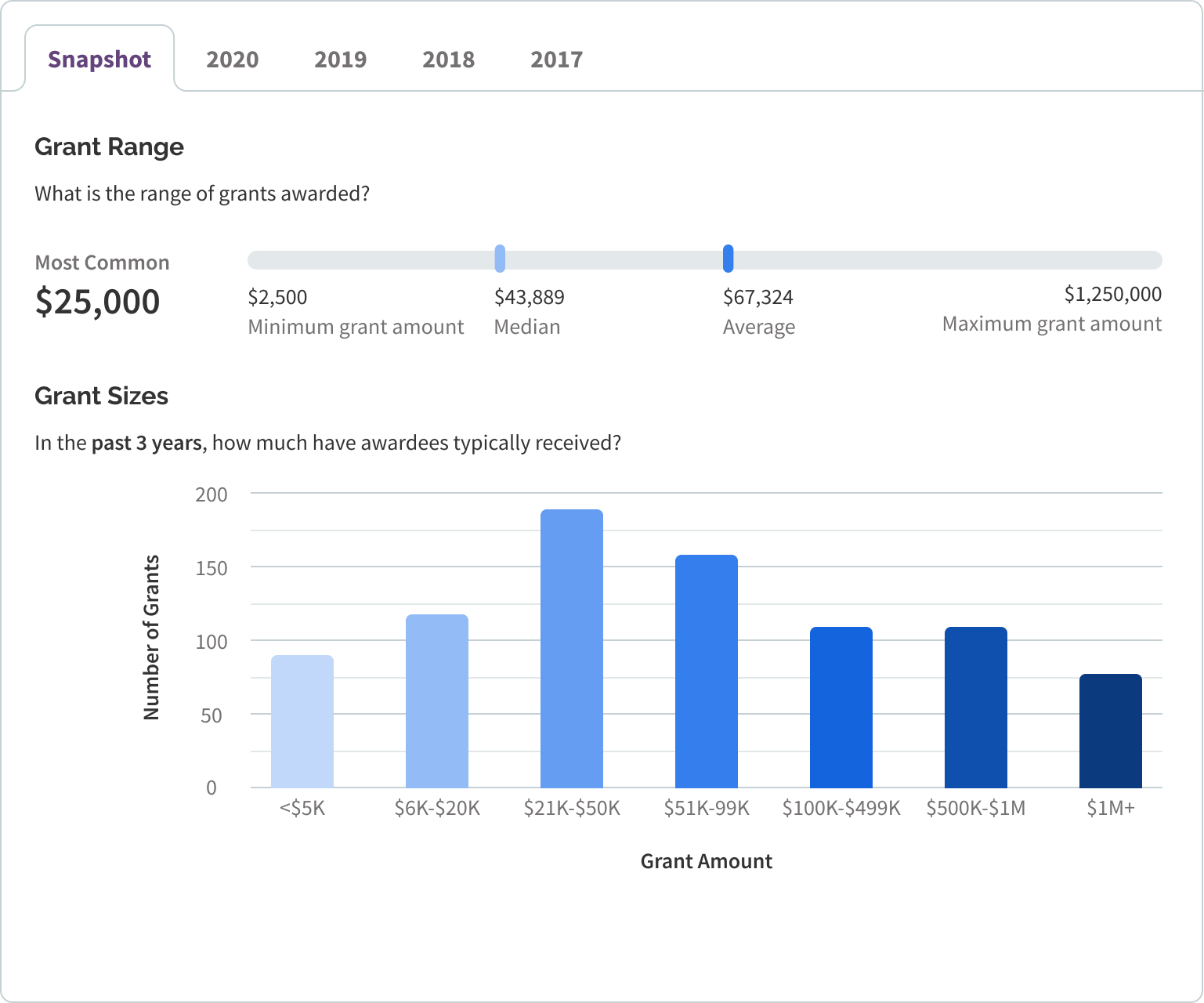 Openness to New Awardees
At a glance, see past and new awardees. See a snapshot over the past three years or dive into individual awards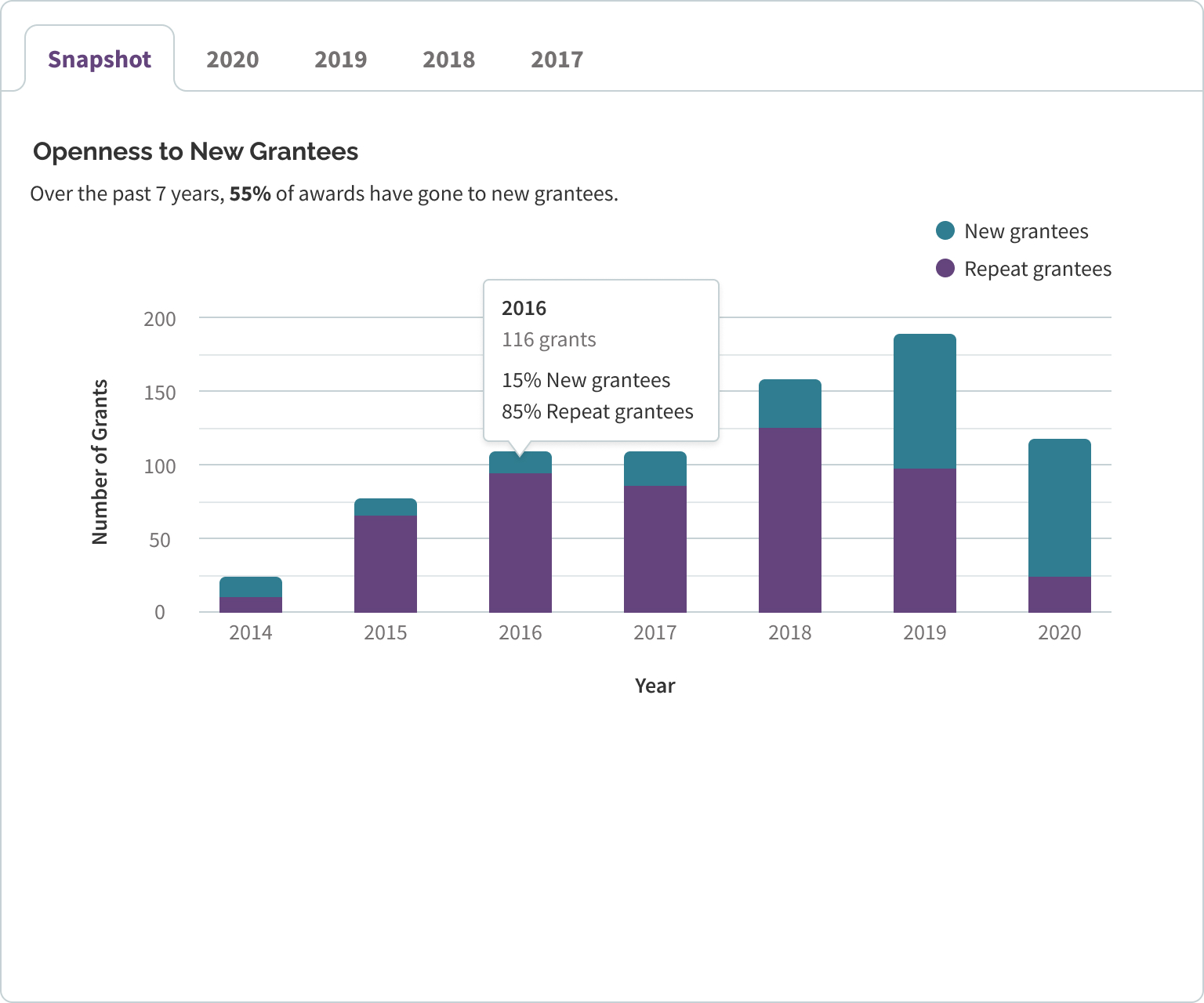 Category Insights
Find out funders' interests by seeing their top giving categories. Drill down into giving patterns per category.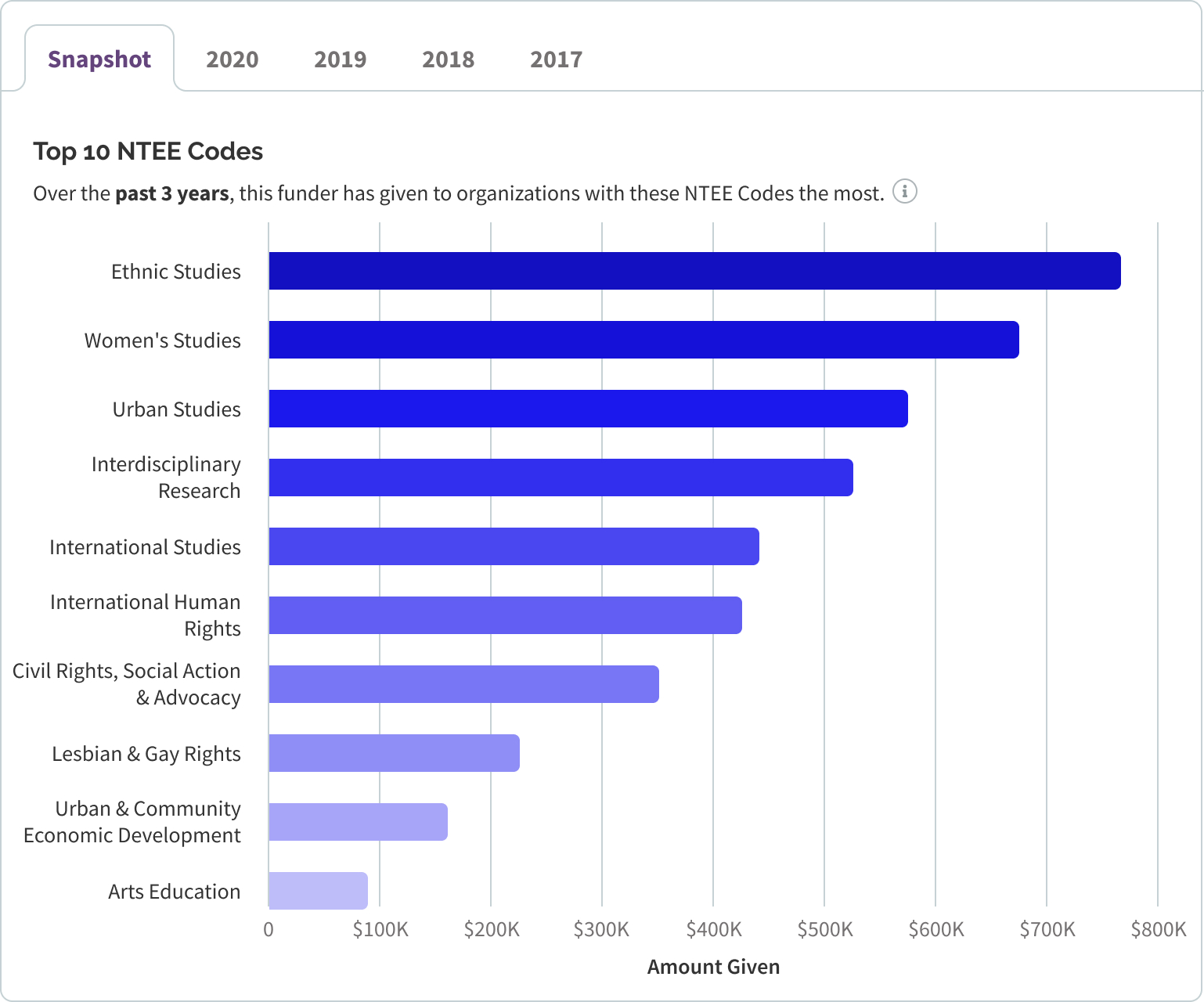 Previous

Next