Instrumentl creates easy-to-read 990 Reports based on digitized IRS Form 990s for thousands of private foundation and nonprofits to make it easier for you to find good fit funders like Community Foundation.
If you'd like to get matched to similar funders to Community Foundation, create a free Instrumentl account.
Based on most recent IRS 990 filing (2021)
Questions about this data?
Notice: The Internal Revenue Service (IRS) is delayed in releasing 990 filings from 2021 and 2022. Due to this delay, 990 information available on Instrumentl may not represent the most recent 990s filed by the organization. Instrumentl's 990 pages will be updated automatically as soon as the IRS releases this information.
Title
Name
President & Ceo
Robert M Fockler
Treasurer & Cfo
Alexander Holtel
Assistant Secretary & Coo
Barbara S Mora
Director Of Development
Caroline Kuebler
Dir. Of Professional Advisor Dev.
Frank Horrell
See more
Vp Of Communications
Julia C Mcdonald
Director
Gale Jones Carson
Director
Marshall Clark
Director
Kate Gilliland Connell
Director
Kathy Moore Cowan
Director
Alisa Haushalter
Director
Jay Healy
Director
Jeanne Jemison
Director
Duncan L Miller
Director
George Nassar
Director
Elliott Perry
Director
Ray Pohlman
Director
Robert J Quinn
Director
Pooja Shah
Director
Paulo Teixeira
Director
Regina Walker
Director
Molly Wexler
Director
Monica Wharton
Director
Archie Willis Iii
Chair
Chris Kelley
Vice Chair
J Kenneth Marston Jr
Secretary
J Martin Regan Jr
There were 731 awards in 2021. Who received these awards, and where are they located?
There were 698 awards in 2020. Who received these awards, and where are they located?
There were 4,476 awards in 2019. Who received these awards, and where are they located?

This organization did not e-file for 2017 — 2018, so Instrumentl is unable to provide 990 insights. Starting in 2020, e-filings are required.
You can always refer to the 990 PDFs.
There were 5,422 awards in 2016. Who received these awards, and where are they located?
Don't miss out on other good fit funders!
See even more similar funders by creating a free 14-day account. Get personalized grant recommendations, tracking and more.
"Through Instrumentl, I was able to accomplish in 6 hours...SIX HOURS...what would have taken days or weeks with [another] search engine."

The funder insights you need
start your free trial & get a competitive edge
SAMPLE DATA
For preview purposes only;
not actual funder's data
Grant Amounts
Easily see the range of award sizes given over time. See key stats such as the most common award size, min/max, and more.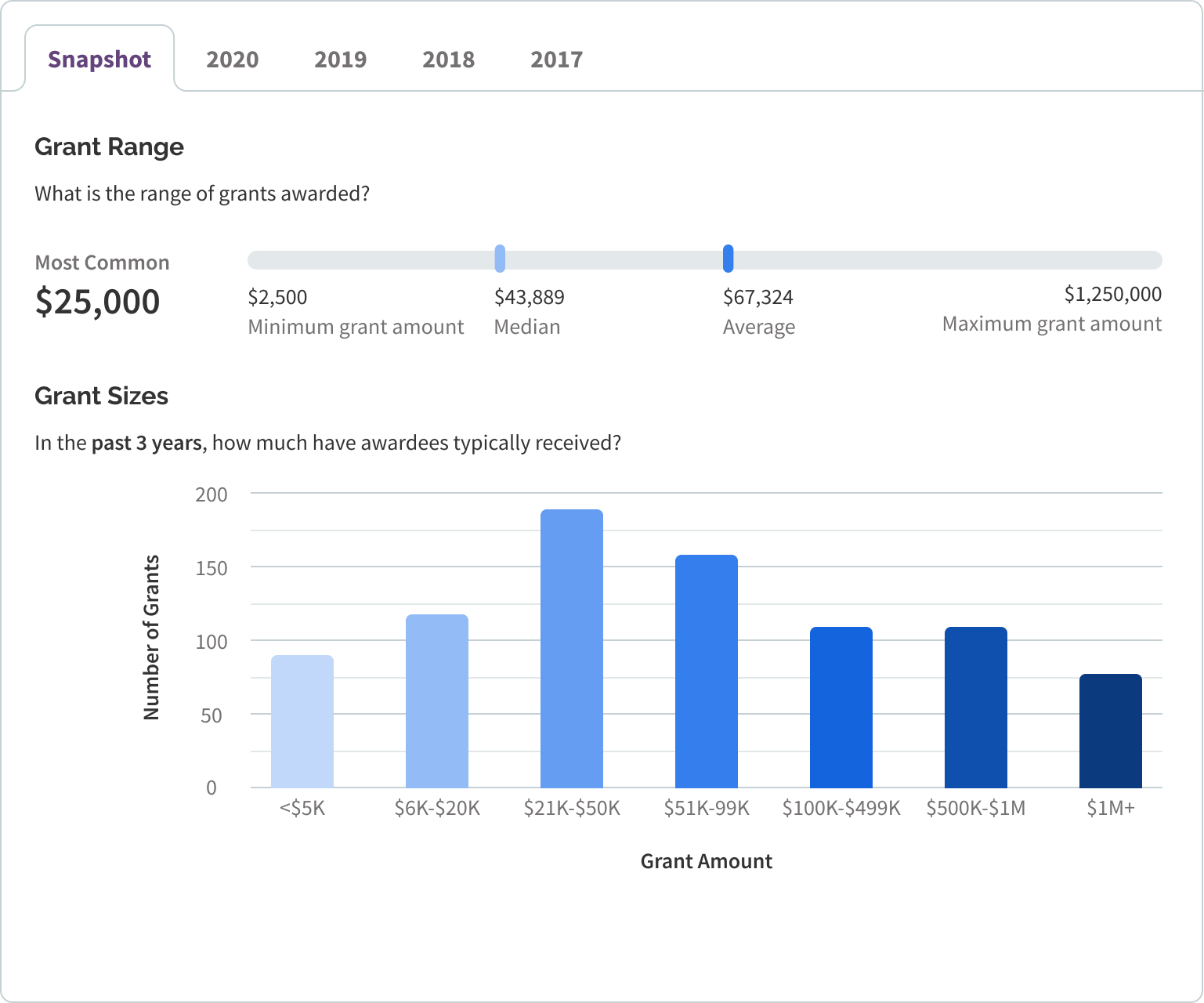 Openness to New Awardees
At a glance, see past and new awardees. See a snapshot over the past three years or dive into individual awards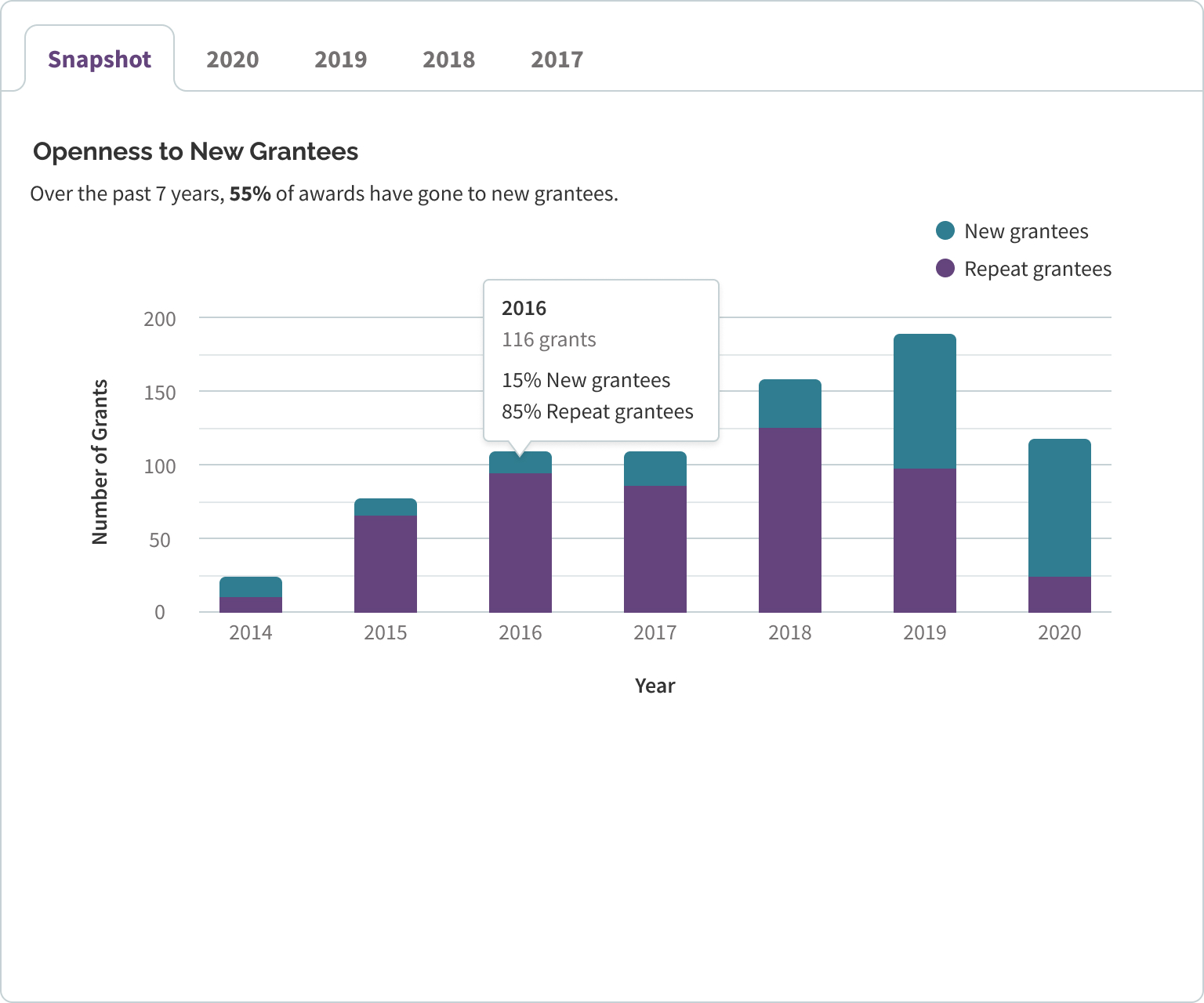 Category Insights
Find out funders' interests by seeing their top giving categories. Drill down into giving patterns per category.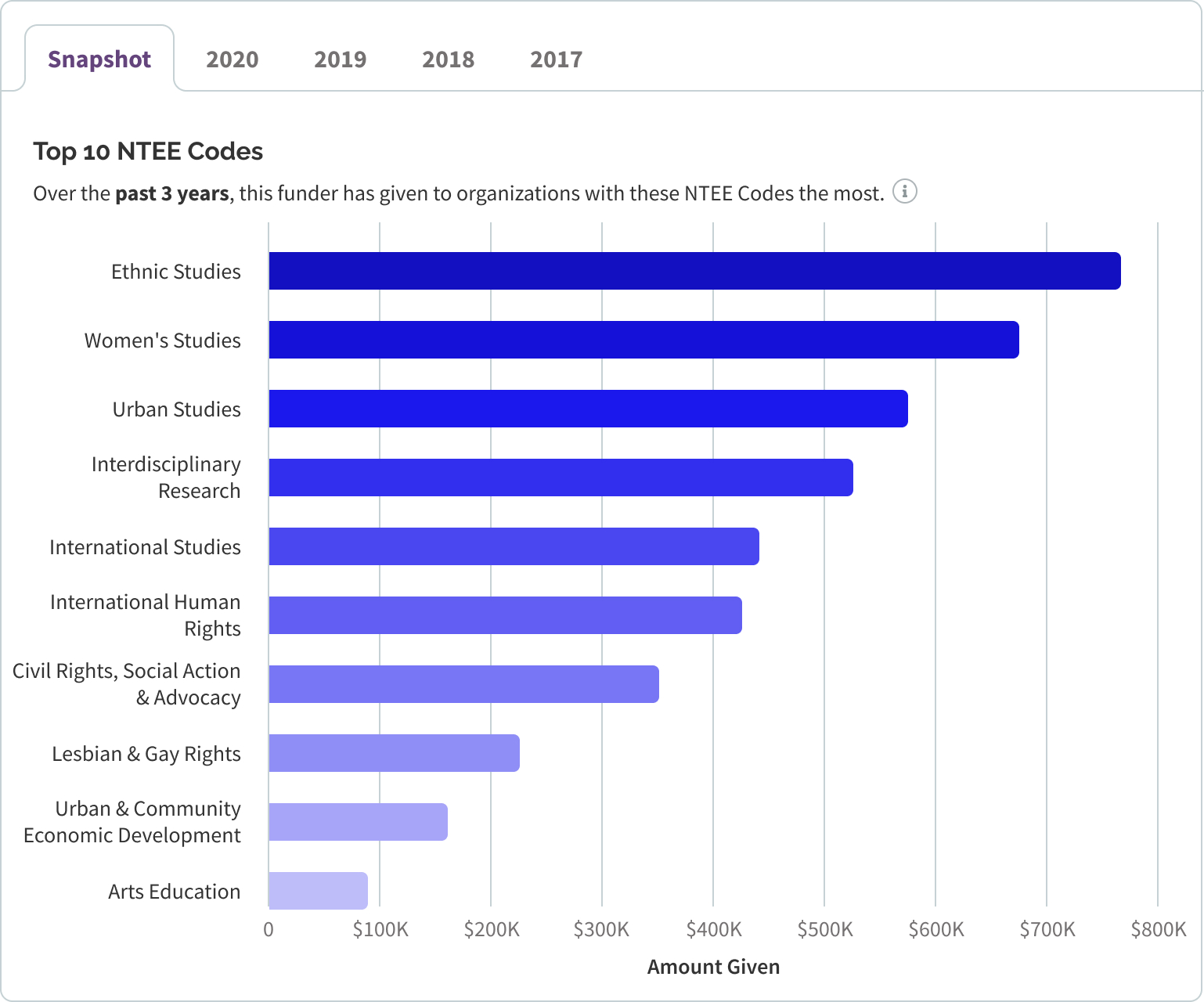 Previous

Next