Instrumentl creates easy-to-read 990 Reports based on digitized IRS Form 990s for thousands of private foundation and nonprofits to make it easier for you to find good fit funders like Creighton University.
If you'd like to get matched to similar funders to Creighton University, create a free Instrumentl account.
Based on most recent IRS 990 filing (2022)
Questions about this data?
Title
Name
Athletic Coach
Gregory Mc Dermott
Professor
John Schmidt Md
Dean, School Of Medicine
Robert Dunlay
Professor
Harold A Kaftan Md
Professor
Terence Zach Md
See more
Professor
Nicholas Townley Md
Provost
Mardell Wilson
Executive Vice President
Jan Madsen
Former Key Employee
Anthony Hendrickson
General Counsel/Secretary
James S Jansen Jd
Former Key Employee
Mark Latta Dmd
Dean, Pharmacy And Health Professions
Evan T Robinson
Vice President, University Relations
Matt Gerard
Dean, College Of Arts & Sciences
Bridget Keegan
Former Key Employee
Amy Wilson
Associate Vice President, Facilities Management
Derek Scott
Director
Ms Josie Abboud
Director
Mr Thomas Barry
Director
Rev Casey Beaumier Sj
Director, Vice Chairman
Mr James Blackledge
Director
Rev Matthew E Carnes Sj
Director
Rev Christopher S Collins Sj
Director
Mr Jerry Crouse
Director
Ms Diane K Duren
Director
Mr Chris Elias
Director
Mr Mike Finley
Director
Mr William J Fox Jd
Director
Mr W Gary Gates
Director, Chairman
Mr Nizar Ghoussaini
Director
Ms Susan Haddix
Director
Ms Sharon Harper
Director
Maria Harper Marinick Ph D
Director
Mr Frank L Hayes
Director
Mr Scott C Heider
President
Rev Daniel S Hendrickson Sj
Director
Mr Mark W Henkels
Director
Ms Catherine L Hughes
Director
Mr Richard T Kizer
Director
Ms Wende Kotouc
Director
Rev G Thomas Krettek Sj Ph D
Director
Mr Bruce R Lauritzen
Director
Rev William P Leahy Sj
Director
Mr Derek Leathers
Director
Mr Darrell Lee Md
Director
Mr Donald E Montgomery Jd
Director
Mr Chris J Murphy
Director
Ms Janis Orlowski Md
Director
Mr Mark H Rauenhorst
Director
Mr Robert Reed Jr
Director
Mr Kenny Rocker
Director
Mr William Roe
Director
Rev Nicholas Santos Sj Ph D
Director
Mr Tobin A Schropp
Director
Ms Ann Schumacher
Director
Mr Nick W Turkal Md
Director
Mr Mark R Walter
Director, Vice Chairman
Ms Gail Werner Robertson
Director
Mr Gary Witt
Director
Mr Patrick J Zenner
There were 10 awards in 2022. Who received these awards, and where are they located?
There were 5 awards in 2021. Who received these awards, and where are they located?
There were 12 awards in 2020. Who received these awards, and where are they located?
There were 14 awards in 2019. Who received these awards, and where are they located?
Note: Some locations were not provided
There were 13 awards in 2018. Who received these awards, and where are they located?

This organization did not e-file for 2014 — 2017, so Instrumentl is unable to provide 990 insights. Starting in 2020, e-filings are required.
You can always refer to the 990 PDFs.
There was 1 awards in 2013. Who received this awards, and where are they located?
Don't miss out on other good fit funders!
See even more similar funders by creating a free 14-day account. Get personalized grant recommendations, tracking and more.
"Through Instrumentl, I was able to accomplish in 6 hours...SIX HOURS...what would have taken days or weeks with [another] search engine."

The funder insights you need
start your free trial & get a competitive edge
SAMPLE DATA
For preview purposes only;
not actual funder's data
Grant Amounts
Easily see the range of award sizes given over time. See key stats such as the most common award size, min/max, and more.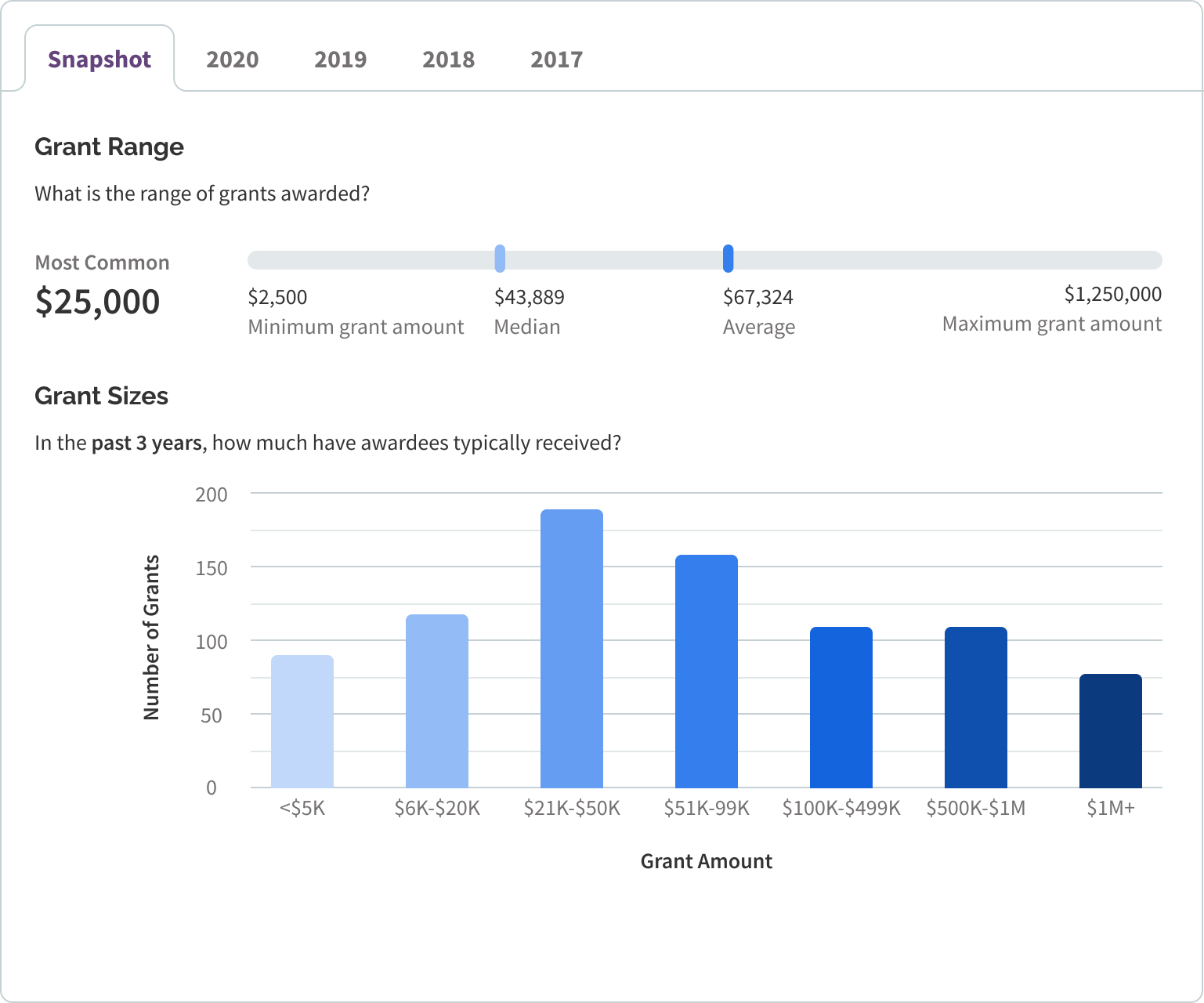 Openness to New Awardees
At a glance, see past and new awardees. See a snapshot over the past three years or dive into individual awards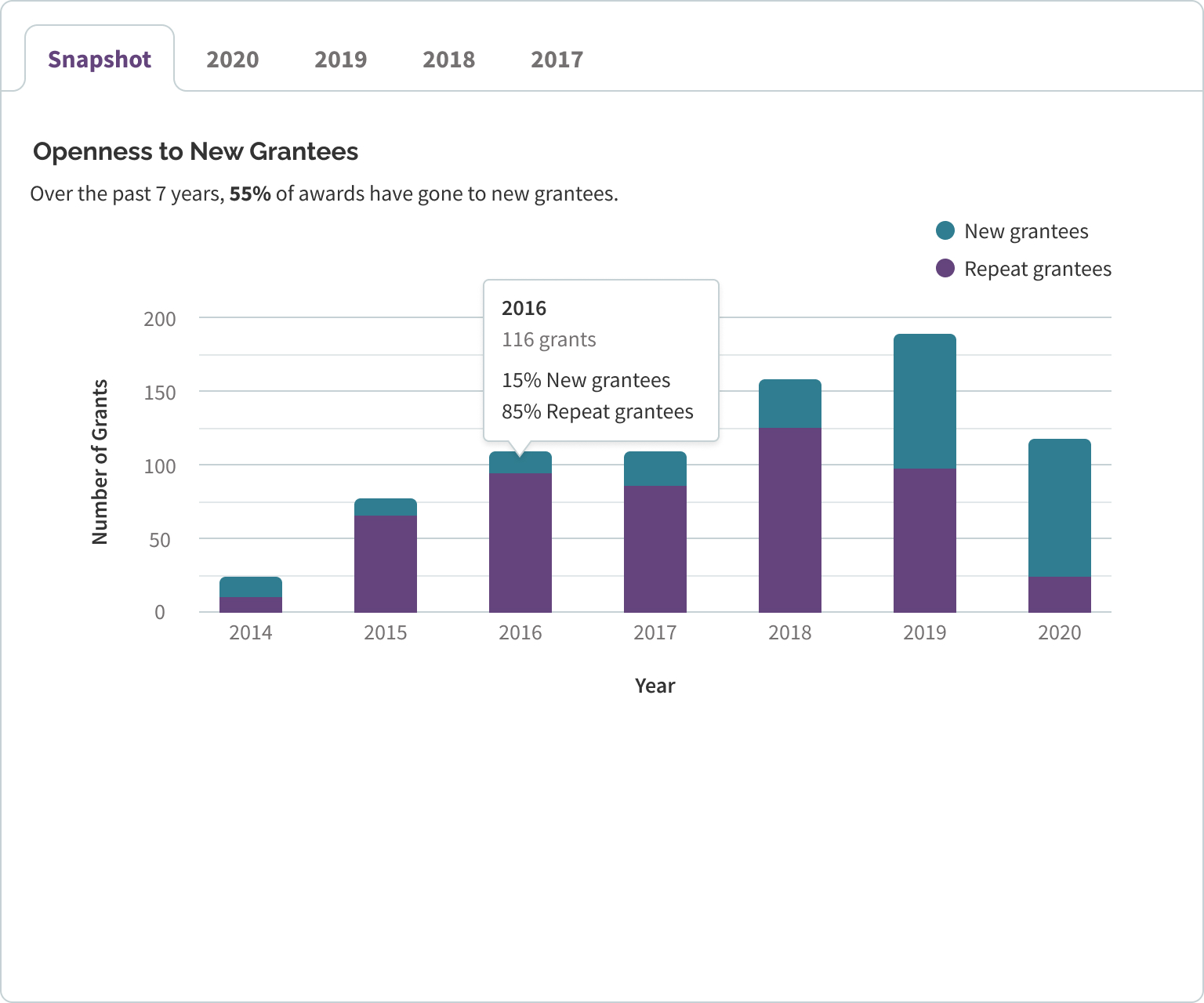 Category Insights
Find out funders' interests by seeing their top giving categories. Drill down into giving patterns per category.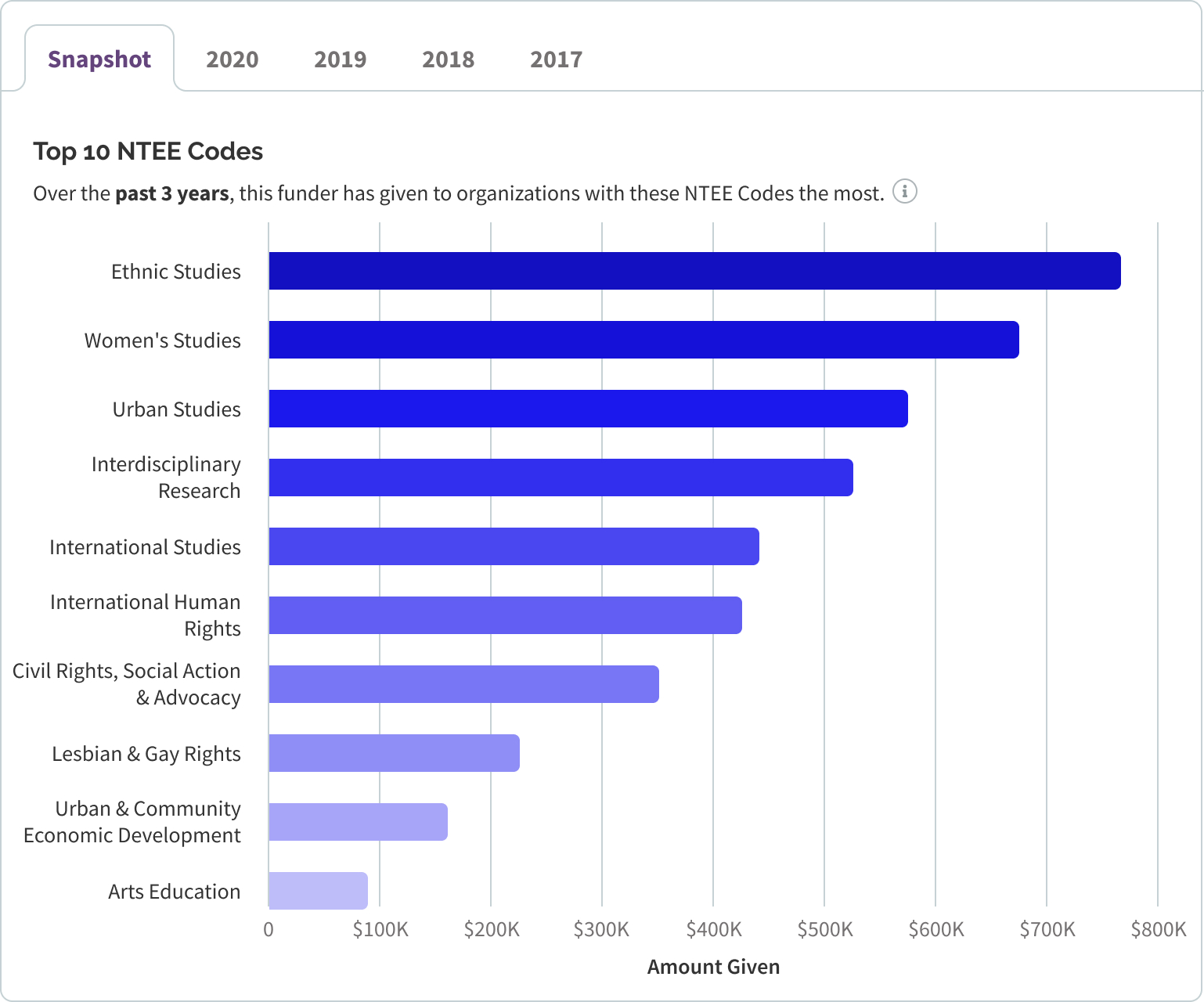 Previous

Next