Instrumentl creates easy-to-read 990 Reports based on digitized IRS Form 990s for thousands of private foundation and nonprofits to make it easier for you to find good fit funders like Depauw University.
If you'd like to get matched to similar funders to Depauw University, create a free Instrumentl account.
Based on most recent IRS 990 filing (2022)
Questions about this data?
Title
Name
Chair
Kathy Patterson Vrabeck
Secretary
Kyle E Lanham
Trustee
Andrew Paine
Trustee
Anna Munoz
Trustee
Blair A Rieth
See more
Trustee
Brent E St John
Trustee
David B Becker
Trustee
Denise Dell Isola
Trustee
Douglas I Smith
Trustee
Elizabeth Beggs
Trustee
Gregory A Sissel
Trustee
Holiday H Mc Kiernan
Trustee
James B Stewart
Trustee
Janet L Johns
Trustee
Jeffrey A Cozad
Trustee
Jeffrey L Harmening
Trustee
John C Cassidy
Trustee
John Scully
Trustee
Jose Bowen
Trustee
Joseph Rohs
Trustee
Julius C Trimble
Trustee
Justin Dye
Trustee
Justin P Christian
Trustee
Kathryn Fortune Hubbard
Trustee
Kenneth W Coquillette
Trustee
Lawrence E Young
Trustee
Lisa Henderson Bennett
Trustee
Luis R Davila
Trustee
Marshall W Reavis
Trustee
Matthew S Darnall
Trustee
Newton F Crenshaw
Trustee
Peter Ruppert
Trustee
Rabia Daud
Trustee
Richard S Neville
Trustee
Sarah Reese Wallace
Trustee
Sarah Strauss Krouse
Trustee
Susan M Ansel
Trustee
Tamika Newson
Trustee
William K Daniel
Vice President For Student Academic Life
Alan P Hill
Vice President For Finance And Administration (Beginning 7/15/2022)
Andrea Young
Vice President For Development And Alumni Engagement
Anne E Cunningham
Associate Vp Student Academic Life, Dean Of Academic Life And Professor Of Computer Science
David Berque
Vice President For Communications And Marketing (Through 6/30/22)
Deedie K Dowdle
President
Lori S White
Vice President For Enrollment Management
Mary E Petrie
Vice President For Finance And Administration (Through 6/30/2022)
Robert R Leonard
Vice President For Communications (Beginning 7/1/22)
Sarah Steinkamp
Director Of Jpie And Assoc Prof Of Philosophy
Andrew M Cullison
Cio
Carol Smith
Professor Of Economics And Management
Humberto Barreto
Professor Of Econ And Management And Dir Of Management Fellows
Jeffrey Gropp
Dean Of The School Of Music
Kay Hoke
Former Vice President For Diversity And Inclusion
Amanda Kim
Former President
D Mark Mc Coy
There was 1 awards in 2022. Who received this awards, and where are they located?
There was 1 awards in 2021. Who received this awards, and where are they located?
There was 1 awards in 2020. Who received this awards, and where are they located?

This organization did not e-file for 2013 — 2019, so Instrumentl is unable to provide 990 insights. Starting in 2020, e-filings are required.
You can always refer to the 990 PDFs.
There was 1 awards in 2012. Who received this awards, and where are they located?
Don't miss out on other good fit funders!
See even more similar funders by creating a free 14-day account. Get personalized grant recommendations, tracking and more.
"Through Instrumentl, I was able to accomplish in 6 hours...SIX HOURS...what would have taken days or weeks with [another] search engine."

The funder insights you need
start your free trial & get a competitive edge
SAMPLE DATA
For preview purposes only;
not actual funder's data
Grant Amounts
Easily see the range of award sizes given over time. See key stats such as the most common award size, min/max, and more.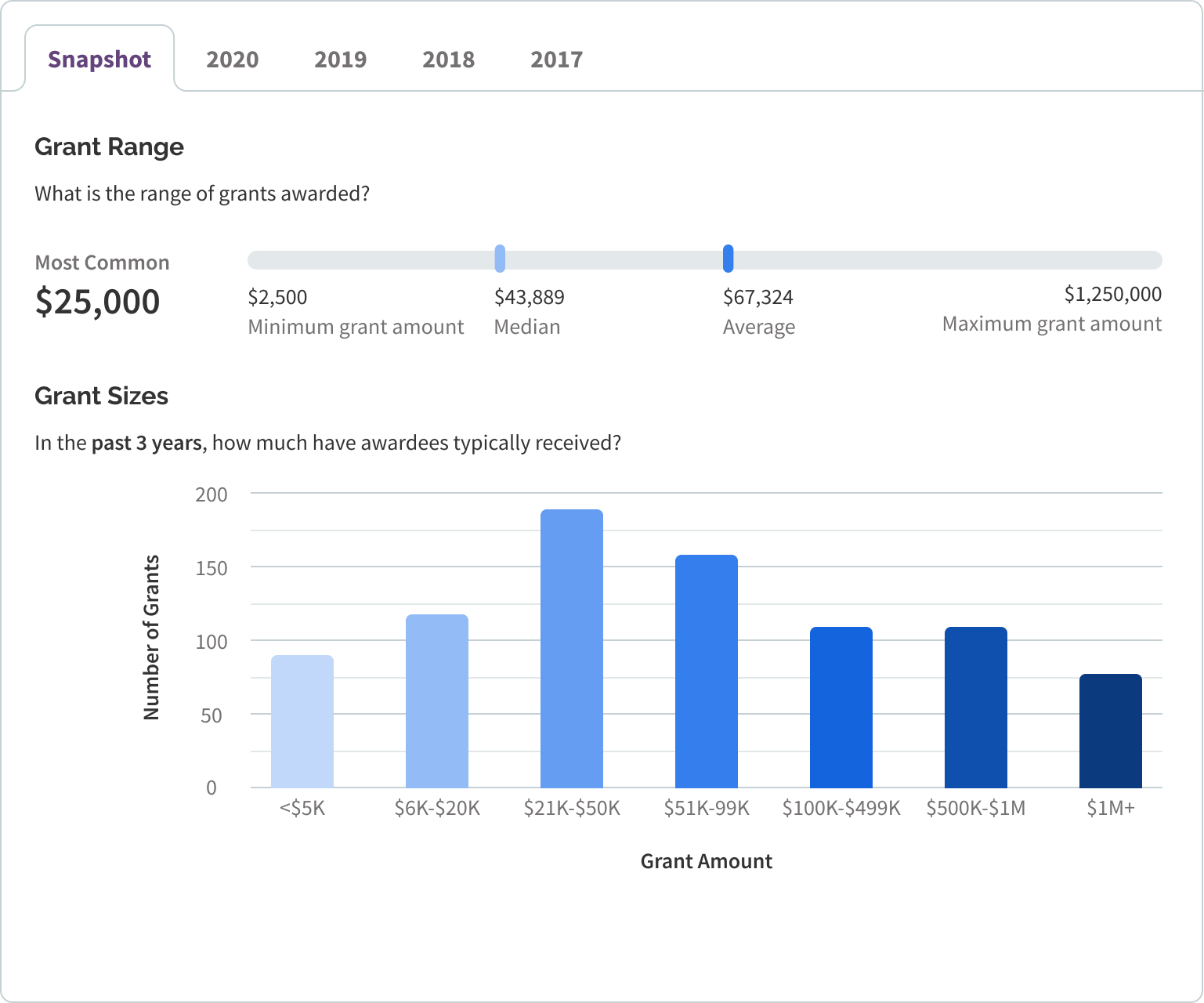 Openness to New Awardees
At a glance, see past and new awardees. See a snapshot over the past three years or dive into individual awards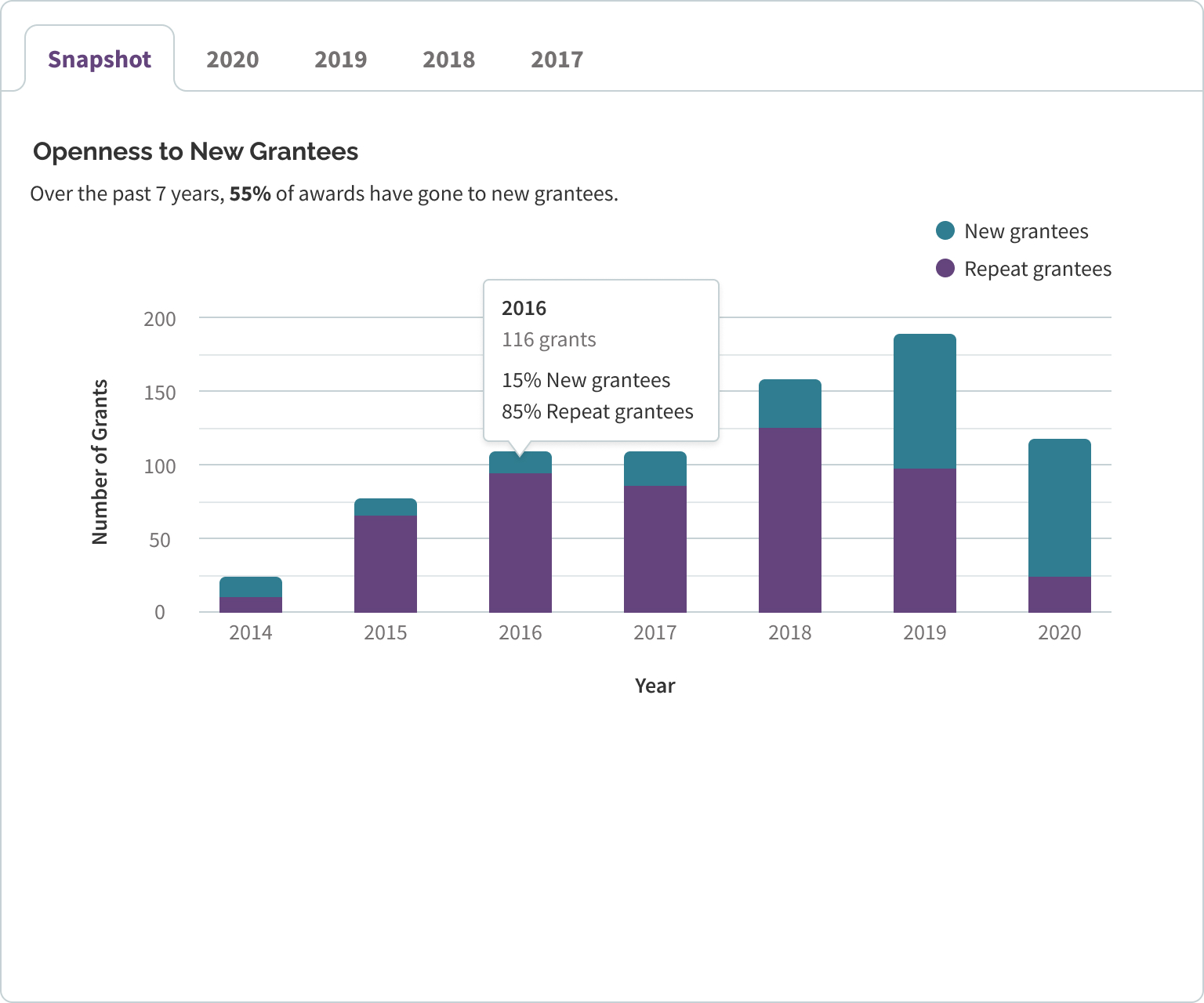 Category Insights
Find out funders' interests by seeing their top giving categories. Drill down into giving patterns per category.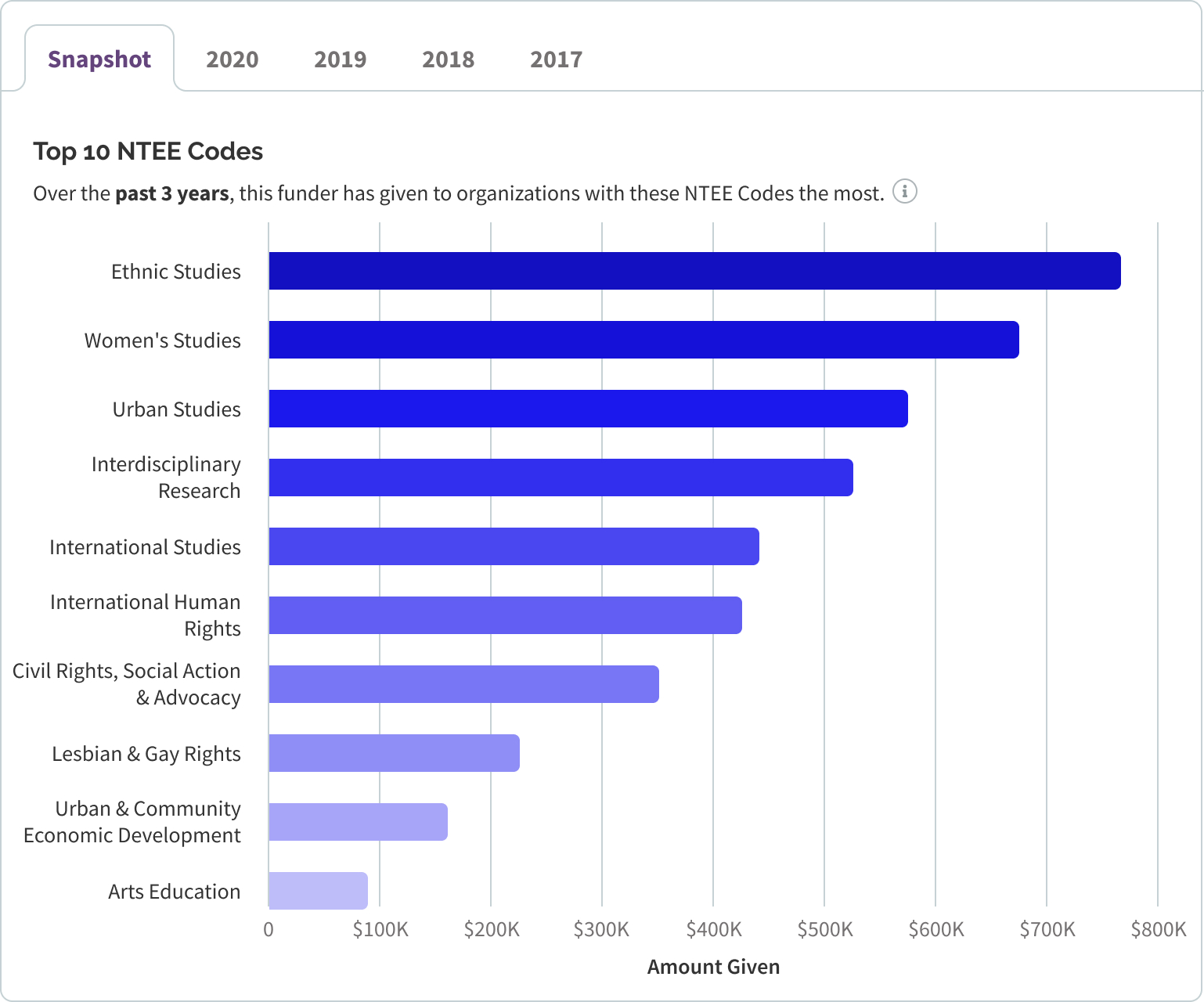 Previous

Next