Instrumentl creates easy-to-read 990 Reports based on digitized IRS Form 990s for thousands of private foundation and nonprofits to make it easier for you to find good fit funders like Direct Relief.
If you'd like to get matched to similar funders to Direct Relief, create a free Instrumentl account.
Based on most recent IRS 990 filing (2021)
Questions about this data?
Notice: The Internal Revenue Service (IRS) is delayed in releasing 990 filings from 2021 and 2022. Due to this delay, 990 information available on Instrumentl may not represent the most recent 990s filed by the organization. Instrumentl's 990 pages will be updated automatically as soon as the IRS releases this information.
Title
Name
Chair
Pamela Gann
Vice Chair, Committee Chair
Mark Linehan
Treasurer, Committee Chair
Linda Gluck
Secretary, Committee Chair
James Selbert
Assistant Secretary, Committee Chair
Siri Marshall
See more
Assistant Treasurer, Committee Chair
Byron Scott Md
Committee Chair
James Mcgonigle
Committee Chair
Thomas Sturgess
Committee Chair
Steve Weintraub
Committee Chair
Jane Olson
Committee Chair
Mark Schwartz
Director
Stayce D Harris
Director
Bitsy Becton Bacon
Director
Evan Marwell
Director
Louis Buglioli
Director
Charles Fenzi Md
Director
Harry Mcmahon
Director
Annalisa Pizzarello
Director
Jamie Ruffing Phd
Chief Executive Officer
Thomas Tighe
Executive Vp, Senior Advisor
Bhupi Singh
Senior Vp, Coo
Dawn Long
Vp Of Finance, Cfo
Jonathan Steiner
Vp Of Corporate Engagement
Donald Roane
Director, It
Adan Grouman
Vp Of Research & Analysis
Andrew Schroeder
Vp Of Partnerships & Philanthropy
Heather Bennett
Vp Of Operations
Doug Froelich
There were 1,973 awards in 2021. Who received these awards, and where are they located?
There were 2,032 awards in 2020. Who received these awards, and where are they located?
There were 1,264 awards in 2019. Who received these awards, and where are they located?
There were 1,219 awards in 2018. Who received these awards, and where are they located?

This organization did not e-file for 2012 — 2017, so Instrumentl is unable to provide 990 insights. Starting in 2020, e-filings are required.
You can always refer to the 990 PDFs.
There were 810 awards in 2011. Who received these awards, and where are they located?
Don't miss out on other good fit funders!
See even more similar funders by creating a free 14-day account. Get personalized grant recommendations, tracking and more.
"Through Instrumentl, I was able to accomplish in 6 hours...SIX HOURS...what would have taken days or weeks with [another] search engine."

The funder insights you need
start your free trial & get a competitive edge
SAMPLE DATA
For preview purposes only;
not actual funder's data
Grant Amounts
Easily see the range of award sizes given over time. See key stats such as the most common award size, min/max, and more.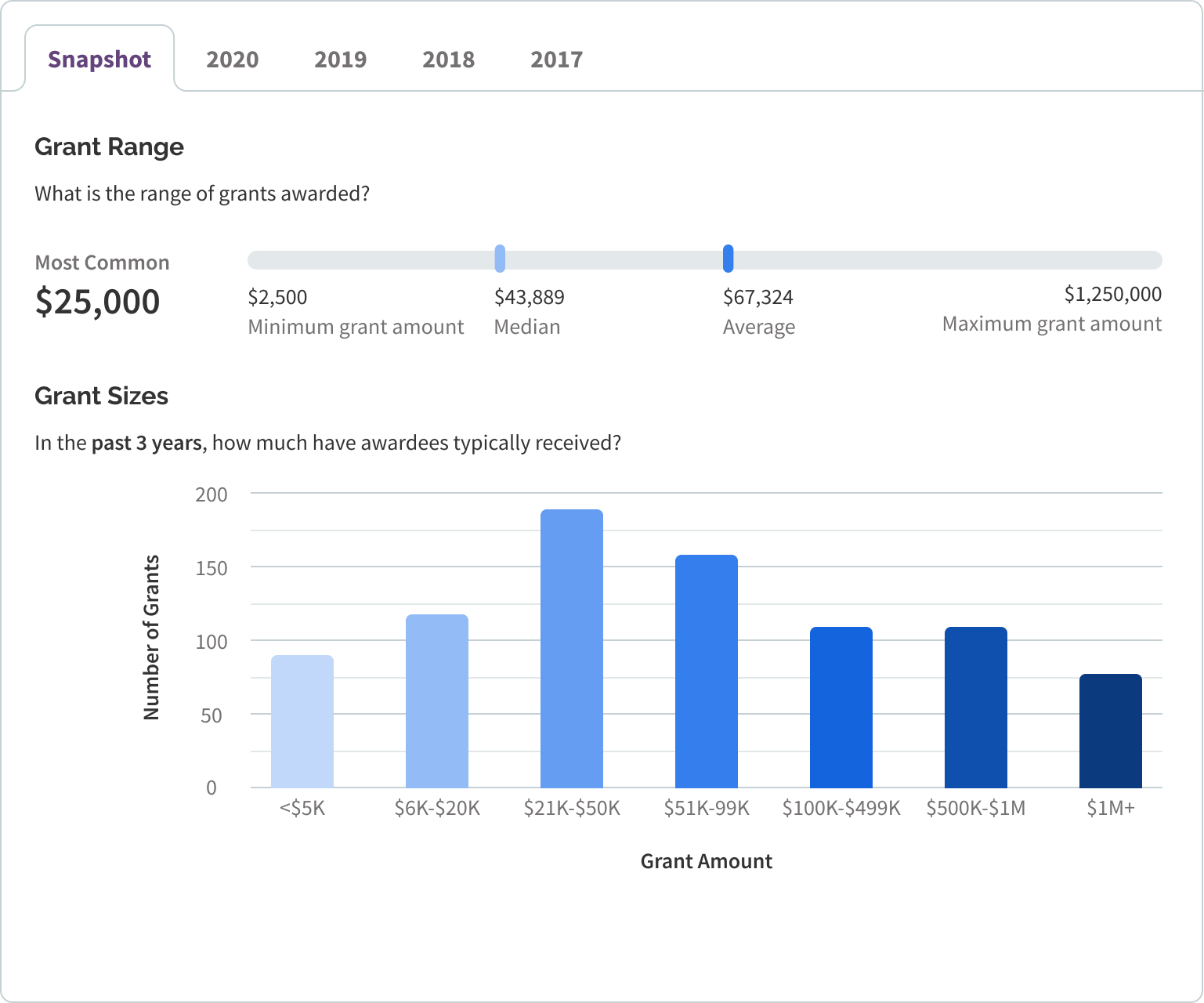 Openness to New Awardees
At a glance, see past and new awardees. See a snapshot over the past three years or dive into individual awards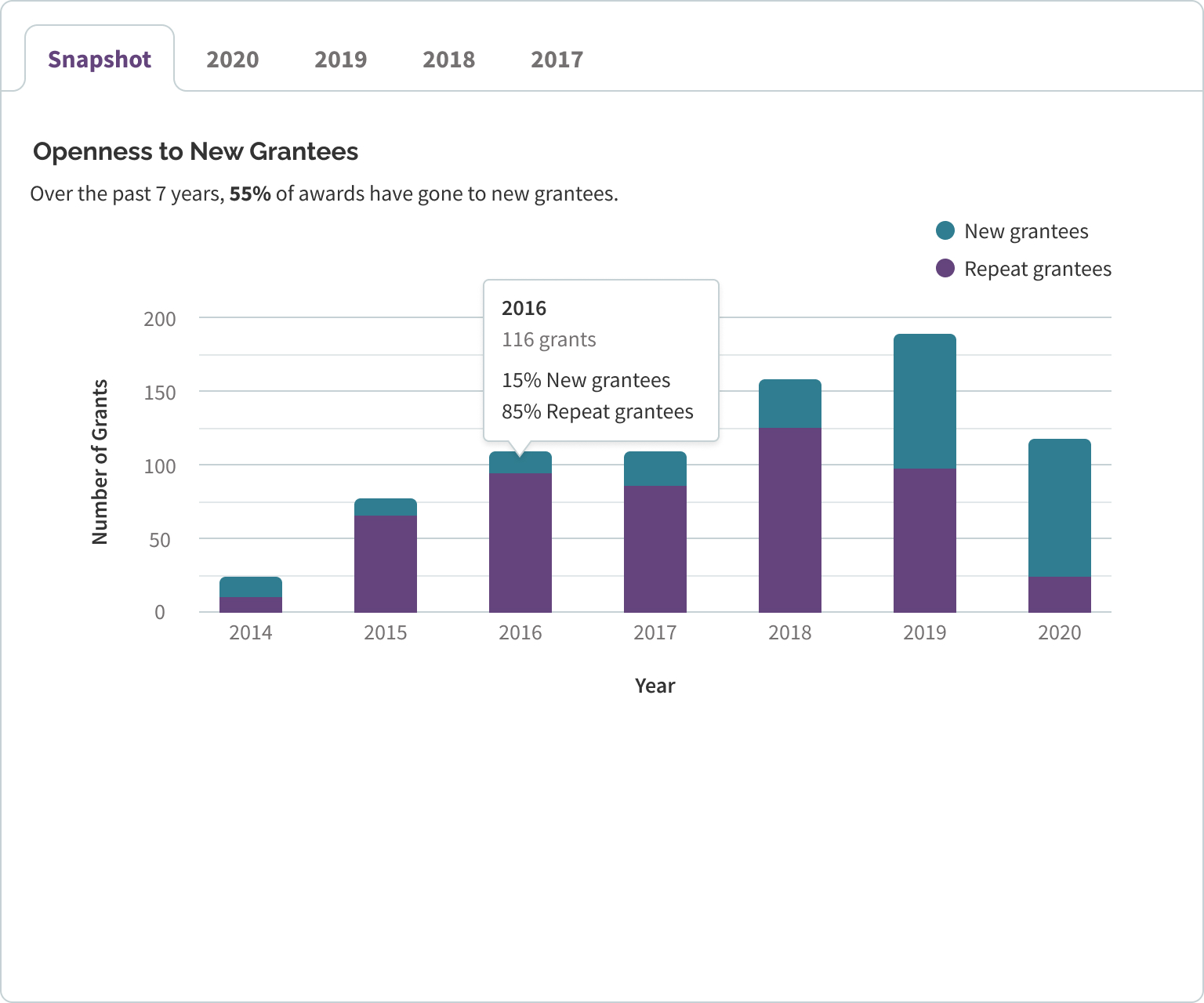 Category Insights
Find out funders' interests by seeing their top giving categories. Drill down into giving patterns per category.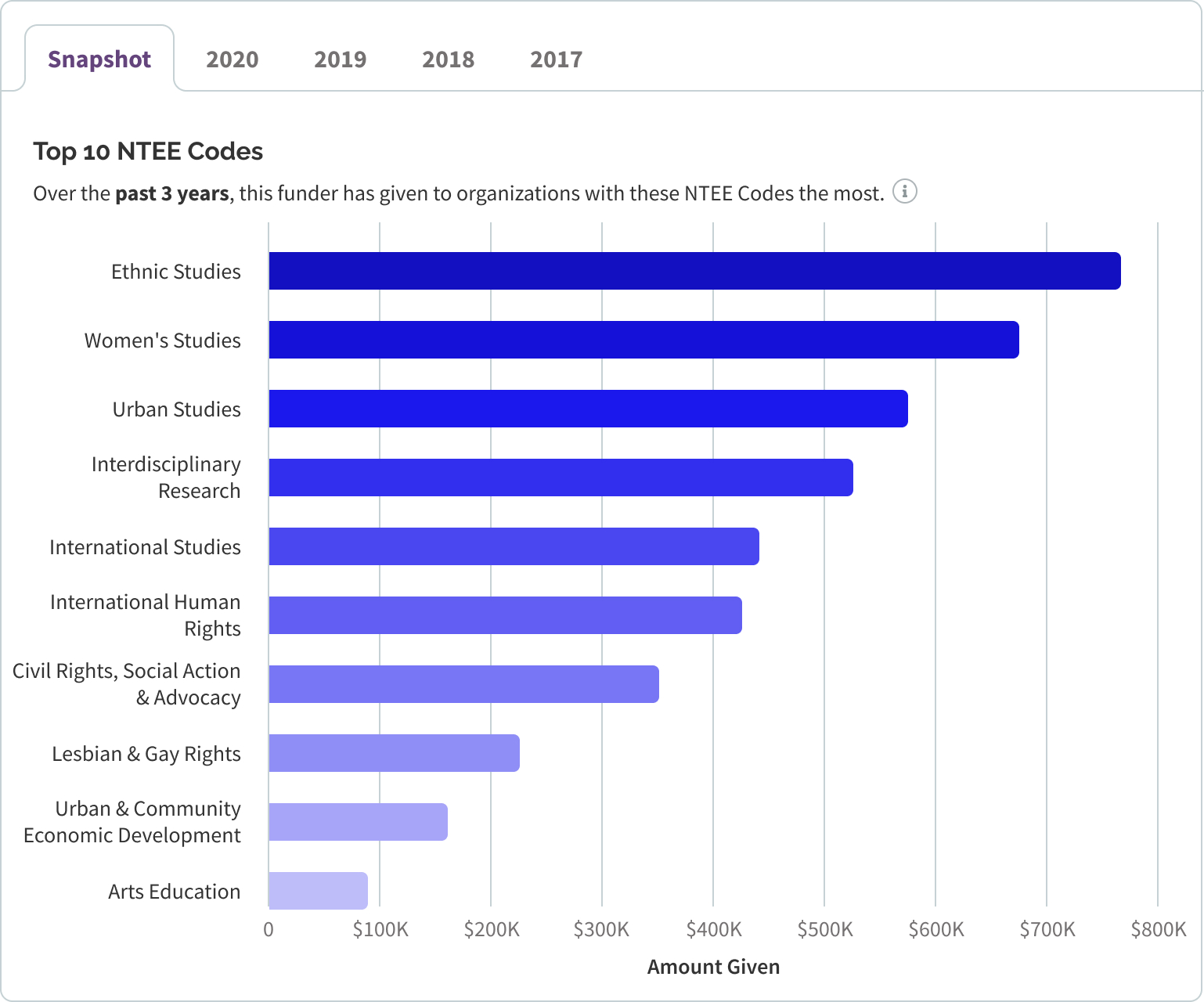 Previous

Next