Instrumentl creates easy-to-read 990 Reports based on digitized IRS Form 990s for thousands of private foundation and nonprofits to make it easier for you to find good fit funders like Emerson College.
If you'd like to get matched to similar funders to Emerson College, create a free Instrumentl account.
Based on most recent IRS 990 filing (2022)
Questions about this data?
Title
Name
Interim President
William Gilligan
Board Member(thru 08/2021)/Chair
Eric Alexander
Vice Chairman
Vincent J Di Bona
Vice Chairman
Albert M Jaffe
Vice Chairman
Steven Samuels
See more
Vice Co Chair
Kevin Bright
Vice Co Chair
Douglas Holloway
Treasurer
Ellen Calmas
Secretary (Thru 10/21)/Board Member
Marillyn Zacharis
Board Member (Thru 10/21)/Secretary
Robert Miller
Board Member
Vivian Beard
Board Member
Traci Blackwell
Board Member
Dena Davis
Board Member
Lorenzo Di Bonaventura
Board Member
Robert Friend
Board Member
Ira Goldstone
Board Member
Jeffrey D Greenhawt
Board Member
Gary Grossman
Board Member
Doug Herzog
Board Member
Michael Macwade
Board Member
Michael Mara
Board Member
Andrea Montoni
Board Member
Patricia Peyton
Board Member
Nate Pusey
Board Member
Sheila Robinson
Board Member (Thru 05/2022)
Linda Schwartz
Board Member
Raj Sharma
Board Member
Susan Namm Spencer
Board Member
Cathy Weiss
Board Member
Peter Zamore
Vp For Administration And Finance
Paul Dworkis
Prov & Vp For Acad Aff(thru 11/2021)
Michaele Whelan
Int. Provost & Vp For Academic Aff.
Jan Roberts Breslin
Vp And General Counsel(thru 06/2022)
Meredith Ainbinder
Vp For Enrollment Management
Ruthanne Madsen
Vp For Institutional Advancement
John Malcolm
Interim Vp, Govt & Community Rltns
Margaret Ings
Vp/Exec Dir, L.A. Prog(thru 05/2022)
Allison Sampson
Chief Hr Officer (Thru 03/2022)
Shari D Stier
Vp, Office Of The Arts & Exec Dir
David Christopher Howse
Former President
M Lee Pelton
Former General Counsel
Christine Hughes
Don't miss out on other good fit funders!
See even more similar funders by creating a free 14-day account. Get personalized grant recommendations, tracking and more.
"Through Instrumentl, I was able to accomplish in 6 hours...SIX HOURS...what would have taken days or weeks with [another] search engine."

The funder insights you need
start your free trial & get a competitive edge
SAMPLE DATA
For preview purposes only;
not actual funder's data
Grant Amounts
Easily see the range of award sizes given over time. See key stats such as the most common award size, min/max, and more.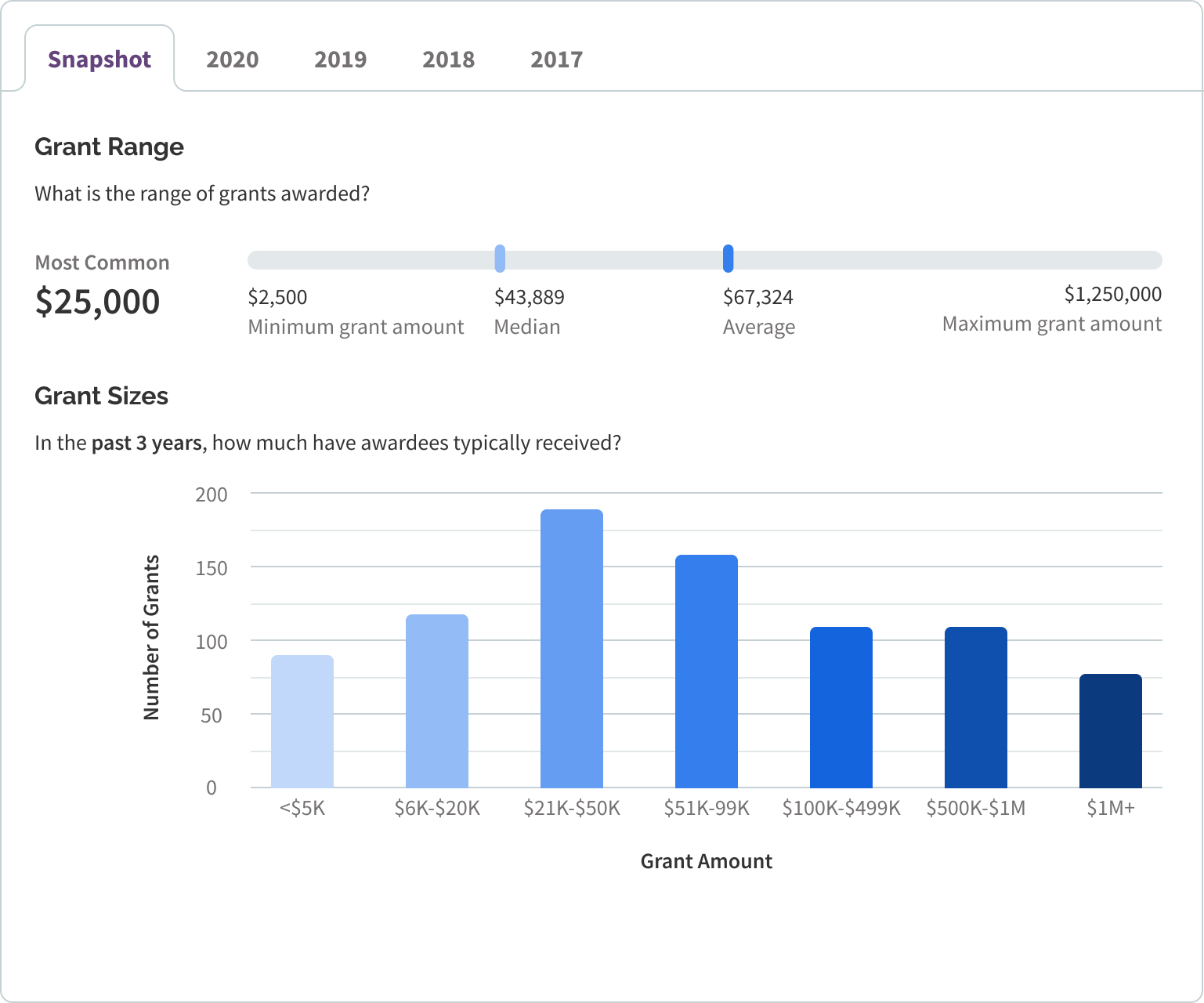 Openness to New Awardees
At a glance, see past and new awardees. See a snapshot over the past three years or dive into individual awards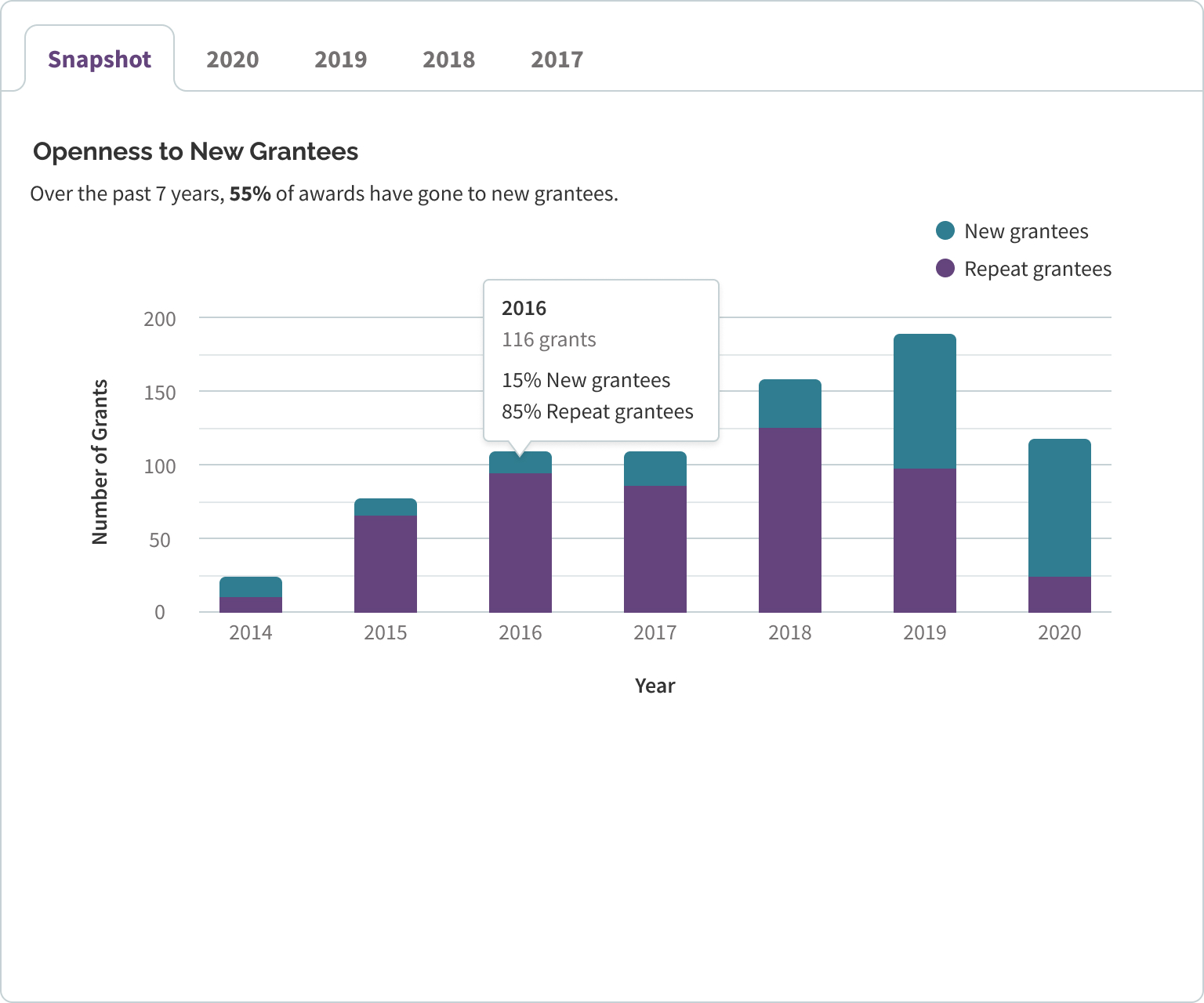 Category Insights
Find out funders' interests by seeing their top giving categories. Drill down into giving patterns per category.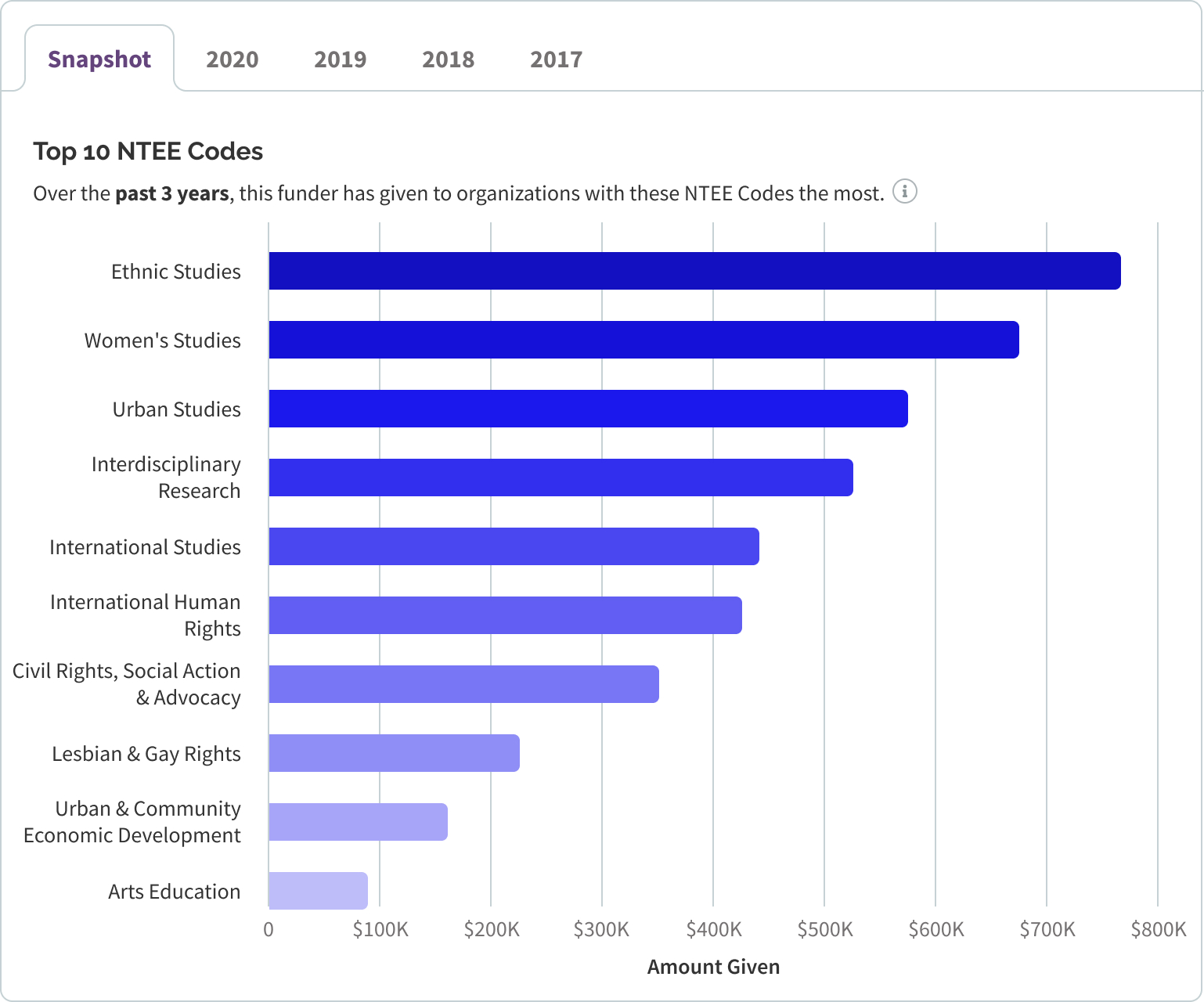 Previous

Next