Instrumentl creates easy-to-read 990 Reports based on digitized IRS Form 990s for thousands of private foundation and nonprofits to make it easier for you to find good fit funders like The Global Fund To Fight Aids.
If you'd like to get matched to similar funders to The Global Fund To Fight Aids, create a free Instrumentl account.
Based on most recent IRS 990 filing (2020)
Questions about this data?
Notice: The Internal Revenue Service (IRS) is delayed in releasing 990 filings from 2021 and 2022. Due to this delay, 990 information available on Instrumentl may not represent the most recent 990s filed by the organization. Instrumentl's 990 pages will be updated automatically as soon as the IRS releases this information.
Title
Name
Board Member
Joshua Tabah
Board Member
Erika Castellanos
Board Member
Maurine Murenga
Board Member
Robin Montgomery
Board Member
Mike Podmore
See more
Board Member
Dr Andriy Klepikov
Board Member
Dr Zwelini Mkhize
Board Member
Dr Kebede Worku
Board Member
Prof Nataliya Nizova
Board Member
Dr Mohsen Asadi Lari
Board Member
Dr Gabriela Fesus
Board Member
Aida Liha Matejicek
Board Member
Amb Stephanie Seydoux
Board Member
Birgit Pickel
Board Member
Ilse Hahn
Board Member
Koji Yonetani
Board Member
Keiko Okada
Board Member
Shinichi Saida
Board Member
Hon Mary Isaac
Board Member
Marja Esveld
Board Member
Kieran Daly
Board Member
Sherwin Charles
Board Member
Kunzang Wangdi
Board Member
Mohammad Abul Faiz
Board Member
Beth Arthy
Board Member
Daniel Graymore
Board Member
Amb Deborah L Birx Md
Board Member
Prof Pascal Niamba
Board Member
He Ieng Mouly
Executive Director
Peter Alexander Sands
Chief Financial Officer
Adda Faye
Chief Financial Officer (Thru 01/20)
Jacques Le Pape
Vice Chair
Lady Roslyn Morauta
Chair
Dr Donald Kaberuka
Inspector General (Thru 08/20)
Mouhamadou Diagne
Head, Grant Management Division
Mark Eldon Edington
Head Strategy And Policy Hub
Harley Feldbaum
Chief Information Officer
Michael Wainford Johnson
Head Communications
Seth Faison
Head, Grant Management Department
Maria Petrova Kirova
Chief Risk Officer
Rahul Singhal
General Counsel
Fady Zeidan
Head, External Relations & Comms
Francoise Vanni
Head, Grant Management Department
Abigail Moreland
Head, Grant Management Department
Cynthia Simangela Mwase
Head, Strategy, Inv. And Impact Div.
Osamu Kunii
Head, Grant Management Department
Annelise Hirschmann
Head, Grant Management Department
Urban Johannes Weber
Regional Manager, Central Africa
Caty Fall
Chief Of Staff
Marijke Wijnroks
Head, Grant Management Department
Linden Ridley Morrison
Head Sourcing & Supply (Thru 08/20)
Philippe Francois
Fund Portfolio Manager
Vanessa Elizabeth Rousselle
Senior Fund Portfolio Manager
Darren Dorkin
Head, Malaria Disease Advisor
Scott Jay Filler
Head, Tech Advisory & Partnerships
Michael David Byrne
Fund Portfolio Manager
Marika Therese Hofmeister
Former Key Employee
Mark Edward Saalfeld
Loading...
Note: We've gone ahead and added 2021 assets data before the final 990 filing becomes available from the IRS.
Don't miss out on other good fit funders!
See even more similar funders by creating a free 14-day account. Get personalized grant recommendations, tracking and more.
"Through Instrumentl, I was able to accomplish in 6 hours...SIX HOURS...what would have taken days or weeks with [another] search engine."

The funder insights you need
start your free trial & get a competitive edge
SAMPLE DATA
For preview purposes only;
not actual funder's data
Grant Amounts
Easily see the range of award sizes given over time. See key stats such as the most common award size, min/max, and more.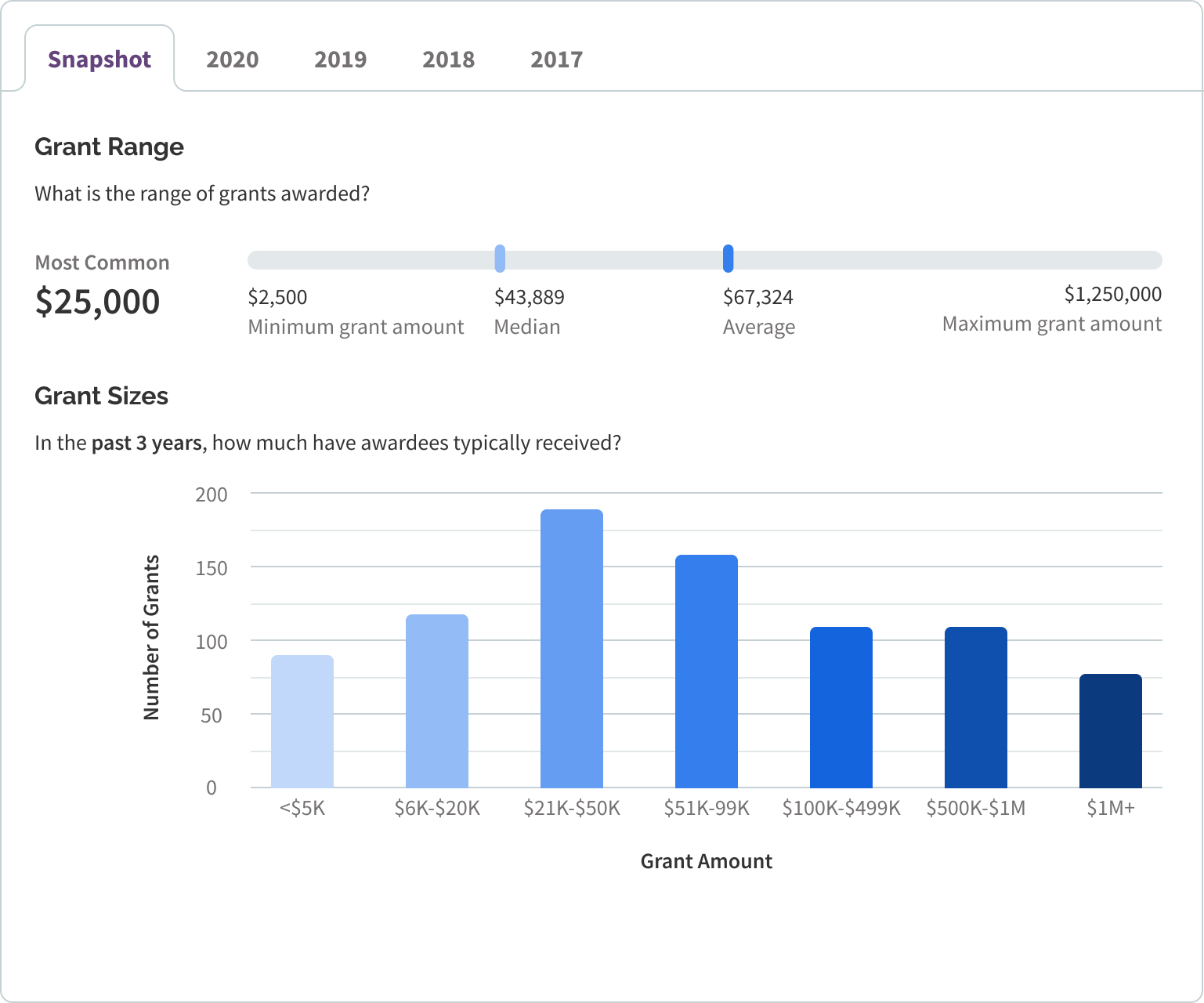 Openness to New Awardees
At a glance, see past and new awardees. See a snapshot over the past three years or dive into individual awards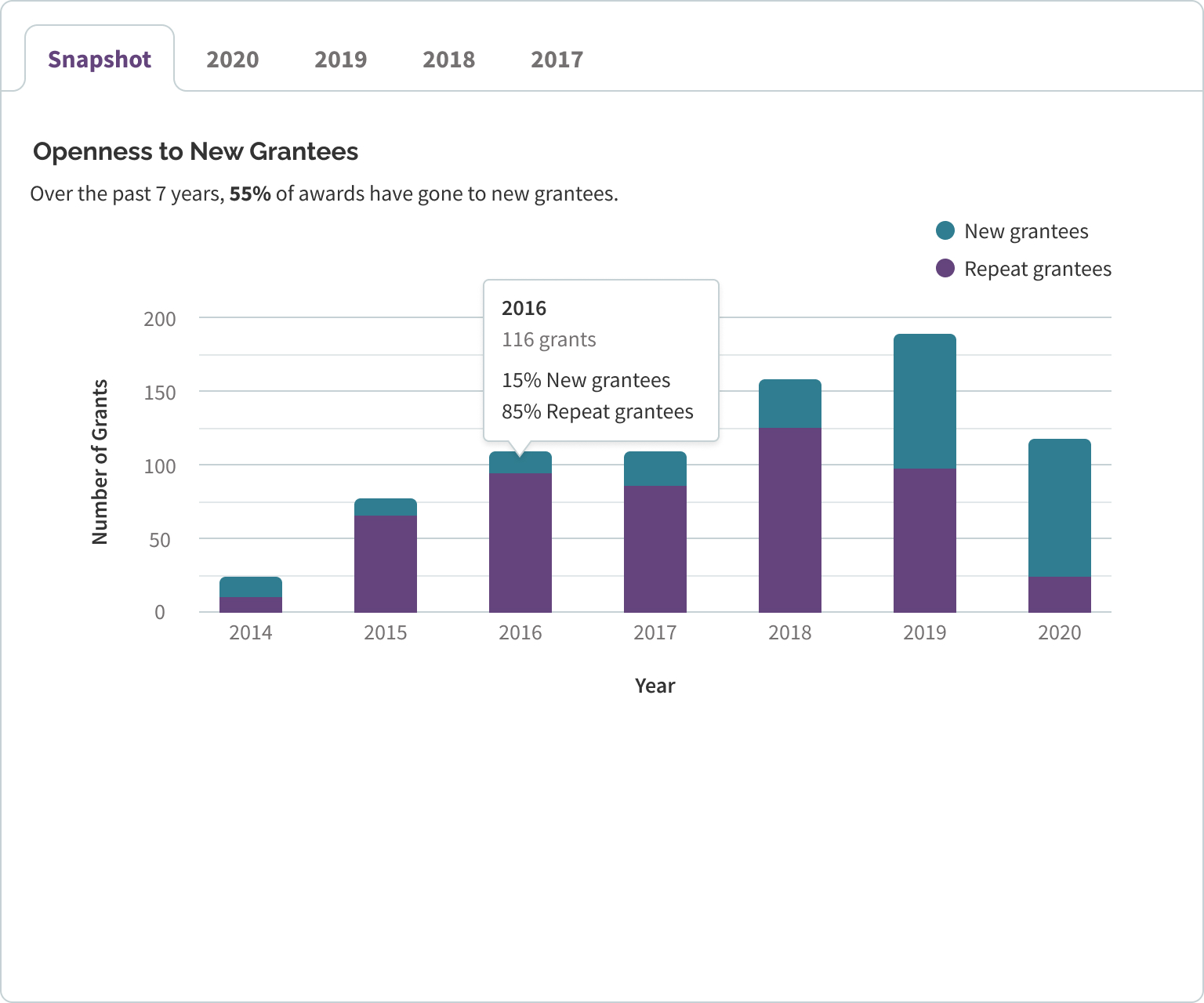 Category Insights
Find out funders' interests by seeing their top giving categories. Drill down into giving patterns per category.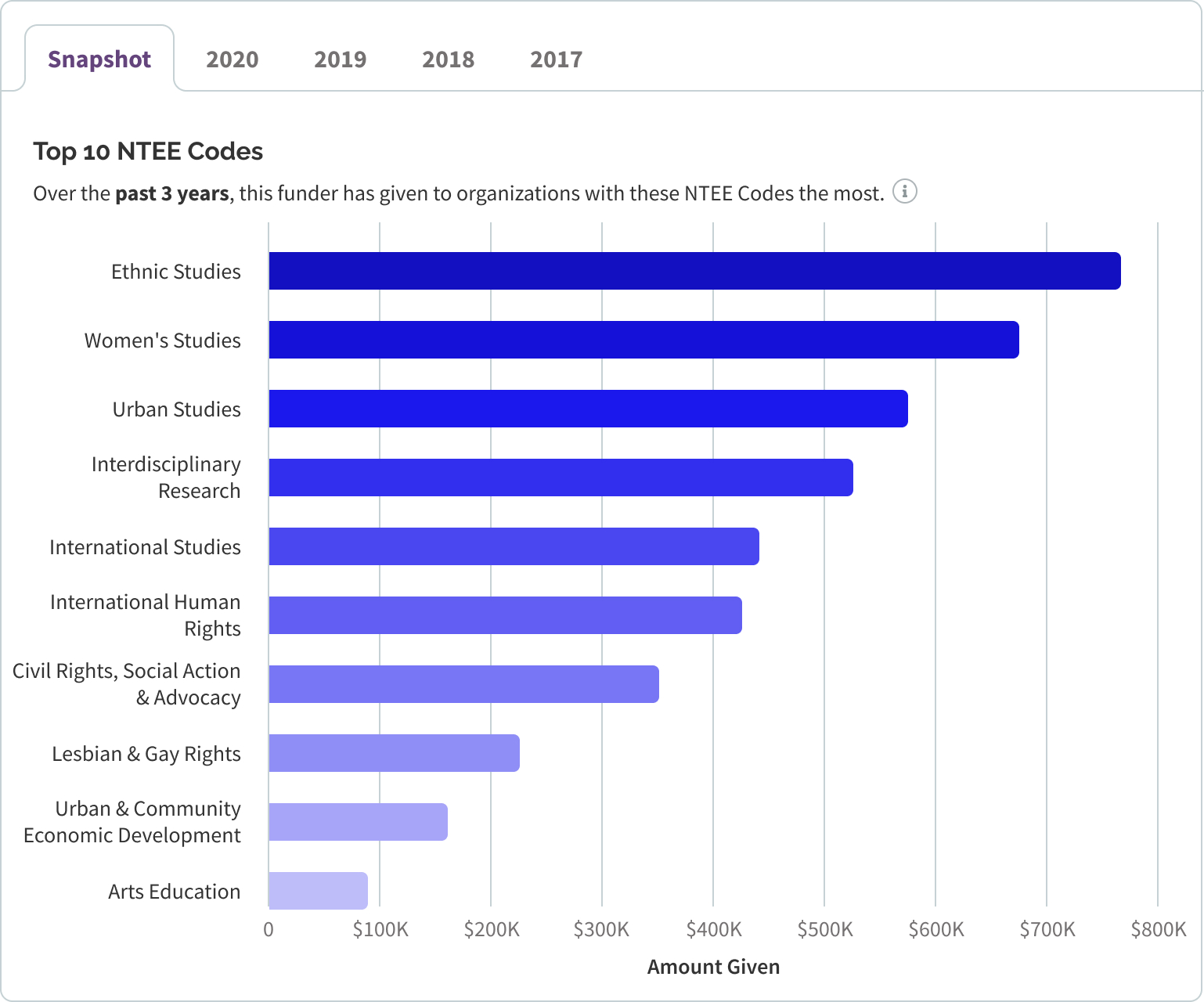 Previous

Next