Instrumentl creates easy-to-read 990 Reports based on digitized IRS Form 990s for thousands of private foundation and nonprofits to make it easier for you to find good fit funders like Grand View University.
If you'd like to get matched to similar funders to Grand View University, create a free Instrumentl account.
Based on most recent IRS 990 filing (2022)
Questions about this data?
Title
Name
Trustee & President
Kent L Henning
Trustee & Chair
Christopher J Littlefield
Trustee & Vice Chair
Anita Norian
Trustee & Secretary
Mike Mccoy
Trustee & Treasurer
Christian M Murray
See more
Trustee
Mary Bontrager
Trustee
Karen J Brodie
Trustee
Nola F Cartmill
Trustee
Don Coffin
Trustee
Ro Crosbie
Trustee
The Rev Amy Current
Trustee
Rosalind Fox
Trustee (Eff Apr 2022)
Georgia Van Gundy
Trustee
Brett E Harman
Trustee
Jason C Henderson
Trustee (Through Oct 2021)
Nick J Henderson
Trustee (Through Oct 2021)
Richard Hurd
Trustee
Li Zhau Mandelbaum
Trustee
Mike Moore
Trustee
Gary E Palmer
Trustee
Kurt E Rasmussen
Trustee
Wendy Srnic
Trustee
David Stark
Trustee (Eff Feb 2022)
Tom Triplett
Trustee
Pat Wood
Trustee
Joleen Workman
Vp Academic Affairs & Provost
Carl Moses
Vp Advancement
William H Burma
Vp Admin/Finance
Christopher Lee
Vp Information Systems/Cio
Tim Wheeldon
Vp Enrollment Mgmt
Debbie Barger
Vp Student Affairs
Jay B Prescott
Vp Marketing & Communication
Kendall Dillon
Vice Provost For Grad & Pro Studies
Patricia Williams
Dean Of College Of Social
Paul Rider
Controller
Julie A Bantz
Don't miss out on other good fit funders!
See even more similar funders by creating a free 14-day account. Get personalized grant recommendations, tracking and more.
"Through Instrumentl, I was able to accomplish in 6 hours...SIX HOURS...what would have taken days or weeks with [another] search engine."

The funder insights you need
start your free trial & get a competitive edge
SAMPLE DATA
For preview purposes only;
not actual funder's data
Grant Amounts
Easily see the range of award sizes given over time. See key stats such as the most common award size, min/max, and more.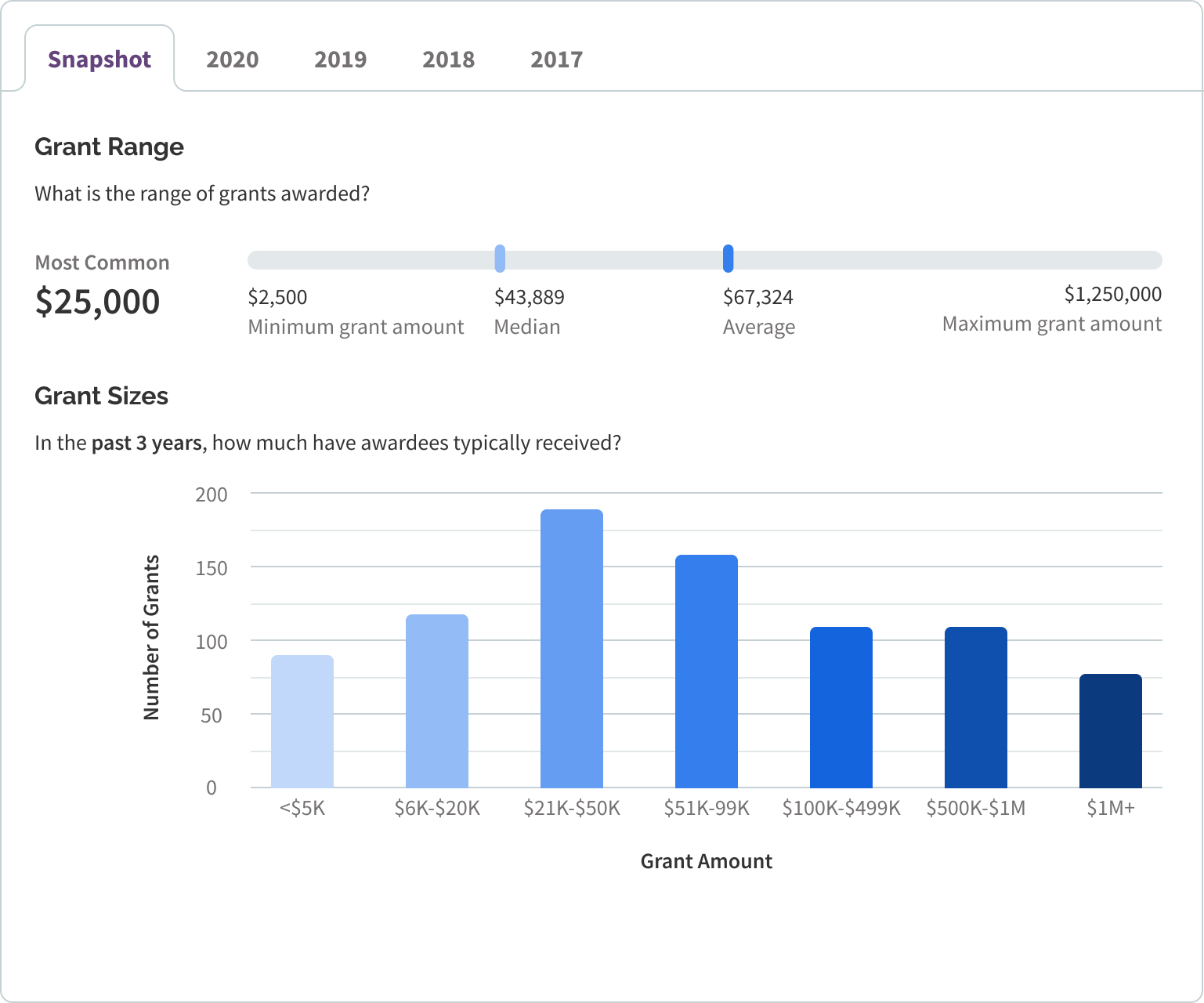 Openness to New Awardees
At a glance, see past and new awardees. See a snapshot over the past three years or dive into individual awards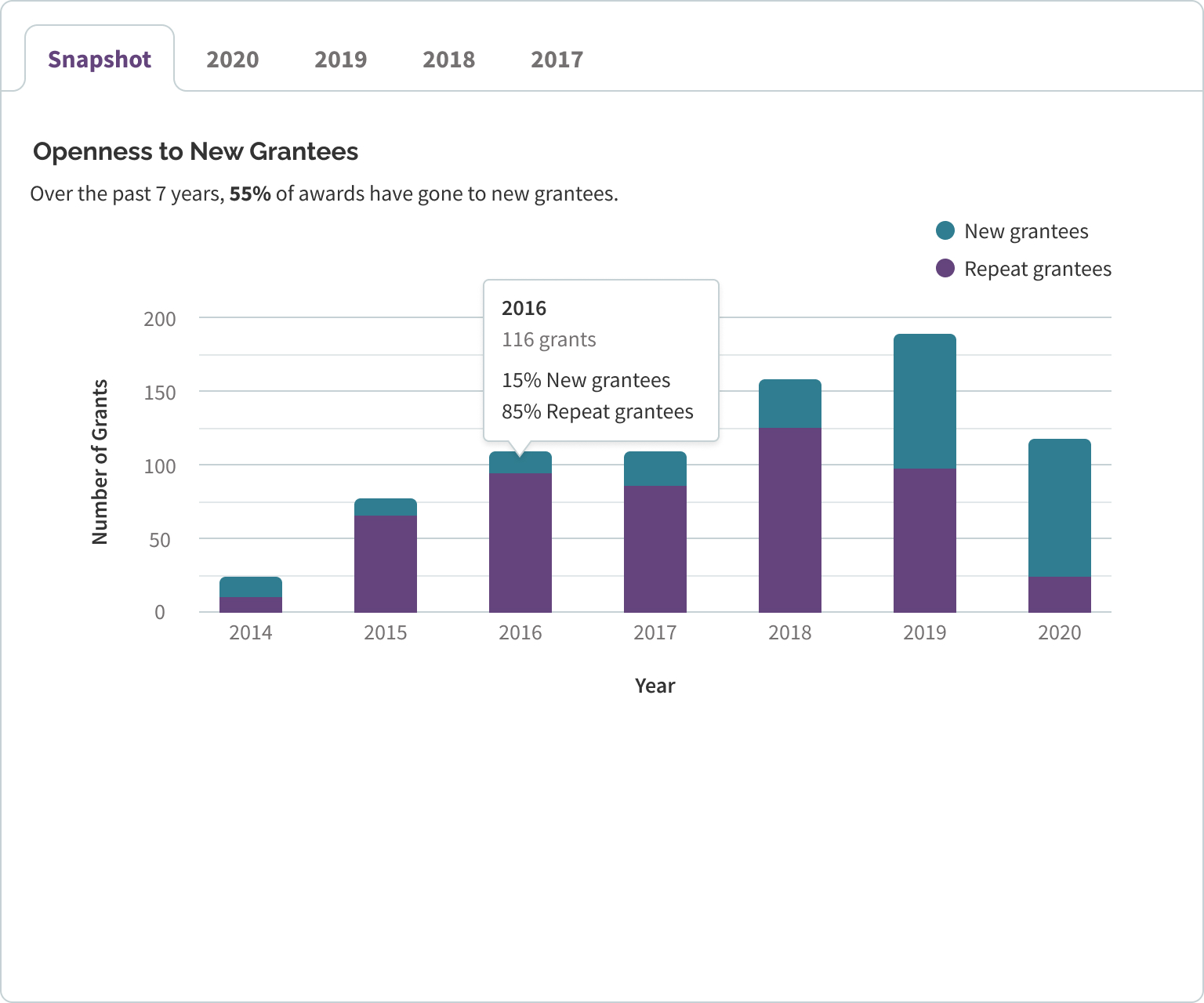 Category Insights
Find out funders' interests by seeing their top giving categories. Drill down into giving patterns per category.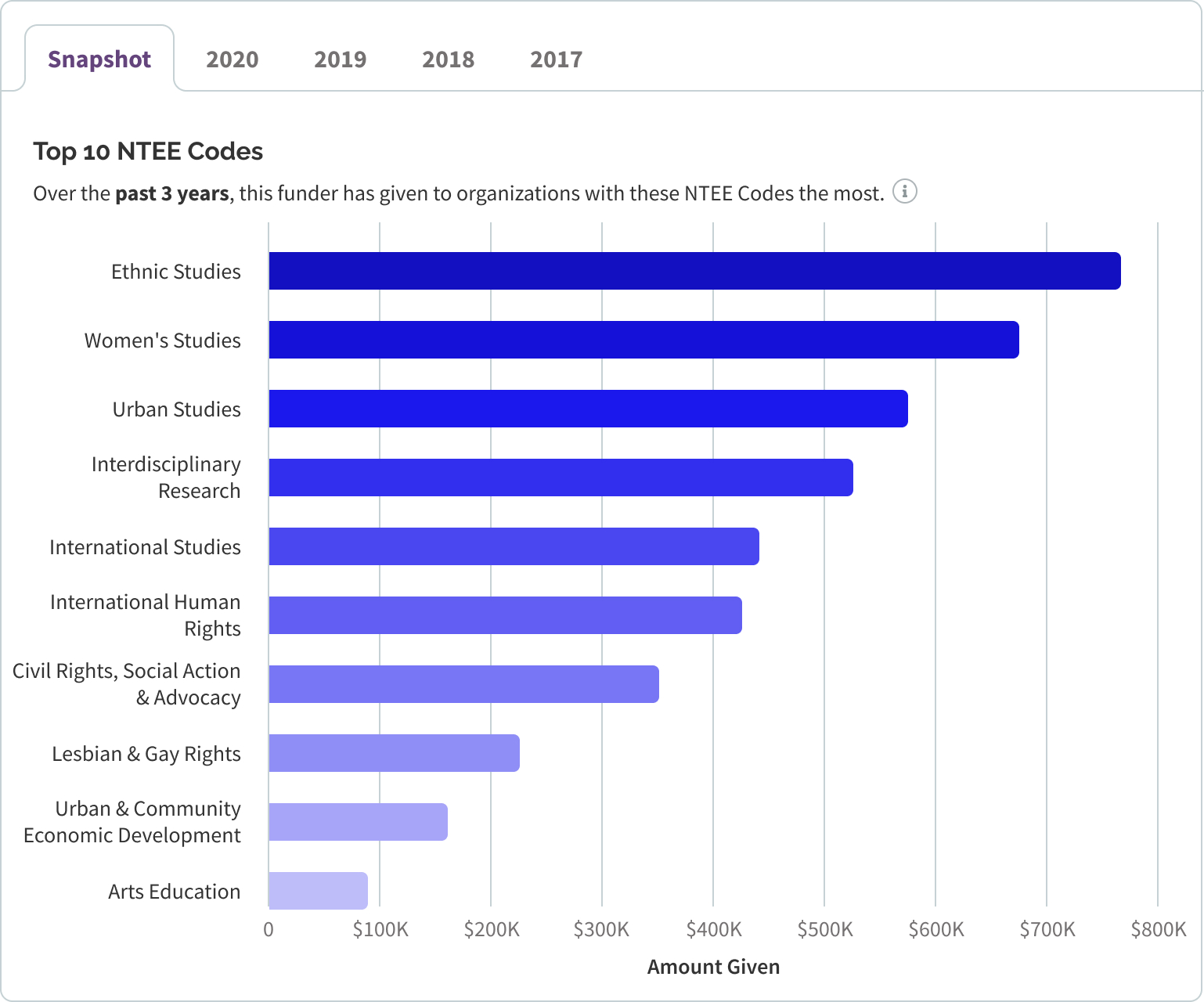 Previous

Next