Instrumentl creates easy-to-read 990 Reports based on digitized IRS Form 990s for thousands of private foundation and nonprofits to make it easier for you to find good fit funders like International Olympic Committee.
If you'd like to get matched to similar funders to International Olympic Committee, create a free Instrumentl account.
Based on most recent IRS 990 filing (2021)
Questions about this data?
Title
Name
Director General
Christophe De Kepper
Chief Operating Officer
Lana Haddad
Deputy Director General Rom
Pere Mir
Olympic Games Exec. Director
Christophe Dubi
Sports Director
Kit Mc Connell
See more
Spokesman Services Director
Mark Adams
Noc And Os Director
James Mac Leod
Director Co Bra S
Marie Sallois
Olympic Games Ops. Director
Pierre Ducrey
Digital Engagement & Marketing
Christopher Carroll
Legal Affairs Director
Mariam Mahdavy
Chief Financial Officer
Emre Kurtoglu
Dir. Medical And Scientific
Richard Budgett
Chief Information Tech. Office
Ilario Corna
Dir. Of Corp. Communication
Christian Klaue
Chief Ethics & Compliance Off.
Pquerette Girard Zappelli
Dir. Corp. Events & Marketing
Panagiotis Tzivanidis
Future Olym. Games Hosts Dir.
Jacqueline Barrett
Director Of Human Resources
Xavier Tissires
Chief Of Staff
Marcus Hecht Hausen
Dir. Of Athletes Dept.
Kaveh Mehrabi
Ioc President
Thomas Bach
Vp Of Ioc Executive Board
Anita L Defrantz
Vp Of Ioc Executive Board
Joh N Coates
Vp Of Ioc Executive Board
Ser Miang Ng
Vp Of Ioc Executive Board
Zaiqing Yu
Ioc Executive Board Member
Mikaela Jaworski
Ioc Executive Board Member
Kirsty Coventry
Ioc Executive Board Member
Nawal El Moutawakel
Ioc Executive Board Member
Ivo Ferriani
Ioc Executive Board Member
Hrh Pr Bin Al Hussein Faisal
Vp Of Ioc Executive Board
Nicole Lucia Maria Hoevertsz
Ioc Executive Board Member
Nenad Lalovic
Ioc Executive Board Member
Robin Everett Mitchell
Ioc Executive Board Member
Denis Andr Oswald
Ioc Executive Board Member
Gerardo Werthein
Ioc Executive Board Member
Emma Terho
There were 9 awards in 2021. Who received these awards, and where are they located?
There were 9 awards in 2020. Who received these awards, and where are they located?
There were 9 awards in 2019. Who received these awards, and where are they located?
There were 9 awards in 2018. Who received these awards, and where are they located?
Don't miss out on other good fit funders!
See even more similar funders by creating a free 14-day account. Get personalized grant recommendations, tracking and more.
"Through Instrumentl, I was able to accomplish in 6 hours...SIX HOURS...what would have taken days or weeks with [another] search engine."

The funder insights you need
start your free trial & get a competitive edge
SAMPLE DATA
For preview purposes only;
not actual funder's data
Grant Amounts
Easily see the range of award sizes given over time. See key stats such as the most common award size, min/max, and more.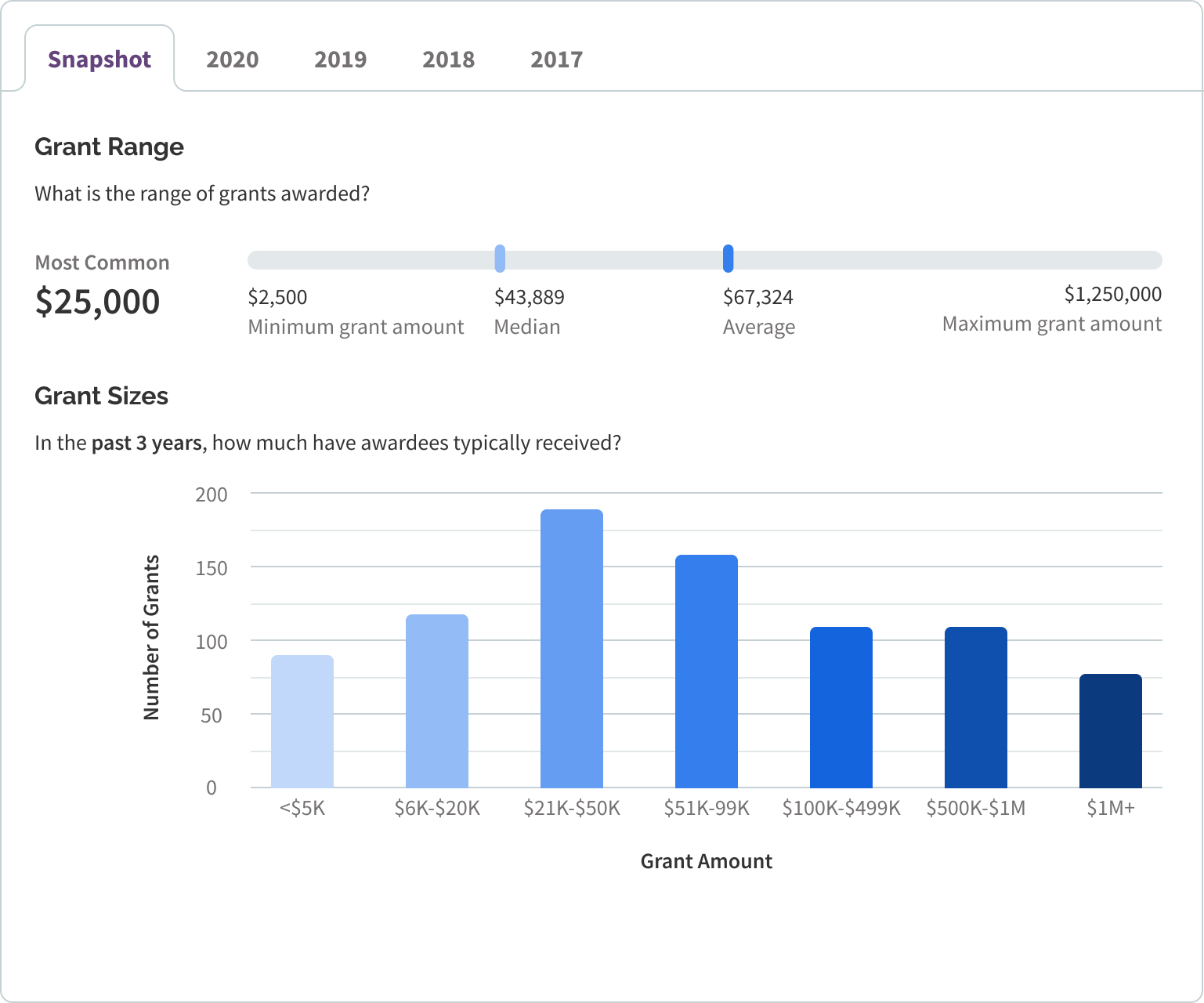 Openness to New Awardees
At a glance, see past and new awardees. See a snapshot over the past three years or dive into individual awards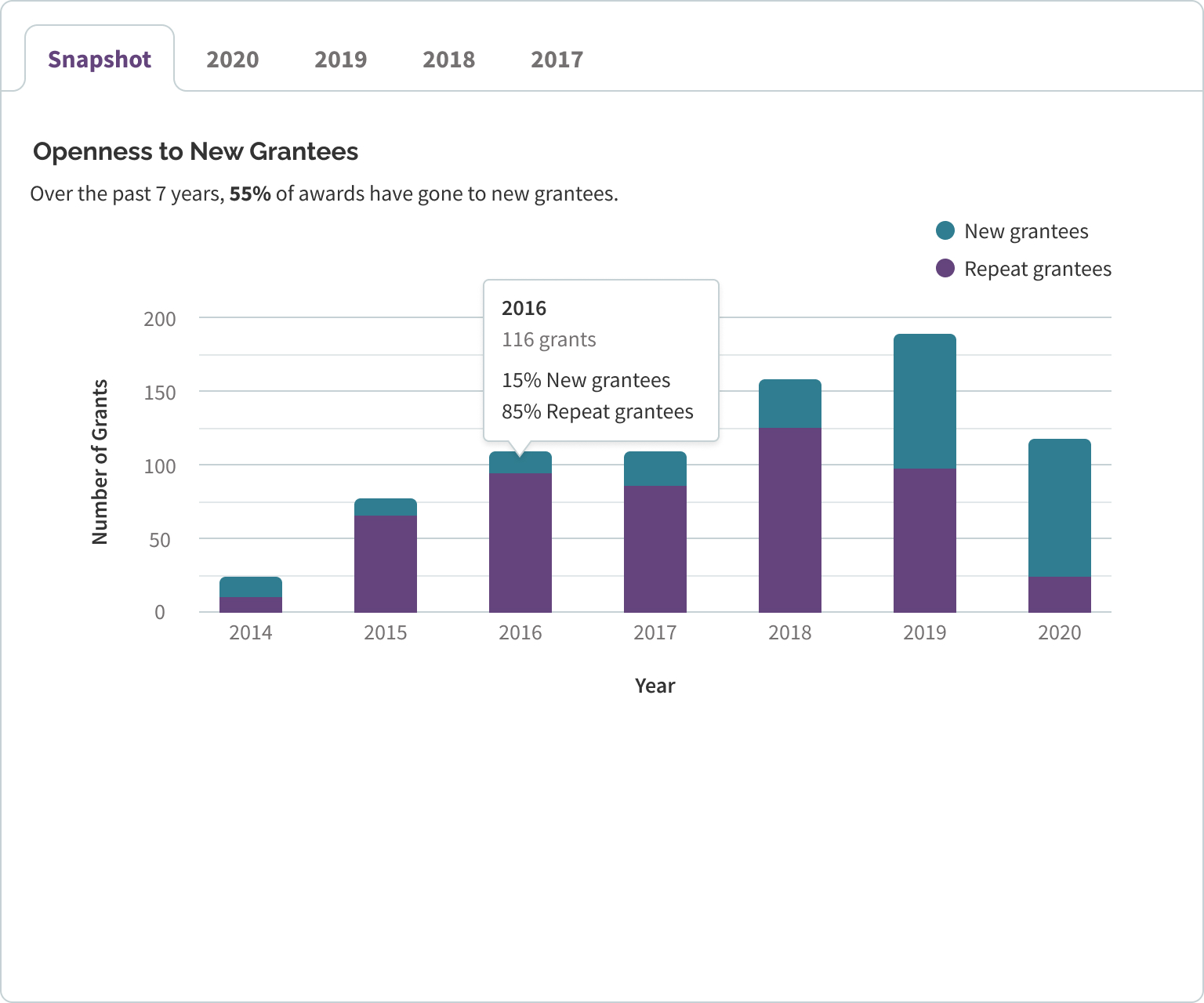 Category Insights
Find out funders' interests by seeing their top giving categories. Drill down into giving patterns per category.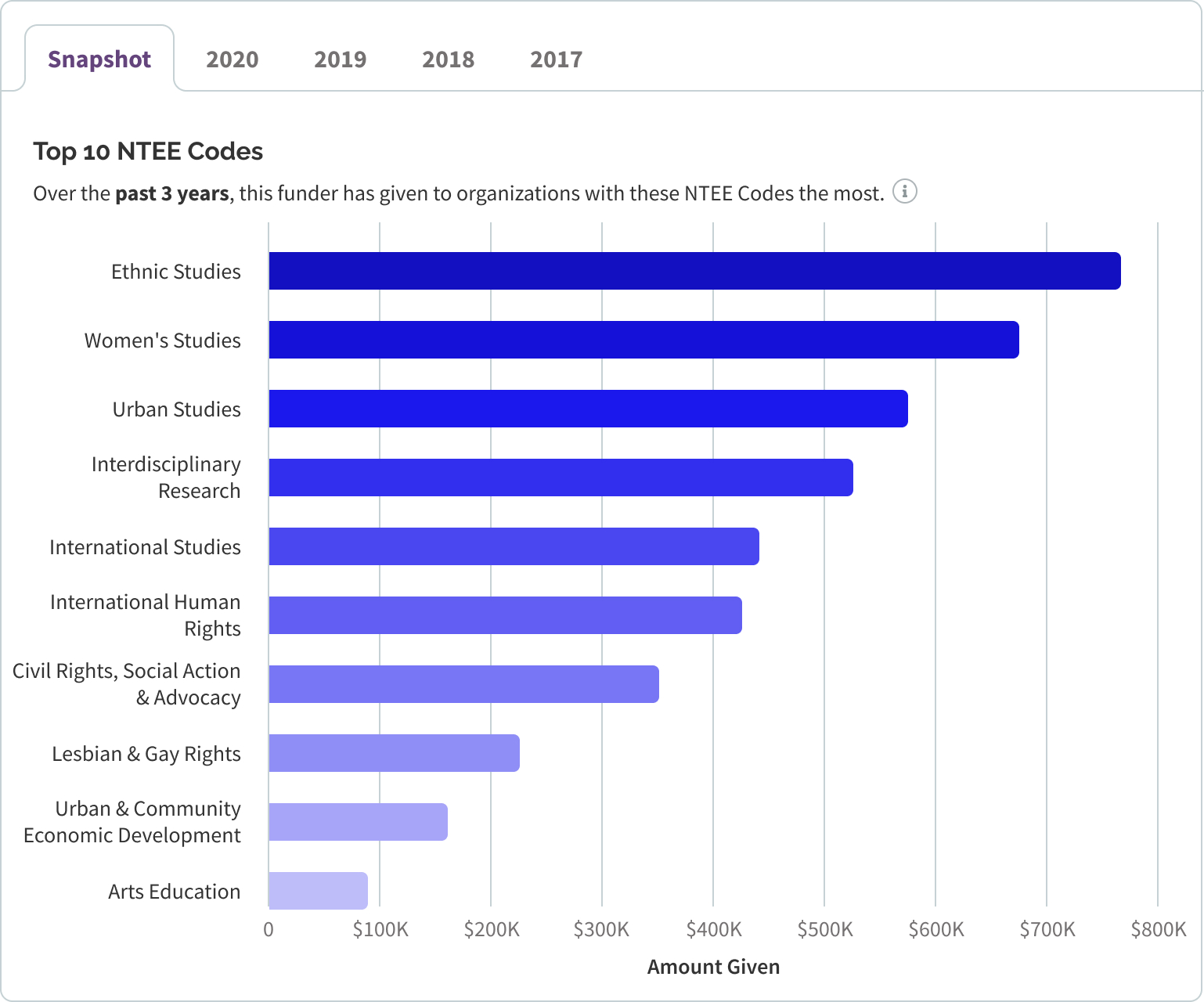 Previous

Next