Instrumentl creates easy-to-read 990 Reports based on digitized IRS Form 990s for thousands of private foundation and nonprofits to make it easier for you to find good fit funders like Mcdaniel College Inc.
If you'd like to get matched to similar funders to Mcdaniel College Inc, create a free Instrumentl account.
Based on most recent IRS 990 filing (2022)
Questions about this data?
Title
Name
Chair
Otto J Guenther
Chair
Bruce H Preston
Vice Chair
Mary Lynn Durham
Trustee
Charles Boehlke Jr
Trustee
William Butz
See more
Trustee
Randall M Day
Trustee
Eric Dezenhall
Trustee
James Francis
Trustee
Ralph O Frith
Trustee
Darrell T Guyton
Trustee
Martin Kp Hill
Trustee
Samuel E Hopkins
Trustee
Jin Kang
Trustee
Ed Kasemeyer
Trustee
Steven D Kesler
Trustee
Marjorie R Kimble
Trustee
Alexander Koundourakis
Trustee
Karen Lamont
Trustee
Carolyn P Landis
Trustee
James E Lightner
Trustee
Julie Lucas
Trustee
Jill Mennicken
Trustee
Victor Mcteer
Trustee
Albert J Mezzanotte Jr
Trustee
Virginia Miller
Trustee
Charles E Moore Jr
Trustee
David Moskowitz
Trustee
Chitrachedu Naganna
Trustee
Christopher C Newman
Trustee
Donald M Rembert
Trustee
William Rodgers
Trustee
Robert Salomon Iii
Trustee
Carolyn L Scott
Trustee
Barbara Shelton
Trustee
Aaron Slaughter
Trustee
Dolores J Snyder
Trustee
Sue Stevenson
Trustee
Patrick Stokes
Trustee
Mark Stuart
Trustee
Barbara A Thomas
Trustee
Anne Voss
Trustee
James H Yates
Trustee
Carroll L Yingling
President
Julianne Jasken
Vp Admin & Finance
Eric Simon
Vp Admin & Finance
W Thomas Phizacklea
Assistant Treasurer
Kimberly A Seeley
Treasurer
Julie Fisher
Secretary
Marissa Lander
Assistant Secretary
Katherine Hollabaugh
Vp Enrollment Mgmt.
Janelle Holmboe
Emeritus
Roger Casey
Senior Avp Of Ia
Lawrence Junkin
Ceo Target Services
Thomas J Zirpoli
Dean Of Graduate & Prof Studies
Vickie Mazer
Dean Of Students
Elizabeth Towle
Don't miss out on other good fit funders!
See even more similar funders by creating a free 14-day account. Get personalized grant recommendations, tracking and more.
"Through Instrumentl, I was able to accomplish in 6 hours...SIX HOURS...what would have taken days or weeks with [another] search engine."

The funder insights you need
start your free trial & get a competitive edge
SAMPLE DATA
For preview purposes only;
not actual funder's data
Grant Amounts
Easily see the range of award sizes given over time. See key stats such as the most common award size, min/max, and more.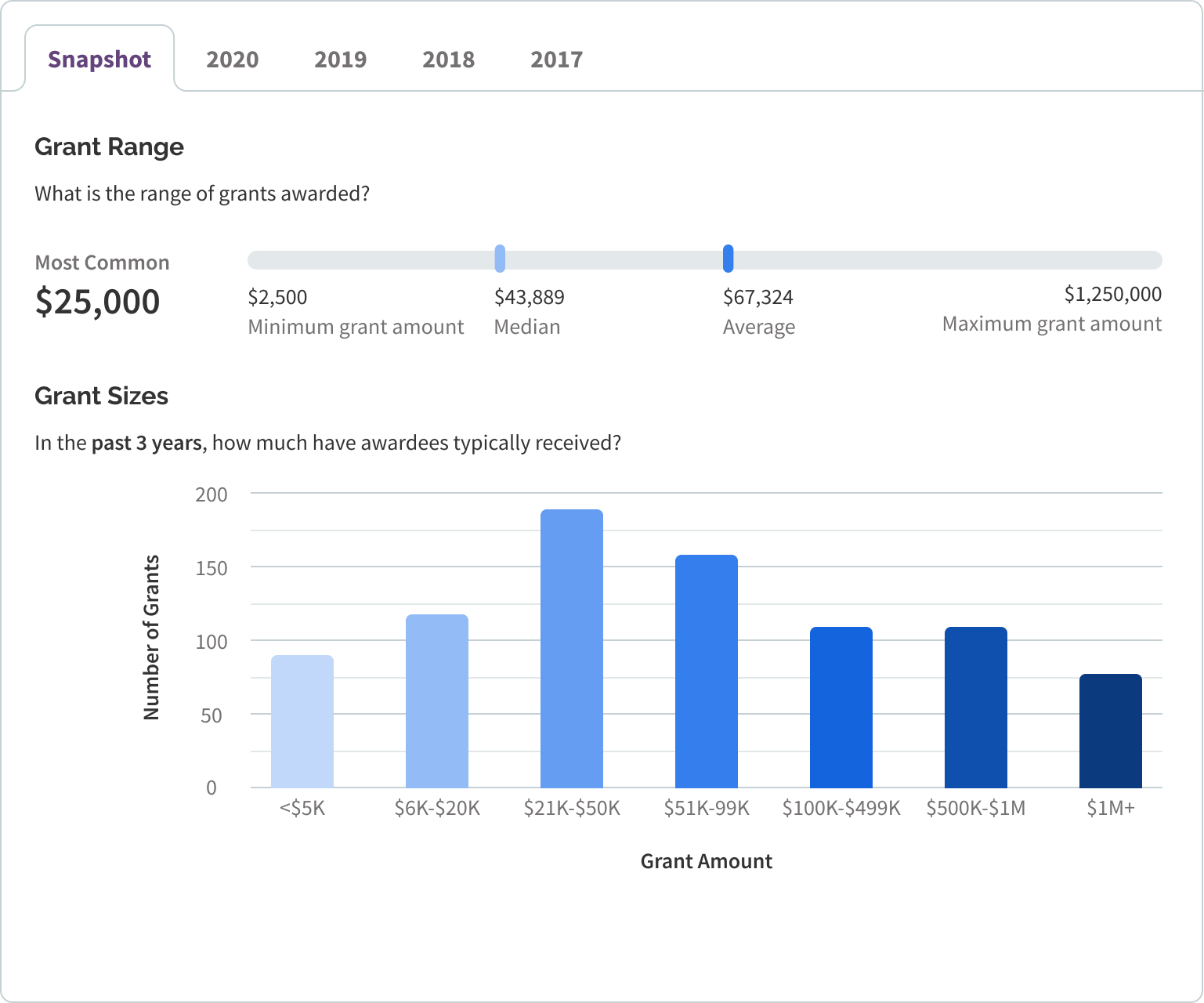 Openness to New Awardees
At a glance, see past and new awardees. See a snapshot over the past three years or dive into individual awards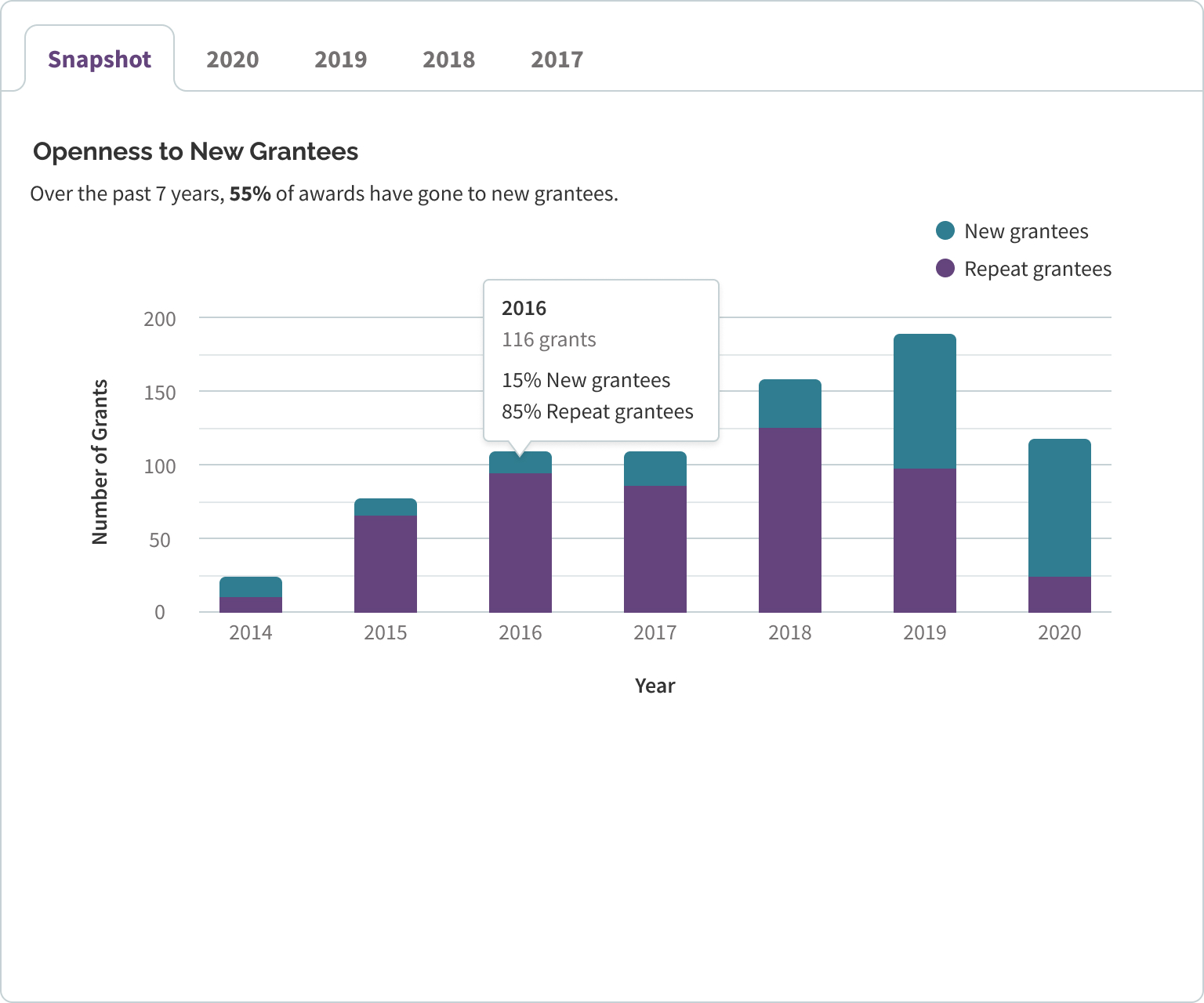 Category Insights
Find out funders' interests by seeing their top giving categories. Drill down into giving patterns per category.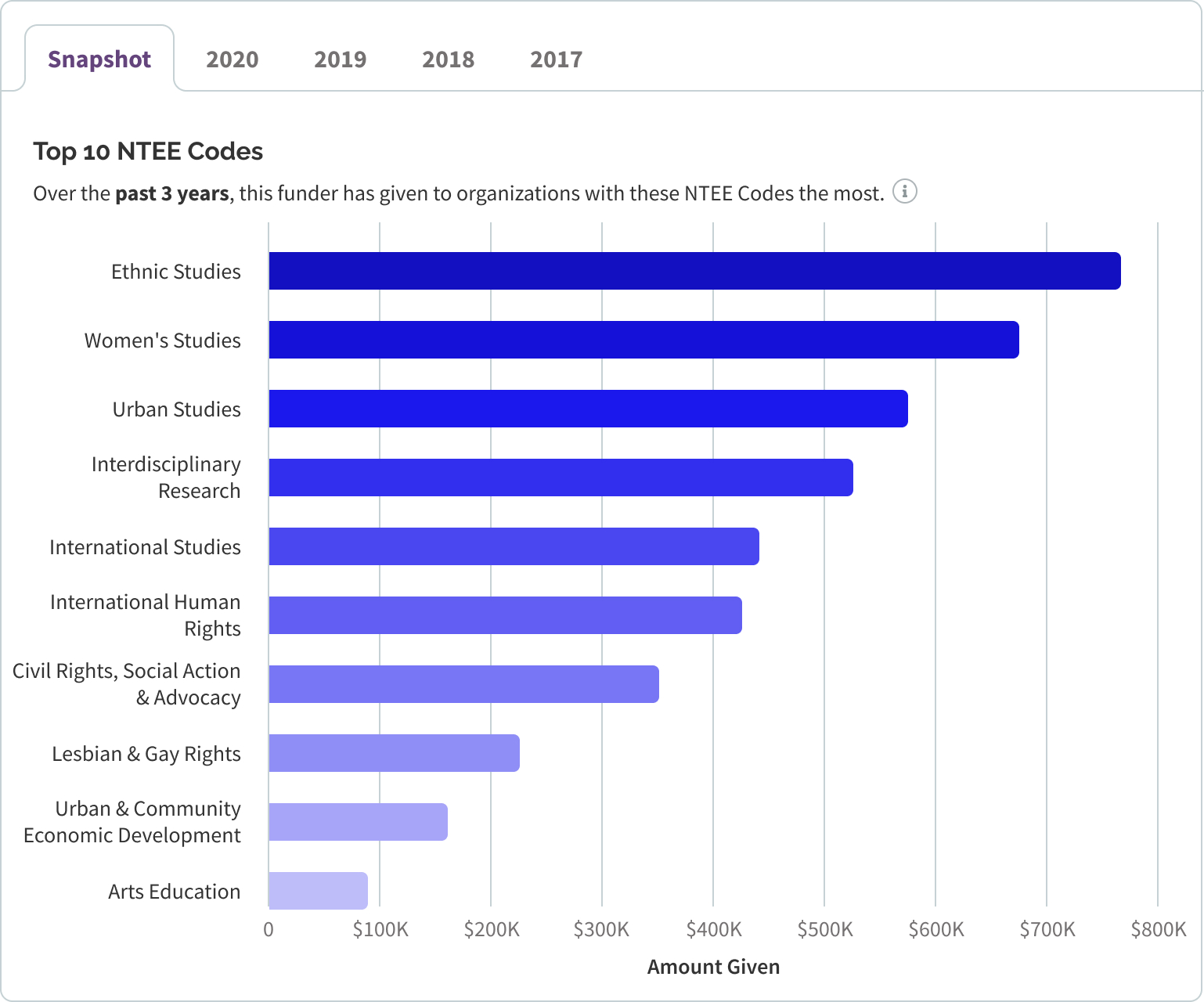 Previous

Next