Instrumentl creates easy-to-read 990 Reports based on digitized IRS Form 990s for thousands of private foundation and nonprofits to make it easier for you to find good fit funders like Oakwood University.
If you'd like to get matched to similar funders to Oakwood University, create a free Instrumentl account.
Based on most recent IRS 990 filing (2022)
Questions about this data?
Title
Name
Member
Abraham Jules
Member
Linda Seal
Member
Lois Peters Emeritus
Member
Marcellus Robinson
Member
Marvin Brown
See more
Member
Meki Bracken
Member
Michael Owusu
Member
Michelle Ramey
Member
Nyasha Smith Ruddock
Member
Paul Llewellyn
Member
Pierre Omeler
Member
Randy Robinson
Member
Robert Edwards
Member
Robert Norwood
Member
Roger Bernard
Member
Sergio Romero
Member
Shawn Hervey Jumper
Member
Shushannah Smith
Member
Stephen Foster
Member
Stephen Gray
Member
Terry Shaw
Member
Virgil Childs
Member
William Hicks
Member
Witford Reid
Member
Zavon Kanion
Member
Koyshin Ahn
Member
Laura Davis
Member
Kenneth Denslow
Member
Arne Nielsen
Member
Benjamin Jones
Member
Benjamin Reaves Emeritus
Member
Benson Prigg
Member
Brad Newton
Member
Byron Dulan
Member
Calvin B Rock Emeritus
Member
Calvin Preston
Member
Carlos Craig
Member
Carlton Byrd
Member
Carmela Monk Crawford
Member
Kenneth Manders
Member
David Freedman
Member
David R Williams
Member
David Weigley
Member
Ed Zinke
Member
Garth Gabriel
Member
Gary Thurber
Member
Jim Davidson
Member
John Freedman
Vice Chair
Ralph Reid
Vice Chair
Ron C Smith
Vice Chair
Calvin Watkins
Senior Vp Provost
Colwick Wilson
Chairman
G Alexander Bryant
Vp Enrollment Services
David Richardson
Vp Erdn
Karen Benn Marshall
Vp Financial Affairs
Sabrina Cotton
Vp Faculty Development
Prudence Labeach Pollard
Provost
James Mbyirukira
President
Leslie N Pollard
Don't miss out on other good fit funders!
See even more similar funders by creating a free 14-day account. Get personalized grant recommendations, tracking and more.
"Through Instrumentl, I was able to accomplish in 6 hours...SIX HOURS...what would have taken days or weeks with [another] search engine."

The funder insights you need
start your free trial & get a competitive edge
SAMPLE DATA
For preview purposes only;
not actual funder's data
Grant Amounts
Easily see the range of award sizes given over time. See key stats such as the most common award size, min/max, and more.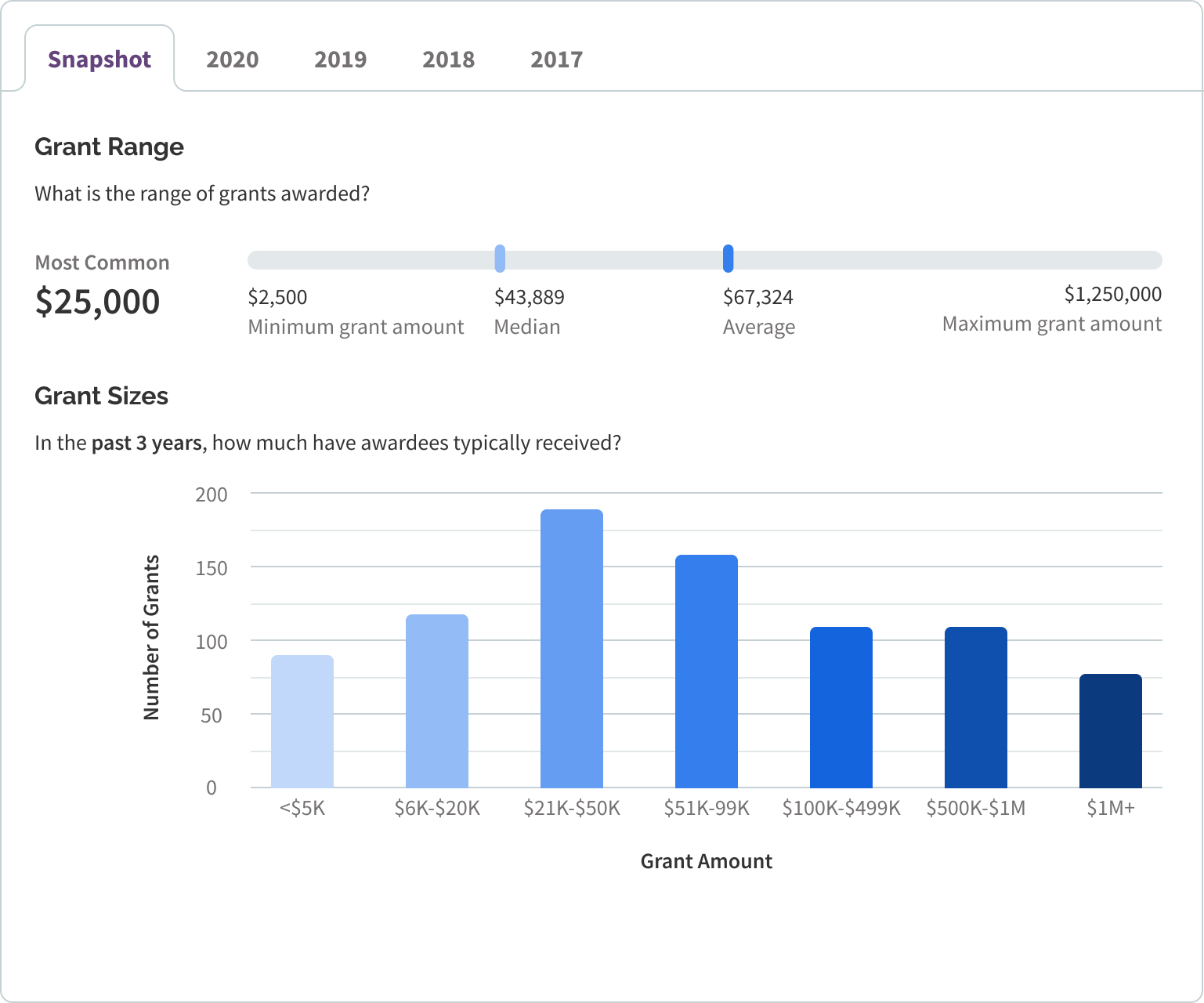 Openness to New Awardees
At a glance, see past and new awardees. See a snapshot over the past three years or dive into individual awards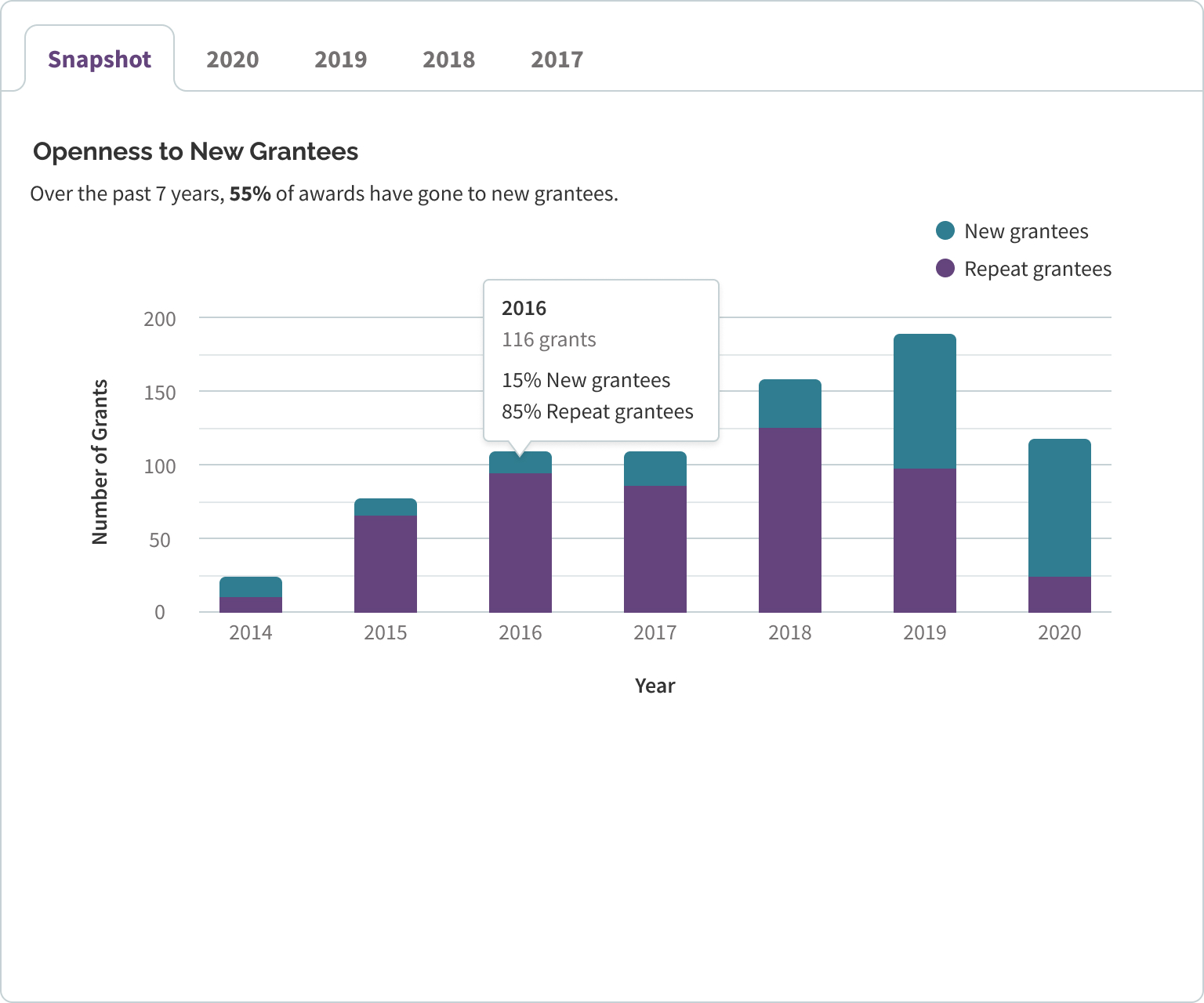 Category Insights
Find out funders' interests by seeing their top giving categories. Drill down into giving patterns per category.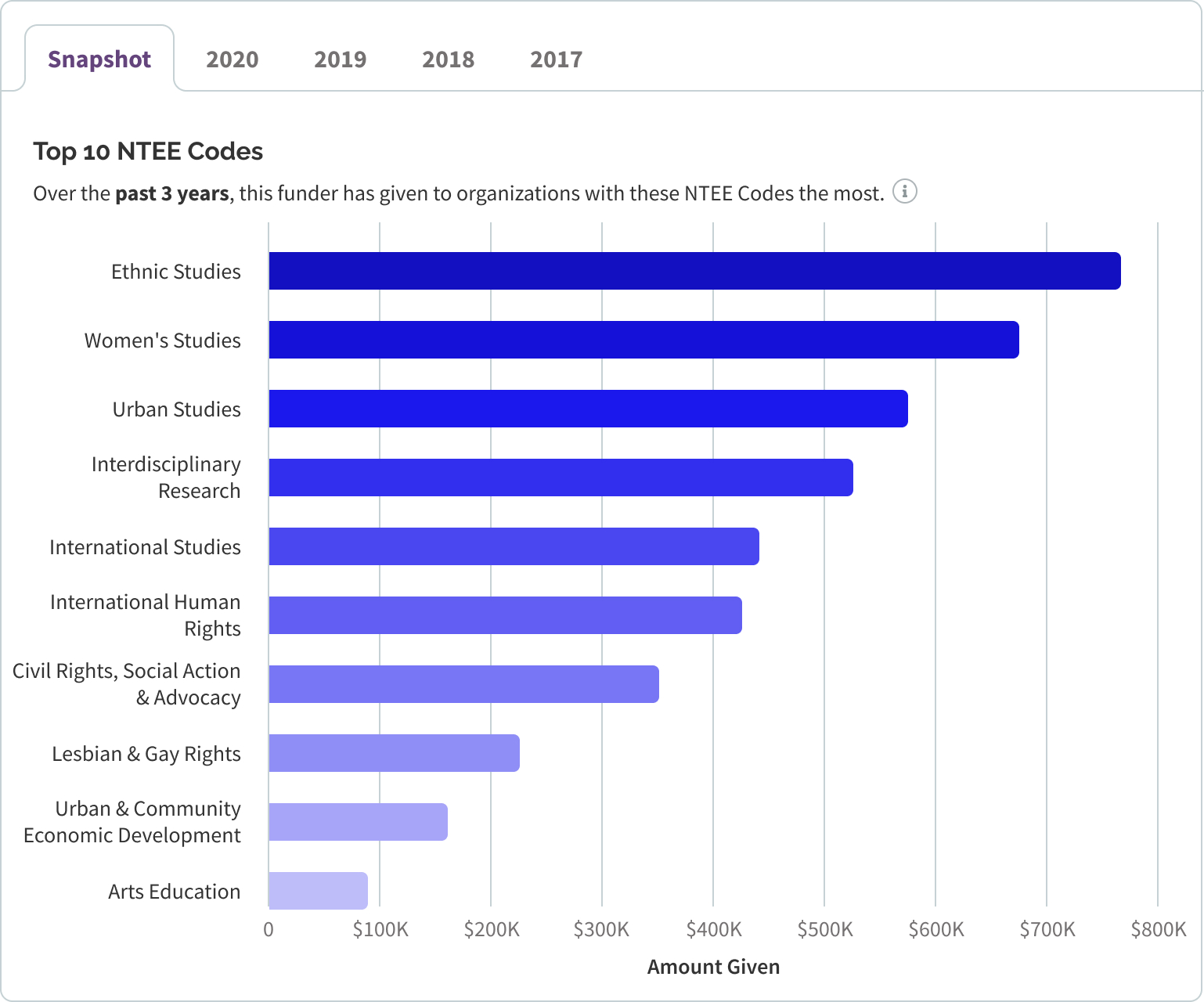 Previous

Next