Instrumentl creates easy-to-read 990 Reports based on digitized IRS Form 990s for thousands of private foundation and nonprofits to make it easier for you to find good fit funders like Providence Medical Institute.
If you'd like to get matched to similar funders to Providence Medical Institute, create a free Instrumentl account.
Based on most recent IRS 990 filing (2021)
Questions about this data?
Title
Name
Former Officer Psjh President/Ceo
Rod F Hochman Md
Former Ke Psjh Evp/Cao
Debra Canales
Director
Erik Wexler
Frmr Ke Psjh Pres. Evp/Pop. Health
Rhonda Medows Md
Frmr Ke Psjh Pres. Strat. Ops (No)
Lisa Vance
See more
Director Thru 3/21
Mike Butler
Director (Part Year)
Amy Compton Phillips Md
Director
Bj Moore
Frmr Ke Psjh Evp Ce Wa/Mt
Joel Gilbertson
Director
Kevin Manemann
Former Secretary
Cindy Strauss
Director
Mike Waters
Frmr Ke Psjh Chf People Off.
Greg Till
Frmr Off Psjh Evp/Asst. Treas.
Jo Ann Escasa Haigh
Frmr Ke Psjh Evp Chf Mkt/Dig Inn.
Aaron Martin
Frmr Ke Psjh Svp/Chief Comm/Ext Aff Off
Orest Holubec
Former Officer Psjh Secretary
John Whipple
Former Svp Chief Nursing Officer
Debbie Burton
Assistant Secretary Thru 9/21
Jill Duplechan
Frmr Ke Psjh Svp Ttl Rew. Talent Acq
Mary Cranstoun
Secretary
Jim Watson Esq
Frmr Ke Psjh Svp Cao Amb. Care
David Brown
Director (Part Year)
Ali Santore
President (Part Year)
David Kim
Former Evp/Treasurer
Venkat Bhamidipati
Director Thru 4/21
Doug Koekkoek
Ceo Medical Foundations
David Mast
Cfo Thru 10/21
Nathan Husmann
Coo Medical Foundations
Teresa David
Cfo (Part Year)
Melayne Yocum
Assistant Secretary For Enrollment
Donald Anderson Jr
Director
Anne Ford Md
Director
Connie Bartlett Do
Director Thru 4/21
David Cheng
Director Thru 6/21
Donald Pratt Md
Director/Chair
Elizabeth Sander Md
Director
Jeannette Currie
Director
Keith Marton Md
Director
Mark Needham Md
Director
Michael Sugarman Md
Director (Part Year)
Raul Rudy Marquez Md
Director
Robert Del Junco Md
Director
Robert Rosenberg Md
Director
Roscoe Marter Md
Director
Sister Jo Ann Eannareno
Director (Part Year)
William Barcelona
There was 1 awards in 2017. Who received this awards, and where are they located?

This organization did not e-file for 2016, so Instrumentl is unable to provide 990 insights. Starting in 2020, e-filings are required.
You can always refer to the 990 PDFs.
There was 1 awards in 2015. Who received this awards, and where are they located?
Don't miss out on other good fit funders!
See even more similar funders by creating a free 14-day account. Get personalized grant recommendations, tracking and more.
"Through Instrumentl, I was able to accomplish in 6 hours...SIX HOURS...what would have taken days or weeks with [another] search engine."

The funder insights you need
start your free trial & get a competitive edge
SAMPLE DATA
For preview purposes only;
not actual funder's data
Grant Amounts
Easily see the range of award sizes given over time. See key stats such as the most common award size, min/max, and more.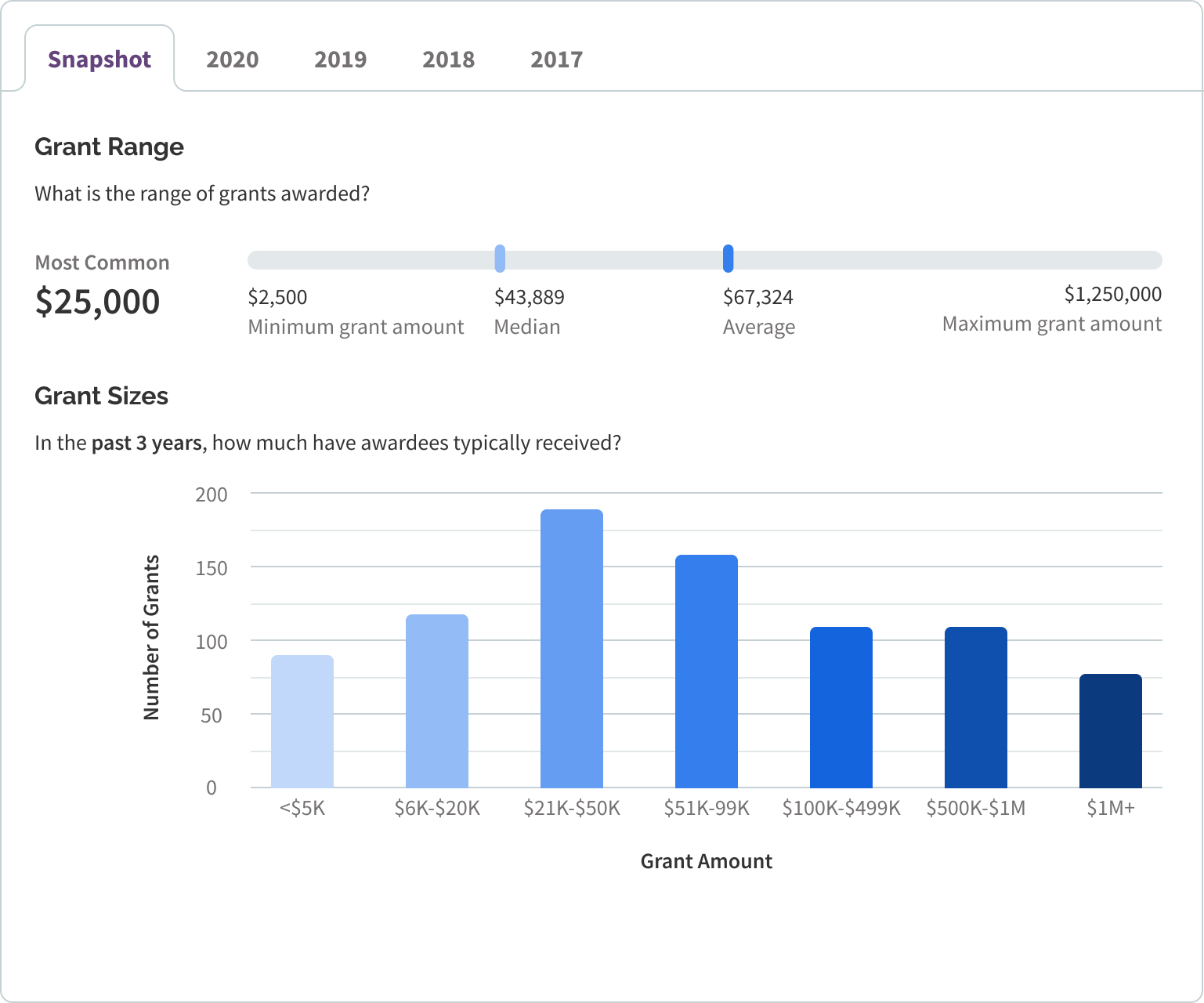 Openness to New Awardees
At a glance, see past and new awardees. See a snapshot over the past three years or dive into individual awards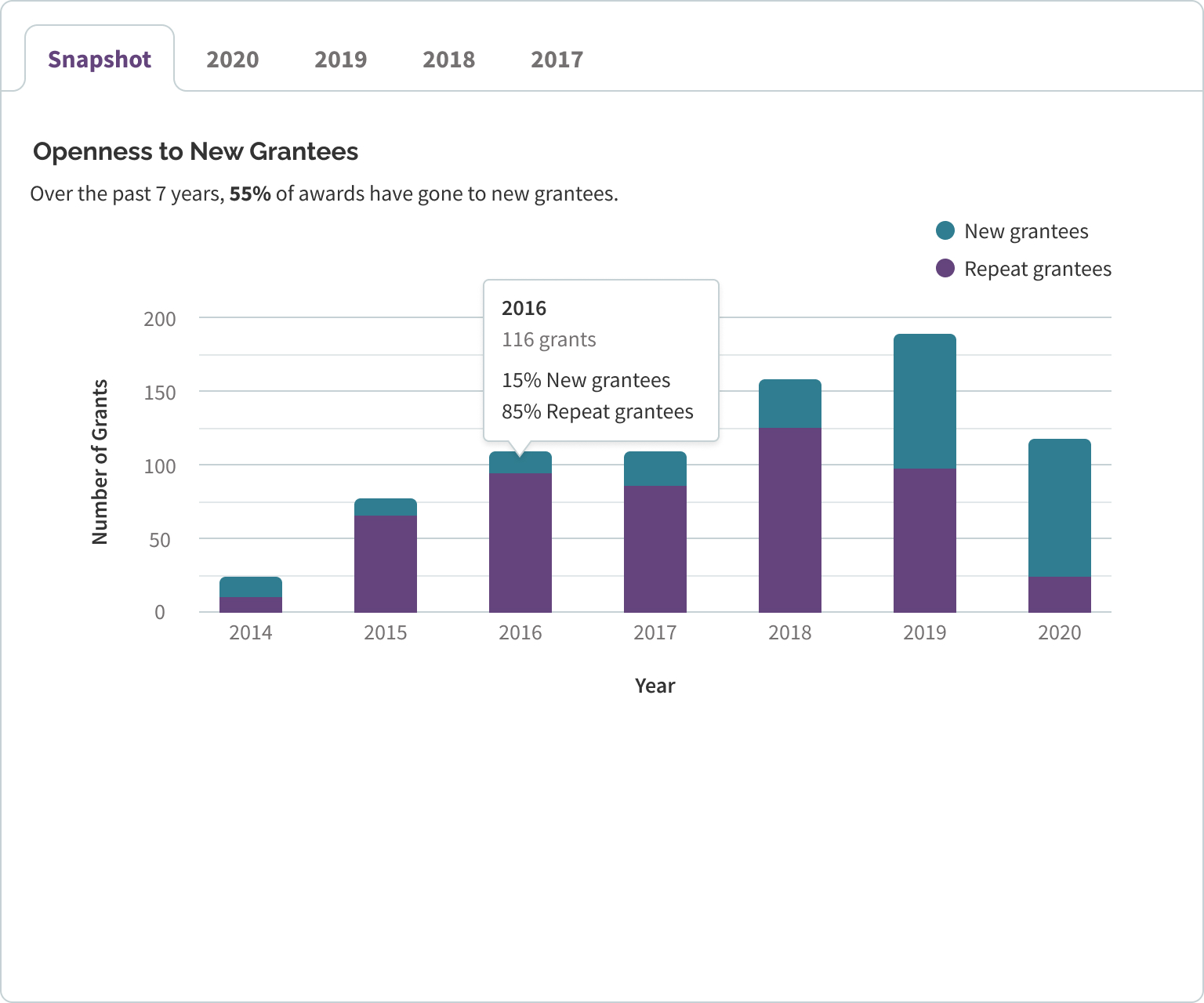 Category Insights
Find out funders' interests by seeing their top giving categories. Drill down into giving patterns per category.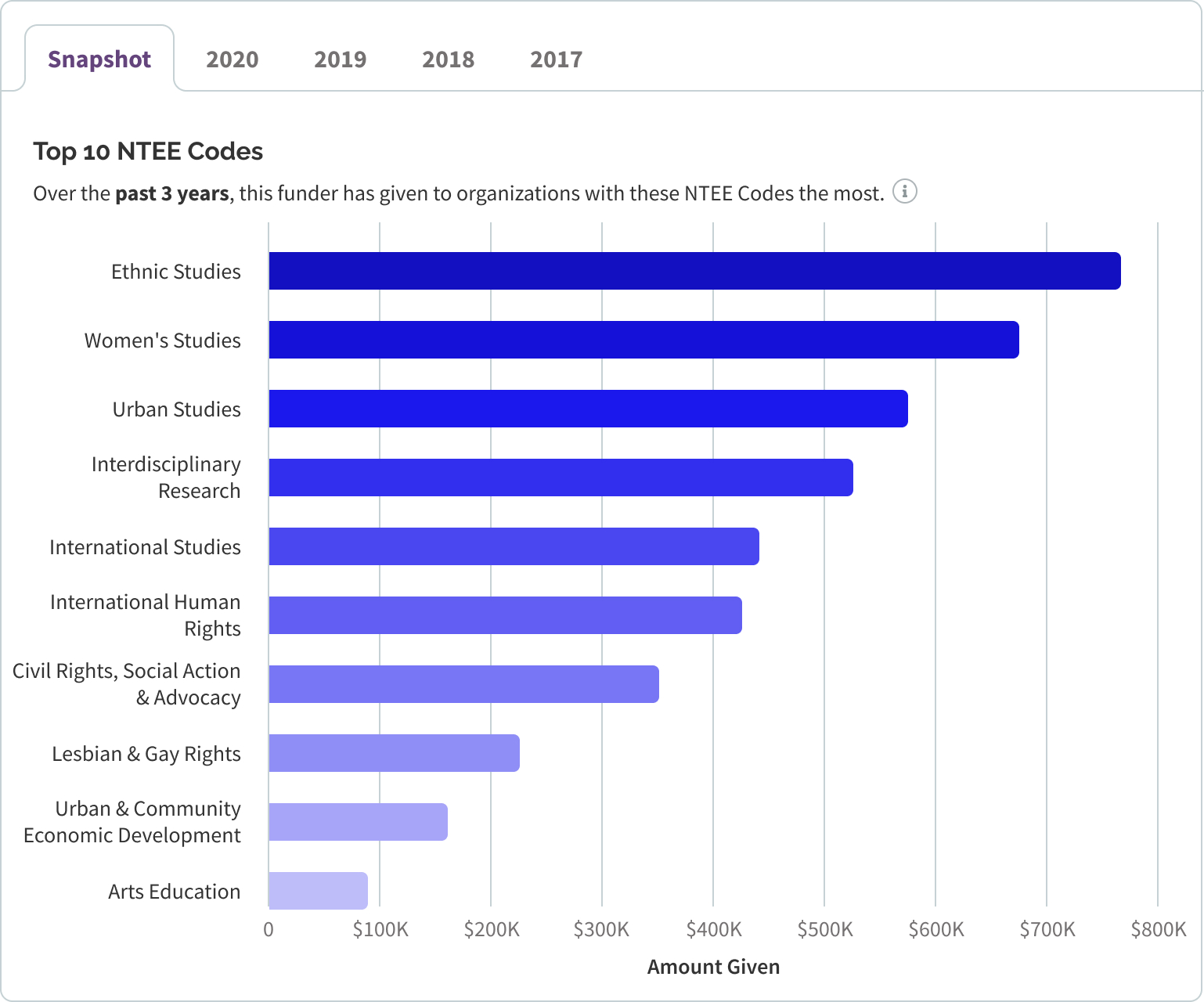 Previous

Next