Instrumentl creates easy-to-read 990 Reports based on digitized IRS Form 990s for thousands of private foundation and nonprofits to make it easier for you to find good fit funders like Reformed Theological Seminary.
If you'd like to get matched to similar funders to Reformed Theological Seminary, create a free Instrumentl account.
Based on most recent IRS 990 filing (2022)
Questions about this data?
Title
Name
Chancellor/Ceo
J Ligon Duncan Iii
Executive Director Nyc
James L Harvey
Provost/Cao
Robert J Cara
President Orlando
Scott R Swain
President Charlotte
Michael J Kruger
See more
President Washington
John S Redd Jr
Chief Development Officer
Matthew Bryant
Executive Director Indonesia
Craig Sheppard
Cofo
Bradley Tisdale
Chief Communications Officer
Phillip Holmes
Chairman
Richard L Ridgway
Vice Chairman
Collie W Lehn
Secretary
Roderick S Russ Iii
Trustee
Paul Hurst Iii
Trustee
Bf Bracy
Trustee
David H Lucas
Trustee
J Scott Redd Sr
Trustee
James L Moore
Trustee
George R Fair
Trustee
William M Mounger Ii
Trustee
Larry W Edwards
Trustee
V Hu Meena
Trustee
Scott Maclellan
Trustee
Charles L Irby Sr
Trustee
Robert T Curtis
Trustee
T David Elkin
Trustee
Benjamin W Roberson
Trustee
Warren J Williamson Jr
Trustee
Craig Rohde
Trustee
Hugh Comer
Trustee
Byron Johnson
There was 1 awards in 2016. Who received this awards, and where are they located?
There was 1 awards in 2015. Who received this awards, and where are they located?
There were 2 awards in 2014. Who received these awards, and where are they located?
Note: Some locations were not provided

This organization did not e-file for 2012 — 2013, so Instrumentl is unable to provide 990 insights. Starting in 2020, e-filings are required.
You can always refer to the 990 PDFs.
There was 1 awards in 2011. Who received this awards, and where are they located?
Don't miss out on other good fit funders!
See even more similar funders by creating a free 14-day account. Get personalized grant recommendations, tracking and more.
"Through Instrumentl, I was able to accomplish in 6 hours...SIX HOURS...what would have taken days or weeks with [another] search engine."

The funder insights you need
start your free trial & get a competitive edge
SAMPLE DATA
For preview purposes only;
not actual funder's data
Grant Amounts
Easily see the range of award sizes given over time. See key stats such as the most common award size, min/max, and more.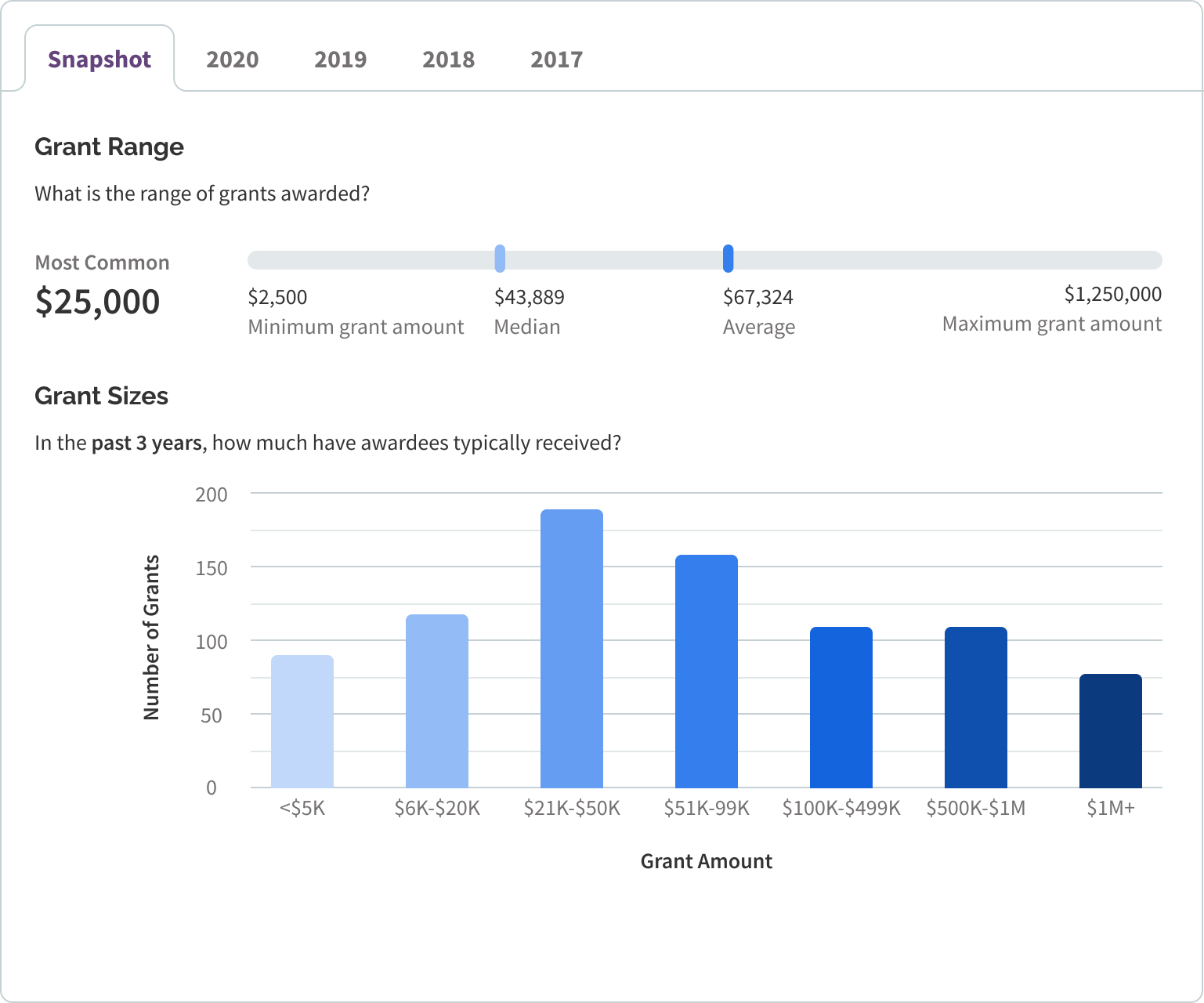 Openness to New Awardees
At a glance, see past and new awardees. See a snapshot over the past three years or dive into individual awards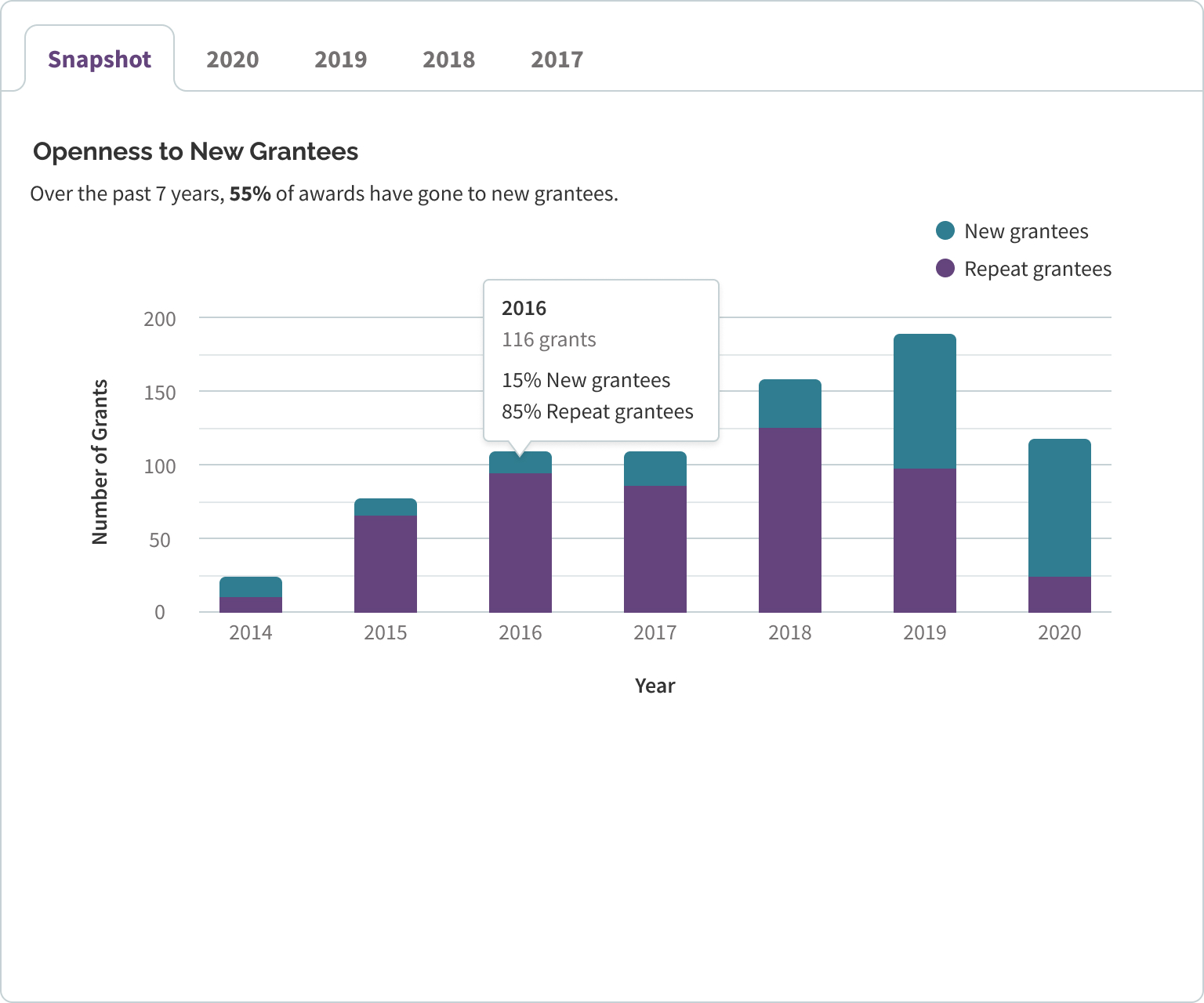 Category Insights
Find out funders' interests by seeing their top giving categories. Drill down into giving patterns per category.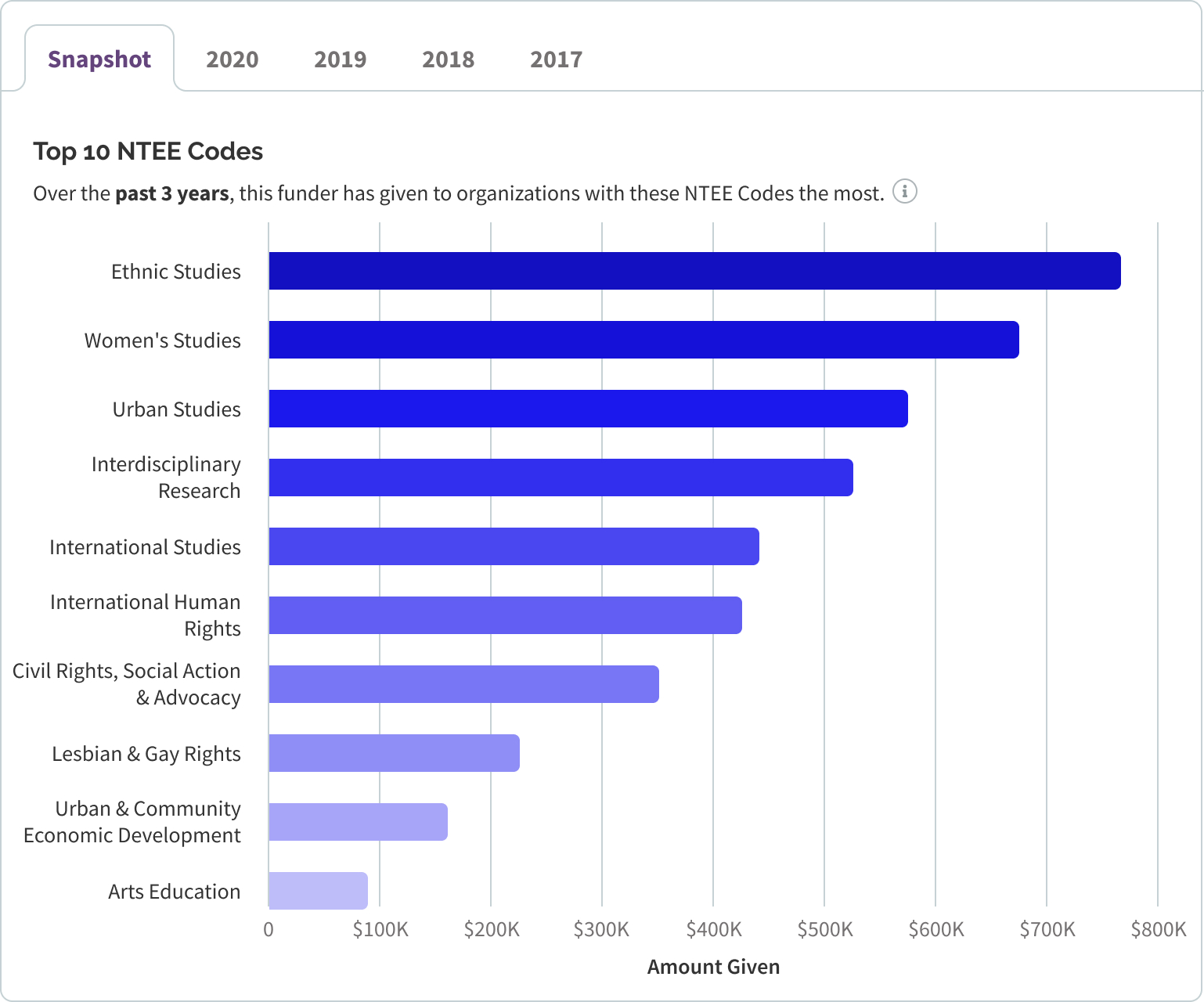 Previous

Next