Instrumentl creates easy-to-read 990 Reports based on digitized IRS Form 990s for thousands of private foundation and nonprofits to make it easier for you to find good fit funders like The Corporation Of Saint Mary's College Notre Dame.
If you'd like to get matched to similar funders to The Corporation Of Saint Mary's College Notre Dame, create a free Instrumentl account.
Based on most recent IRS 990 filing (2022)
Questions about this data?
Title
Name
Secretary
Colleen Flynn Roohan
Chair
Gretchen Flicker
Vice Chair
Jill M Tiefenthaler
Treasurer
Michael J Mathile
President
Sheila Conboy
See more
Trustee
Amy C Shelly
Trustee
Ann Kearns Davoren
Trustee
Donald R Fischer
Student Trustee
Eliana Sanchez
Trustee
Fr Stephen Katsouros Sj
Trustee
Gregoire Gallant
Trustee
Jennifer Mathile Prikkel
Trustee
Joseph A Miller
Trustee
Kathleen Murphy Villano
Trustee
Kimberlyn Martin Troy
Trustee
Linda Schultz Salvi
Trustee
Mary Mcenery Harding
Trustee
Maureen Karnatz Smith
Trustee
Michael Schmitt
Trustee
Renee Schultz
Trustee
Reverend Paul Kollman Csc
Trustee
Sist Alma Mary Anderson Csc
Trustee
Sist Esther Adjoa Entsiwah Csc
Trustee
Sist Judith Hallock Csc
Trustee
Sister Taposi Gomes Csc
Trustee
Sister Vanessa Cruz Ferreira Csc
Trustee
Sister Veronica A Fajardo Csc
Trustee
Sister Veronique Wiedower Csc
Professor/Trustee
Susan B Olney Latham
Trustee
Theresa Sullivan Norton
Trustee Emeritus
William J Schmuhl Jr
Vice President, Strategy & Finance
Dana Strait
Interim Vice President For Student Affairs
Gloria Jenkins
Vice President For Advancement
Holly Johnson
Vice President For Mission
Julianne Wallace
Vice President For Student Enrollment And Engagement
Lori Johnson
Vice President For Inclusion And Equity
Redgina Hill
Provost And Senior Vp
Titilayo Ufomata
Chief Information Officer
Todd Norris
Associate Provost & Dean Of Graduate Studies
Colleen M Hoover
Director Of Development
Elizabeth G Koultourides
Professor/Former President
Janice Cervelli
Executive Director Of Retention Strategy
Mona Bowe
Dnp Program Coordinator
Sue Anderson
Don't miss out on other good fit funders!
See even more similar funders by creating a free 14-day account. Get personalized grant recommendations, tracking and more.
"Through Instrumentl, I was able to accomplish in 6 hours...SIX HOURS...what would have taken days or weeks with [another] search engine."

The funder insights you need
start your free trial & get a competitive edge
SAMPLE DATA
For preview purposes only;
not actual funder's data
Grant Amounts
Easily see the range of award sizes given over time. See key stats such as the most common award size, min/max, and more.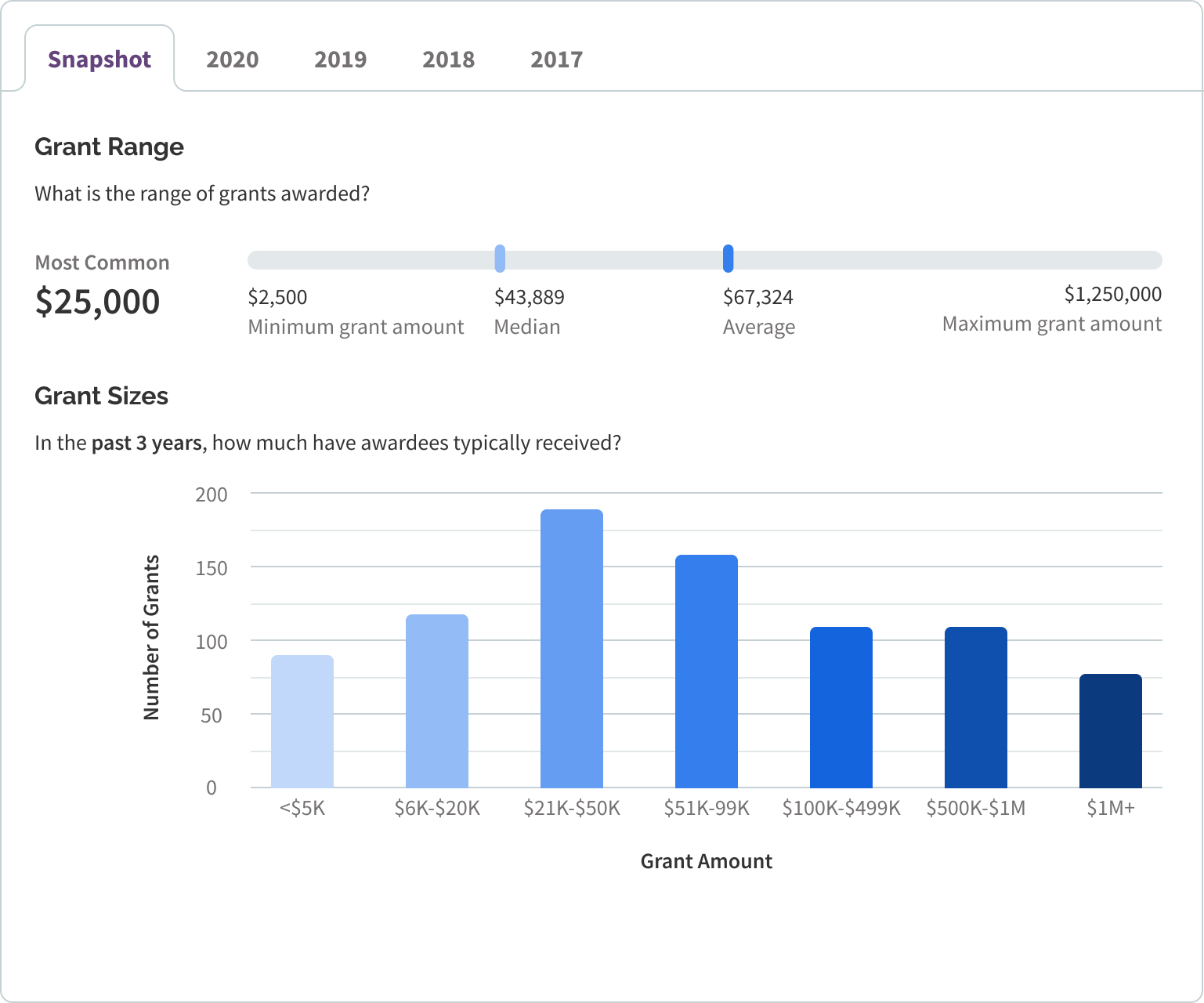 Openness to New Awardees
At a glance, see past and new awardees. See a snapshot over the past three years or dive into individual awards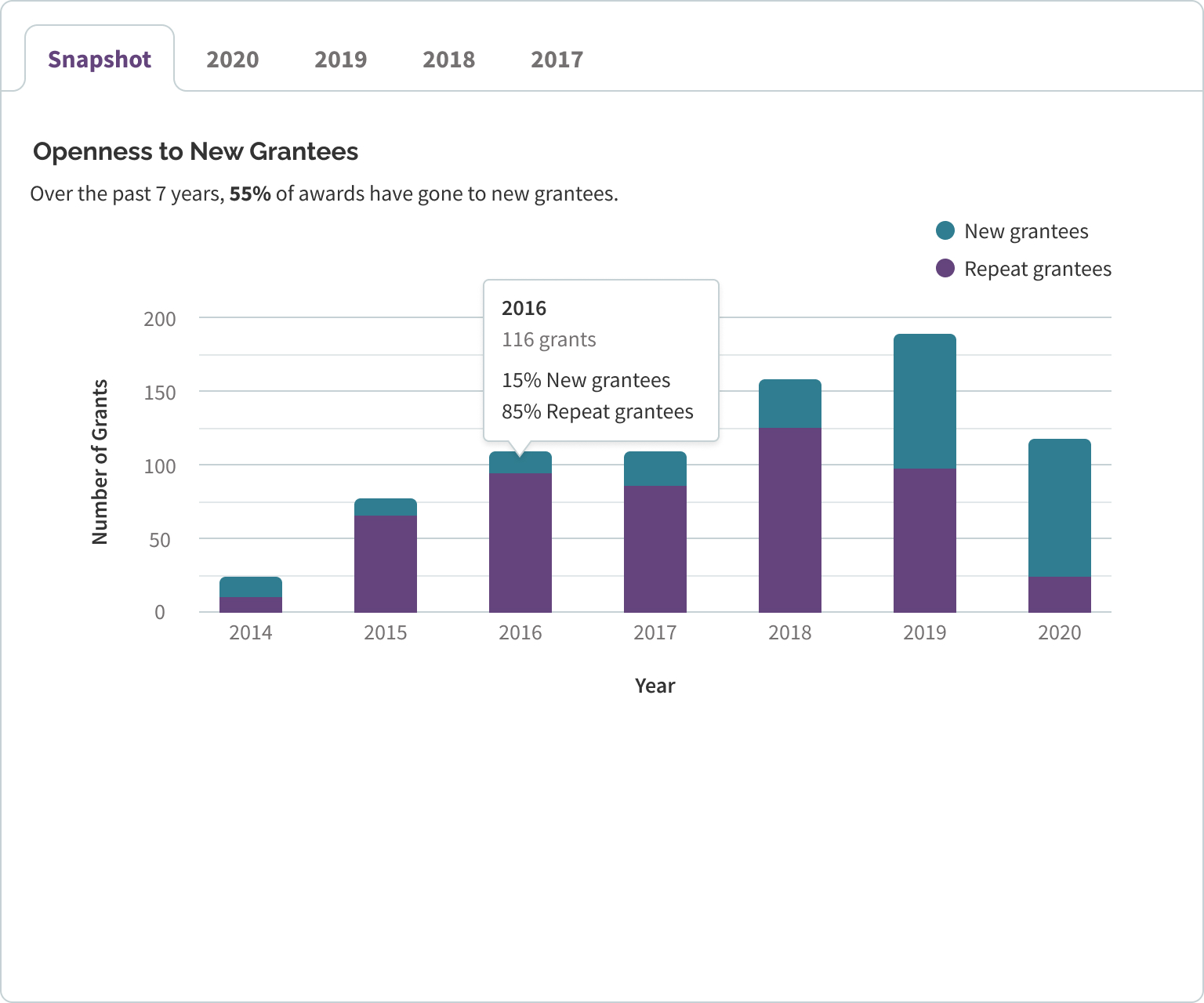 Category Insights
Find out funders' interests by seeing their top giving categories. Drill down into giving patterns per category.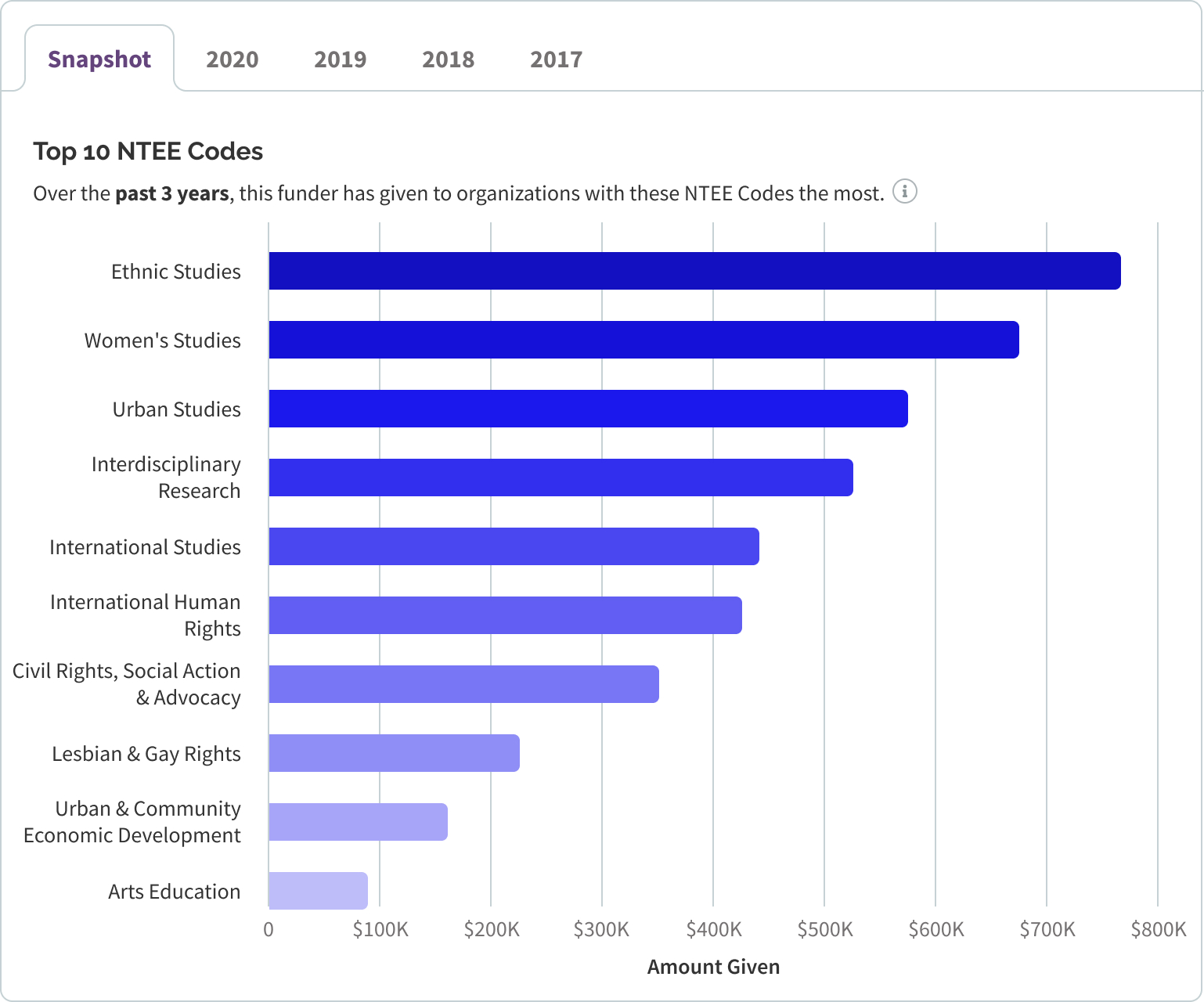 Previous

Next