Instrumentl creates easy-to-read 990 Reports based on digitized IRS Form 990s for thousands of private foundation and nonprofits to make it easier for you to find good fit funders like Siena College.
If you'd like to get matched to similar funders to Siena College, create a free Instrumentl account.
Based on most recent IRS 990 filing (2022)
Questions about this data?
Title
Name
President
Christopher P Gibson
Trustee
Thomas L Amell
Trustee
Thomas J Baldwin Jr
Trustee
Ronald E Bjorklund
Trustee
Thomas J Burke
See more
Trustee
Susan Law Dake
Trustee
Virginia Darrow
Trustee
John Finneran Jr
Trustee
Howard S Foote
Trustee
Fr James G Gannon Ofm
Trustee
Paul L Gioia
Trustee
Jason Gottlieb
Trustee
John R Held
Trustee
Steven L Lamy
Trustee
Br Walter J M Liss Ofm
Trustee
Fr Erick Lopez Ofm
Trustee
Jan Traynor Macdonnell
Trustee
Joanne E Maloy
Trustee
Mallory Massry
Trustee
Tehresa M Massena
Trustee
Burgandy Leigh Mccurty
Trustee
William P Mcgoldrick
Trustee
John A Mcmahon
Trustee
Lisa J Moser
Trustee
Rev Kevin J Mullen Ofm
Trustee
Patricia A Nashelsky
Trustee
John J Nigro
Trustee
Nipa Nobel
Trustee
Kenneth M Raymond Jr
Trustee
Lewis Steverson
Trustee
Br Basil J Valente Ofm
Provost Senior Vice President
Margaret Madden
Vice President
Paul Stec
Vice President
David Smith
Dean Of Business
Charles Seifert
Vice President
Edward Jones
Vp & Athletic Director
John D'argenio
Vice President
Maryellen Gilroy
Vp & Chief Of Staff
Jason Rich
Vice President For Mission
Fr Mark Reamer
Head Coach Men's Basketball
Carmen Maciariello
Chief Information Officer
Mary Parlett Sweeney
Professor
James Nolan
Head Coach Women's Basketball
James Jabir
Director Scra
Donald Levy
Don't miss out on other good fit funders!
See even more similar funders by creating a free 14-day account. Get personalized grant recommendations, tracking and more.
"Through Instrumentl, I was able to accomplish in 6 hours...SIX HOURS...what would have taken days or weeks with [another] search engine."

The funder insights you need
start your free trial & get a competitive edge
SAMPLE DATA
For preview purposes only;
not actual funder's data
Grant Amounts
Easily see the range of award sizes given over time. See key stats such as the most common award size, min/max, and more.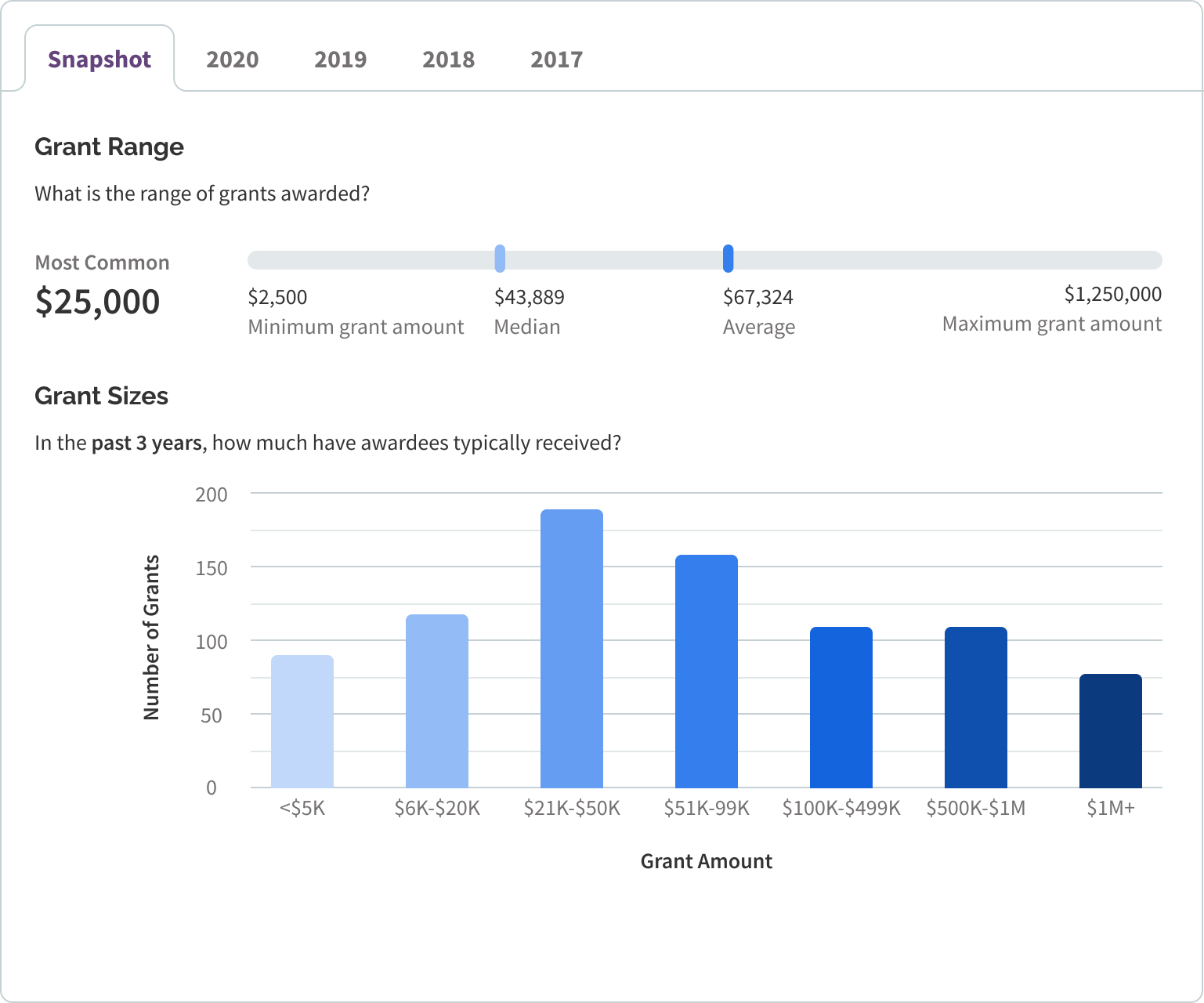 Openness to New Awardees
At a glance, see past and new awardees. See a snapshot over the past three years or dive into individual awards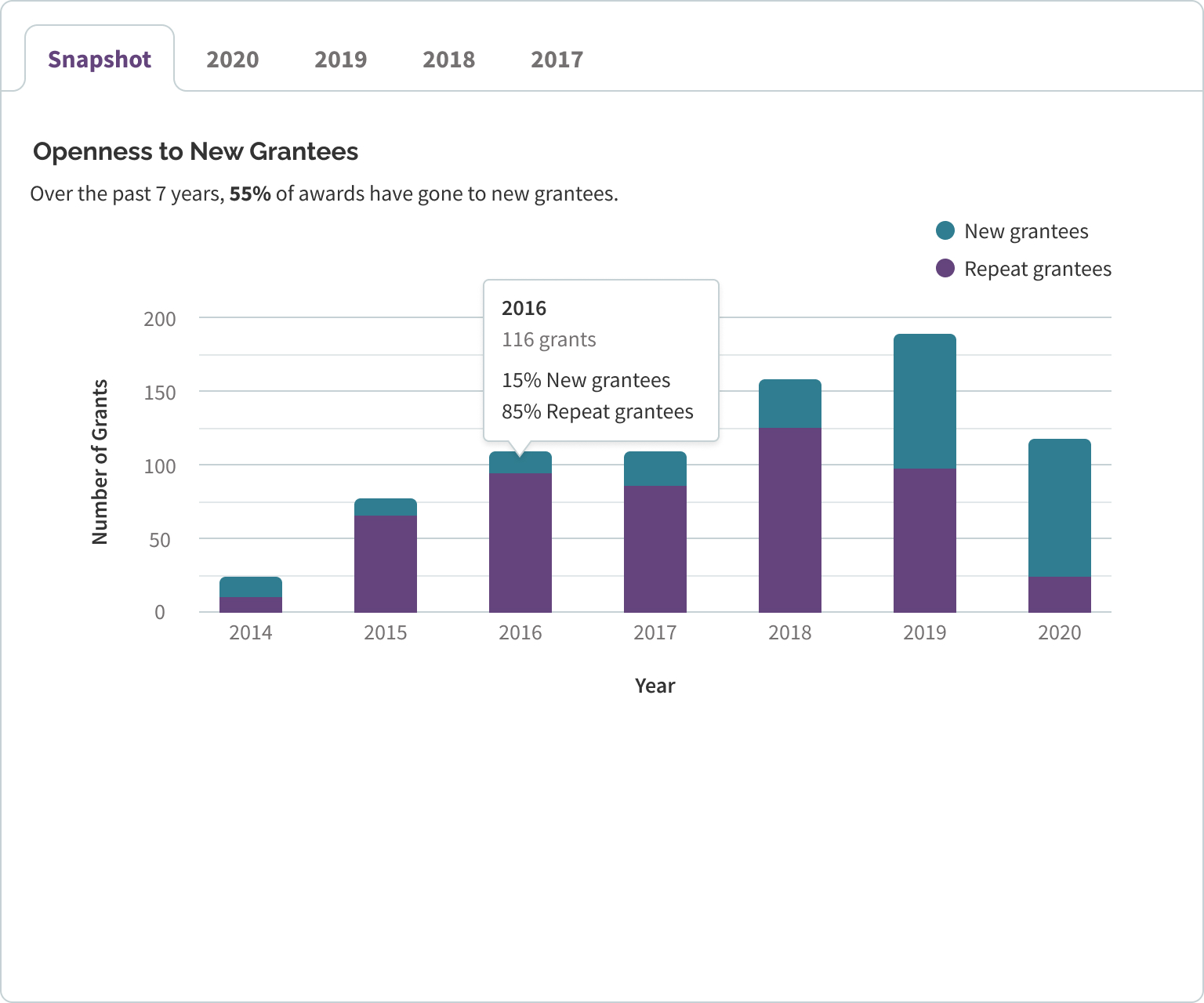 Category Insights
Find out funders' interests by seeing their top giving categories. Drill down into giving patterns per category.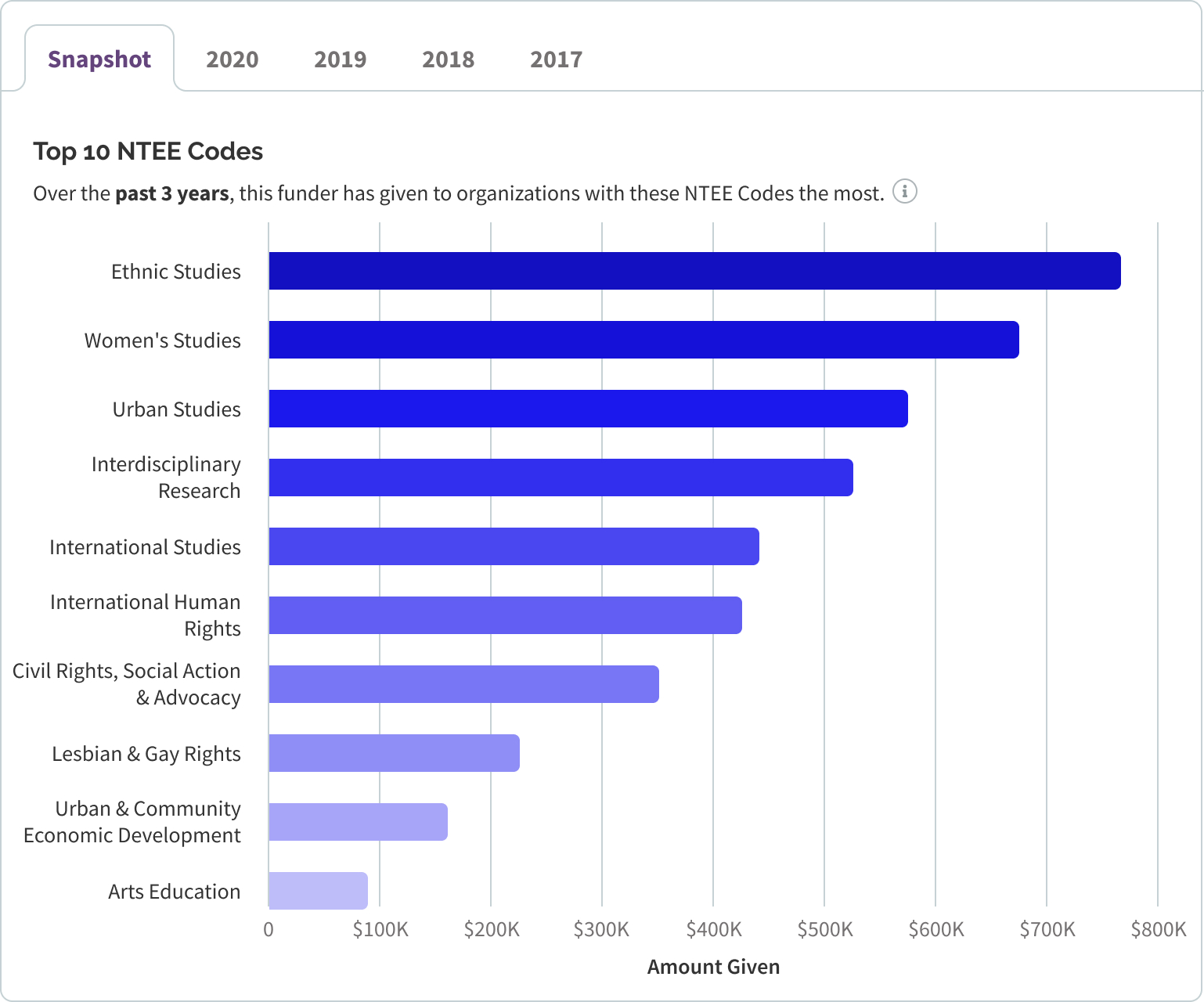 Previous

Next