Instrumentl creates easy-to-read 990 Reports based on digitized IRS Form 990s for thousands of private foundation and nonprofits to make it easier for you to find good fit funders like South Central Rotary Youth Exchange Inc.
If you'd like to get matched to similar funders to South Central Rotary Youth Exchange Inc, create a free Instrumentl account.
Based on most recent IRS 990 filing (2022)
Questions about this data?
Title
Name
President
Daryl Hansen
Immediate Past President
Chris Knapp
Executive Secretary
Kathy Meurin
Assistant Executive Secretary
Ronna Morse
Member At Large
Bianca Cheney
See more
Events Officer
Mike Hamilton
Recording Secretary
Carl Luckenbach
Treasurer
Rebecca Schultz
Responsible Officer
Mary Metcalf
President Nominee
Joel Vincent
Training Officer
Ruth Wilke
Member At Large
Daniel Willeman
Member
Aimee Graves
Member
Michelle Frechette
Member
Sarah Brightwell
Member
Paula Witt
Member
Robert Rauner
Member
Aubrey Patterson
Member
Stephen Wheatley
Member
Sarahlee Morris
Member
William Morris
Member
Myra Reid
Member
Patricia Carson
Member
Jaci Williams
Member
James Giffin
Member
Norman King
Member
Annette Sweet
Member
Stephen Finch
Member
Nick Giannone
Member
Carol Mattingly
Member
John Schultz
Member
Sharon Stoll
Member
Gregory Probst
Member
Russ Davoren
Member
Gregory Luzecky
Member
Katherine Freudenberg
Member
Susan Chan
Member
Vincent Guest
Member
Jamie Higgins
Member
Yukiko Taylor
Member
Richard Corbett
Member
Loddy Thompson
Member
Tommy Martin
Member
Smith Murphey Iv
Member
Martin Petrusek
Member
Samantha Walley
Member
Isabel Scarinci Searles
Member
Alrick Bloomfield
Member
Edwin Herrmann
Member
Zachry Ashmore
Member
Jonna Grant
Member
Kathy Carter
Member
Rodney Kreie
Member
Toddrick Jenkins
Member
Janine Coleman
Member
Michael Pugh
Don't miss out on other good fit funders!
See even more similar funders by creating a free 14-day account. Get personalized grant recommendations, tracking and more.
"Through Instrumentl, I was able to accomplish in 6 hours...SIX HOURS...what would have taken days or weeks with [another] search engine."

The funder insights you need
start your free trial & get a competitive edge
SAMPLE DATA
For preview purposes only;
not actual funder's data
Grant Amounts
Easily see the range of award sizes given over time. See key stats such as the most common award size, min/max, and more.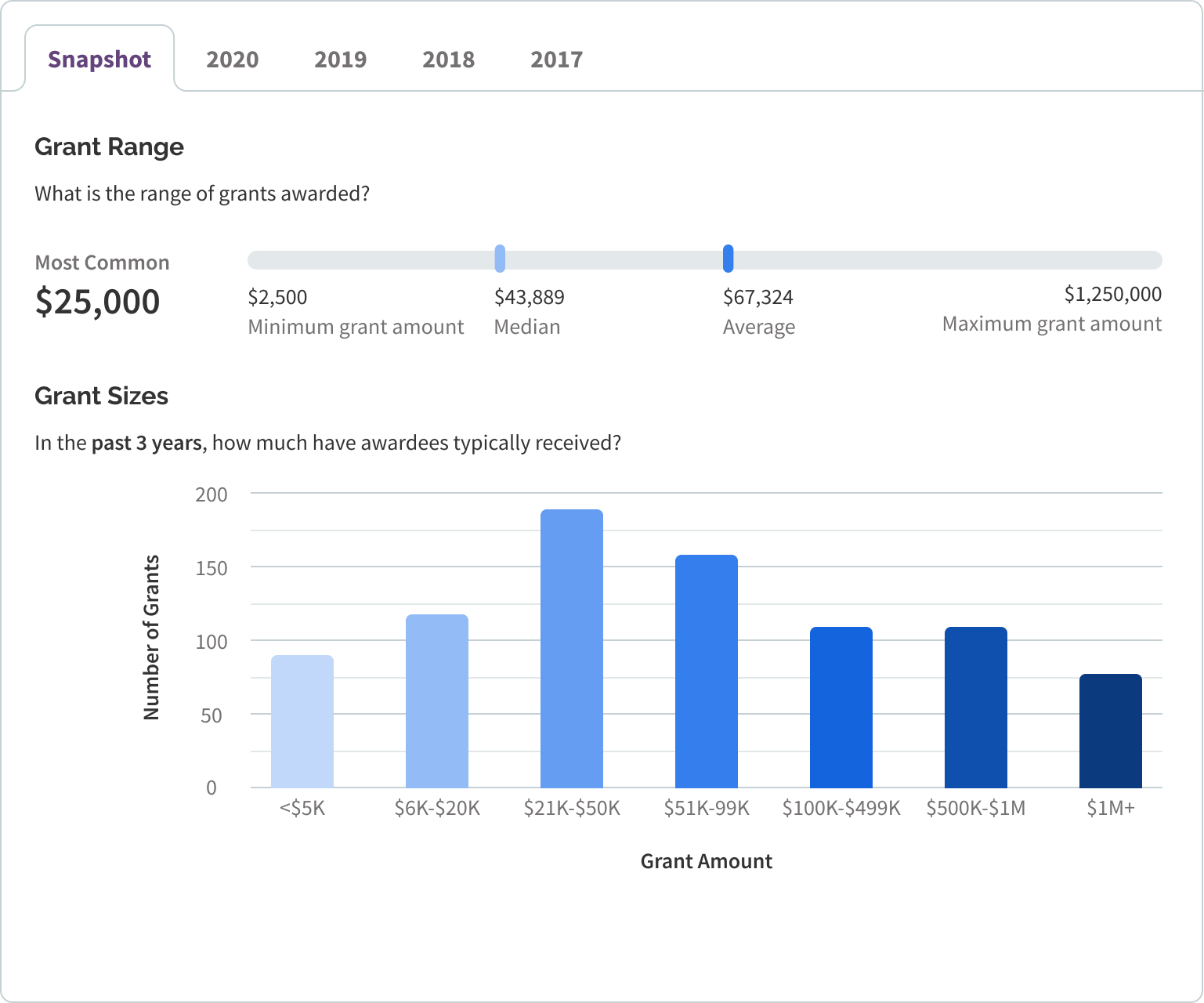 Openness to New Awardees
At a glance, see past and new awardees. See a snapshot over the past three years or dive into individual awards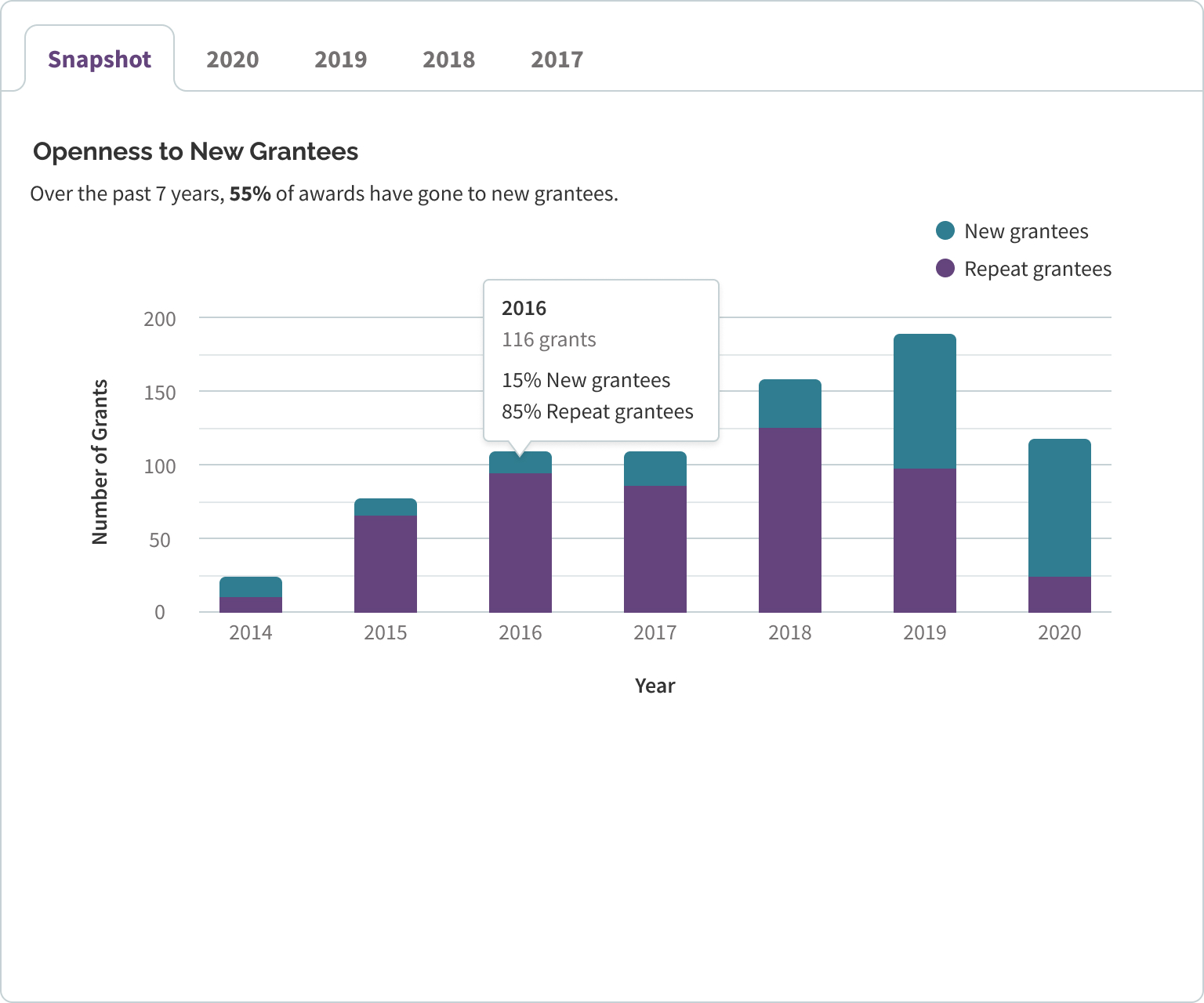 Category Insights
Find out funders' interests by seeing their top giving categories. Drill down into giving patterns per category.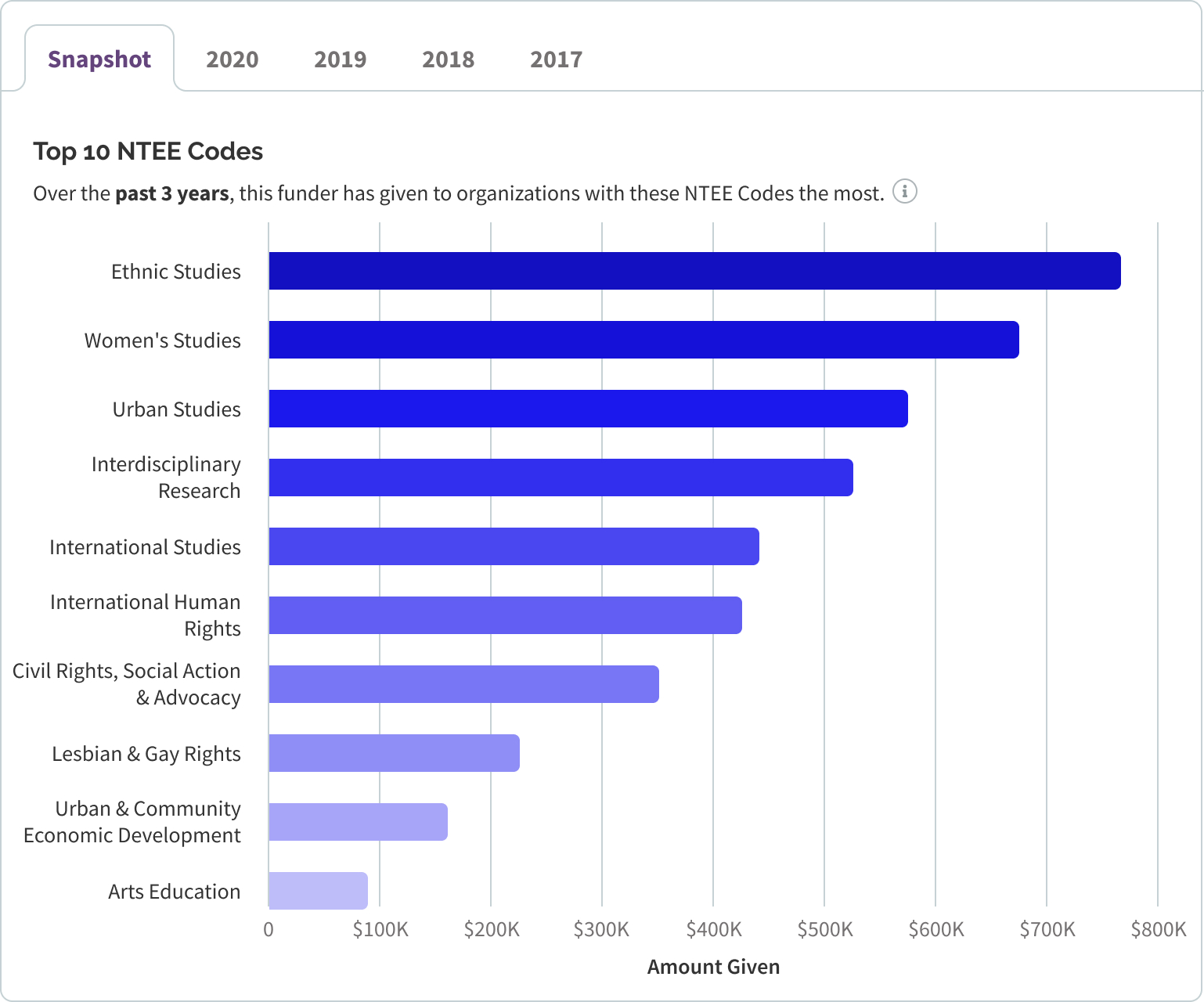 Previous

Next