Instrumentl creates easy-to-read 990 Reports based on digitized IRS Form 990s for thousands of private foundation and nonprofits to make it easier for you to find good fit funders like Spectrum Health System Group Return.
If you'd like to get matched to similar funders to Spectrum Health System Group Return, create a free Instrumentl account.
Based on most recent IRS 990 filing (2021)
Questions about this data?
Title
Name
See Schedule O
Chad Tuttle
See Schedule O
Christine Vanlandingham
See Schedule O
Dana Wales
See Schedule O
Daniel Hopp
See Schedule O
Darryl Elmouchi Md
See more
See Schedule O
David Schaffer
Vice Chair, Hah
Deb Bennett Berecz
See Schedule O
Dennis Dascenzo
See Schedule O
Donald Haney
See Schedule O
John Schuen Md
President, Shf
Kelly Dyer
Vice Chair, Lchw
Lenore Becker
See Schedule O
Loren Hamel Md
See Schedule O
Lowell Hamel Md
Treasurer Part Year/Secretary, Lhf
Lucas Brown
See Schedule O
Lynnette Ferrell Robinson
Chair, Shf
Marge Potter
Vice Chair, Shf
Maria De Vos
See Schedule O
Mark Wilson
See Schedule O
Mary Ann Pater
See Schedule O
Melinda Gruber
Treasurer, Shf
Michael Ellis
See Schedule O
Michael Todman
See Schedule O
Paul Konopacki
See Schedule O
Ray Cruse
Secretary/Treasurer, Lchw
Richard Warner
See Schedule O
Robert Fitzgerald Md
President, Shz Part Year
Ron Lewis
Secretary, Shf
Ronald Alvesteffer
See Schedule O
Sam Watson
Vice Chair, Lhf
Shane Shidler
See Schedule O
Simin Beg
Secretary/Treasurer, Hah
Stephanie Timmer
See Schedule O
Terrence Allen
President, Shf Part Year
Vicki Weaver
Director, Shf
Aaron Wong
Director, Lchw
Alice Rasmussen
Director, Shf
Andrew Shannon
Director, Shf
Andrew Weirda
Director, Lhf
Anna Murphy
Director, Hah
Anne Mccausland
See Schedule O
Annica Waalkes
See Schedule O
Barbara Wynn Md
See Schedule O
Ben Gielda Md
Director, Hah
Bertha King
See Schedule O
Bill Pink
Director, Lhf
Brittany Grasley
Director, Shf
Candace Matthews
See Schedule O
Carey Martin
Director, Lhf
Carolyn Hanson
See Schedule O
Christina Freese Decker
See Schedule O
Christopher Port Md
Director, Hah
Curtis Vanderwaal
Director, Shf
Dale Dehaan
Director, Lhf
Dave Eifler
Director, Shf
David Mehney
Director, Hah
Deb O'connor
See Schedule O
Debra Johnson
Director, Lhf
Dennis Szymanski Md
Director, Shf
Donnalee Holton
See Schedule O
Erika Lozano Buhl
See Schedule O
George Heenan Md
Director, Lhf
Hilda Banyon
Director, Lhf
James Clever
Director, Shf
Jane Meilner
Director, Shf
Janet Nisbett
Director, Lhf
Janice Petrovich
Director, Lhf Part Year
Janice Schmaltz
Director, Shf
Jeffrey Bennett
Director, Lchw
Jeffrey Postma
See Schedule O
Jerry French
Director, Shf
Joan Secchia
See Schedule O
Johannie Torres
See Schedule O
John Buckley Jr
See Schedule O
John Byrne
Director, Lhf
Judy Truesdell
Director, Lhf
Karen Mckay
Director, Lhf
Katherine Curtis
See Schedule O
Kyle Kooyers
Director, Lchw
Lisa Kuehnle
Director, Hah
Mark Odland
Director, Lhf
Mark Weber
Director, Shf
Mary Beth Meijer
See Schedule O
Mary Molewyk Doornbos
See Schedule O
Michelino Mancini
Director, Lhf
Mike Birkholm
Director, Shf
Nancy Hanenburg
See Schedule O
Nancy Haynes
See Schedule O
Nicki Britten
Director, Hah
Olivia Starks
Director, Hah Part Year
Pat Forbes
Director, Shf
Patricia Betz
Director, Shf
Patrick Miles
See Schedule O
Praveen Thadani
Director, Lhf
Randy Bettich
Director, Lhf
Randy Hendrixson
Director, Shf
Richard Antonini
See Schedule O
Richard De Vos Iii
Director, Lhf
Robin Curtis
Director, Hah
Rodrigo Correa
See Schedule O
Ronald Hofman Md
See Schedule O
Ryan Coffey Hoag
Director, Shf
Ryan Cook
Director, Lhf
Scott Geik
Director, Shf
Scott Robinson
See Schedule O
Scott Smith
Director, Lchw
Seth Griffin
Director, Shf
Shannon Cohen
See Schedule O
Sheryl Thompson
Director, Shf
Surender Rajasekaran
See Schedule O
Talawnda Bragg
Director, Lhf
Tammi Phillippe
See Schedule O
Thomas Yeager
Director, Lhf
Wendy Edwards
Director, Shf
Wilbur Lettinga
See Schedule O
William Payne
See Schedule O
Andrea Leslie
President, Shp
Angela Ditmar
President, Shz
Bill Hoefer
See Schedule O
Brian Brasser
Director Of Business & Community O Ps, Hah
Daniel Wassenhove
See Schedule O
Drew Dostal
See Schedule O
Karen Pakkala
See Schedule O
Kendall Troyer
Vp Clinical Integration, Lhnsj Part Year
Kenneth O'neill
See Schedule O
Kevin Smith
Svp, Finance Hospital & Medical Group
Leslie Flake
Vp Health Equity, Lhnsj
Lynn Todman
See Schedule O
Martha Boonstra
Vp Patient Care Cne, Lhnsj
Natalie Baggio
Svp, Human Resources, Lhnsj
Norma Tirado Kellenberger
Vp Information Services, Lhnsj
Robin Sarkar
Vp Legal & General Counsel, Lhnsj
Thomas Huyck
President, Hdvch, Shh
Hossain Marandi
Physician, Lhnsj
Dilip Arora
Div Chief, Peds Cardiothoracic Surgery, Shh
Marcus Haw
Physician, Neurosurgery, Shmg
Paul Mazaris
Division Chief, Neurosurgery, Shmg
Sanjay Patra
Physician, Lhnsj
Thomas Pow
Former Officer, Shh
Cara Jansma
Former Interim Key Employee, Hdvch, Shh
Dominic Sanfilippo
See Schedule O
Gwen Sandefur
See Schedule O
Mary Kay Vandriel
Former Key Employee, Hdvch, Shh
Robert Connors
Former Treasurer, Shcc
Scott Davis
There were 53 awards in 2021. Who received these awards, and where are they located?
There were 53 awards in 2020. Who received these awards, and where are they located?
There were 35 awards in 2019. Who received these awards, and where are they located?
There were 29 awards in 2018. Who received these awards, and where are they located?
There were 32 awards in 2017. Who received these awards, and where are they located?
There were 43 awards in 2016. Who received these awards, and where are they located?
There were 34 awards in 2015. Who received these awards, and where are they located?
Note: Some locations were not provided
There were 22 awards in 2014. Who received these awards, and where are they located?
Don't miss out on other good fit funders!
See even more similar funders by creating a free 14-day account. Get personalized grant recommendations, tracking and more.
"Through Instrumentl, I was able to accomplish in 6 hours...SIX HOURS...what would have taken days or weeks with [another] search engine."

The funder insights you need
start your free trial & get a competitive edge
SAMPLE DATA
For preview purposes only;
not actual funder's data
Grant Amounts
Easily see the range of award sizes given over time. See key stats such as the most common award size, min/max, and more.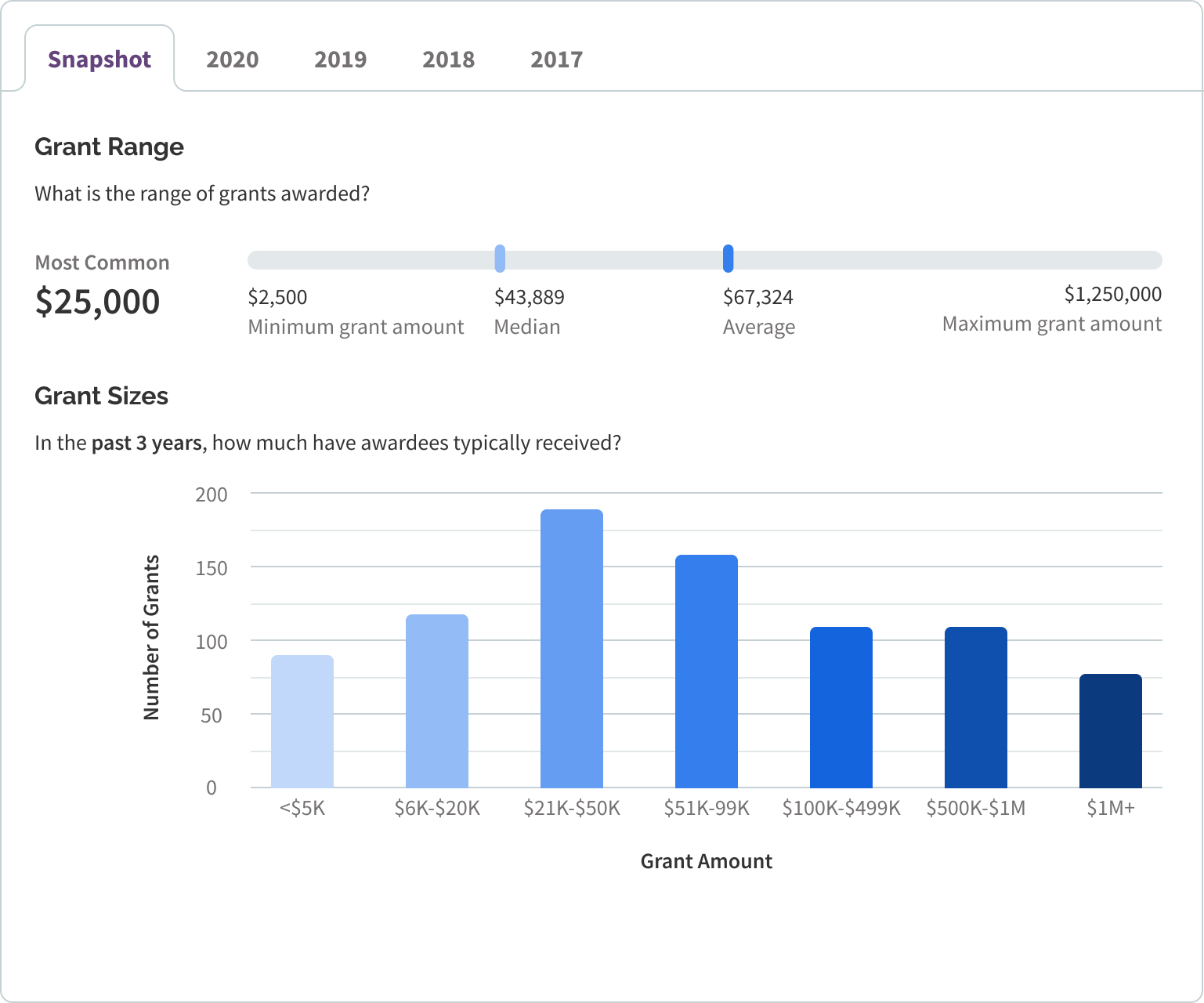 Openness to New Awardees
At a glance, see past and new awardees. See a snapshot over the past three years or dive into individual awards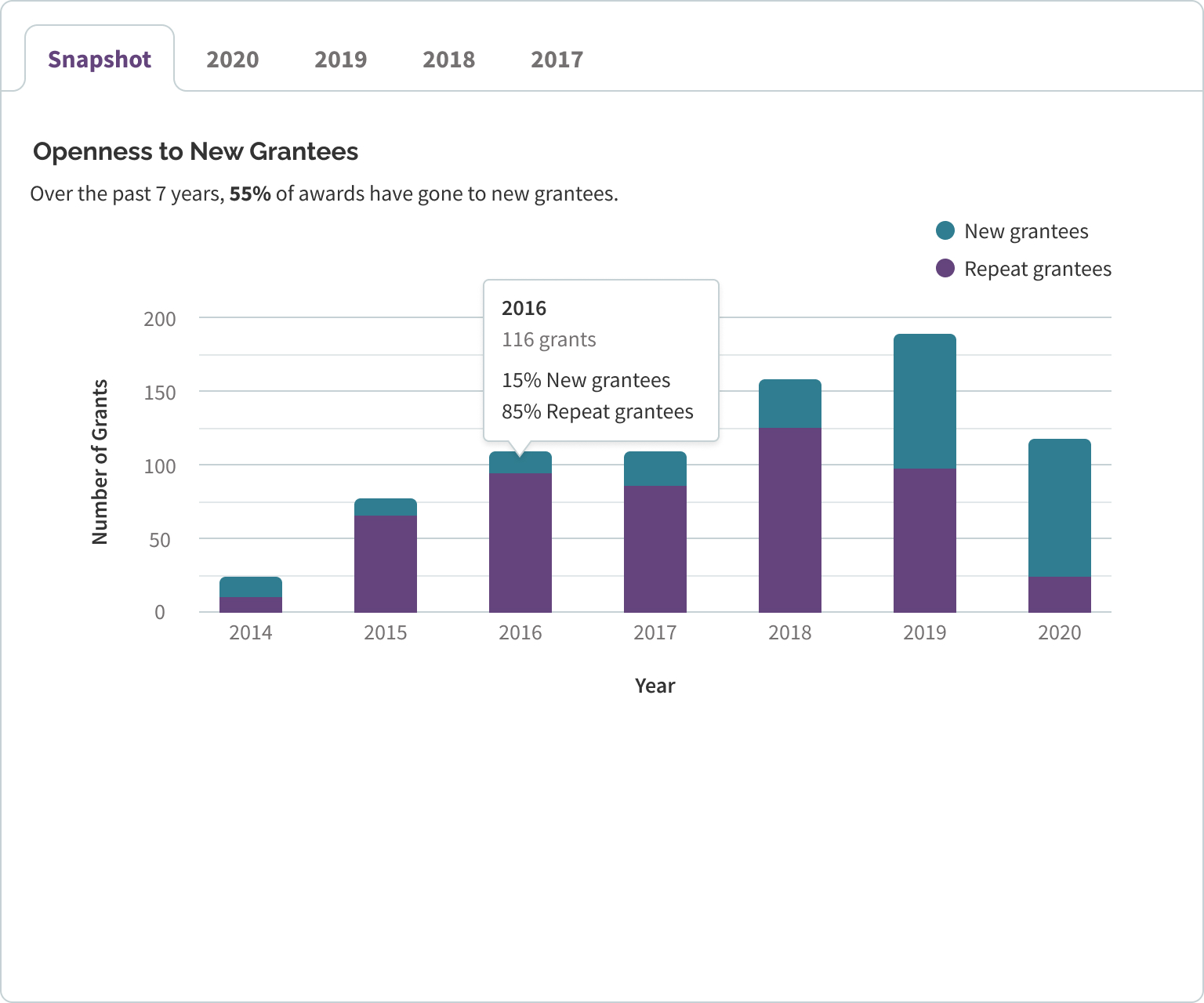 Category Insights
Find out funders' interests by seeing their top giving categories. Drill down into giving patterns per category.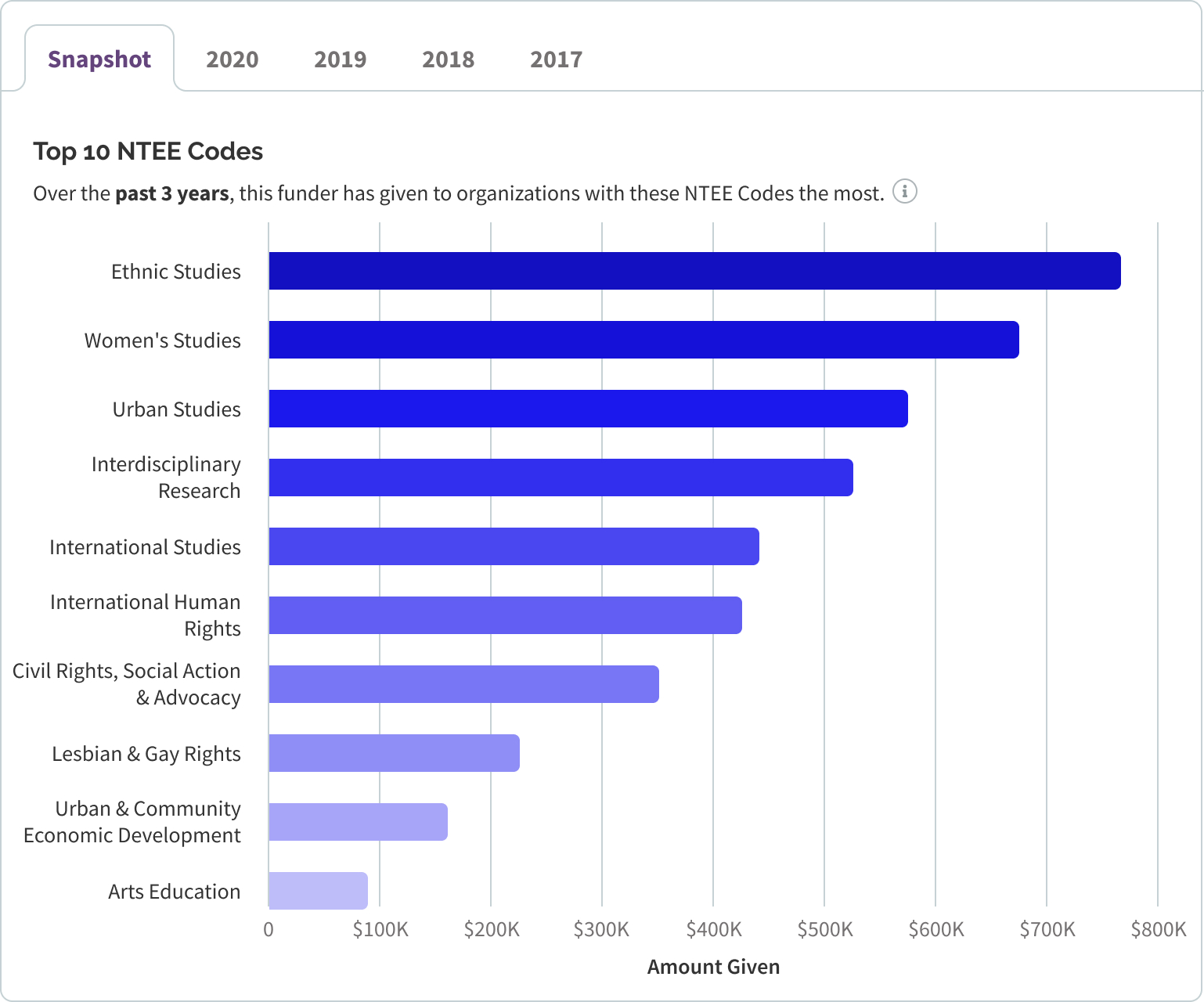 Previous

Next