Instrumentl creates easy-to-read 990 Reports based on digitized IRS Form 990s for thousands of private foundation and nonprofits to make it easier for you to find good fit funders like Texas Mutual Insurance Company.
If you'd like to get matched to similar funders to Texas Mutual Insurance Company, create a free Instrumentl account.
Based on most recent IRS 990 filing (2021)
Questions about this data?
Title
Name
President & Ceo
Richard Gergasko
Svp Investments
Leonard Johnson
Chief Operating Officer
Brenda Ward
Svp & General Counsel
Mary Nichols
Svp & Cfo
Perry Barron
See more
Chief Data Officer
Michael Hernandez
Svp & Chief Information Officer
Michael Stubblefield
Svp Policyholder Services
Kim Haugaard
Svp & Special Counsel
Paul Schlaud
Svp Underwriting
Jeffrey Lentz
Svp Public Affairs
Jo Betsy Norton
Svp & Cfo
Willard Potter
Vp It Infrastructure
David John
Vp Regional Operations
James Kohloff
Svp & General Auditor
Elise Teeter
Vp & Chief Actuary
Phoebe Murphy
Svp Human Resources
Lawrence Martin
Vp & Controller
Erica Sanchez
Vp Applications
Jeannette Sprague
Vp Hr Employee Services
Edward Coates
Vp Regional Operations
Billy Jackson
Vp Investments
Nathan Scott
Vp Distribution & Customer Engagement
Lisa Evans
Vp Regional Operations
Peppia Gates
Vp Claims Litigation
Shannon Pounds
Vp Project Management Office
Amy Green Hinojosa
Vp Marketing & Community Affairs
Jeremiah Bentley
Svp Human Resources
Lynette Caldwell
Vp Business Development
Benjamin Siddons
Vp & Medical Director
Nicholas Tsourmas
Vp Data Analytics & Business Intelligence
Roger Humecky
Vp Strategic Planning & Analysis
Beverly Harris
Vp Data Governance
Anthony Seraphim
Vp Safety Services
Eric Bourquin
Vp Claim Operations
Curtis Johnson
Vp Facility Services
Catherine Brown
Vp & Chief Risk Officer
Greta Gonzales
Vp & Medical Director
Leila Williams
Vp Underwriting Operations
Paschal Strong
Vp Enterprise Product Management
Svetlana Bronshteyn
Director
Ronald Ellis Simmons
Director
John Dayton Swanson
Director
Tommy Dan Phillips
Director
Linda Stuckey Foster Smith
Director
Kristina Rose Koncaba
Director
Brett Baker Flagg
Director
Steven Dudley Oldham
Director
Eric Lee Oliver
Director
Bernard Chevalier Francis
Director
William Francis Quinn
Director
Alexia Selene Elliott
There were 113 awards in 2021. Who received these awards, and where are they located?
There were 121 awards in 2020. Who received these awards, and where are they located?
There were 274 awards in 2019. Who received these awards, and where are they located?

This organization did not e-file for 2018, so Instrumentl is unable to provide 990 insights. Starting in 2020, e-filings are required.
You can always refer to the 990 PDFs.
There were 1,068 awards in 2017. Who received these awards, and where are they located?
Don't miss out on other good fit funders!
See even more similar funders by creating a free 14-day account. Get personalized grant recommendations, tracking and more.
"Through Instrumentl, I was able to accomplish in 6 hours...SIX HOURS...what would have taken days or weeks with [another] search engine."

The funder insights you need
start your free trial & get a competitive edge
SAMPLE DATA
For preview purposes only;
not actual funder's data
Grant Amounts
Easily see the range of award sizes given over time. See key stats such as the most common award size, min/max, and more.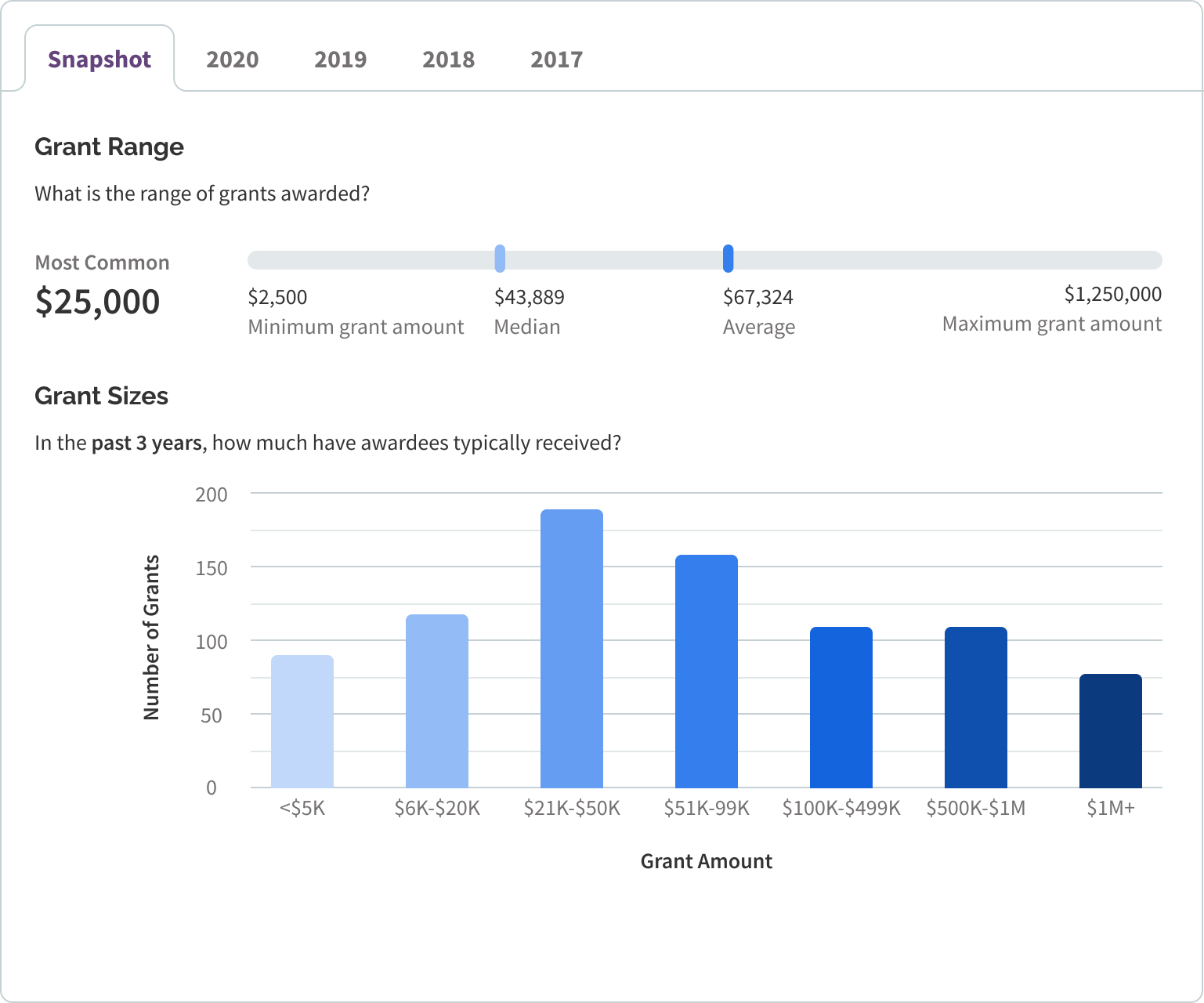 Openness to New Awardees
At a glance, see past and new awardees. See a snapshot over the past three years or dive into individual awards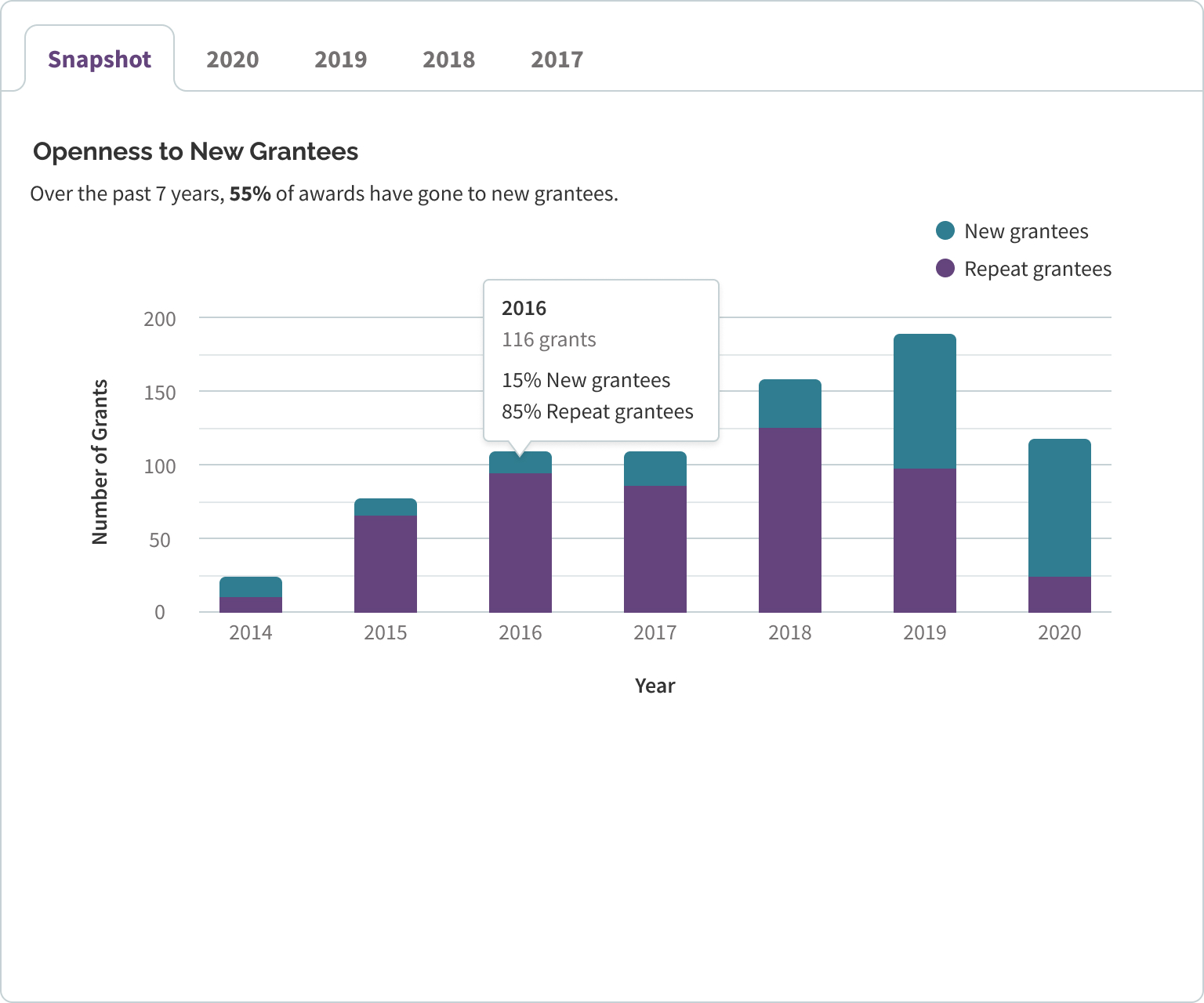 Category Insights
Find out funders' interests by seeing their top giving categories. Drill down into giving patterns per category.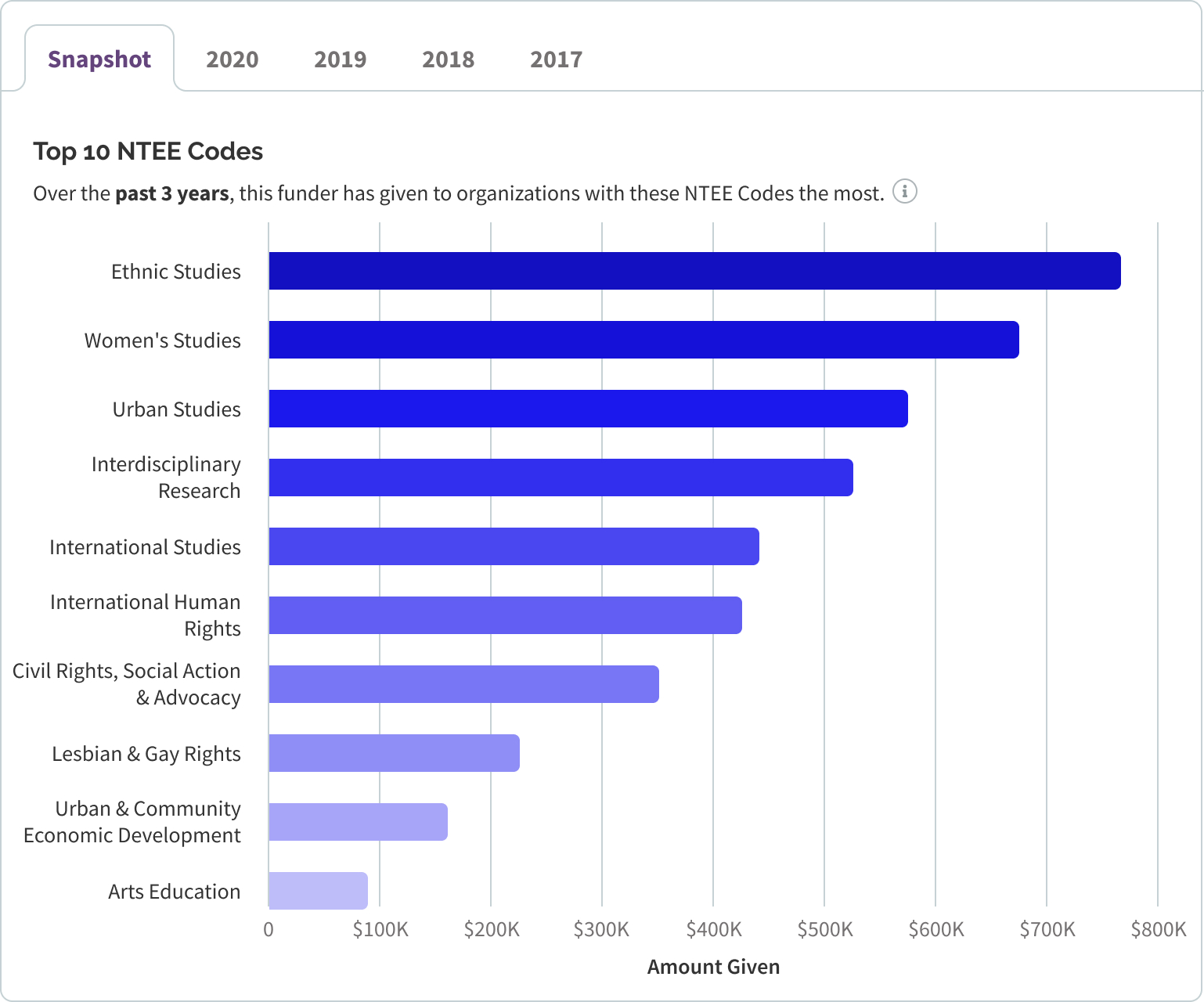 Previous

Next