Instrumentl creates easy-to-read 990 Reports based on digitized IRS Form 990s for thousands of private foundation and nonprofits to make it easier for you to find good fit funders like The New School.
If you'd like to get matched to similar funders to The New School, create a free Instrumentl account.
Based on most recent IRS 990 filing (2021)
Questions about this data?
Title
Name
President
Dwight A Mc Bride
Vice Chair
Elliot Stein
Vice Chair
Franci J Blassberg
Chair
Linda E Rappaport
Vice Chair
Susan L Foote
See more
Trustee
Alexander Jutkowitz
Trustee
Anthony J Mannarino
Trustee
Arnold H Aronson
Trustee
Beth Rudin Dewoody
Trustee
Bevis Longstreth
Trustee
Charles R Perrin
Trustee
Christopher J Castano
Trustee
Craig Bernecker
Trustee
Daniel T Motulsky
Trustee
David E Mcclean
Trustee
Dominique Bluhdorn
Trustee
Douglas D Durst
Trustee
Fred A Dust
Trustee
Jane Deflorio
Trustee
Jeffrey Gural
Trustee
Joseph R Gromek
Trustee
Joshua Sapan
Trustee
Kay Unger
Trustee
Lilian Shiao Yen Wu
Trustee
Malcolm B Smith
Trustee
Michael E Gellert
Trustee
Michael J Johnston
Trustee
Nancye Green
Trustee
Robert F Hoerle
Trustee
Robert H Mundheim
Trustee
Sheila C Johnson
Trustee
Stanley P Silverstein
Trustee
Steven H Bloom
Trustee
Susan U Halpern
Trustee
Ted Gold Thorpe
Trustee
Timothy L Porter
Trustee
William D Zabel
Trustee
William E Havemeyer
Svp For Marketing And Business Development
Anne Adriance
Svp, Academic Affairs End 1.1.2021
Bryna Mary Sanger
Svp Of Administration And Chief Of Staff
Jennifer Hobbs
Svp And General Counsel
Jerry Cutler
Vp, Design, Construction And Facilities End 11.1.2020
Lia Gartner
Svp And Chief Information Officer
Lin Zhou
Svp For Development End 11.16.2020
Mark Gibbel
Svp Equity Inclusion And Social Justice Chief Diversity Officer
Melanie Hart
Svp, Student Success End 9.2.2020
Michelle Relyea
Executive Vice President Of Business Operations
Olatokumbo Shobowale
Vp, Finance & Business And Treasurer End 1.6.2021
Stephen Stabile
Provost And Executive Vice President End 10.1.2020
Timothy Marshall
Dean Ended 9.2020
Helen Wussow
Acting Dean
Jennifer Wilson
Dean
Mary Watson
Dean
Rachel Schreiber
Dean
Richard Kessler
Interim Provost 10.1.2020
Stephanie Browner
Dean
William Milberg
Faculty
Benjamin Lee
Sv Provost Enrollment Management
Carol Kim
Senior Managing Director New School Ventures
Deborah Gibb
Sr. Vice Provost For Global Executive Education
Mariana Amatullo
Faculty
Tobias Rees
Former President
David Van Zandt
Former Chief Enrollment And Success Officer
Donald Resnick
Former Dean / Current Faculty Member
Joel Towers
Former Chief Legal Officer End 8.24.20
Roy Moskowitz
Don't miss out on other good fit funders!
See even more similar funders by creating a free 14-day account. Get personalized grant recommendations, tracking and more.
"Through Instrumentl, I was able to accomplish in 6 hours...SIX HOURS...what would have taken days or weeks with [another] search engine."

The funder insights you need
start your free trial & get a competitive edge
SAMPLE DATA
For preview purposes only;
not actual funder's data
Grant Amounts
Easily see the range of award sizes given over time. See key stats such as the most common award size, min/max, and more.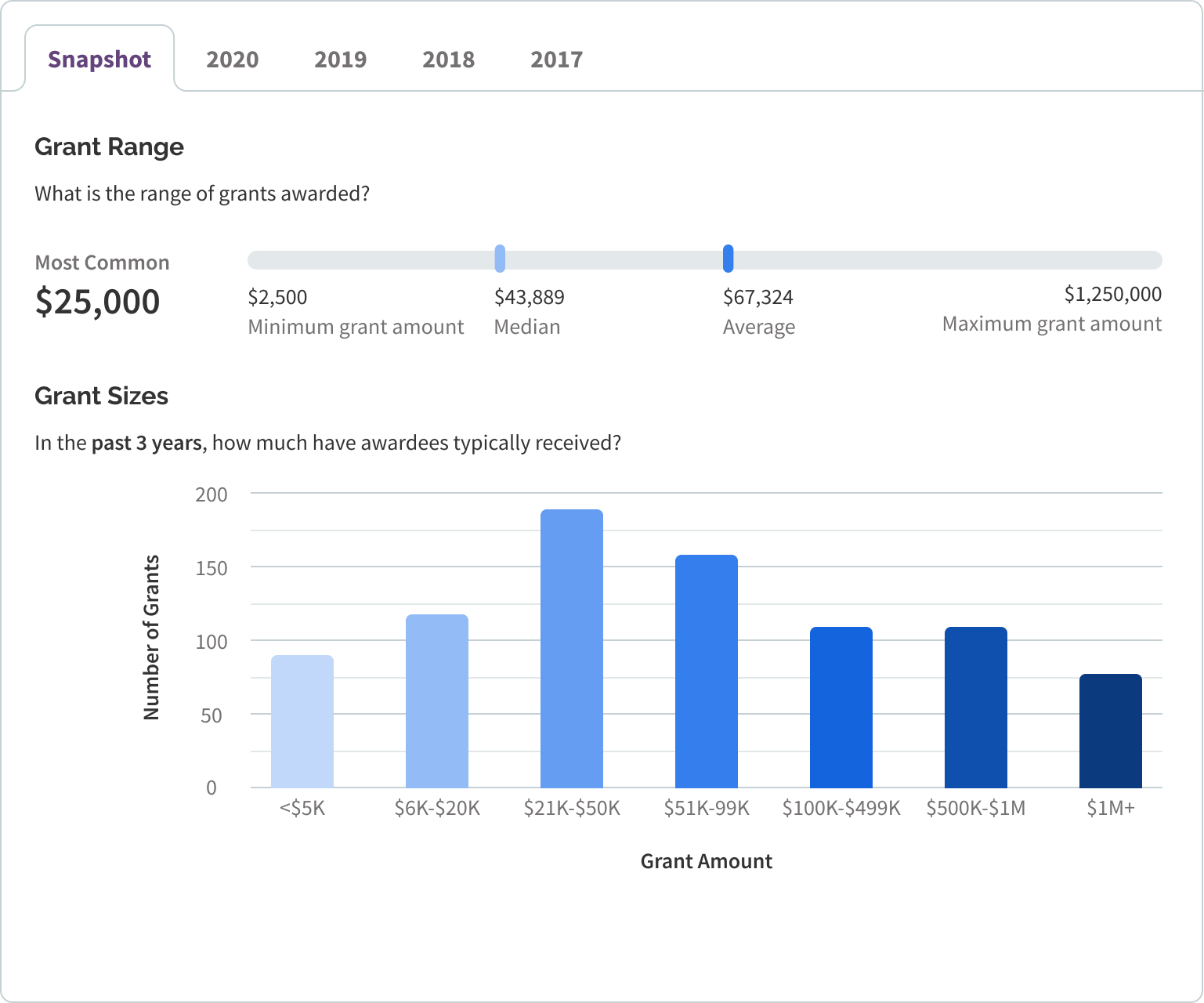 Openness to New Awardees
At a glance, see past and new awardees. See a snapshot over the past three years or dive into individual awards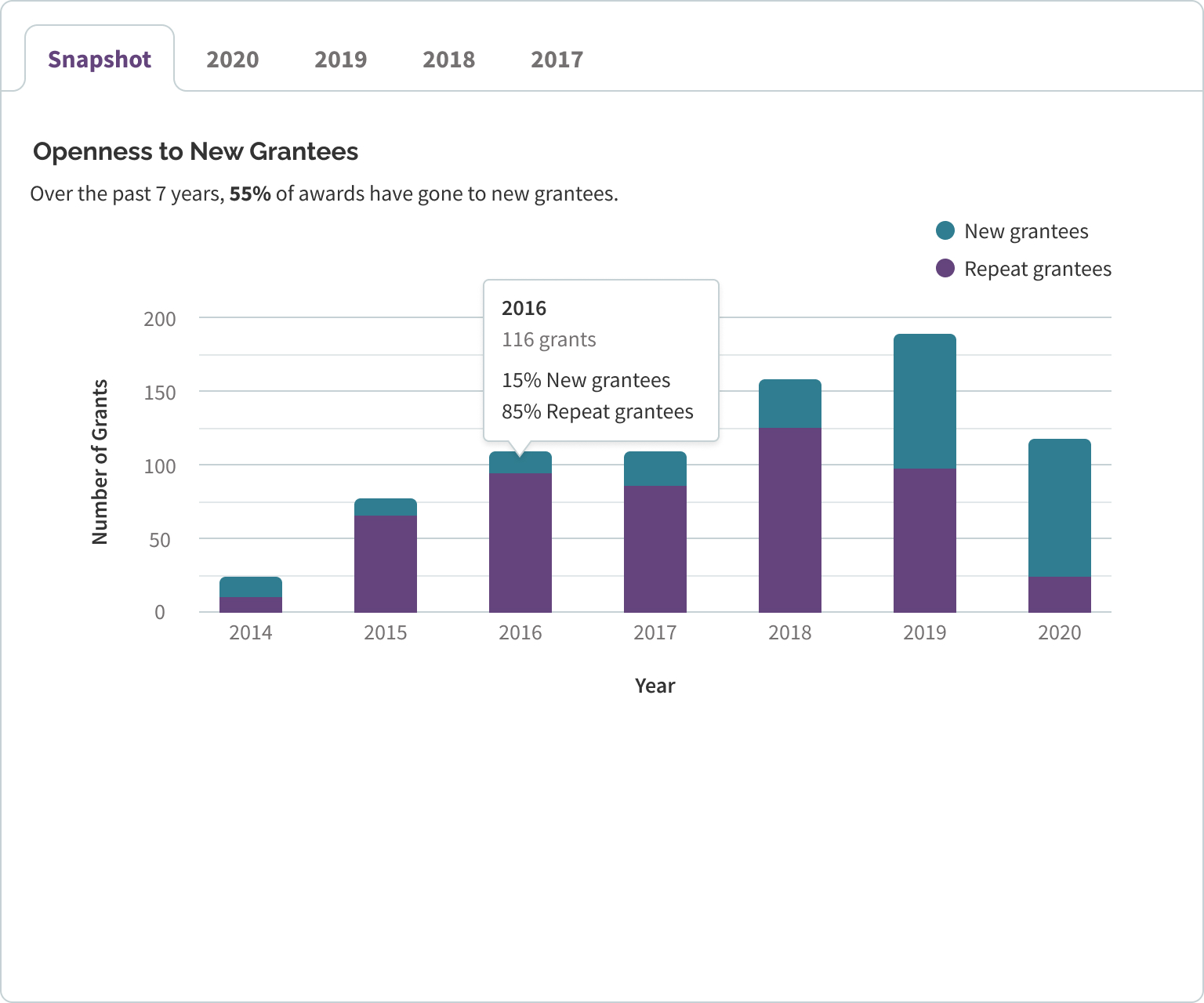 Category Insights
Find out funders' interests by seeing their top giving categories. Drill down into giving patterns per category.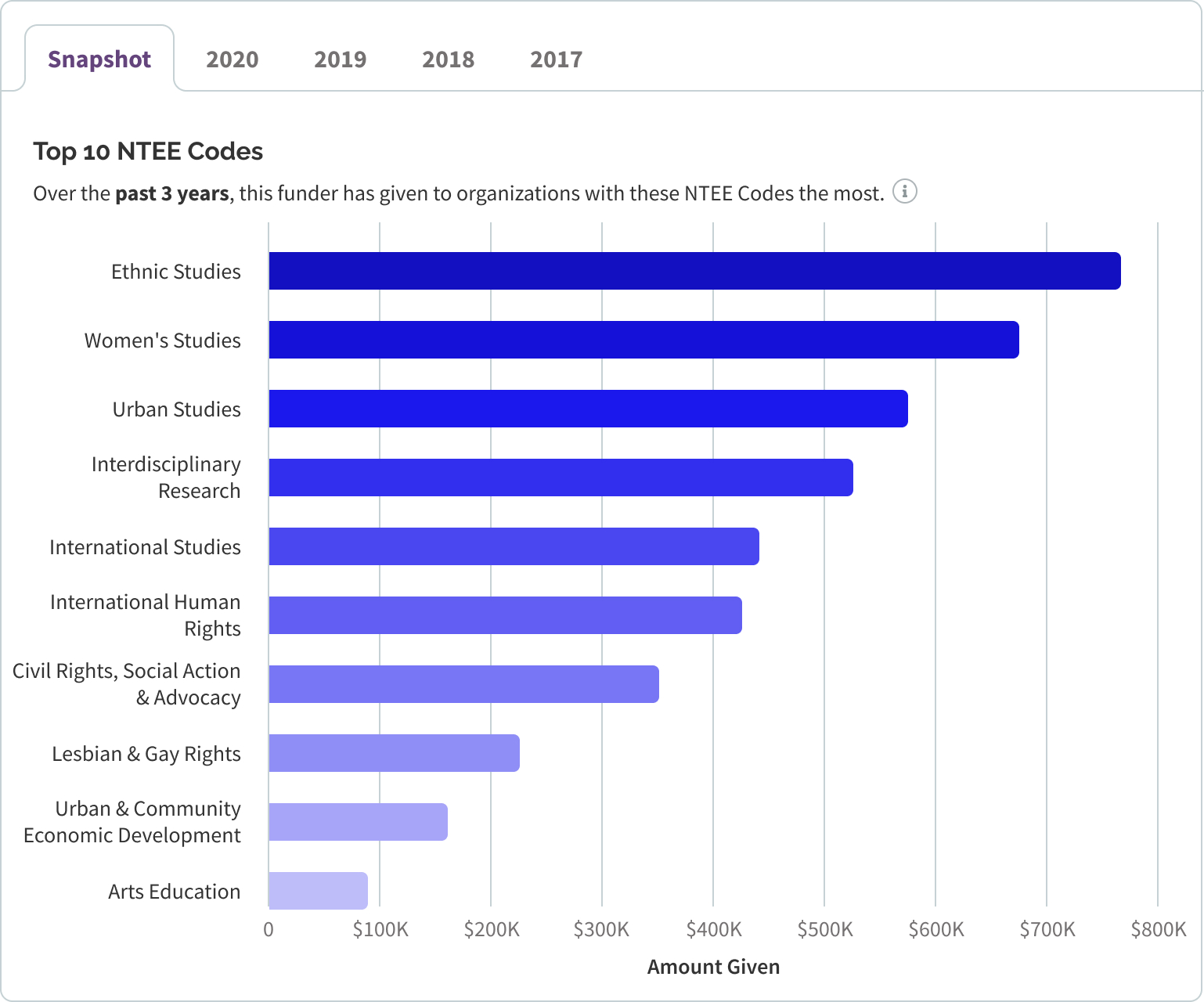 Previous

Next