Instrumentl creates easy-to-read 990 Reports based on digitized IRS Form 990s for thousands of private foundation and nonprofits to make it easier for you to find good fit funders like Tiaa Charitable Inc.
If you'd like to get matched to similar funders to Tiaa Charitable Inc, create a free Instrumentl account.
Based on most recent IRS 990 filing (2021)
Questions about this data?
Notice: The Internal Revenue Service (IRS) is delayed in releasing 990 filings from 2021 and 2022. Due to this delay, 990 information available on Instrumentl may not represent the most recent 990s filed by the organization. Instrumentl's 990 pages will be updated automatically as soon as the IRS releases this information.
Title
Name
Director
Douglas A Rothermich
Director
Harry Klaristenfeld
Director
Rosalie J Wolf
Director
Beverly Daniel Tatum
Director
Muriel Howard
See more
Pres/Ceo/Chair (Until 2/28/21)
Chris Carnal
Director
Michael Kahn
Assistant Secretary
Janet Ramos
General Counsel/Asst Secretary
Gary Herzlich
Vice President
Heline Beach
Controller
Adam Elmore
Chief Financial Officer
Joseph Gerharz
Treasurer
Jorge Gutierrez
Treasurer
Jennifer Sisom
Chief Risk Officer
Matthew Fitzpatrick
Chief Comp Officer
David Lyons
Secretary
Mary Catherine Benedetto
Assistant Treasurer
Cj Heald
Assistant Secretary
Kristen Doscher
Assistant Secretary
Danny Tunsupong
Vice President, Tax
Christopher Baraks
Vice President, Tax
Jacoby Damion
There were 343 awards in 2021. Who received these awards, and where are they located?
There were 1,091 awards in 2020. Who received these awards, and where are they located?
There were 879 awards in 2019. Who received these awards, and where are they located?
There were 592 awards in 2018. Who received these awards, and where are they located?
Don't miss out on other good fit funders!
See even more similar funders by creating a free 14-day account. Get personalized grant recommendations, tracking and more.
"Through Instrumentl, I was able to accomplish in 6 hours...SIX HOURS...what would have taken days or weeks with [another] search engine."

The funder insights you need
start your free trial & get a competitive edge
SAMPLE DATA
For preview purposes only;
not actual funder's data
Grant Amounts
Easily see the range of award sizes given over time. See key stats such as the most common award size, min/max, and more.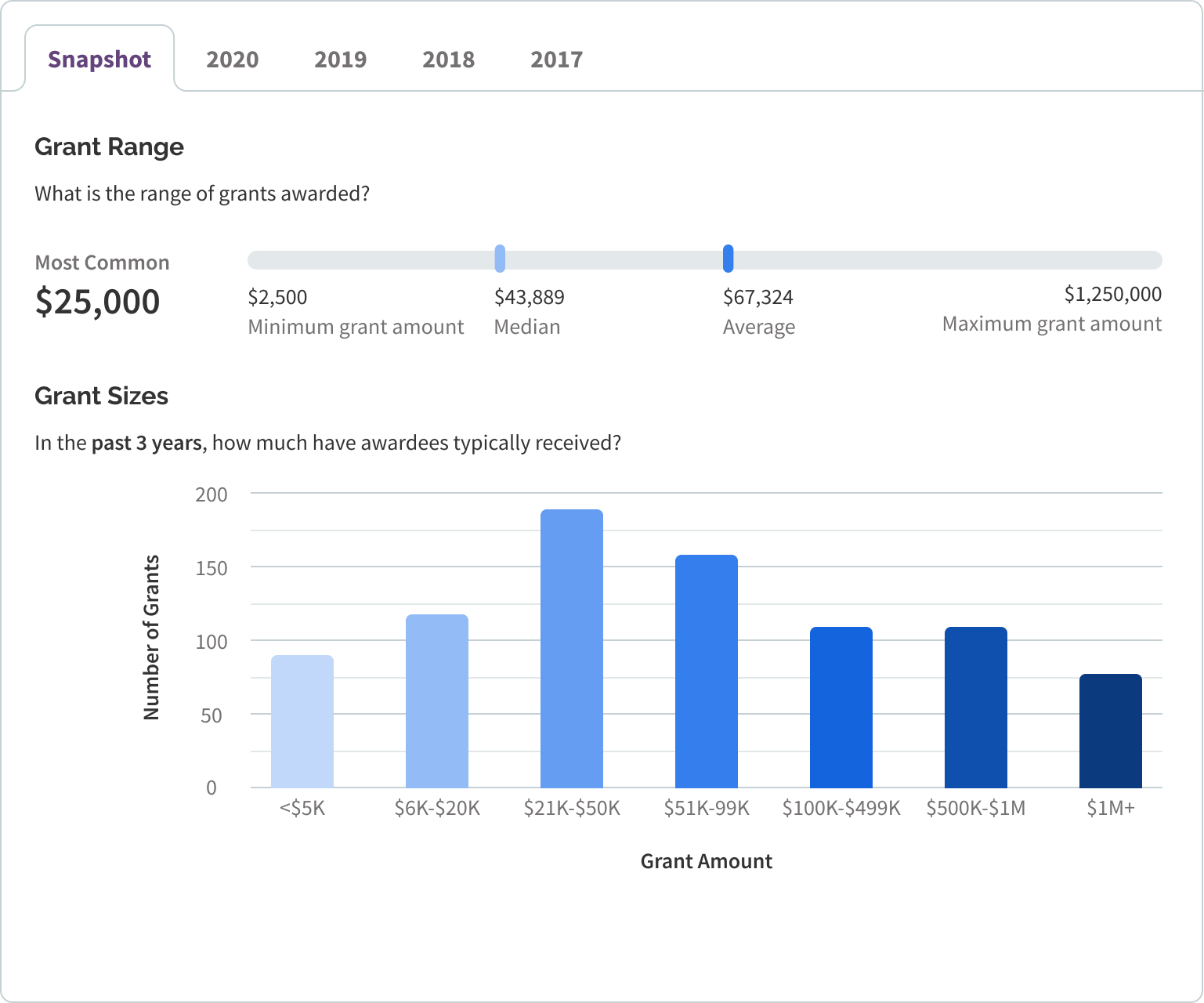 Openness to New Awardees
At a glance, see past and new awardees. See a snapshot over the past three years or dive into individual awards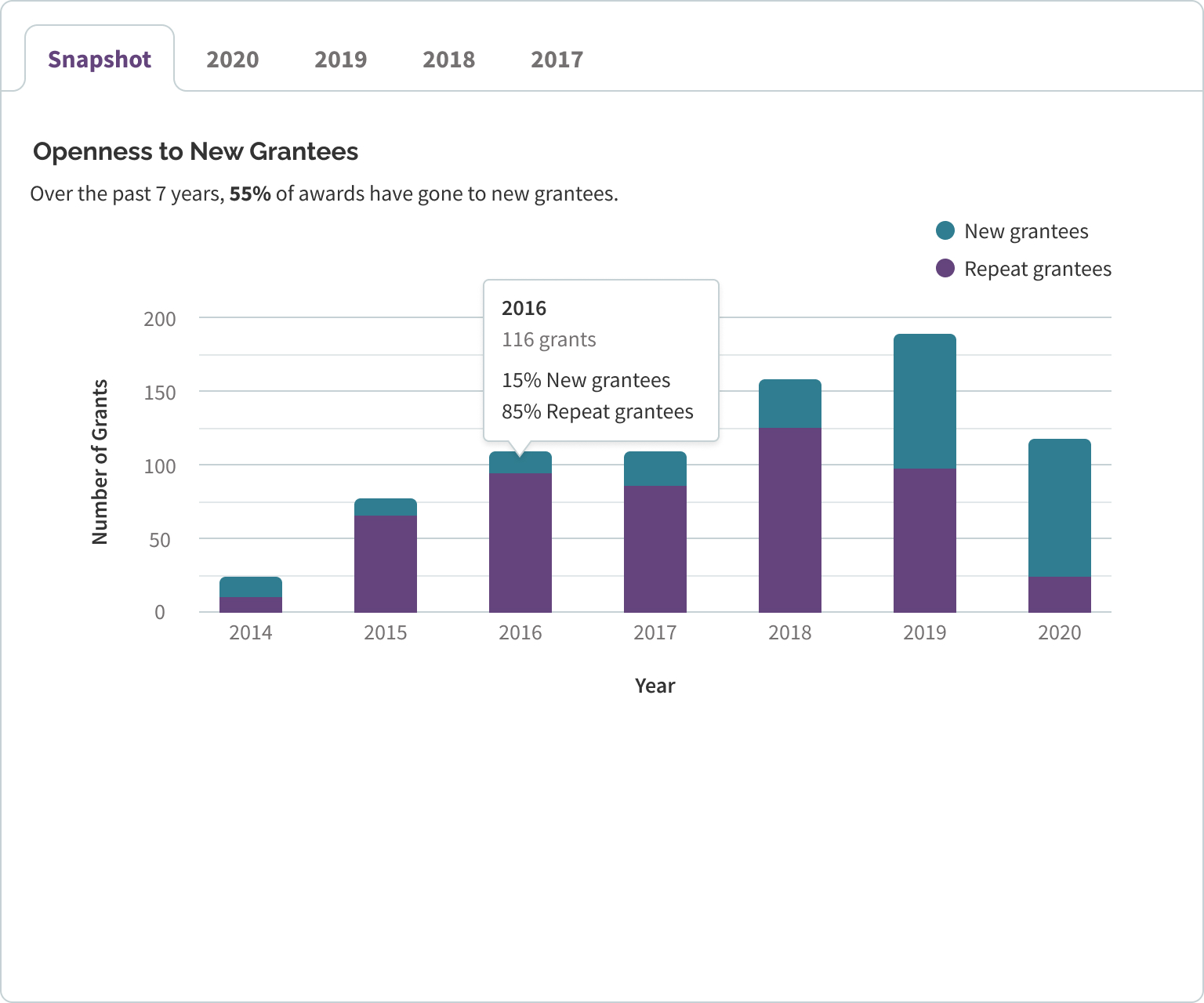 Category Insights
Find out funders' interests by seeing their top giving categories. Drill down into giving patterns per category.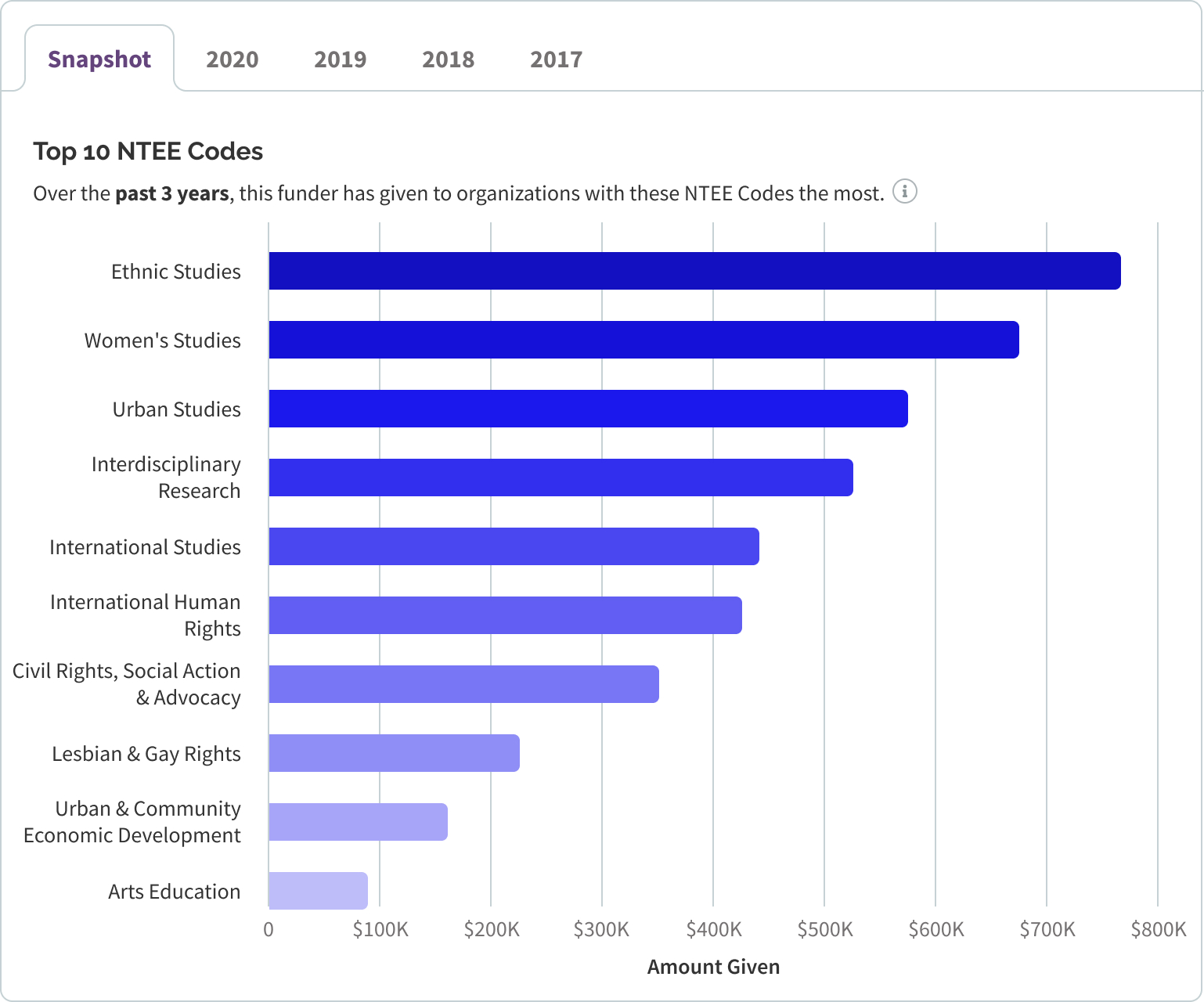 Previous

Next