Instrumentl creates easy-to-read 990 Reports based on digitized IRS Form 990s for thousands of private foundation and nonprofits to make it easier for you to find good fit funders like Trustees Of The University Of Pennsylvania.
If you'd like to get matched to similar funders to Trustees Of The University Of Pennsylvania, create a free Instrumentl account.
Based on most recent IRS 990 filing (2021)
Questions about this data?
Title
Name
Exec. Vp Uphs & Dean Of Psom
Larry Jameson
Chief Investment Officer
Peter Ammon
President, Ex Officio Trustee
Dr Amy Gutmann
Ceo, Uphs
Kevin Mahoney
Executive Vice President
Craig Carnaroli
See more
Cpup Neurosurgery
William C Welch Md
Cpup Neurosurgery
Paul Marcotte Md
Surgeon Neurosurgery
Michael Sean Grady Md
Coo, Uphs
Phillip Okala
Chop Neurosurgery
Phillip B Storm Md
Cpup Surgery
Michael A Acker Md
Cfo, Uphs
Keith Kasper
Vice Dean,Prof Srvc,Fmr Sr. Vp
Peter D Quinn Md Dmd
Ceo, Hup
Regina Cunningham
Fmr Exec. Dir. Cpup
Elizabeth B Johnston
Provost
Wendell Pritchett
Former Ceo, Uphs
Ralph Muller
Svp Cpup, Vice Dean Psom
Deborah A Driscoll Md
Svp Development & Alumni Rltns
John Zeller
Vice Dean, Psom
Jon Epstein
Svp & General Counsel
Wendy White
Svp & Chief Of Staff
Gregory Rost
Vp Info Systems And Computing
Thomas Murphy
Vp & Secretary
Medha Narvekar
Vp Fin. & Treasurer
Maryfrances Mccourt
Svp Institutional Affairs
Joann Mitchell
Vp Facilities And Real Estate
Anne Papageorge
Sr Vice Provost For Research
Dawn Bonnell
Vice Dean, Admin Psom
Christopher Masotti
Vp Human Resources
Jack Heuer
Vp Communications
Stephen J Maccarthy
Vp Budget And Mgmt Analysis
Trevor Lewis
Vp Govt & Community Relations
Jeffrey Cooper
Vp Business Services
Marie Witt
Vp, Audit,Compliance & Priv'y
Gregory Pellicano
Vice Provost
Beth A Winkelstein
Vp Public Safety
Maureen Rush
Svp & Chro, Uphs
Dwaine Duckett
Vp Institutional Research
Stacey Lopez
Vp & Executive Director Cpup
John Sestito
Comptroller
Russell Dileo
Fmr Comptroller
John Horn
Fmr Coo Regional Ops Uphs
Thomas E Beeman Phd
Fmr Vp And Secretary
Leslie Kruhly
Vp Soc Eq & Comm, Univ. Chapln
Charles Howard
Trustee
Osagie O Imasogie Esq
Trustee
Richard W Vague
Trustee
Hyder Ahmad
Trustee
Laura J Alber
Trustee
Bonnie Miao Bandeen
Trustee
Michael Llewellyn Barrett
Trustee
Brett H Barth
Trustee
Adam K Bernstein
Trustee
David S Blitzer
Vice Chairperson
Scott L Bok Esq
Trustee
William Polk Carey Ii
Chairperson
David L Cohen Esq
Trustee
James G Dinan
Trustee
Lee Spelman Doty
Trustee
Connie K Duckworth
Trustee
Alberto Ivan Duran
Trustee
David Ertel
Trustee
Christopher H Franklin
Trustee
Michael F Gerber
Trustee
Perry Golkin Esq
Trustee
Vahan H Gureghian
Trustee
Janet F Haas Md
Trustee
Alex Haidas
Trustee
Andrew R Heyer
Trustee
George Kwok Lung Hungchoy
Trustee
Lloyd W Howell Jr
Trustee
Lynn J Jerath
Trustee
James C Johnson Esq
Trustee
Susanna E Lachs Esq
Trustee
William P Lauder
Trustee
Charles B Leitner Iii
Trustee
Claire Lomax Esq
Trustee
Patricia Martin Md
Trustee
Marc F Mcmorris
Trustee
Kenneth D Moelis
Trustee
Ofer Nemirovsky
Trustee
Catherine M O'hern Lyons
Trustee
Dhananjay M Pai
Trustee
Cheryl Peisach
Trustee
Kevin S Penn
Trustee
Richard C Perry
Trustee
Julie Beren Platt
Trustee
Michael J Price
Trustee
Andrew S Rachleff
Trustee
Ramanan Raghavendran
Trustee
Ann Reese
Trustee
Marc J Rowan
Trustee
Theodore E Schlein
Trustee
Alan David Schnitzer
Trustee
Julie Breier Seaman
Trustee
John P Shoemaker
Trustee
Amb Martin J Silverstein
Trustee
Stacey G Snider
Trustee
Robert M Stavis
Trustee
Harlan M Stone
Trustee
Jill Topkis Weiss
Trustee
Mark B Werner
Ex Officio Trustee
Hon Thomas W Wolf
Trustee Emeritus (As Of 11/20)
James H Greene Jr
Trustee Emeritus (As Of 11/20)
Robert M Levy
There were 50 awards in 2021. Who received these awards, and where are they located?
There were 35 awards in 2020. Who received these awards, and where are they located?
Note: Some locations were not provided
There were 19 awards in 2019. Who received these awards, and where are they located?
There were 41 awards in 2018. Who received these awards, and where are they located?
There were 6 awards in 2017. Who received these awards, and where are they located?
There were 3 awards in 2016. Who received these awards, and where are they located?
There were 4 awards in 2015. Who received these awards, and where are they located?
There were 187 awards in 2014. Who received these awards, and where are they located?
Don't miss out on other good fit funders!
See even more similar funders by creating a free 14-day account. Get personalized grant recommendations, tracking and more.
"Through Instrumentl, I was able to accomplish in 6 hours...SIX HOURS...what would have taken days or weeks with [another] search engine."

The funder insights you need
start your free trial & get a competitive edge
SAMPLE DATA
For preview purposes only;
not actual funder's data
Grant Amounts
Easily see the range of award sizes given over time. See key stats such as the most common award size, min/max, and more.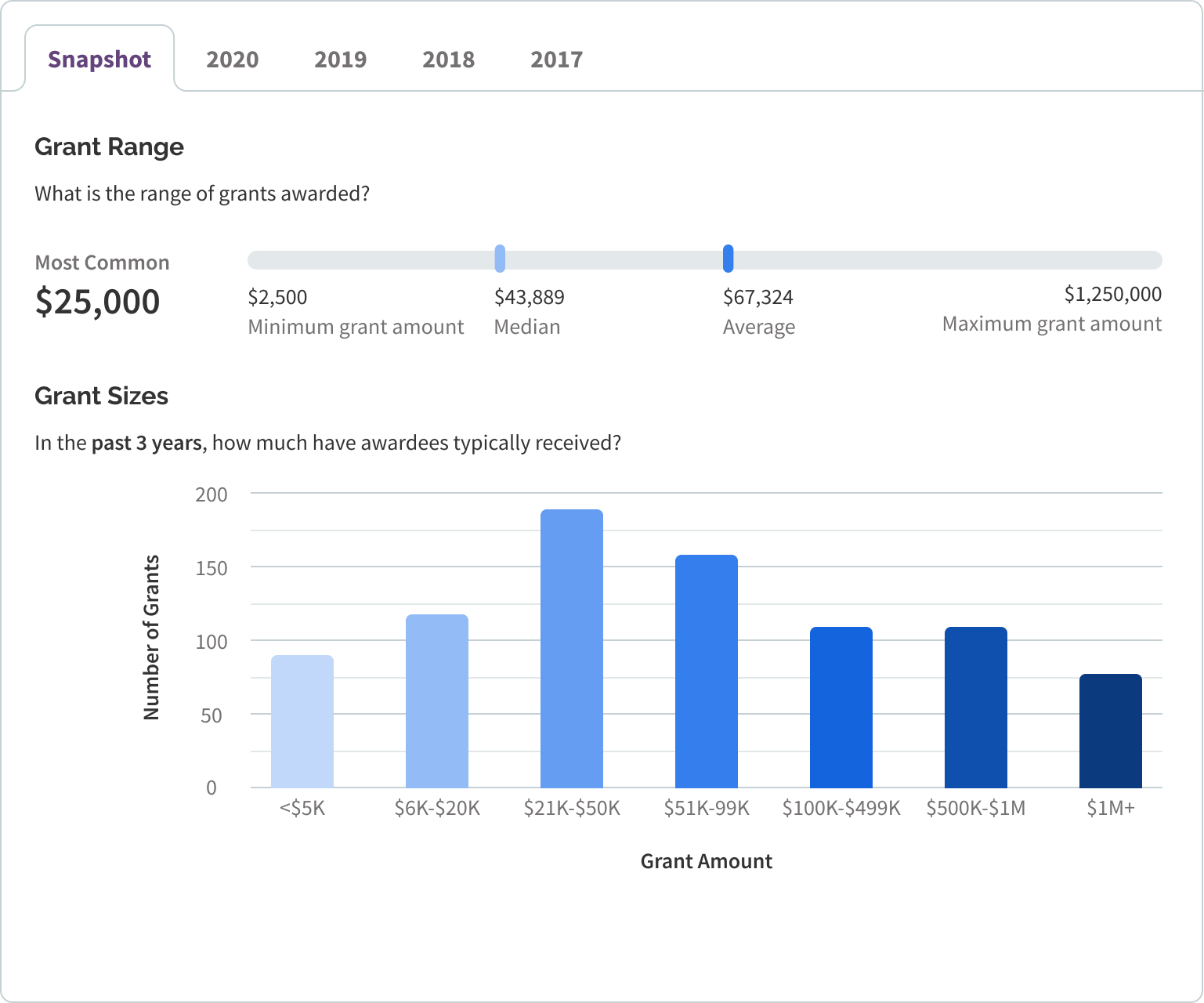 Openness to New Awardees
At a glance, see past and new awardees. See a snapshot over the past three years or dive into individual awards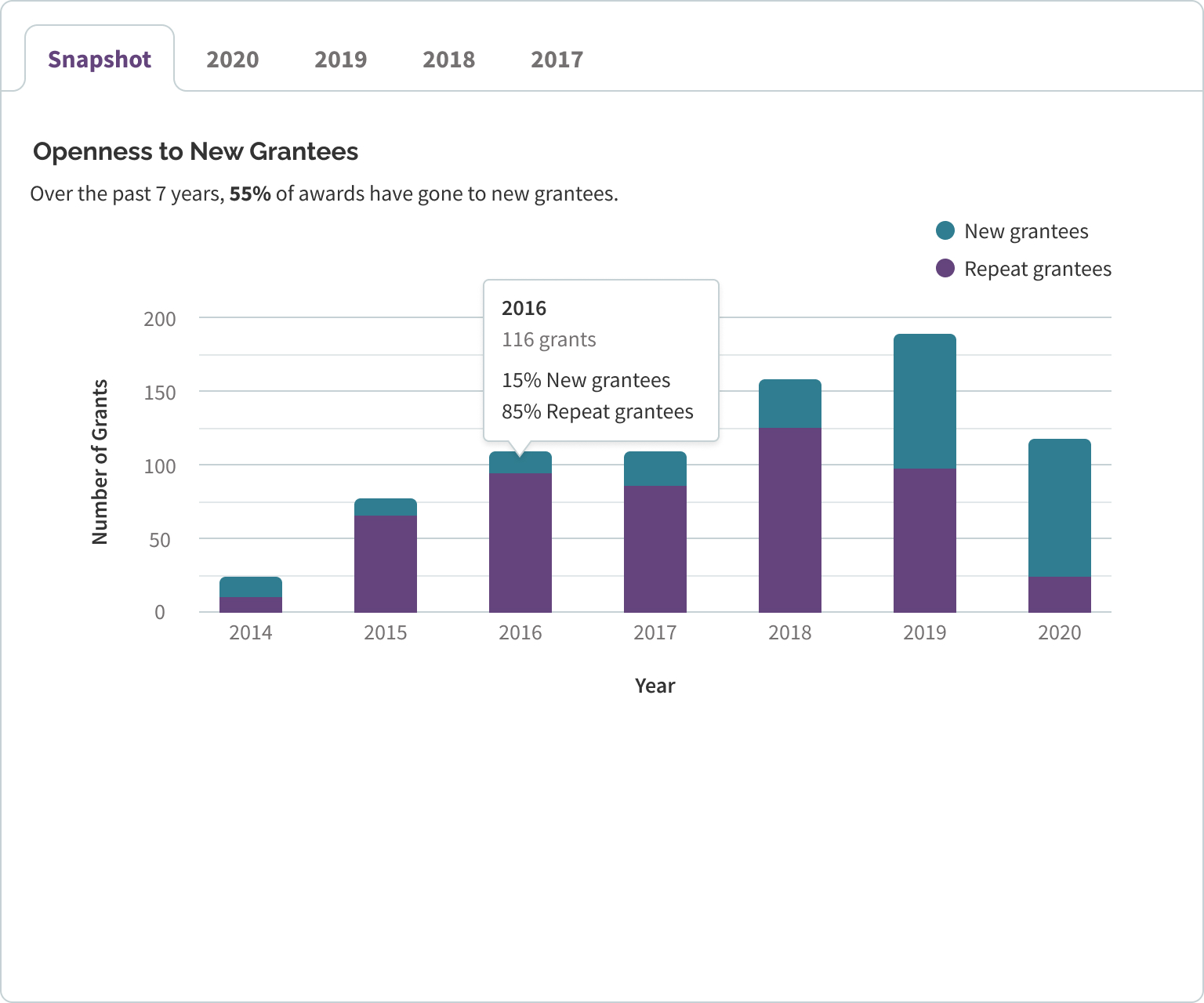 Category Insights
Find out funders' interests by seeing their top giving categories. Drill down into giving patterns per category.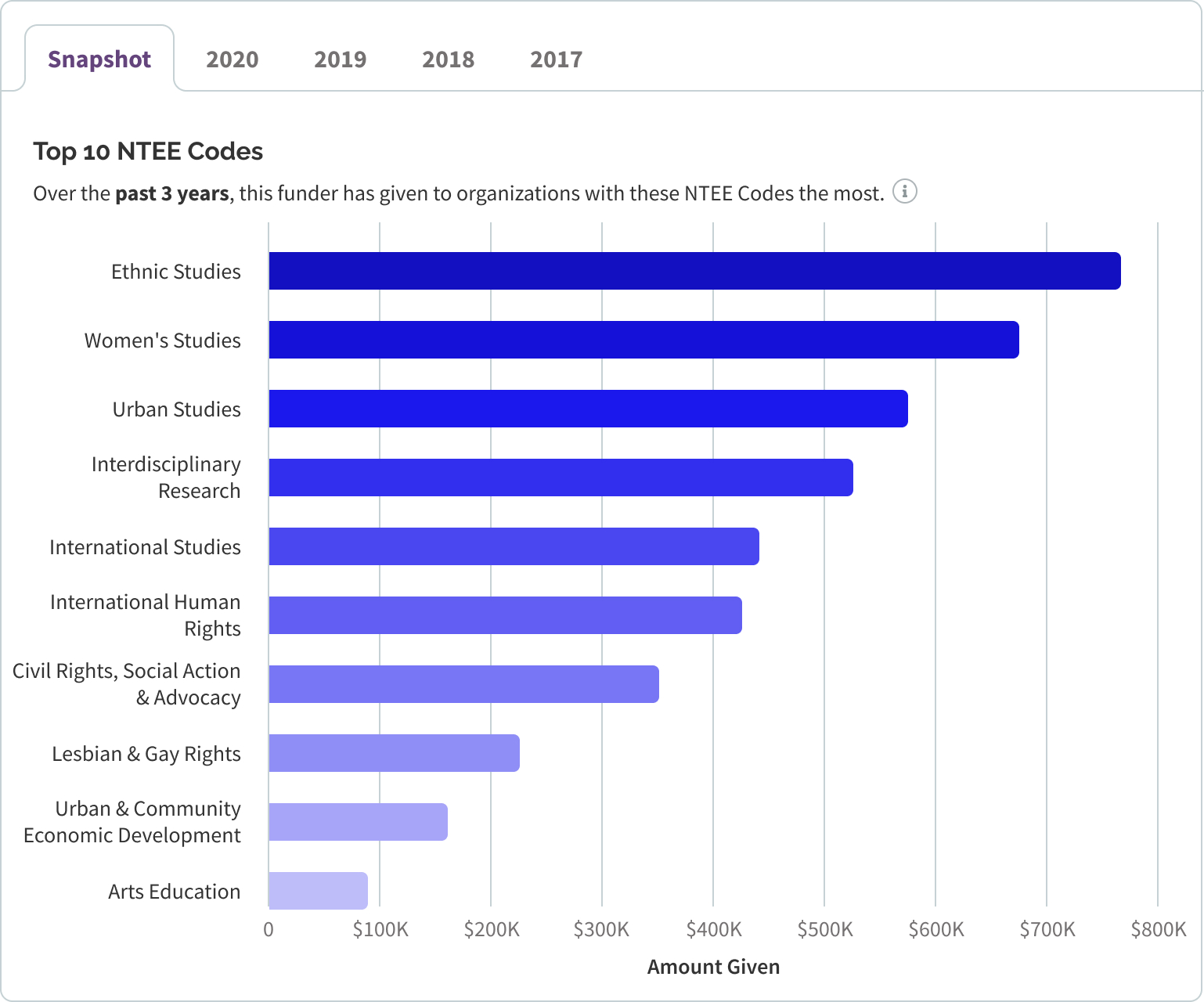 Previous

Next