Instrumentl creates easy-to-read 990 Reports based on digitized IRS Form 990s for thousands of private foundation and nonprofits to make it easier for you to find good fit funders like United Way Inc.
If you'd like to get matched to similar funders to United Way Inc, create a free Instrumentl account.
Based on most recent IRS 990 filing (2020)
Questions about this data?
Notice: The Internal Revenue Service (IRS) is delayed in releasing 990 filings from 2021 and 2022. Due to this delay, 990 information available on Instrumentl may not represent the most recent 990s filed by the organization. Instrumentl's 990 pages will be updated automatically as soon as the IRS releases this information.
Title
Name
President/Ceo(1 Time Pymt In W 2)
Elise Buik
Vp, Finance
Lining Recendez
Vp, Marketing & Communications
Taulene Kagan
Dir, Corporate Strategies
Demetrius Stevenson
Chief Operating Officer Part Year
Milinda Martin
See more
Managing Dir Homelessness & Strategic Initiatives
Chris Ko
Senior Dir Impact Initiatives
Thomas Newman
Vp, Community Impact Part Year
Deena Margolis
Dir, Optimization
Corey Castillo
Dir, Digital Marketing
Brian Vasallo
Chair
Chris Carey
Vice Chair
Larry James
Corporate Secretary
Rudy Medina
Treasurer
Brian Cullinan
Board Member
Fred Abdelnour
Board Member Part Year
Lori Augustine
Board Member
Adele Berwanger
Board Member
Alex Martin Chaves
Board Member
Caroline Choe
Board Member
Lisa Cleri Reale
Board Member
Kevin Demoff
Board Member
Elisabeth Dick
Board Member
Jana Waring Greer
Ex Officio
Sachi Hamai
Board Member
Marc Hickman
Board Member
Mark Hutchins
Board Member
Kevin Kim
Board Member
Stewart Kwoh
Board Member
Janet Lamkim
Board Member
Brad Larsen
Board Member
Leslie Lassiter
Board Member
Robyn Lawhon
Board Member
Michael Lawson
Board Member
Mark Louchheim
Board Member
Kathy Mandato
Board Member
Julie Miller Phipps
Board Member
Caroline Nahas
Board Member
Jerry Neuman
Board Member
Irene Oh
Board Member Part Year
Steven Olson
Board Member
Luis Patino
Board Member
Mark Phair
Board Member
Regina Rossall
Board Member
Miguel Santana
Board Member
Fern Shaw
Board Member Part Year
Gregg Sherkin
Board Member
Jade Shopp
Board Member
Kathy Sieck
Board Member
Michael Silacci
Board Member
Renata Simril
Board Member
Sharon Tomkins
Board Member
Steve Trutner
Board Member
Douglas Turk
Board Member
Kevin Walker
Board Member
Joe Waz
Loading...
Note: We've gone ahead and added 2021 assets data before the final 990 filing becomes available from the IRS.
There were 203 awards in 2020. Who received these awards, and where are they located?
There were 137 awards in 2019. Who received these awards, and where are they located?
There were 141 awards in 2018. Who received these awards, and where are they located?
There were 134 awards in 2017. Who received these awards, and where are they located?
There were 124 awards in 2016. Who received these awards, and where are they located?
There were 120 awards in 2015. Who received these awards, and where are they located?
Don't miss out on other good fit funders!
See even more similar funders by creating a free 14-day account. Get personalized grant recommendations, tracking and more.
"Through Instrumentl, I was able to accomplish in 6 hours...SIX HOURS...what would have taken days or weeks with [another] search engine."

The funder insights you need
start your free trial & get a competitive edge
SAMPLE DATA
For preview purposes only;
not actual funder's data
Grant Amounts
Easily see the range of award sizes given over time. See key stats such as the most common award size, min/max, and more.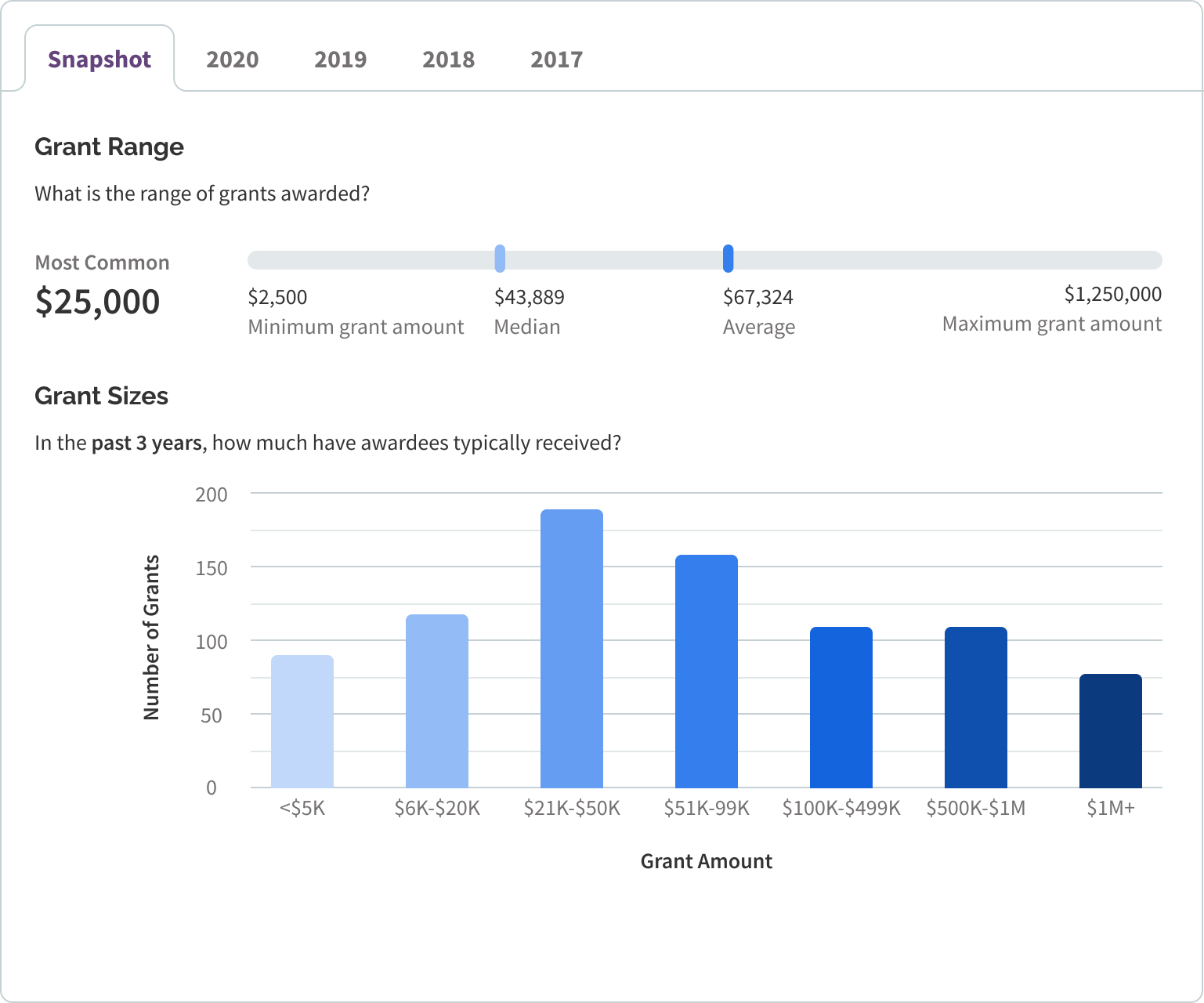 Openness to New Awardees
At a glance, see past and new awardees. See a snapshot over the past three years or dive into individual awards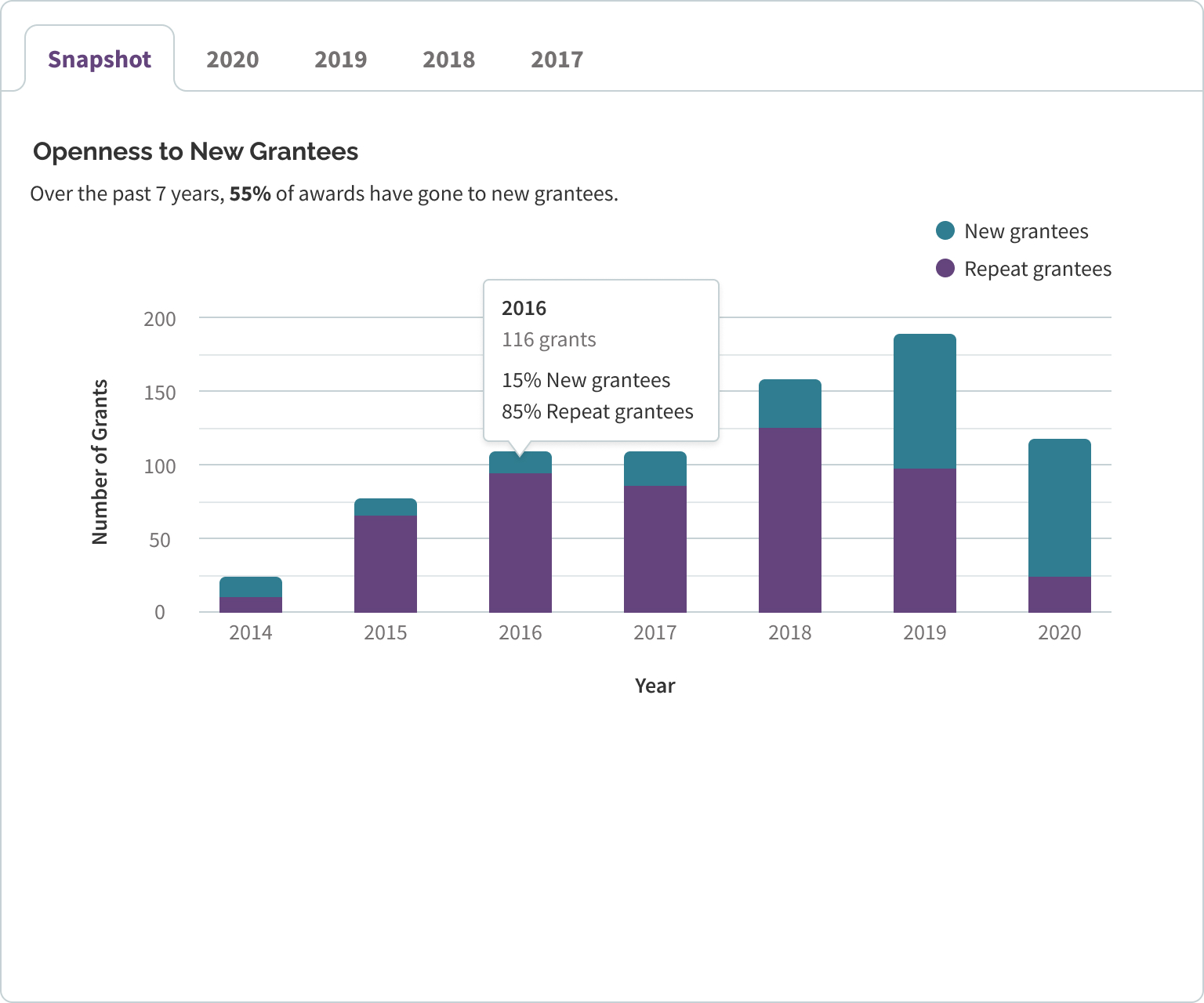 Category Insights
Find out funders' interests by seeing their top giving categories. Drill down into giving patterns per category.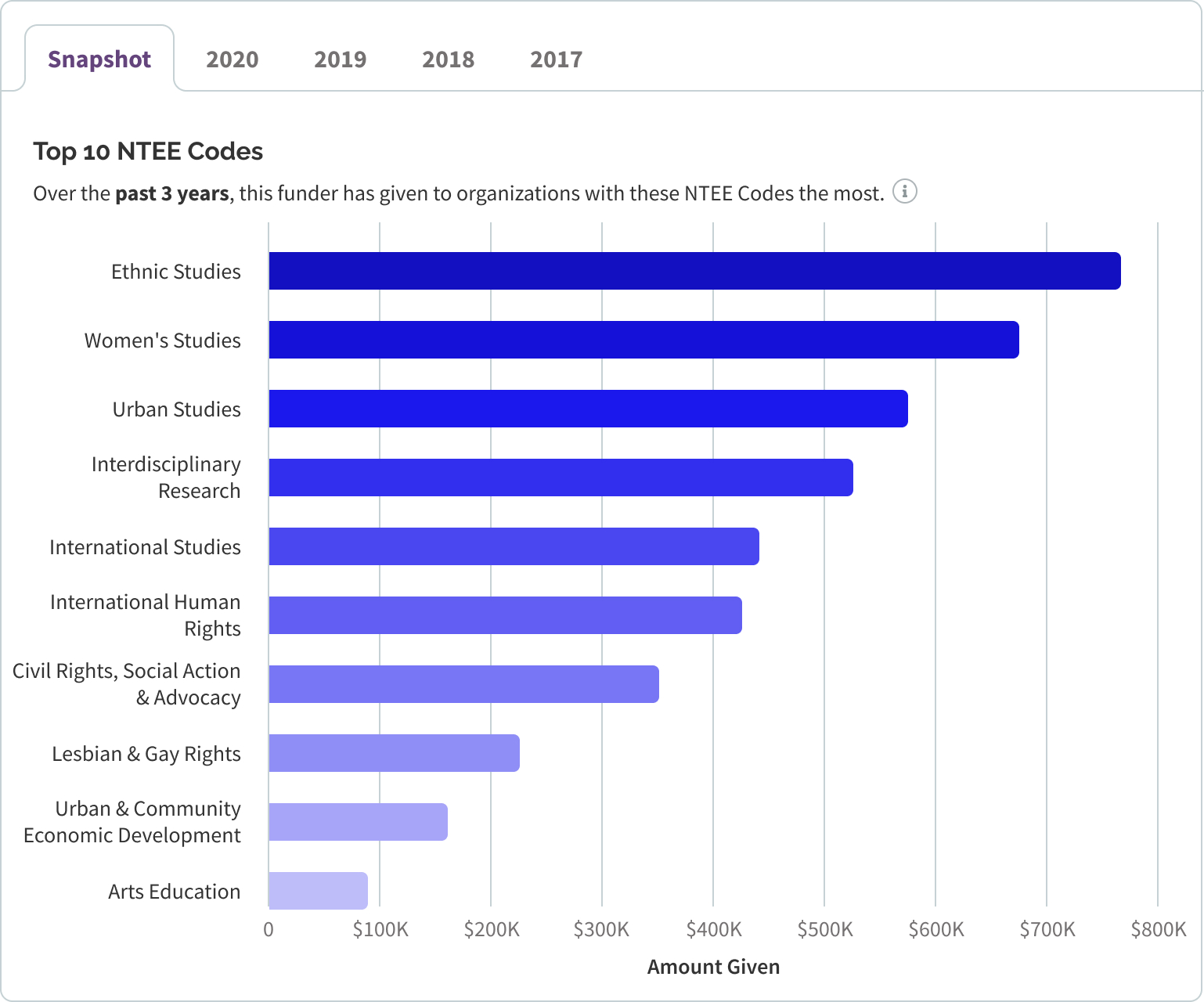 Previous

Next