Instrumentl creates easy-to-read 990 Reports based on digitized IRS Form 990s for thousands of private foundation and nonprofits to make it easier for you to find good fit funders like University Of Delaware.
If you'd like to get matched to similar funders to University Of Delaware, create a free Instrumentl account.
Based on most recent IRS 990 filing (2020)
Questions about this data?
Notice: The Internal Revenue Service (IRS) is delayed in releasing 990 filings from 2021 and 2022. Due to this delay, 990 information available on Instrumentl may not represent the most recent 990s filed by the organization. Instrumentl's 990 pages will be updated automatically as soon as the IRS releases this information.
Title
Name
President
Dionissios Assanis
Chief Investment Officer
Keith Walter
Vp University Development
James Dicker Jr
Provost
Robin Morgan
Dean
Bruce Weber
See more
Head Football Coach
Daniel Rocco
General Counsel
Laure Ergin
Executive Vice President
John Long
Athletic Director
Christine Rawak
Vp Research
Charles Riordan
Head Basketball Coach
Martin Ingelsby
Professor
Daniel Rich
Professor
Stanley Sandler
Professor
Donald Sparks
Dean
Levi Thompson
Vp Strategic Planning
Mary Remmler
Vp & Chief Information Officer
Sharon Pitt
Dean
Kathleen Matt
Vp Communications
Glenn Carter
Former Dean/ Professor
Babatunde Ogunnaike
Vp Finance
Gregory Oler
Vp Facilities
Peter Krawchyk
Vp Student Life
Jose Luis Riera
Dean
John Pelesko
Former Dean/ Dep Provost
Lynn Okagaki
Dean
Gary Henry
Dean
Estella Atekwana
University Secretary
Jeffrey Garland
Vice President Human Resources
Wayne Guthrie
Former Dean/ Professor
George Watson
University Secretary
Beth Brand
Dean
Mark Rieger
Dean
Carol Vukelich
Former Interim Dean/ Professor
Mohsen Badiey
Trustee, Professor
Debra Hess Norris
Former Interim Vp It/ Deputy C
Jason Cash
Former Evp
Alan Brangman Until 3102019
Former Vp Communications
John Brennan
Former Vp Enroll Mgt
Christopher Lucier Until 52019
Former Chief Of Staff/ Exec Di
Franklin Newton
Vp Enrollment Management
Rodney Morrison
Board Chair
John R Cochran
Board Vice Chair
Terri L Kelly
Board Vice Chair
Terence M Murphy
Board, Secretary/Treasurer
Irwin G Burton Iii
Trustee
Carol A Ammon
Trustee
Christopher W Baker
Trustee
James C Borel
Trustee
Allison Burris Castellanos
Trustee
Joan F Coker
Trustee
Claire De Matteis
Trustee
William J Di Mondi
Trustee
Donna M Fontana
Trustee
Chaitanya Gadde
Trustee
Michael S Geltzeiler
Trustee
Kathleen V Hawkins
Trustee
William M Lafferty
Trustee
Nisha Lodhavia
Trustee
Guy F Marcozzi
Trustee
John W Paradee
Trustee
Claudia Pena Porretti
Trustee
Donald J Puglisi
Trustee
Robert F Rider Jr
Trustee
Edmond J Sannini
Trustee
David W Spartin
Trustee
Sean X Wang
Trustee
Kenneth C Whitney
Trustee
John Carney
Trustee
Michael K Lynch
Trustee
Whitney Townsend Sweeney
Loading...
Note: We've gone ahead and added 2021 assets data before the final 990 filing becomes available from the IRS.
There were 80 awards in 2020. Who received these awards, and where are they located?
There were 94 awards in 2019. Who received these awards, and where are they located?
There were 91 awards in 2018. Who received these awards, and where are they located?
There were 102 awards in 2017. Who received these awards, and where are they located?
There were 125 awards in 2016. Who received these awards, and where are they located?
Note: Some locations were not provided
Don't miss out on other good fit funders!
See even more similar funders by creating a free 14-day account. Get personalized grant recommendations, tracking and more.
"Through Instrumentl, I was able to accomplish in 6 hours...SIX HOURS...what would have taken days or weeks with [another] search engine."

The funder insights you need
start your free trial & get a competitive edge
SAMPLE DATA
For preview purposes only;
not actual funder's data
Grant Amounts
Easily see the range of award sizes given over time. See key stats such as the most common award size, min/max, and more.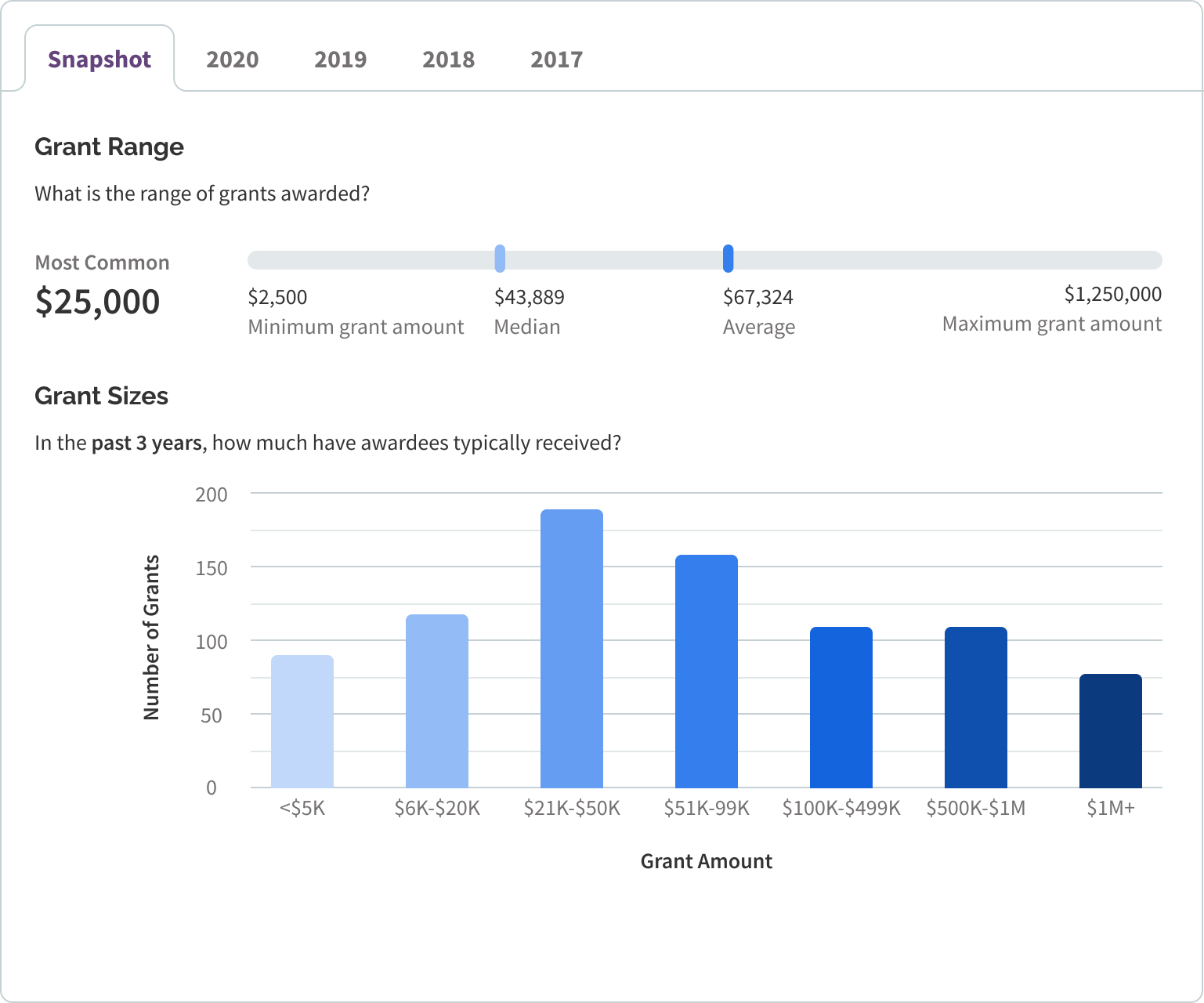 Openness to New Awardees
At a glance, see past and new awardees. See a snapshot over the past three years or dive into individual awards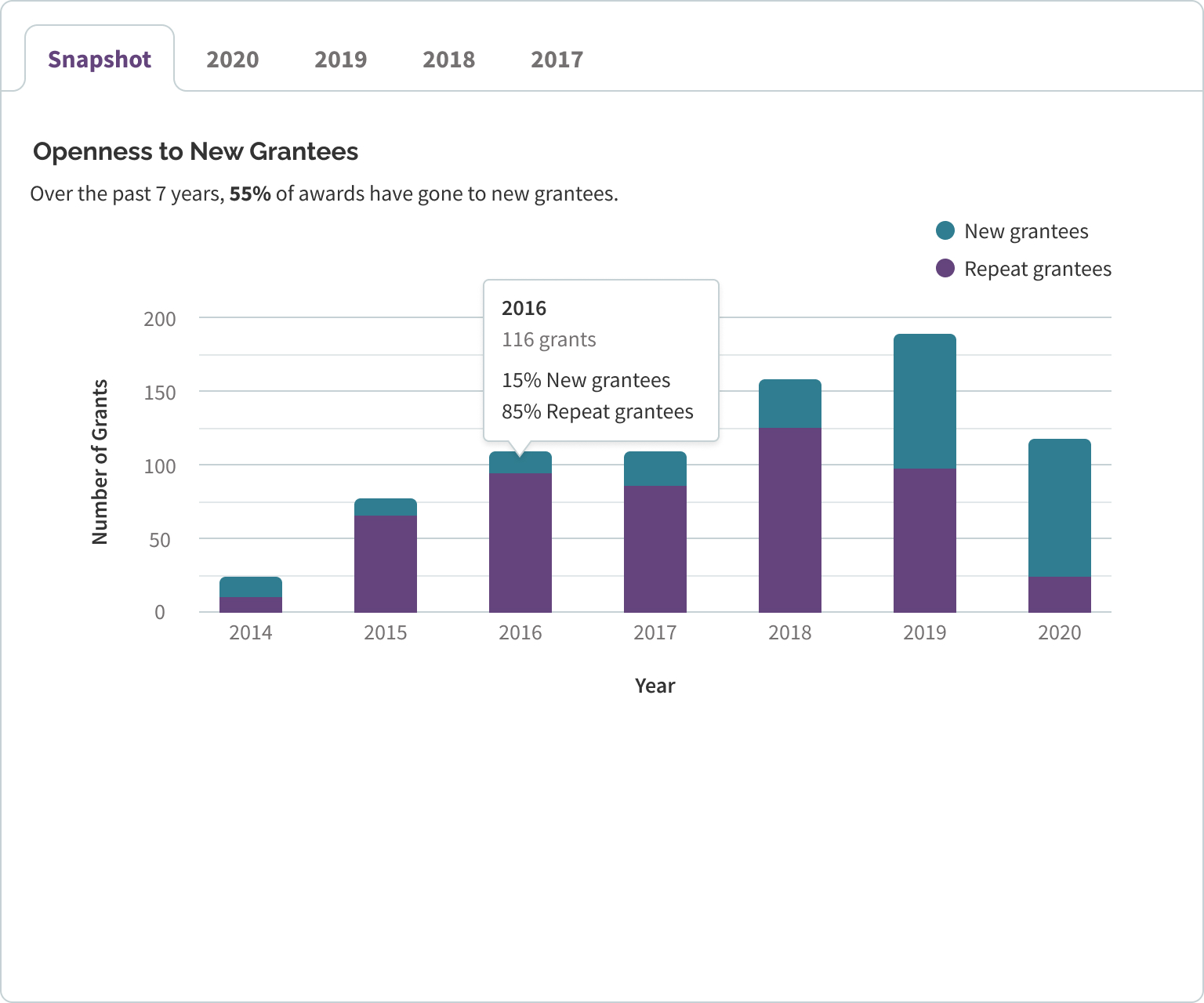 Category Insights
Find out funders' interests by seeing their top giving categories. Drill down into giving patterns per category.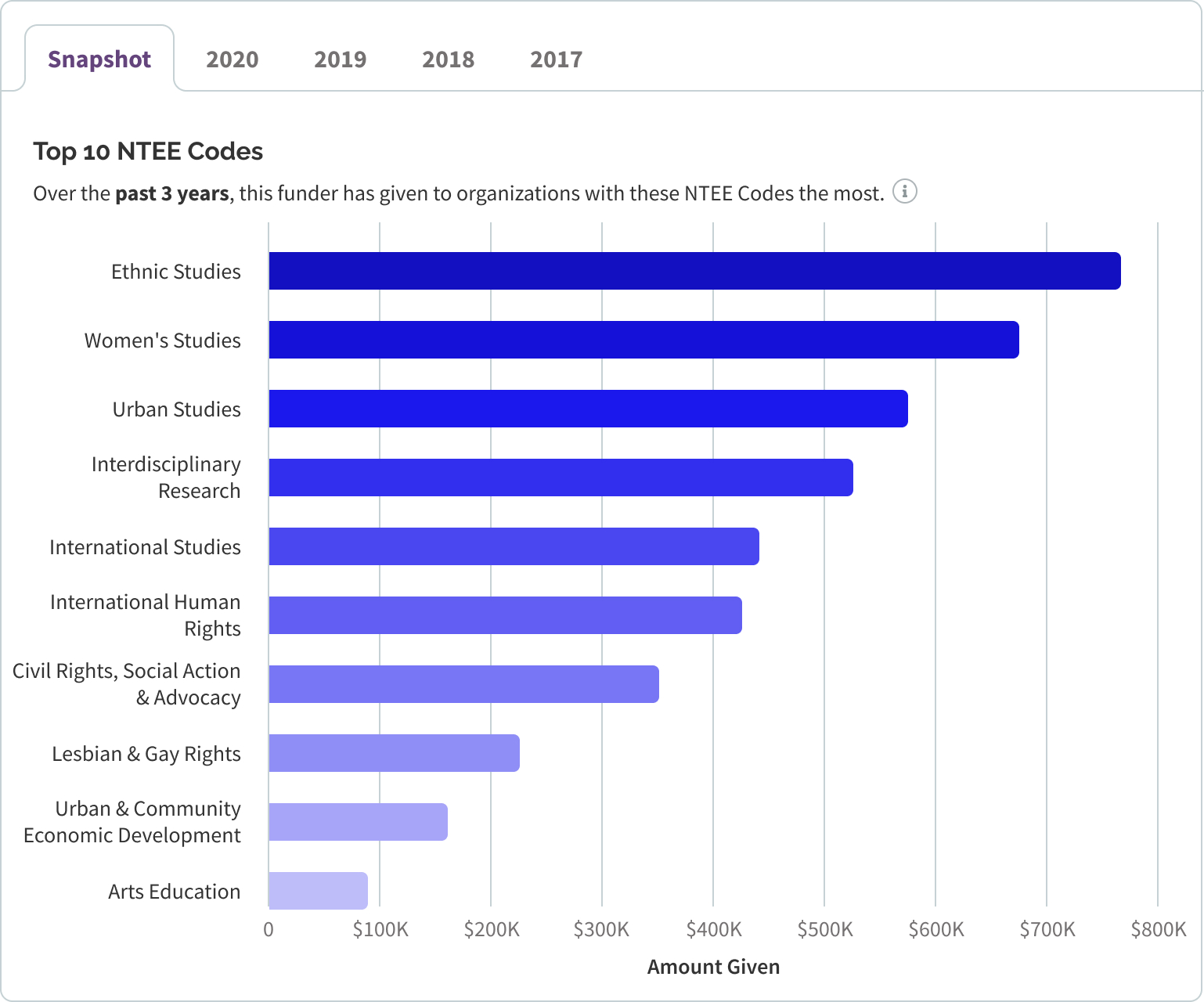 Previous

Next