Instrumentl creates easy-to-read 990 Reports based on digitized IRS Form 990s for thousands of private foundation and nonprofits to make it easier for you to find good fit funders like University Of Rochester.
If you'd like to get matched to similar funders to University Of Rochester, create a free Instrumentl account.
Based on most recent IRS 990 filing (2022)
Questions about this data?
Title
Name
Pres/Ceo Smh & Hh,Srvp Urmc
Steven I Goldstein
Assoc Prof Neurology
Tarun Bhalla Md
Professor Cardiac Surgery M&D
George M Alfieris Md
Professor Orthopaedics M&D
Michael D Maloney Md
Professor Orthopaedics M&D
Ilya Voloshin Md
See more
Srvp Health,Ceo Urmc, Dean Smd
Mark B Taubman Md
Professor Neurosurgery
Matthew T Bender Md
Ceo Urmfg, Sr Vp Urmc
Michael F Rotondo Md
Trustee,Pres & Ceo
Sarah C Mangelsdorf
Coo Smh, Exec Vp Smh
Kathleen Parrinello
Srvp & Chief Investment Ofcr
Douglas W Phillips
Cfo Urmc
Adam P Anolik
Cmo,Smh & Hh, Vp Urmc
Michael J Apostolakos Md
Former Provost & Srvp Research
Robert L Clark
Srvp & Chief Advancement Ofcr
Thomas J Farrell
Vp Gov't & Comm Rel, Urmc
Peter G Robinson
Svp Adm&Fin,Cfo,Tsr Thru 11/21
Holly G Crawford
Vp And General Counsel
Donna Gooden Payne
Intrm Vp For Research 7/2021
Stephen Dewhurst
Cfo Smh,Hh,Ltc&Assoc Vp Urmc
Carrie P Fuller Spencer
President Emeritus & Professor
Joel S Seligman
Intrm Srvp Adm&Fin,Cfo 11/2021
Elizabeth A Milavec
Vp & Chief Hr Officer 8/2021
Kathleen Gallucci
Interim Provost As Of 7/2021
Sarah E Peyre
Professor,Frmr Vp Urmc
Raymond J Mayewski Md
Vp For Communications
Elizabeth Stauderman
Vp Equity, Inclusion, Cdo
Mercedes Ramirez Fernandez
Professor,Frmr Interim Pres
Richard Feldman
Chief Of Staff Pres;Secy Board
Anthony Green
Secy To Board Trustees 12/2021
Jack S Bailey
Trustee As Of 05/22
David Roy Greenbaum
Trustee
Joseph W Abrams
Trustee Until 5/22
Mark S Ain
Trustee
Joan S Beal
Trustee
Jay S Benet
Trustee
Naomi M Bergman
Trustee
Stephen R Biggar Md Phd
Trustee As Of 5/2022
Pramit Shashikany Jhaveri
Trustee
H Christopher Boehning
Trustee
John H Bruning
Trustee
Elizabeth P Bruno
Trustee
Barbara J Burger
Trustee
Carol John A Davidson
Trustee Until 5/22
Launcelot F Drummond
Trustee
Bernard T Ferrari Md
Trustee
Emerson U Fullwood
Trustee Until 5/22
Ani N Gabrellian
Trustee
Gwen Meltzer Greene
Trustee (Chair)
Richard B Handler
Trustee (Vice Chair)
Carol D Karp
Trustee
Robert J Keegan
Trustee
Laurence Kessler
Trustee
Evans Y Lam
Trustee Until 05/22
Nancy A Lieberman
Trustee Until 5/22
Gail A Lione
Trustee
Edward D Miller Md
Trustee
Cathy E Minehan
Trustee
Naveen Nataraj
Trustee As Of 05/22
Quincy L Allen
Trustee
Lizette M Perez Deisboeck
Trustee Until 5/22
Philip A Pizzo Md
Trustee Until 5/22
Ronald Rettner
Trustee
Thomas S Richards
Trustee
Martin Sanders
Trustee As Of 5/2022
Juan C Jones
Trustee
Kathy N Waller
Trustee
Elizabeth Ward
Trustee
Daniel R Wegman
Trustee
Timothy C Wentworth
Trustee
Thomas C Wilmot Sr
Trustee
Alan S Zekelman
Trustee
Steven K Grinspoon Md
Trustee
Curtis J Johnson
Trustee
Mary Frances Winters
Trustee As Of 05/2022
Elizabeth Leight
Don't miss out on other good fit funders!
See even more similar funders by creating a free 14-day account. Get personalized grant recommendations, tracking and more.
"Through Instrumentl, I was able to accomplish in 6 hours...SIX HOURS...what would have taken days or weeks with [another] search engine."

The funder insights you need
start your free trial & get a competitive edge
SAMPLE DATA
For preview purposes only;
not actual funder's data
Grant Amounts
Easily see the range of award sizes given over time. See key stats such as the most common award size, min/max, and more.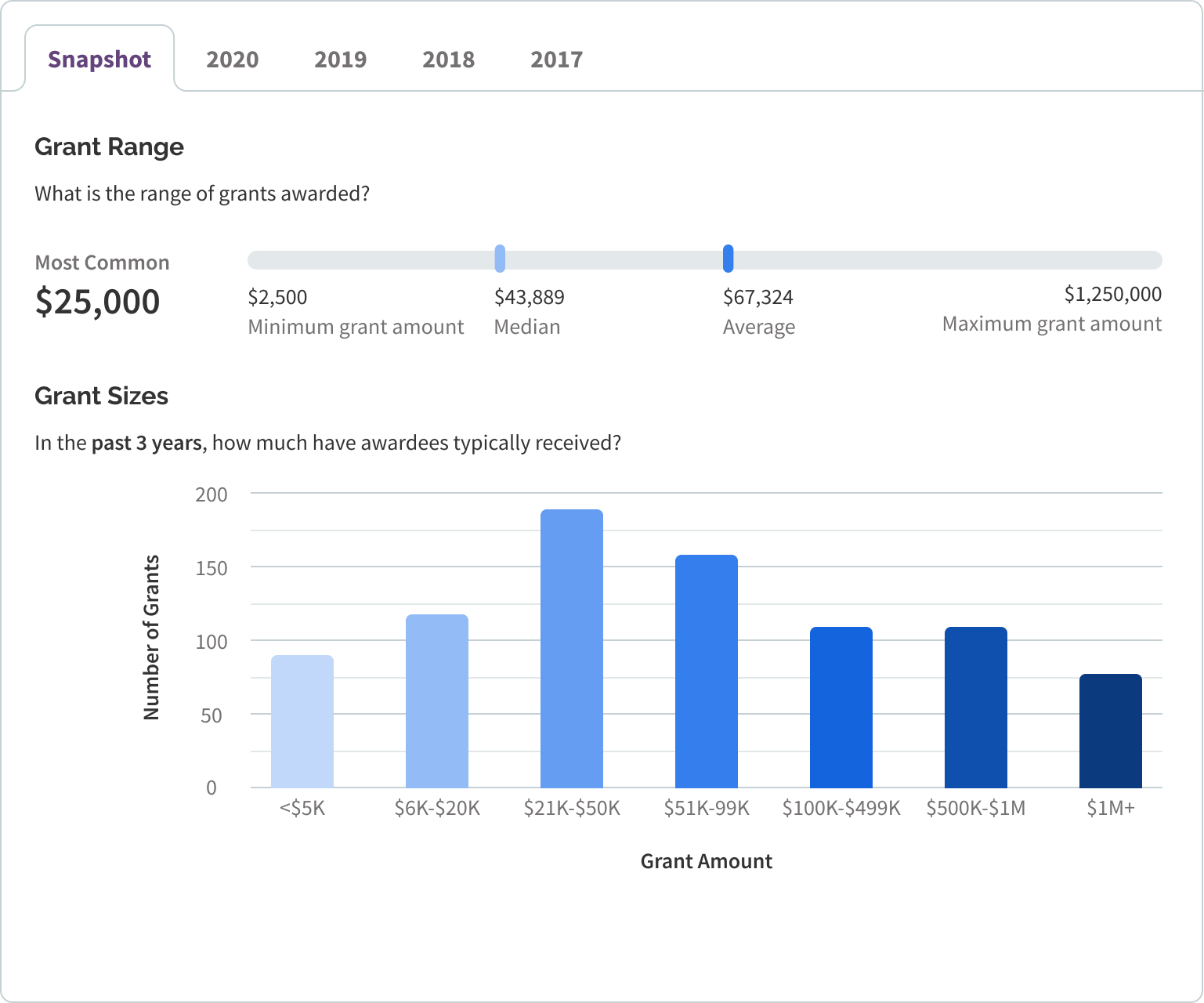 Openness to New Awardees
At a glance, see past and new awardees. See a snapshot over the past three years or dive into individual awards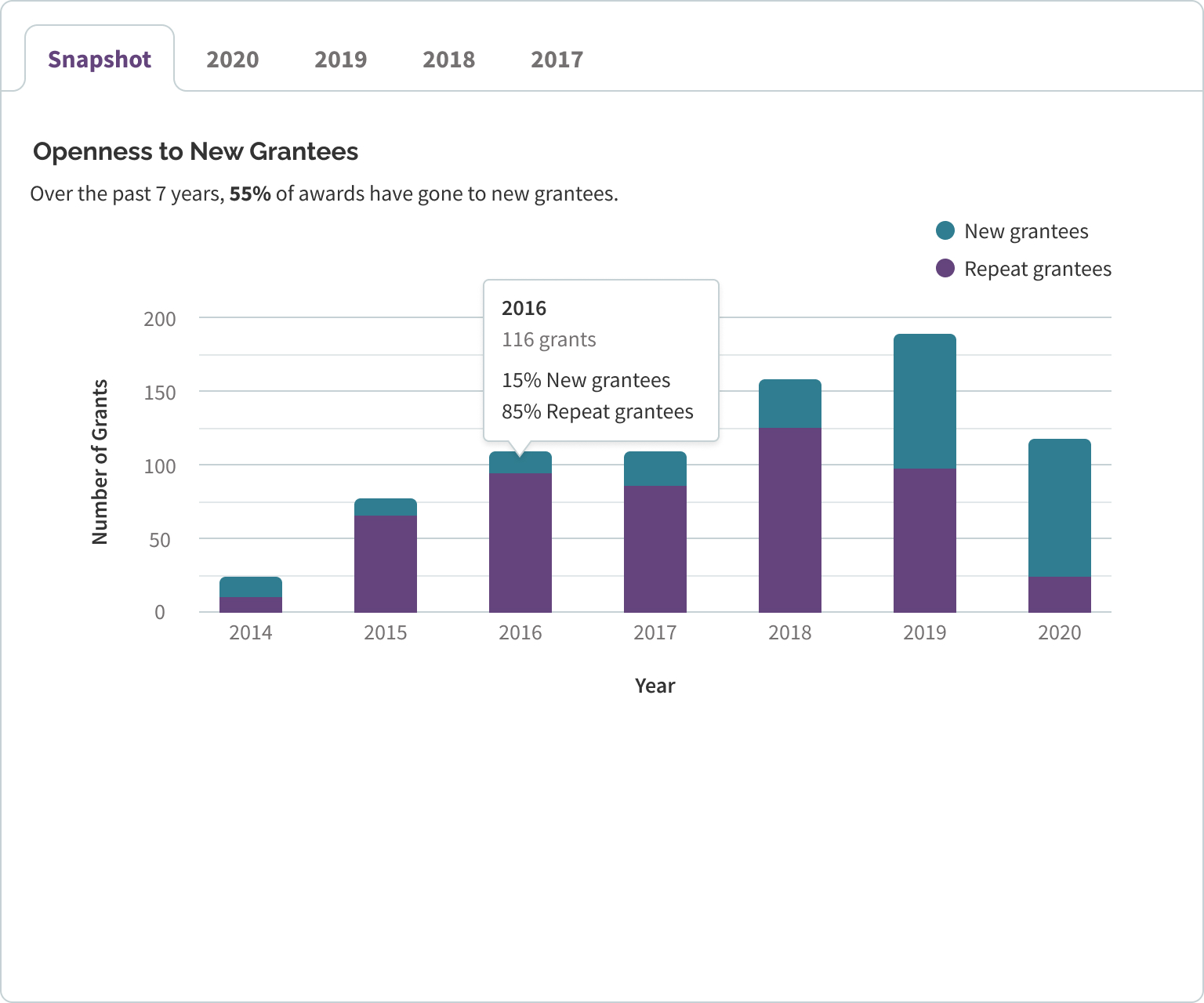 Category Insights
Find out funders' interests by seeing their top giving categories. Drill down into giving patterns per category.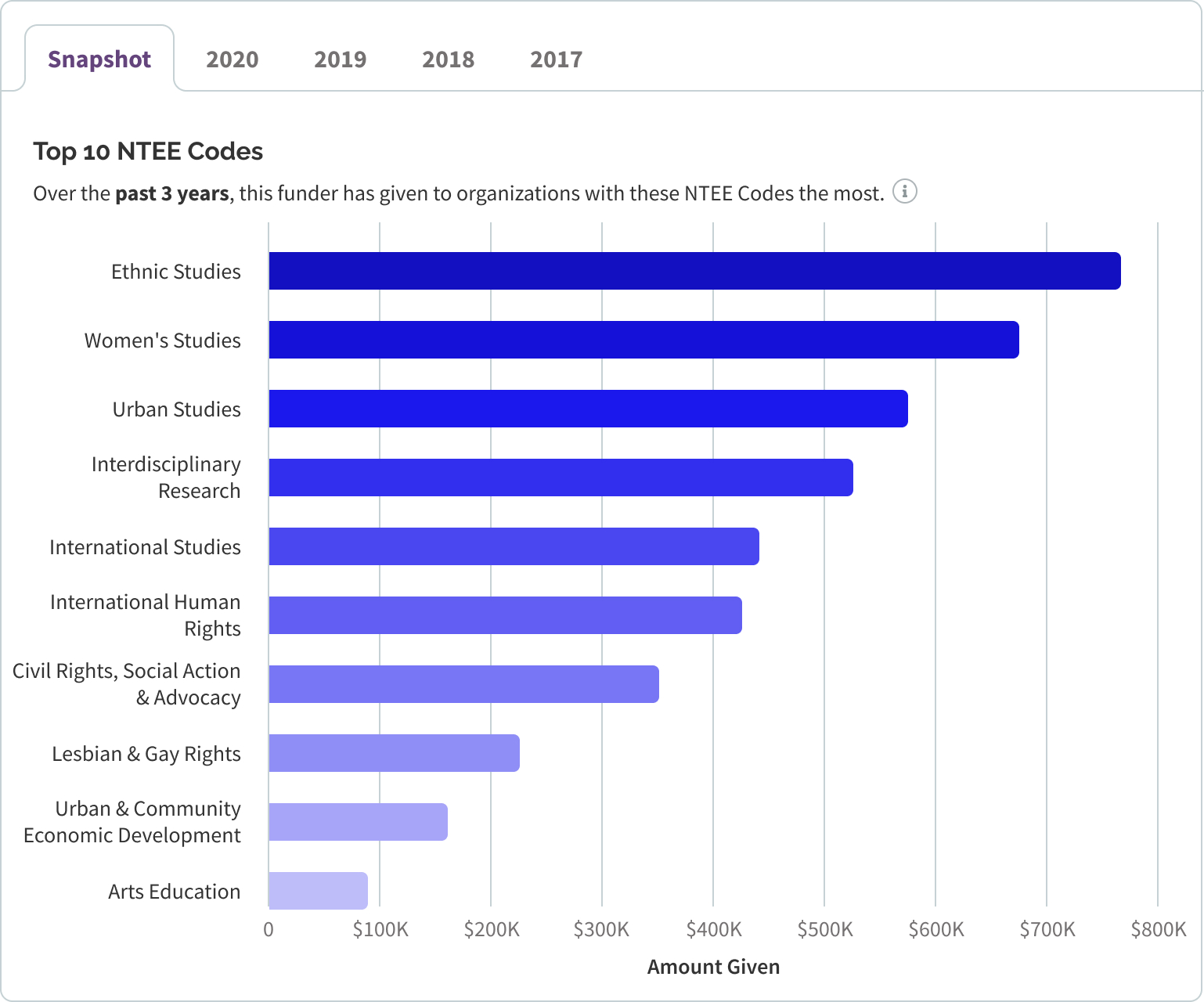 Previous

Next