Instrumentl creates easy-to-read 990 Reports based on digitized IRS Form 990s for thousands of private foundation and nonprofits to make it easier for you to find good fit funders like Society For Neuroscience.
If you'd like to get matched to similar funders to Society For Neuroscience, create a free Instrumentl account.
Based on most recent IRS 990 filing (2022)
Questions about this data?
Title
Name
Trustee
Bart Broadman
Trustee
Brandy Morrison
Trustee
Brian Patterson
Trustee
Byron Pope
Trustee
David Rhodes
See more
Trustee
Donald Bowers
Trustee
Dr Huda Y Zoghbi
Trustee
Elle Anderson
Trustee
Elle Moody
Trustee
George Gonzalez
Trustee
Gloria Tarpley
Trustee
Holli Ladhani
Trustee
James T Hackett
Trustee
James Whitehurst
Trustee
L Charles Landgraf
Trustee
Lynn A Lednicky
Trustee
Mark Duncan
Trustee
Michael Yuen
Trustee
Michol L Ecklund
Trustee
Nancy P Carlson
Trustee
Patricia L Kraft
Trustee
Randa Duncan Williams
Chair, Board Of Trustees
Robert T Ladd
Trustee
Terrence Gee
Trustee
Wanda Gass
Chief Investment Officer, Treasurer, Assistant Secretary
Allison Thacker
Associate Vp Finance, Controller, Associate Treasurer
Bradley Fralic
Vp For Information Technology And Chief Information Officer (Sep Jun)
Brian Padley
Vp For Global And Digital Strategy
Caroline Levander
Associate Treasurer And Assistant Secretary
Cindy Melton
Associate Treasurer And Assistant Secretary
Claire Nelson
Deputy Secretary
Cynthia Wilson
President
David Leebron
Assistant Secretary
Eno Obong Oregbesan
Assistant Secretary
Joseph Davidson
Vp For Finance, Associate Treasurer And Assistant Secretary
Katherine Collins
Vp For Development And Alumni Relations
Kathi Dantley Warren
Vp For Administration
Kevin Kirby
Vp For International Operations, It, Chief Information Officer (Jul Sep)
Klara Jelinkova
Associate Treasurer And Assistant Secretary
Larry Perez
Vp For Pubic Affairs
Linda Thrane
Provost
Reginald Desroches
Vp, General Counsel And Secretary
Richard Zansitis
Associate Treasurer
Ronald Long
Assistant Secretary
Veta Byrd Perez
Vp For Enrollment
Yvonne Romero Da Silva
Dean Of George R. Brown School Of Engineering
Luay Nakhleh
Dean Of Jones Graduate Business School Of Business
Peter Rodriguez
Dean Of Wiess School Of Natural Sciences
Thomas Killian
Associate Professor
Brent Smith
Investment Manager
Carmen Thompson
Investment Manager
John Lawrence
Football Coach
Michael Bloomgren
Dean Of Shepherd School Of Music (Jul Aug)
Robert Yekovich
Former Dean
Peter Rossky
Former Interim Provost
Seiichi Matsuda
Former Dean
William Glick
There were 12 awards in 2022. Who received these awards, and where are they located?
There were 7 awards in 2021. Who received these awards, and where are they located?
There were 7 awards in 2020. Who received these awards, and where are they located?
There were 6 awards in 2019. Who received these awards, and where are they located?
Don't miss out on other good fit funders!
See even more similar funders by creating a free 14-day account. Get personalized grant recommendations, tracking and more.
"Through Instrumentl, I was able to accomplish in 6 hours...SIX HOURS...what would have taken days or weeks with [another] search engine."

The funder insights you need
start your free trial & get a competitive edge
SAMPLE DATA
For preview purposes only;
not actual funder's data
Grant Amounts
Easily see the range of award sizes given over time. See key stats such as the most common award size, min/max, and more.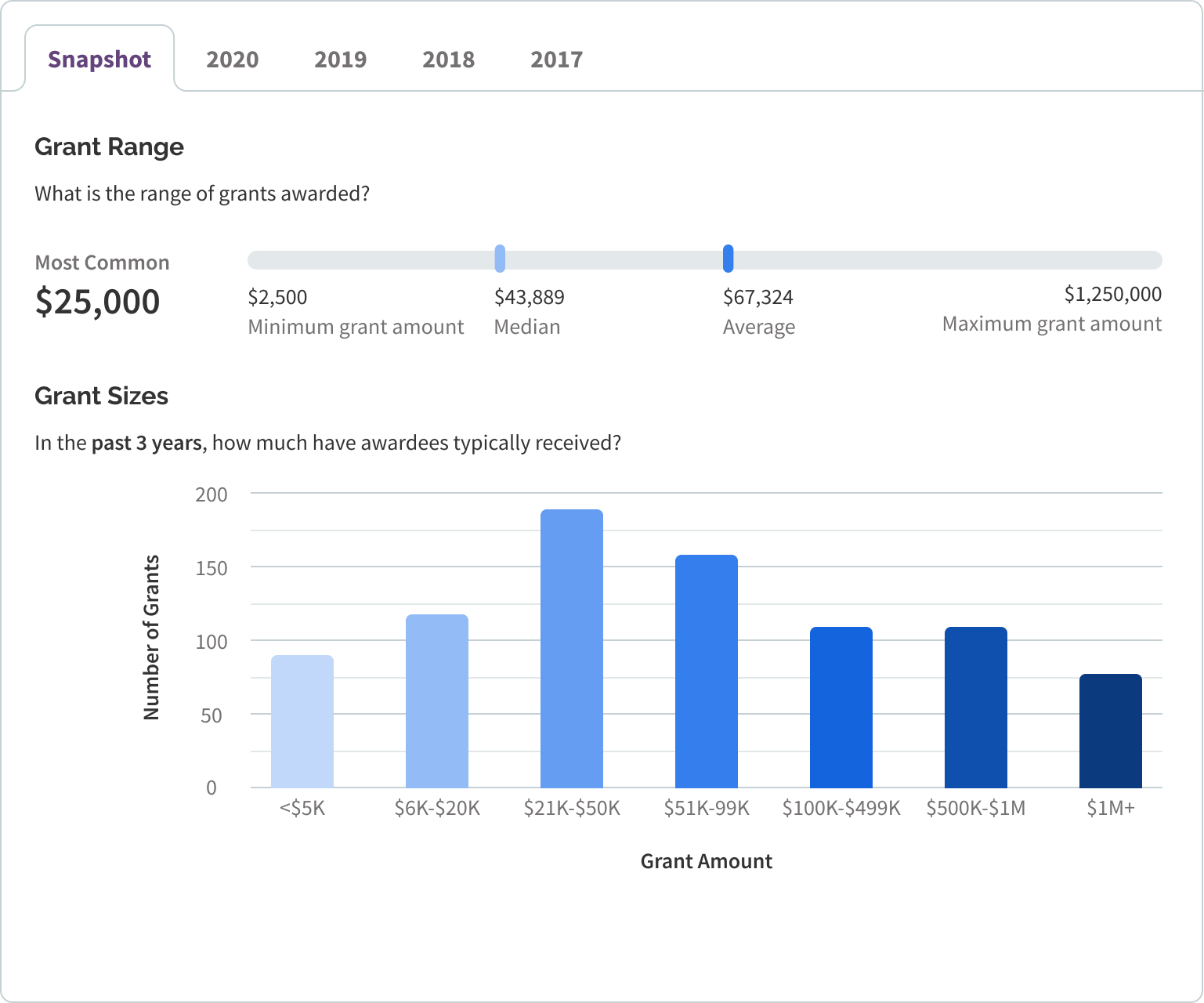 Openness to New Awardees
At a glance, see past and new awardees. See a snapshot over the past three years or dive into individual awards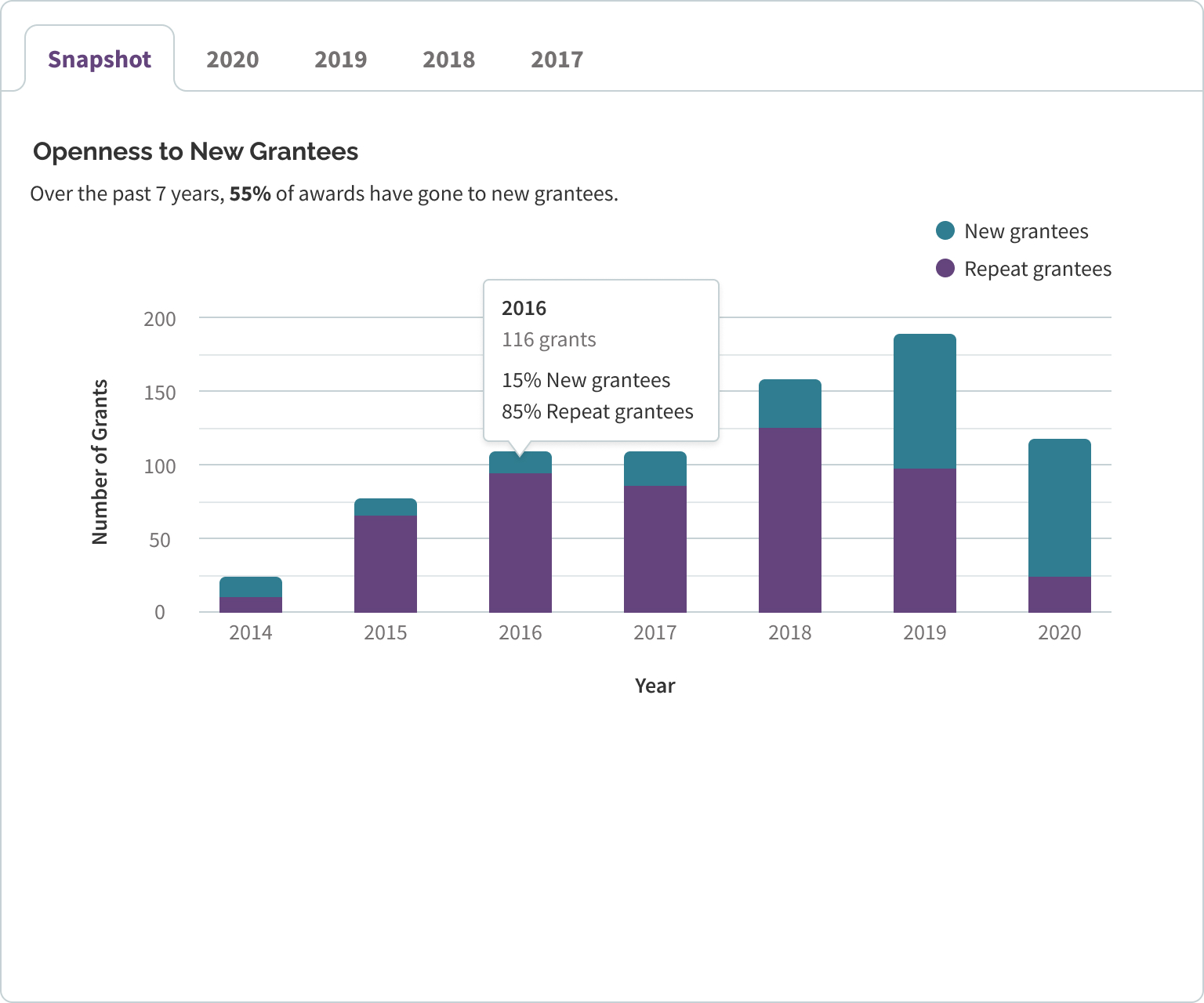 Category Insights
Find out funders' interests by seeing their top giving categories. Drill down into giving patterns per category.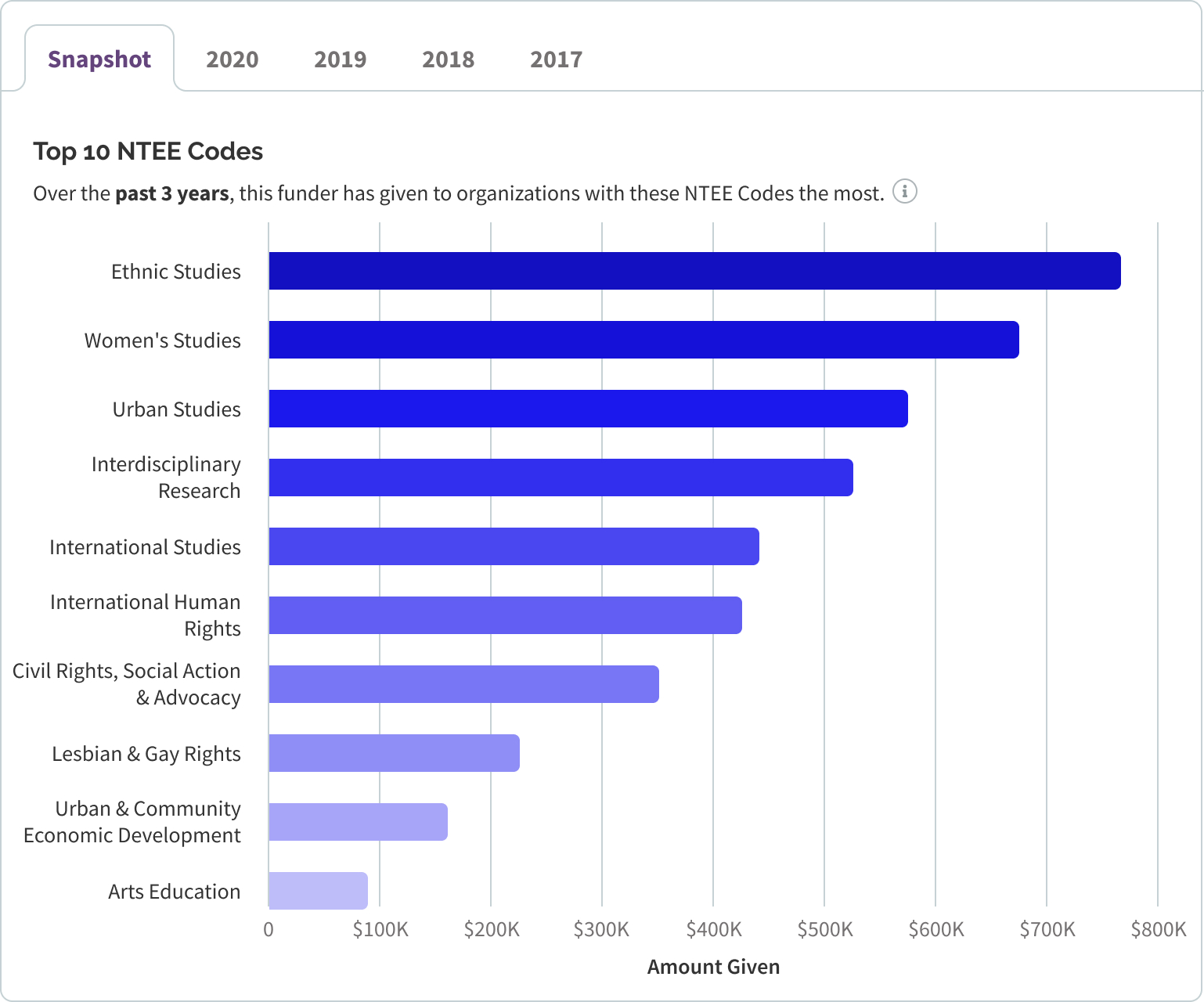 Previous

Next