CenterPoint Energy Corporate Giving
CenterPoint Energy
Suggest an update
Next deadline: Feb 15, 2021 9:59pm PST
Later deadlines: May 31, 2021 9:59pm PDT, Sep 13, 2021 9:59pm PDT
Grant amount: Unspecified amount
Fields of work: Preventative Healthcare Environment Community/Public Safety Affordable Housing Diversity & Inclusion Economic Services & Development Academic Success & Enrichment Workforce Preparation & Job Readiness Parental Involvement in Education Teacher Development & Training Career/College Preparation Education - Preschool / Early Learning Literacy Show all
Applicant type: Nonprofit
Funding uses: Education / Outreach, Project / Program
Location of project: Counties in Arkansas: Arkansas County, Ashley County, Bradley County, Calhoun County, Chicot County, Clark County, Clay County, Cleburne County, Cleveland County, Columbia County, Conway County, Craighead County, Crittenden County, Cross County, Dallas County, Desha County, Drew County, Faulkner County, Garland County, Grant County, Greene County, Hempstead County, Hot Spring County, Howard County, Independence County, Jackson County, Jefferson County, Johnson County, Lafayette County, Lawrence County, Lee County, Lincoln County, Little River County, Lonoke County, Miller County, Monroe County, Montgomery County, Nevada County, Ouachita County, Perry County, Phillips County, Pike County, Poinsett County, Polk County, Pope County, Prairie County, Pulaski County, Randolph County, Saline County, Sevier County, Sharp County, St. Francis County, Union County, Van Buren County, White County, Woodruff County, Yell County, Counties in Louisiana: Acadia Parish, Allen Parish, Avoyelles Parish, Beauregard Parish, Bienville Parish, Bossier Parish, Caddo Parish, Calcasieu Parish, Claiborne Parish, De Soto Parish, Evangeline Parish, Iberia Parish, Jefferson Davis Parish, Lafayette Parish, Lincoln Parish, Rapides Parish, St. Landry Parish, St. Martin Parish, St. Mary Parish, St. Tammany Parish, Union Parish, Vermilion Parish, Vernon Parish, Washington Parish, Webster Parish, Counties in Minnesota: Aitkin County, Anoka County, Becker County, Blue Earth County, Brown County, Carver County, Chippewa County, Chisago County, Crow Wing County, Dakota County, Douglas County, Faribault County, Freeborn County, Goodhue County, Hennepin County, Isanti County, Jackson County, Kanabec County, Kandiyohi County, Le Sueur County, McLeod County, Meeker County, Mille Lacs County, Morrison County, Nicollet County, Pine County, Pipestone County, Pope County, Ramsey County, Redwood County, Renville County, Rice County, Rock County, Scott County, Sherburne County, Sibley County, St. Louis County, Stearns County, Steele County, Stevens County, Swift County, Todd County, Waseca County, Washington County, Watonwan County, Wright County, Counties in Mississippi: Bolivar County, Clarke County, Copiah County, DeSoto County, Forrest County, Greene County, Harrison County, Hinds County, Jackson County, Jasper County, Jefferson Davis County, Jones County, Lafayette County, Lamar County, Lawrence County, Lincoln County, Madison County, Neshoba County, Newton County, Panola County, Pearl River County, Perry County, Pike County, Quitman County, Rankin County, Scott County, Smith County, Stone County, Sunflower County, Tallahatchie County, Yalobusha County, Counties in Oklahoma: Atoka County, Beckham County, Blaine County, Caddo County, Canadian County, Coal County, Comanche County, Custer County, Dewey County, Garfield County, Garvin County, Grady County, Grant County, Greer County, Hughes County, Jackson County, Kay County, Latimer County, Le Flore County, Major County, Marshall County, Osage County, Payne County, Pittsburg County, Pontotoc County, Pottawatomie County, Roger Mills County, Seminole County, Stephens County, Washita County, Counties in Texas: Anderson County, Angelina County, Aransas County, Atascosa County, Bastrop County, Bee County, Bexar County, Bowie County, Caldwell County, Calhoun County, Camp County, Cass County, Chambers County, Cherokee County, Colorado County, Comal County, Culberson County, Dallas County, DeWitt County, Duval County, Ellis County, Fayette County, Franklin County, Goliad County, Gregg County, Guadalupe County, Hardin County, Harrison County, Hays County, Houston County, Jackson County, Jasper County, Jefferson County, Jim Hogg County, Jim Wells County, Karnes County, Kleberg County, Lavaca County, Lee County, Liberty County, Marion County, Matagorda County, Medina County, Montgomery County, Morris County, Nacogdoches County, Nueces County, Orange County, Panola County, Polk County, Potter County, Refugio County, Rusk County, San Augustine County, San Jacinto County, San Patricio County, Shelby County, Smith County, Tarrant County, Titus County, Travis County, Trinity County, Tyler County, Upshur County, Van Zandt County, Victoria County, Walker County, Webb County, Wharton County, Williamson County, Wilson County, Wood County Show all
Location of residency: Arkansas, Louisiana, Minnesota, Mississippi, Oklahoma, Texas, Counties in Arkansas: Arkansas County, Ashley County, Bradley County, Calhoun County, Chicot County, Clark County, Clay County, Cleburne County, Cleveland County, Columbia County, Conway County, Craighead County, Crittenden County, Cross County, Dallas County, Desha County, Drew County, Faulkner County, Garland County, Grant County, Greene County, Hempstead County, Hot Spring County, Howard County, Independence County, Jackson County, Jefferson County, Johnson County, Lafayette County, Lawrence County, Lee County, Lincoln County, Little River County, Lonoke County, Miller County, Monroe County, Montgomery County, Nevada County, Ouachita County, Perry County, Phillips County, Pike County, Poinsett County, Polk County, Pope County, Prairie County, Pulaski County, Randolph County, Saline County, Sevier County, Sharp County, St. Francis County, Union County, Van Buren County, White County, Woodruff County, Yell County, Counties in Louisiana: Acadia Parish, Allen Parish, Avoyelles Parish, Beauregard Parish, Bienville Parish, Bossier Parish, Caddo Parish, Calcasieu Parish, Claiborne Parish, De Soto Parish, Evangeline Parish, Iberia Parish, Jefferson Davis Parish, Lafayette Parish, Lincoln Parish, Rapides Parish, St. Landry Parish, St. Martin Parish, St. Mary Parish, St. Tammany Parish, Union Parish, Vermilion Parish, Vernon Parish, Washington Parish, Webster Parish, Counties in Minnesota: Aitkin County, Anoka County, Becker County, Blue Earth County, Brown County, Carver County, Chippewa County, Chisago County, Crow Wing County, Dakota County, Douglas County, Faribault County, Freeborn County, Goodhue County, Hennepin County, Isanti County, Jackson County, Kanabec County, Kandiyohi County, Le Sueur County, McLeod County, Meeker County, Mille Lacs County, Morrison County, Nicollet County, Pine County, Pipestone County, Pope County, Ramsey County, Redwood County, Renville County, Rice County, Rock County, Scott County, Sherburne County, Sibley County, St. Louis County, Stearns County, Steele County, Stevens County, Swift County, Todd County, Waseca County, Washington County, Watonwan County, Wright County, Counties in Mississippi: Bolivar County, Clarke County, Copiah County, DeSoto County, Forrest County, Greene County, Harrison County, Hinds County, Jackson County, Jasper County, Jefferson Davis County, Jones County, Lafayette County, Lamar County, Lawrence County, Lincoln County, Madison County, Neshoba County, Newton County, Panola County, Pearl River County, Perry County, Pike County, Quitman County, Rankin County, Scott County, Smith County, Stone County, Sunflower County, Tallahatchie County, Yalobusha County, Counties in Oklahoma: Atoka County, Beckham County, Blaine County, Caddo County, Canadian County, Coal County, Comanche County, Custer County, Dewey County, Garfield County, Garvin County, Grady County, Grant County, Greer County, Hughes County, Jackson County, Kay County, Latimer County, Le Flore County, Major County, Marshall County, Osage County, Payne County, Pittsburg County, Pontotoc County, Pottawatomie County, Roger Mills County, Seminole County, Stephens County, Washita County, Counties in Texas: Anderson County, Angelina County, Aransas County, Atascosa County, Bastrop County, Bee County, Bexar County, Bowie County, Caldwell County, Calhoun County, Camp County, Cass County, Chambers County, Cherokee County, Colorado County, Comal County, Culberson County, Dallas County, DeWitt County, Duval County, Ellis County, Fayette County, Franklin County, Goliad County, Gregg County, Guadalupe County, Hardin County, Harrison County, Hays County, Houston County, Jackson County, Jasper County, Jefferson County, Jim Hogg County, Jim Wells County, Karnes County, Kleberg County, Lavaca County, Lee County, Liberty County, Marion County, Matagorda County, Medina County, Montgomery County, Morris County, Nacogdoches County, Nueces County, Orange County, Panola County, Polk County, Potter County, Refugio County, Rusk County, San Augustine County, San Jacinto County, San Patricio County, Shelby County, Smith County, Tarrant County, Titus County, Travis County, Trinity County, Tyler County, Upshur County, Van Zandt County, Victoria County, Walker County, Webb County, Wharton County, Williamson County, Wilson County, Wood County Show all
View website
Save
Overview:
Background

The CenterPoint Energy Foundation strives to be a catalyst in our communities by leveraging everyday opportunities and resources to achieve extraordinary outcomes. That's why we invest in initiatives that not only improve our stakeholders' lives today, but also build a strong foundation for tomorrow. Our giving focuses on ensuring a high quality of life in the communities we serve.
CenterPoint Energy recognizes that our success – and the success of our neighbors -- is inextricably linked to the vibrancy of our communities. We seek to improve the communities we serve by supporting programs that encourage connection, improve quality of life and promote inclusion to help communities thrive. We recognize that an educated and engaged community is critical to the future of our business and our communities. We are committed to ensuring all students have the opportunities and tools they need to succeed academically, explore potential careers and be equipped to enter the workforce.
Funding Priorities
Our funding targets innovative, effective and measurable programs that enhance the quality of life within our communities and support the following giving pillars: Community Vitality, Education, and Local Initiatives. Priority consideration is given to programs that serve low- to moderate-income families and under-represented populations.
Key focus areas within the giving pillars include:
Community Vitality
Community Catalyst – Community Development initiatives leading to thriving neighborhoods, cities and states
Affordable Housing – Initiatives leading to increased access to quality, energy-efficient and affordable housing
Safety and Environment – Ensuring our communities are safe and green
Education
Quality Literacy Programs – Early childhood through adult literacy and tutoring programs
STEM Programs – STEM (Science, Technology, Engineering, Math) education programs targeted to under-resourced areas and/or under-represented populations
Workforce Development – Programs addressing needs of our communities
Local Initiatives
Local Collaborations – Initiatives that enrich relationships and strengthen the communities in which we open
What we look for in an applicant organization:
Financial stability
Mission closely related to the Foundation's priorities
Strong leadership and governance
Diverse board and staff; reflective of the community being served
You can learn more about this opportunity by visiting the funder's website.
Eligibility:
To be considered for grant funding from the CenterPoint Energy Foundation, organizations must:

Be a nonprofit organization and have obtained recognition of tax-exempt status under Section 501(c)(3) as a public charity under Code 509(a) and in good standing.

If an organization is exempt under Section 509(a)(3), it must be Type I or Type II.

Have their organization's primary address located within CenterPoint Energy's footprint
Preferences:
When reviewing proposals, preference is given to funding opportunities/initiatives that:

Fit closely with the Foundation's funding priorities
Address community needs related to our funding priorities
Include financial commitments from a variety of sources
Utilize an effective evaluation plan specific to the proposed funding opportunity/initiative
Demonstrate measurable and sustainable goals and outcomes
Ineligibility:
The CenterPoint Energy Foundation does not provide funding for the items or organizations listed below. Please note, this is not an exhaustive listing and additional restrictions may also apply.

School clubs/organizations, including, but not limited to bands, athletic or academic teams, booster clubs, PTO/PTA
Organizations that discriminate on the basis of race, culture, gender, sexual orientation, age, or religion
Meals, tickets, dues, memberships, fees, travel, tuition, subscriptions, and other tangible benefits
Political, labor, military, international or fraternal organizations
Childcare fees/subsidies or K-12 tuition
Programs administered by religious organizations for religious purposes
Sponsorships, fundraisers, races, telethons, marathons, benefits, banquets, galas, golf tournaments, festivals, or other events
Debt retirement or funding of any activity that is already completed
Individuals
Contests, competitions, athletics, pageants, or talent contests
Scholarly or medical research
A 509(a)(3) Type III supporting organization charity
Endowments or scholarships
Previous grantees who have not submitted required reporting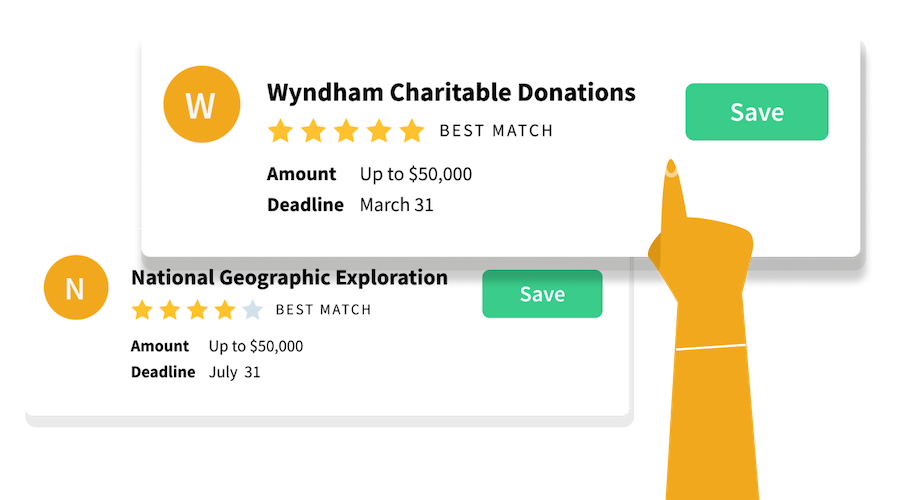 Get matched to similar grants
See how we help our customers save time and find new funding by trying out Instrumentl for 14-days free or learn more.