Note: This grant page has been archived and is very likely out of date.
Creative California Communities' Grant
California Arts Council
Suggest an update
Predicted deadline: The deadline for this grant has passed
Grant amount: Up to US $150,000
Fields of work: Public / Community Art Visual Arts Performing Arts Media Arts Folk/ Traditional Art Community Culture & Heritage
Applicant type: Nonprofit, Government Entity, Indigenous Group
Funding uses: Project / Program, Education / Outreach
Location of project: California
Location of residency: California
Overview:
Program Description
Creative California Communities (CCC) supports meaningful, collaborative, creative placemaking projects that animate, activate, and celebrate communities. Projects support community goals and encourage increased engagement in arts and cultural activities with community members.
Creative placemaking projects use local artists, cultural resources, and/or the creative sector as central components in strategically shaping the physical and social character of a neighborhood, town, tribe, city, or region. Partnerships between public, private, not-for-profit, and community sectors are essential to this program.
Program Goals
Projects should address the following Creative California Communities program goals:
Develop a creative placemaking project that represents the distinct character of a defined community.
Develop arts-based approaches to address specific needs, circumstances, and/or priorities of a community.
Present a vision for enhancing the social, economic, or environmental livability of a community through the arts that honors the residents, history, and culture of that community.
Build partnerships between the applicant organization and at least one partnering public-sector or municipal agency, non-arts nonprofit, or local business.
Engage community members in project design and implementation.
Engage California artists and their work in the project design and implementation, including appropriate compensation for their services.
Generate meaningful impact within a defined community.
Eligible Request Amounts
Applicant organizations can request up to $150,000.
The total of the two-year request for Creative California Communities program cannot exceed 100% of an organization's total operating revenue from the last completed fiscal year, as it appears in the DataArts Funder Report.
Funding Restrictions
The total of all application requests for one year of funding in FY18-19 cannot exceed 50% of an organization's total operating revenue from the last completed fiscal year. For two-year grant programs, half of the total grant request will apply to this cap. If applying for one or more CAC grants in a grant cycle, the total amount requested cannot exceed 50% of what is reflected in the organization's Total Operating Revenue line in the DataArts Funder Report.
Applicants to this program are not restricted from applying for and receiving additional CAC program grants as long as those funds are used for different projects and purposes.
To meet this criterion, applicants must demonstrate that projects:

Serve primarily different groups of people
Take place in different spaces, times, and/or contexts
Achieve fundamentally distinct programmatic outcomes

Neither the award nor the match may be used to supplant state-funded expenses
You can learn more about this opportunity by visiting the funder's website.
Eligibility:
Eligibility

The applicant must be a California-based nonprofit arts organization or arts-based unit of government.
All applicant organizations must be consistently engaged in arts programs and/or services for two years prior to the application deadline.
All applicant organizations must have a principal place of business in California.
The applicant must demonstrate proof of nonprofit status under section 501(c)(3) of the Internal Revenue Code, or section 23701d of the California Revenue and Taxation Code, or must be a unit of government, including California Native or Indigenous tribal governments.

Fiscal Sponsors: An applicant without nonprofit status may use a California-based Fiscal Sponsor with a federal 501(c)(3) designation to conduct work on a not-for-profit project.

The Fiscal Sponsor will provide the fiscal and administrative services needed to complete the grant.
If a grant is awarded, the Fiscal Sponsor becomes the legal contractor.
The Fiscal Sponsor must also demonstrate consistent arts services or programming in California for a minimum of two years prior to the application deadline.
See additional information on the use of CAC Fiscal Sponsors.

Applicants using Fiscal Sponsors must submit all required materials for the Fiscal Sponsor at the time of application.

All applicants must submit all required application materials and information at the time of submission. Incomplete applications are ineligible and will not be reviewed by the panel.
For all programs that require a CAC DataArts Funder Report, two years of data must be included in DataArts profile and report.

Project Requirements

The applicant must develop and complete a project addressing the program's purpose by May 31, 2021. All activities to be funded by the CAC must occur within the two-year Grant Activity Period (see Timeline).
Projects should include three features: cross-sector partners, a place-based orientation, and a core of arts and cultural activities.
The project must be designed and developed in partnership between a nonprofit arts organization (applicant organization) and at least one other partnering organization (primary partner), each of which has defined project responsibilities. Potential partner(s) may include local government agencies, businesses, nonprofit organizations, or universities.
A Letter of Agreement describing the role and contributions of the partner(s) to the project is required.
Create a project plan that outlines activities, partnership responsibilities, intended artistic and creative placemaking outcomes, and an evaluation/documentation strategy.
A public component that is accessible to the defined community must be included.

Examples may be a culminating performance, public artwork, special event, etc.
Community accessibility may be in the form of cost of participation, language translations of promotional materials, timing and location of activities, etc.

The project must be an expansion of existing project(s) or a new project.
Accessibility: The CAC is committed to making the arts accessible and inclusive for all Californians. All CAC-funded programs, services, information, and buildings and facilities where funded activities take place must be accessible. Please see Page 2: Requirements for more information.

All grant recipients must provide a dollar-for-dollar (1:1) match for the CCC grant.
Ineligibility:
CCC funding does not support ongoing operational costs, but encourages building sustainable partnerships that foster long-term arts and cultural infrastructure within the community.
What the CAC Does Not Fund

Individuals (as applicants)
Hospitality or food costs
State agencies (as applicants)
Federal agencies (as applicants)
Non-arts organizations not involved in arts activities (as applicants)
For-profit organizations (as applicants)
Former grantee organizations not in compliance with CAC grant requirements (as stipulated in grant agreement)
Fundraising activities or services such as annual campaigns, fundraising events, or grant writing
Programs or services intended for private use, or for use by restricted membership
Projects with religious purposes
Operational, administrative or indirect costs of schools, colleges, or universities, or any activities that are part of the curricular base of these institutions
Trusts, endowment funds or investments
Capital outlay, including construction projects or purchase of land and buildings
Equipment
Debt repayment
Out-of-state travel
Expenses incurred before the start date or after the ending date of the grant activity period
Lobbying activities that are intended to influence the actions, policies, or decisions of government officials or specific legislation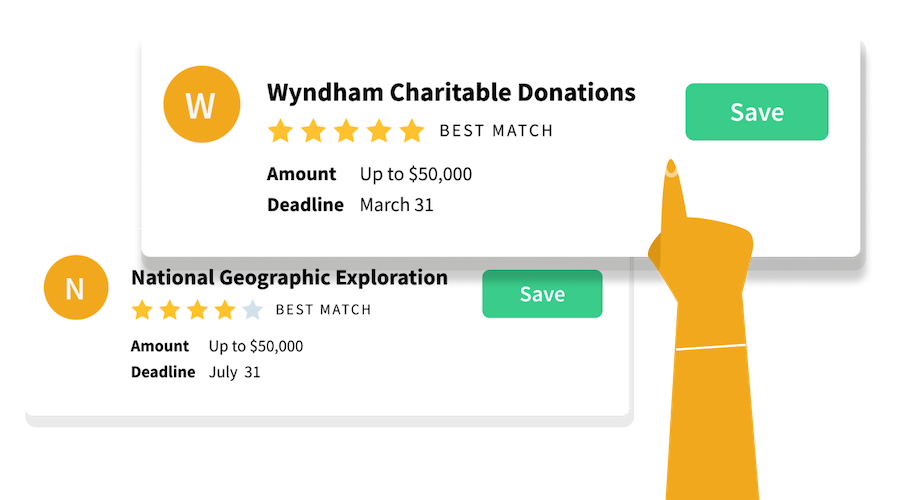 Get matched to similar grants
See how we help our customers save time and find new funding by trying out Instrumentl for 14-days free or learn more.