Cross-Sector Impact Grants
South Arts, Inc.
Suggest an update
Next predicted deadline: Mar 30, 2021 3:00pm PDT (Letter of inquiry)
Later predicted deadlines: May 11, 2021 3:00pm PDT (Full proposal)
Grant amount: Up to US $15,000
Fields of work: Education Environment Youth Development & Leadership Literacy Climate Change Resilience Sustainability Immigrant Services Immigration & Refugee Rights Civic Affairs Senior Services Aging/Gerontology Ex-offender Services Correctional Systems & Prisons Military & Veterans Services Public Infrastructure Real Estate & Housing Health & Medicine Human & Social Services Community Development & Revitalization Nutrition & Healthy Eating Food Access & Hunger Youth Involvement in the Arts Art for Social Change Writing & Literature Performing Arts Folk/ Traditional Art Public / Community Art Media Arts Visual Arts Show all
Applicant type: Government Entity, Nonprofit
Funding uses: Capital Project, Education / Outreach, Project / Program
Location of project: Alabama, Florida, Georgia (US state), Kentucky, Louisiana, Mississippi, North Carolina, South Carolina, Tennessee Show all
Location of residency: Alabama, Florida, Georgia (US state), Kentucky, Louisiana, Mississippi, North Carolina, South Carolina, Tennessee Show all
View website
Save
---
About this funder:
Loading...
Overview:
Background
South Arts recognizes that as our communities continue to change, the arts play an incomparable role in addressing many of our communaland individual challenges and strengths. Further, the value of partnership, and working together across sectors, brings new opportunity, increased effectiveness, and greater depth to our collective work. Through this program, South Arts seeks to provide significant support to projects developed by partners that harness the power of "Arts & …".
Cross-SectorImpact Grants is open to all art forms, for partnership projects taking place in one of South Arts' nine member states, with a priority being given to projects taking place in rural* areas. For FY21, eligible projects will continue to feature "Arts & …", for example, arts and the military, arts and aging, arts and community revitalization.Applicants may be organizations, units of government, higher educational institutions, or artists.
South Arts' mission is advancing Southern vitality through the arts. This program addresses two of South Arts' Strategic Goals as outlined in its 2019-2023 strategic plan.
Connect artist and arts professionals in the South to resources that will increase opportunities for success within and outside the region
Advance impactful arts-based programs that recognize and address trends and evolving needs of a wide range of communities in the South
Matching Requirements & Budget
For projects that did not receive funding through this program in FY20, the minimum grant request for this program is $5,000; the maximum request is $15,000. For projects that did receive funding in FY20, the minimum grant request for this program is $5,000; the maximum request is $10,000.
A match of at least 1:2 is required, meaning for each grant funded dollar, the grantee must provide $.50 towards the project.
Up to half of the match may be comprised of in-kind contributions such as donated materials, donated services, or other contributed non-cash assets. At least half of the match must be cash and cannot include salaried staff time allocated to this project. However, contracted services specifically for this project may be included in the cash match.
Project Requirements
South Arts welcomes proposals from partnering entities working together on a project that addresses arts and community impact through cross-sector partnership. Projects must utilize the arts as a tool in creative approaches to address and advance an issue that is of importance in their community. Projects should also establish or advance relationships across at least two different sectors, one being in the arts.
Arts disciplines may include, but are not limited to:
Performing arts, including dance, music, theater, musical theatre and opera;
Literary arts, including fiction, creative non-fiction, poetry;
Visual arts, including craft, drawing, experimental, painting, photography, sculpture, mixed media;
Film or media;
Traditional and folk arts, including music, craft, storytelling, dance; or
Multidisciplinary and interdisciplinary forms.
Community impact areas may include, but are not limited to:
Education, including literacy, youth development;
Environment, including sustainability, weather impact;
Health and human services, including aging, prisons and rehabilitation, military;
Infrastructure, including housing, community revitalization, food and nutrition; or
Social justice, including immigration, community activation, civic dialogue.
Additional Project Requirements
All projects must include a minimum of two public-facing events held in accessible facilities.
One must be public, meaning that the event is open to and marketed to anyone who wishes to come.

This could be a concert, exhibit, workshop, screening or other event. It can be free or have an admission charge.

The second event may also be public or can be for a targeted group/non-public audience such as a business group, university students/faculty, master classes, nursing homes, K-12 school students, patients/care providers, etc.
At least one of these events must be an educational or outreach event that provides context or deeper understanding of the arts experience or project.

Examples that would meet this requirement include a master class or workshop, live Q&A or interview with artist or other persons facilitating the project, a demonstration, or a post-event conversation.
Accessibility for constituents with disabilities must be provided at grant-funded events. For the purpose of these guidelines, accessibility relates to your overall facility and project being accessible to all. In addition to physical access (ramps, accessible parking/box office/restrooms/seating, etc.), communications and programmatic accessibility is not only required but can help your organization build audiences and strengthen engagement. Grant applications should show evidence of thoughtful accessibility planning and implementation efforts. The National Endowment for the Arts has resources to assist arts organizations in making accommodations. Please visit the NEA's website for more information. Applicants must commit to the Endowment's Assurance of Compliance and Federal Suspension and Disbarment Policy.
Project Budget
Examples of eligible expenses for grant support include:
Artist fees
Facilitated community meetings/charrettes
Asset mapping
Consultant fees
Travel expenses
Purchase of materials
Facility and equipment rental
Marketing and promotional materials
Public events and performances
Temporary* public art creation and/or installation
Book design/printing expenses
Exhibit installation and presentation
Film/media installation/screenings and presentations
*For purposes of this grant program, South Arts defines temporary as designed to be exhibited or shown for not more than one year.
You can learn more about this opportunity by visiting the funder's website.
Eligibility:
Partnership Eligibility

For purposes of this program, partnering entities are defined as a total of two parties working together for purposes of the proposed project.

One entity must represent one or more artistic disciplines listed under Overview and may be an individual artist or organization.
One entity must represent an area of community impact listed under Overview and must be an organization.
These must be the only two official project Partners in the grant application, although additional individuals and/or organizations may be involved in the project's implementation.

Examples of eligible partnerships include:

A non-profit arts organization or unit of government and a non-profit organization or unit of government from a non-arts sector
An individual artist or ensemble and a non-profit organization or unit of government from a non-arts sector
A non-profit arts organization or unit of government and an organization from a non-arts sector
A university arts department and an organization from a non-arts sector

Applicant Eligibility

All applicants must:

Be located/reside in South Arts' nine-state region of Alabama, Florida, Georgia, Kentucky, Louisiana, Mississippi, North Carolina, South Carolina, or Tennessee;
Be in good status with South Arts having submitted all past final reports; and
Agree to acknowledge South Arts and the National Endowment for the Arts in all programs and press materials related to funded projects.

A minimum of one of the two applicants must:

Be a non-profit, tax-exempt organization or official unit of local, county, or state government, including an institution of higher education; and
Have a DUNS number.
Local or state governmental organizations must provide proof of government status. Non-profit status, if applicable, and DUNS numbers will be verified by an independent third-party entity.

Applicants may only be part of a maximum of one LOI.
Ineligibility:
Ineligible partnerships include:

An artist and/or arts organization without a non-arts partner
A university department partnering with another university department
Partnerships who received a grant in FY20 may apply for a FY21 Cross-Sector Impact Grant to continue or further their funded project, as outlined in these guidelines.

However, neither partner from a funded FY20 grant may apply for a new project in FY21, either in the existing partnerships or in a new partnership.

Ineligible applicants include:

Federal agencies or local departments of federal agencies
Educational pre-school and K-12 schools or institutions

However, additional individuals and/or organizations may be involved in the project's implementation, in addition to the two principal partners..

These may include local departments of federal agencies or education pre-school or K-12 schools/institutions as long as no funds are disbursed to additional partners.

Ineligible expenses include:

Fundraising activities
Alcoholic beverages
Lobbying
Costs not directly related to carrying out the funded project
Capital expenses or purchases
Construction, purchase or renovation of facilities
International travel

These projects are not intended for the creation of new work as a central element of the project.

However, work that is created as a secondary outcome or in which community participants are integrally involved in the creative process is allowable.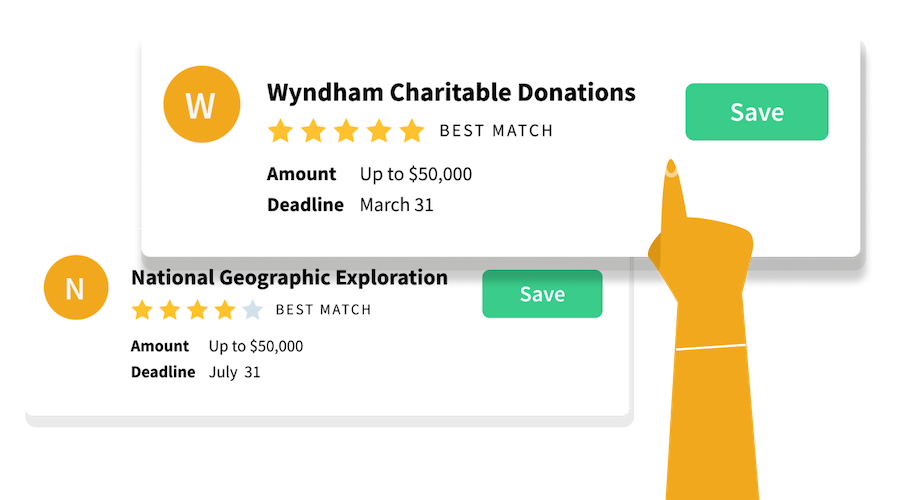 Get matched to similar grants
See how we help our customers save time and find new funding by trying out Instrumentl for 14-days free or learn more.