Foundation for the Mid South Grant
Foundation for the Mid South
Suggest an update
Deadline: Rolling
Grant amount: Unspecified amount
Fields of work: Academic Success & Enrichment Financial Literacy Homeownership Business Development Obesity Physical Fitness Nutrition & Healthy Eating Mental Health & Psychiatric Diseases Health Care Access & Delivery Affordable Housing Parks & Public Spaces Greening & Beautification Environment Economic Services & Development Youth Development & Leadership Civic Leadership Development Educational Access & Equity Show all
Applicant type: Nonprofit
Funding uses: Education / Outreach, Project / Program
Location of project: Arkansas, Louisiana, Mississippi
Location of residency: Arkansas, Louisiana, Mississippi
View website
Save
---
About this funder:
Loading...
Overview:
About
We are in the business of improving lives in Arkansas, Louisiana, and Mississippi. It is a daunting task because the Mid South is home to 30% of the nation's poverty, which has eroded the well-being of our communities, education and health systems, as well as financial security. These deficiencies—if left unhindered—will continue to grow and deny further opportunities to better conditions for families today and future generations.
The Foundation for the Mid South was established to bring together the public and private sectors and focus their resources on increasing social and economic opportunity. Our approach is straightforward and long term: enable communities to develop solutions to better conditions and improve lives.
Our Focuses
The Foundation for the Mid South focuses on strengthening four priorities that, we believe, are the bedrock for prosperous communities and a strong region.
Our Education work supports efforts that help students succeed academically—by strengthening traditional education systems and programs and community institutions serving students.
In Health and Wellness, we work to promote physical and mental well-being in order to comprehensively improve the health status in the region.
In order to break the cycle of generational poverty, our Wealth Building work is helping people become financially secure so they can move up the economic ladder.
In Community Development, we invest in and partner with efforts that enable communities to grow and prosper.
Education
Our Challenge
A strong foundation of education is essential not only to individuals but to the economic success of our region. Many companies struggle to find graduates with necessary skill sets. It is important that we achieve greater graduation rates, increased college enrollment numbers, and stronger workforce preparedness levels. The national high school graduation rate is 78.2%, but Mid South states have lower rates. Males of color are particularly at risk; nationally, only 52% of black males graduate from high school in four years.
Our Opportunity

Foundation for the Mid South offers enrichment opportunities and builds skills necessary for success in high school, college and the 21st century workplace. We aim to ensure that all youth, regardless of income, geography or race, receive equitable access to an effective learning environment.
Our Strategy

We partner with individuals and organizations committed to improving high school graduation rates, college preparedness and life outcomes of students. Current areas of focus include: tutoring, coaching, career development and learning and study strategies.
Academic Success for All Students


Focusing on academic strategies and enrichment opportunities to help students learn in effective and innovative ways.

Academic Success for Males of Color


Identifying critical skills to improve academic performance and life skills for young men of color.
Wealth Building
Programs and information to enable residents to manage their finances effectively and grow their wealth.
Our Challenge
Mid Southerners make poor financial decisions because they do not have adequate financial information and training. This limits residents' ability to acquire wealth and creates a generational cycle of poverty.
Our Opportunity

The Foundation for the Mid South will use financial competency and asset building programs to improve the financial stability of approximately 300,000 households in the region.
Our Strategy
We provide programs and information to enable residents to manage their finances effectively and grow their wealth:
Financial Competency


Giving individuals and families the tools they need to make smart financial decisions.

Asset Building


Assisting families to accumulate and preserve long-term productive assets, such as homes, education and businesses.
Health
Improve individual and community health outcomes in chronic disease, mental health, and access to care.
Our Challenge

Mid South residents have more health problems and lower life expectancy than those in other parts of the nation. Unhealthy behaviors and lack of health services contribute to these problems. Approximately 30% of adults and 20% of youth in the Mid South are obese, leading to high healthcare costs, lost wages, or even premature death. Approximately 1 million adults suffer from poor mental health, stressors which decrease learning or the ability to work. If not addressed, they can develop into serious mental disorders.
Our Opportunity

Foundation for the Mid South seeks to improve health for individuals and communities. Health is not a standalone issue; it is an interrelated part of improving our region, enabling people to learn effectively and improve their economic situations.
Our Strategy

We aim to improve individual and community health outcomes through:
Healthy Behaviors to Reduce Obesity

Increasing access to and use of physical activity and access to fresh, healthy foods.

Mental Health Awareness and Access

Helping individuals identify everyday stressors and connecting them to resources and services to address their mental health needs.

Access to Healthcare Resources

Ensuring individuals have access to healthcare services and knowledge to make informed decisions.
Communities
Building the skills and knowledge of communities to transform themselves.
Our Challenge
Residents need vibrant and thriving communities to be successful, but the quality of communities in the Mid South continues to lag behind the rest of the nation. Mid Southerners need safe and affordable housing, jobs that pay a living wage, access to post-secondary education and spaces where children can play.
Our Opportunity
Foundation for the Mid South believes that the solution to regional challenges lies in building the skills and knowledge of communities to transform themselves. When individuals, organizations and businesses engage in the change process, they are able to build the community they wish to see, creating vibrant places to live, work and play.
Our Strategy
Our community development work key focus areas:
Community Enrichment

Increasing safe, affordable housing, improving green space and parks and preserving the local environment and culture.

Economic Development

Strengthening the economy through workforce education and training, small business development and industry growth.

Leadership Development

Building the skills and capacities of local organizations working to strengthen both adult and youth leadership.

Mississippi Delta Workforce Funding Collaborative

The Mississippi Delta Workforce Funding Collaborative is a partnership of philanthropic, public sector, private sector, and community leaders working to improve job growth and retention for all of Mississippi. We support the development and implementation of sector based workforce partnerships in key in-demand industries. Our goal is to increase the skills and education of unemployed and/or underemployed residents of Mississippi. We work to increase the Mississippi residents' skills, thereby allowing them to receive better paying jobs and better provide for their families.
The Foundation for The Mid South is an Entrepreneurial Support Organization chosen by the Delta Regional Authority to participate in a learning cohort around engaging merging business leaders.
Grants
We support high-quality solutions that promote education, physical and mental health, financial security and the growth and prosperity of communities.

The Foundation For the Mid South is pleased that you're considering us as a potential partner in your work. Our mission is to improve lives by expanding knowledge. We support efforts that create high-quality education, initiatives that encourage physical and mental health, resources that promote financial security and solutions that enable communities to grow and prosper.
The Foundation is always on the lookout for potential partners working in the Mid South region. Share your ideas with us, and if our program officers think it might fit one of our initiatives, we'll reach out for a more formal proposal.
You can learn more about this opportunity by visiting the funder's website.
Eligibility:
Nonprofit organizations in Arkansas, Louisiana and Mississippi.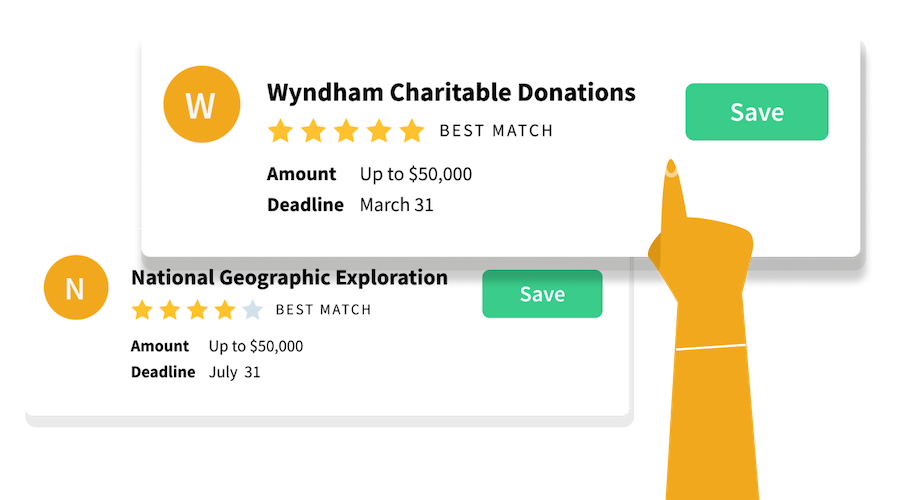 Get matched to similar grants
See how we help our customers save time and find new funding by trying out Instrumentl for 14-days free or learn more.