Seabird Conservation Program
National Fish and Wildlife Foundation (NFWF)
Suggest an update
Deadline: Aug 10, 2020 8:59pm PDT (Full proposal)
Grant amount: US $50,000 - US $500,000
Fields of work: Ornithology Ornithological Conservation
Applicant type: Nonprofit, Government Entity, Indigenous Group
Funding uses: Research, Project / Program
Location of project: Chile, Mexico, Alaska, American Samoa, California, Guam, Hawaii, Northern Mariana Islands Show all
Location of residency: Anywhere in the world
View website
Save
---
About this funder:
Loading...
Overview:
Seabird Conservation Program
The National Fish and Wildlife Foundation (NFWF) is soliciting proposals to improve populations of focal seabirds through actions that improve survival and reproduction. Seabirds represent a diverse group of birds whose life history cycles are intricately linked to marine and coastal resources. Seabirds forage at sea, often far from breeding colonies; disperse over vast distances; and are both colonial and solitary breeders. The overlap of seabirds and humans on oceanic islands and in the marine environment has driven many species to the brink of extinction. Consequently, a major challenge to effective seabird conservation is to mitigate human-induced threats at multiple temporal and spatial scales; in other words, to protect and restore locations utilized by seabirds throughout their entire life cycle (on both land and at sea). The Seabird Conservation Program is supported by the Pacific Seabird Program Business Plan. Available funding for the Seabird Conservation Program varies between years and depending on implementation needs of the business plan. This request for proposals will award approximately $4,000,000 in support of Pacific seabird conservation efforts in 2020.
Program Priorities
Management of non-native, invasive animals: Introduced animals alter fragile island ecosystems through direct predation on seabirds and by destruction of breeding habitats. NFWF will consider proposals that advance eradications in the Juan Fernandez Islands, Chile; on Guadalupe & Socorro Islands, MX and will also review projects that advance specific actions for focal species including, predator fencing efforts. Focal regions for this activity include Chile, the California Current and Hawaii.
Restoration: Invasive plants degrade nesting habitat, sea level rise threatens low lying colonies and human actions can impact survival and reproduction of seabirds. NFWF seeks proposals that align to focal species and continue habitat restoration efforts in Hawaii, species translocations to establish high island sea level rise resilient breeding locations and that build community and organizational capacity. We also seek proposals that ensure sustainability of investments through support of biosecurity planning. Focal regions for this activity include Chile, California Current and Hawaii.
Bycatch reduction: Seabird bycatch by fisheries is a global problem, killing hundreds of thousands of seabirds annually. NFWF seeks proposals that foster innovation, outreach, training, and research for the development and adoption of best practices and effective mitigation measures in fisheries with an emphasis on net fisheries (including gill nets) and fisheries that impact albatross and pink-footed shearwater. Focal regions for this activity include Alaska, Chile, California Current and Hawaii.
Protect seabird prey base: Seabirds are dependent on abundant and available high quality prey. Loss of prey can have catastrophic effects on breeding success and survival. NFWF will support development of science that seeks to integrate seabirds, as predators, into multi-species fisheries management planning with a focus on the California Current and Gulf of Alaska.
Research and Monitoring: The wide-ranging, pelagic nature of seabirds is a challenge to understanding and addressing conservation needs. NFWF will invest in research, monitoring, and assessment actions to improve the effectiveness of species conservation, strategies and the delivery and reporting of conservation actions. This RFP seeks projects that advance knowledge for focal species.
Focal species: For this RFP we are also explicitly seeking actions that advance business plan goals including for the following species: Aleutian tern – implementation of a monitoring framework and statewide survey; ashy storm-petrel – rangewide monitoring, SEFI planning and implementation; black-footed albatross – high island colony establishment (social attraction and/or translocation projects), Pacific bycatch assessment/mitigation; Hawaiian petrel – in situ colony protection, new colony establishment (social attraction/translocation); Laysan albatross – high island colony establishment and protection (social attraction/fencing), Pacific bycatch assessment/mitigation; Newell's shearwater – in situ colony protection, new colony establishment (social attraction); Townsend's shearwater – in situ colony protection (Socorro & Clarion).
You can learn more about this opportunity by visiting the funder's website.
Eligibility:
There are no restrictions on program applicants beyond meeting the minimum 1:1 match expectation (federal and non-federal match are eligible).
Eligible applicants include non-profit 501(c) organizations, U.S. Federal government agencies, state government agencies, local governments, municipal governments, Indian tribes, educational institutions, businesses, international organizations
Ineligibility:
Ineligible applicants include unincorporated individuals.
NFWF funds and matching contributions may not be used to support political advocacy, fundraising, lobbying, litigation, terrorist activities or Foreign Corrupt Practices Act violations.
NFWF funds may not be used to support ongoing efforts to comply with legal requirements, including permit conditions, mitigation and settlement agreements. However, grant funds may be used to support projects that enhance or improve upon existing baseline compliance efforts.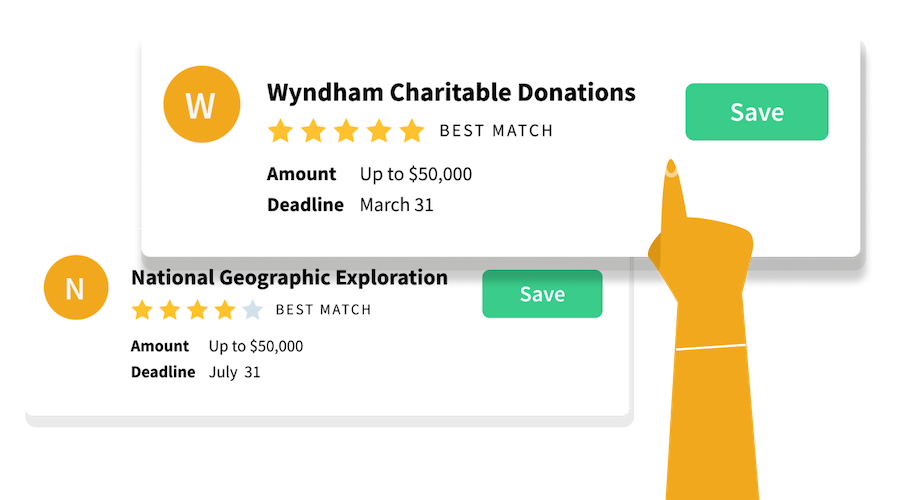 Get matched to similar grants
See how we help our customers save time and find new funding by trying out Instrumentl for 14-days free or learn more.