NC: Agricultural Conservation Easement Grant Program (ACEP) - Agricultural Land Easement (ALE) Component
North Carolina Natural Resource Conservation Service
Suggest an update
Anticipated deadline: Apr 10, 2021
Grant amount: Unspecified amount
Fields of work: Land/Habitat Conservation
Applicant type: College / University, Indigenous Group, Government Entity, Nonprofit
Funding uses: Project / Program
Location of project: North Carolina
Location of residency: North Carolina
View website
Save
Overview:
The Agricultural Conservation Easement Program (ACEP) provides financial and technical assistance to help conserve agricultural lands and wetlands and their related benefits.
Agricultural Land Easement (ALE) Component
Under the Agricultural Land Easements (ALE) component, NRCS helps Indian tribes, state and local governments and non-governmental organizations protect working agricultural lands and limit non-agricultural uses of the land. NRCS provides financial assistance to eligible partners for purchasing Agricultural Land Easements that protect the agricultural use and conservation values of eligible land. In the case of working farms, the program helps farmers and ranchers keep their land in agriculture.
The program also protects grazing uses and related conservation values by conserving grassland, including rangeland, pastureland and shrub land. Eligible partners include Indian tribes, state and local governments and non-governmental organizations that have farmland or grassland protection programs. Under the Agricultural Land component, NRCS may contribute up to 50 percent of the fair market value of the agricultural land easement. Where NRCS determines that grasslands of special environmental significance will be protected, NRCS may contribute up to 75 percent of the fair market value of the agricultural land easement.
To enroll land through agricultural land easements, NRCS enters into cooperative agreements with eligible partners (tribes, state and local governments, and non-governmental organizations that have farm or grassland protection programs)
ACEP Benefits
Agricultural Land Easements protect the long-term viability of the nation's food supply by preventing conversion of productive working lands to non-agricultural uses. Land protected by agricultural land easements provides additional public benefits, including environmental quality, historic preservation, wildlife habitat and protection of open space.
You can learn more about this opportunity by visiting the funder's website.
Eligibility:
General.—To be eligible to receive ACEP-ALE funding, an entity must be one of the eligible entity types listed below and must provide NRCS sufficient evidence of their ability to meet the requirements and responsibilities of an eligible entity.
Types of Entities That are Eligible.—To be eligible, an entity must be one of the following:

An agency of any State or local government or Indian Tribe (including a farmland protection board or land resource council established under State law)
A nongovernmental organization that certifies that it is—

Organized for and, at all times since the formation of the organization, have been operated principally for one or more of the conservation purposes specified in clause (i), (ii), (iii), or (iv) of section 170(h)(4)(A) of the Internal Revenue Code of 1986.
An organization described in section 501(c)(3) of the Internal Revenue Code of 1986 that is exempt from taxation under 501(a) of that code
Described in paragraph (1) or (2) section 509(a) of the Internal Revenue Code of 1986 or is described in section 509(a)(3) of that code and is controlled by an organization described in section 509(a)(2) of that code

The clauses under section 170 address the following

The preservation of land areas for outdoor recreation by, or the education of, the general public
The protection of a relatively natural habitat of fish, wildlife, plants, or similar ecosystems
The preservation of open space (including farmland and forest land) where such preservation is—

For the scenic enjoyment of the general public
Pursuant to a clearly delineated Federal, State, or local governmental conservation policy and will yield a significant public benefit

The preservation of a historically important land area or a certified historic structure.

Section 501(c)(3) addresses corporations and any community chest, fund, or foundation, organized and operated exclusively for religious, charitable, scientific, testing for public safety, literary, or educational purposes, or to foster national or international amateur sports competition (but only if no part of its activities involve the provision of athletic facilities or equipment), or for the prevention of cruelty to children or animals, no part of the net earnings of which inures to the benefit of any private shareholder or individual, no substantial part of the activities of which is carrying on propaganda or otherwise attempting to influence legislation (except as otherwise provided in subsection (h)), and which does not participate in, or intervene in (including the publishing or distributing of statements), any political campaign on behalf of (or in opposition to) any candidate for public office.
Sections 509(a) (1), (2), and (3) include churches, educational organization, and medical organizations.

A Tribal entity is an ''Indian Tribe'' as defined by section 4(e) of the Indian SelfDetermination and Education Assistance Act (25 U.S.C. Section 450b(e)), i.e. "federally recognized Tribes."

The Bureau of Indian Affairs publishes in the Federal Register a list of Indian Tribes that are identified as federally recognized Indian Tribes).
Indian Tribes that are not federally recognized may qualify under nongovernmental organization status above.

Land eligibility- see full details here.

Eligible Land Uses - To be eligible, land must meet the land eligibility requirements, be one of the eligible land types, and must be in one of the following uses:

Cropland
Rangeland
Grassland or land that contains forbs, or shrubland for which grazing is the predominant use
Located in an area that has been historically dominated by grass land, forbs, or shrubs and could provide habitat for animal or plant populations of significant ecological value
Pastureland
Nonindustrial private forest land that contributes to the economic viability of an offered parcel or serves as a buffer to protect such land from development

Eligible Land Types.—Eligible land must be privately owned or Tribal land on a farm or ranch that meets one of the four following land eligibility criteria:

Prime, Unique, or Other Productive Soil.—To meet the soils eligibility criteria, the offered parcel must contain at least 50 percent prime, unique, statewide, or locally important soil
Historical or Archaeological Resources.—Parcels containing historical or archaeological resources may be eligible for ACEP-ALE.
Protection of Grazing Uses and Related Conservation Values.—Land the enrollment of which would protect grazing uses and related conservation values by restoring and conserving land may be eligible for enrollment in ACEP-ALE.
Land that Furthers a State or Local Policy.—The State or local policy must be consistent with the purposes of ACEP-ALE and the protection of such land must further the State or local policy

Each easement is required to have an agricultural land easement plan that promotes the long-term viability of the land

NRCS can partner with a Cooperating Entity to contribute up to 50 percent of the fair market value of the agricultural land easement.

The Cooperating Entity must provide an amount that is at least equivalent to the Federal share.
Preferences:
NRCS will prioritize applications that protect agricultural uses and related conservation values of the land and those that maximize the protection of contiguous acres devoted to agricultural use.
NRCS will prioritize applications based the easement's potential for protecting and enhancing habitat for migratory birds and other wildlife.
Ineligibility:
Ineligible Lands – General.—The following lands are not eligible for cost-share assistance under ACEP-ALE. See detailed descriptions in section B for additional information on each ineligible land type.

Lands owned by an agency of the United States, other than land held in trust for Indian Tribes.
Lands owned in fee title by a State, including an agency or a subdivision of a State, or unit of local government.
Land owned by a nongovernmental organization whose purpose is to protect agricultural use and related conservation values.
Land subject to an easement or deed restriction which, as determined by NRCS, provides similar restoration and protection as would be provided by enrollment in the ACEP-ALE.
Land where the purposes of the program would be undermined due to onsite or offsite conditions, such as risk of hazardous substances, proposed or existing rights of way, infrastructure development, or adjacent land uses.
Land that NRCS determines to have unacceptable exceptions to clear title or insufficient legal access.
Land on which gas, oil, earth, or mineral rights exploration has been leased or is owned by someone other than the landowner unless NRCS determines that the third party rights will not harm or interfere with achieving the ACEP-ALE purposes.

ACEP-ALE funds provided by NRCS may not be used for eligible entity expenditures for:

appraisals,
areawide market analysis,
legal surveys,
access,
title clearance or title insurance,
legal fees,
development of agricultural land easement plans or component plans by the eligible entity,
costs of easement monitoring, and
other related administrative and transaction\costs incurred by the eligible entity.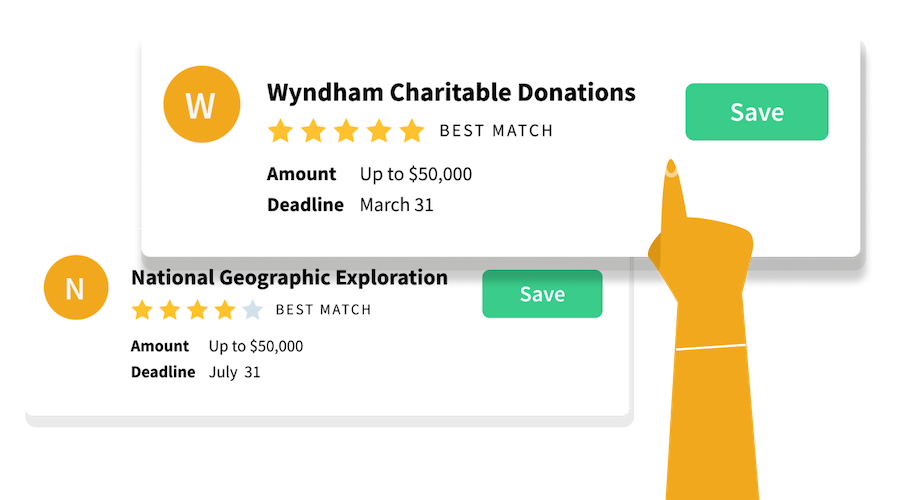 Get matched to similar grants
See how we help our customers save time and find new funding by trying out Instrumentl for 14-days free or learn more.