NewSchools Invent Grant Program
NewSchools Venture Fund
Suggest an update
Predicted deadline: Feb 5, 2021 11:00am PST
Grant amount: US $50,000 - US $200,000
Fields of work: Education - K through 12
Applicant type: Public Elementary / Secondary School
Funding uses: General Operating Expense, Project / Program
Location of project: United States
Location of residency: United States
View website
Save
---
About this funder:
Loading...
Overview:
NOTE: For teams launching schools in Fall 2021, the deadline to submit this application is Monday, November 11, 2019 at 12pm PT.
NewSchools Invent
Through NewSchools Invent, we invest in teams of educators who want to launch new, innovative public schools that prepare young people to finish high school prepared and inspired to create and live the lives they want – good lives, full of opportunity, choices, connection and meaning. These schools will reimagine the learning experience for students, particularly those from underserved communities. NewSchools Invent is a major part of NewSchools' Innovative Schools portfolio.
NewSchools Invent is designed for teams of educators who are committed to launching an innovative public school and would benefit from additional support. Our goal is to accelerate a team's progress toward a successful launch by providing assistance in three key areas:
Financial support: A one-year planning investment for the year prior to launching the new school. We evaluate teams over the course of the planning period as diligence for a multi-year launch investment for a school's first three years of operation.
Community of Practice: Participation in an active community of practice to build relationships with and learn from peer organizations from across the country.
Management assistance: We seek to provide our schools with relevant, timely support. This includes access to experts in the field, coaching, and differentiated support to meet schools where they are.
Investment Criteria
We support passionate, capable and diverse teams who are designing innovative new schools
First, we seek mission-driven, entrepreneurial leaders who show passion, personal integrity, and the ability to achieve outstanding results. However, they cannot do this work alone, and must also recruit a diverse leadership team and board with the competencies and experiences necessary to design and launch an innovative public school. Collectively, this team must bring skills and relevant backgrounds in instruction, school management and business operations, as well as an emphasis on innovation and continuous improvement. To be most effective, we believe they must demographically represent the community they wish to serve, understand their perspectives and bring expertise and insights to develop relevant solutions. They should be active contributors to the community and have done the personal work to identify their own cultural and racial biases.
We then expect these teams to:
Engage the communities they aim to serve
The teams we support focus their efforts on communities who have been traditionally underserved, and a significant percentage of the students they serve must have needs unmet by existing options. We expect teams to engage students, families and community members early and often to inform all aspects of design and planning. By seeking to understand the needs, interests and aspirations of the people they aim to serve, teams can not only design a better school, but also create the necessary relationship to sustain it over time.
Reimagine the student experience
Designing schools that reimagine the student experience requires a holistic approach. This is why we seek teams that have embraced an expanded definition of student success, balancing rigorous academic expectations with the mindsets, skills and habits needed for success in life.* With a clear definition of student success as their guide, teams then can design a school that meets the full range of their students' needs. We believe innovation can and should take many forms, and are open to supporting an array of approaches that combine new ideas with proven practice. Still, we have a point of view on the ways schools need to adapt to better meet the needs of students. Specifically, we prioritize:
Students feel ownership of their learning and are motivated to succeed. Learning experiences are tailored to each student's individual needs, skills and interests. Students are held to high expectations. They set short- and long-term learning goals and, with help from their teachers, create plans for how they might reach them.
Students have the opportunity to build deep, trusting, sustained relationships with each other, their teachers and other adults who care about them.
Students feel they belong, can find their voices and see themselves reflected in their learning. What they are learning reflects their culture and supports them in developing their own sense of identity. Students also deepen their understanding of other cultures and people who do not share their background.
The design optimizes time, pace, instructional methods and outside experiences to enrich student learning and ensure teachers' time is spent where it matters most.
Technology supports learning, from instructional software that helps students master academic content, to platforms that help teachers, students and families work together to manage personalized learning plans and collaborative projects.
*Examples of the mindsets, essential skills and habits that are correlated with long-term success include curiosity, growth mindset, perseverance, self-awareness, self-efficacy, self-regulation and social awareness/social competence.
Demonstrate a commitment to diversity, equity and inclusion

We believe teams that show a commitment to diversity, equity and inclusion are better equipped to meet the needs of the students and communities they serve. We seek teams that embrace this commitment and are developing comprehensive strategies to prioritize it in their schools. This includes recruiting racially and ethnically diverse board members, leadership teams and staff, reflecting the student population. In addition, teams should focus on affirming the identity of staff and students, addressing inequities in access and achievement and confronting issues of race, class and privilege.
Plan appropriately and execute effectively
Teams must be able to turn their vision into reality. We look for evidence of a comprehensive plan that includes all relevant milestones needed for a successful school launch. We want to see that they are on track to execute that plan. During the planning year, we pay particular attention to the following critical milestones: hiring the leadership team, recruiting a board, engaging families and community, finalizing an instructional model, securing a facility, securing charter approval or a district MOU, executing a student recruitment plan, developing a financial model (with mitigation plans) and hitting fundraising targets.
Aspire to expand their impact beyond a single school
While our support is initially focused on helping teams to launch one innovative new school, our long-term goal at NewSchools is to significantly reimagine the entire PreK-12 education system. At this stage, we require that teams have developed a reasonable school-level financial model that achieves sustainability on public funds by its fourth year of operation, after a moderate investment from public and private sources, including NewSchools. In addition, we ask that teams offer compelling ideas for scaling their impact over time. We look for teams who are thinking beyond a single school, recognizing that those plans may not be fully solidified at this stage. There are many compelling ways to expand impact and we invite applicants to share those ideas with us, whether through replication, becoming a model provider (similar to Summit Learning) and/or a new and innovative idea to catalyze impact.
You can learn more about this opportunity by visiting the funder's website.
Eligibility:
To be considered for an Invent investment, applicants must:

Meet all six investment criteria (see Overview);
Plan to launch their first or second charter or district school in Fall 2021 or Fall 2022;
Enroll students within the PreK-12 grade span on a full-time basis; and
Be eligible to receive public funding.

In addition, charter applicants must:

Have or be working toward 501c3 non-profit status; and
Have an approved charter or be on track toward securing one.

In addition, district school applicants must:

Have a formal letter of endorsement from the board and superintendent (or equivalent);
Have or be working toward an agreement with the district office that ensures the school will have necessary facilities, funding and academic and operational autonomies to support the implementation of their school design plan; and
Have ideally identified key members of the school leadership team.
Preferences:
We prefer that district applicants apply with a named school leadership team that will lead the design work.
Ineligibility:
For-profit charter schools are not eligible.
Private or independent schools are not eligible.
New programs or initiatives within an existing school are not eligible.
Existing district or charter schools are not eligible for this opportunity except in the case of a "restart."

There must be a change in governance that gives a new operator full autonomy over every aspect of the existing school.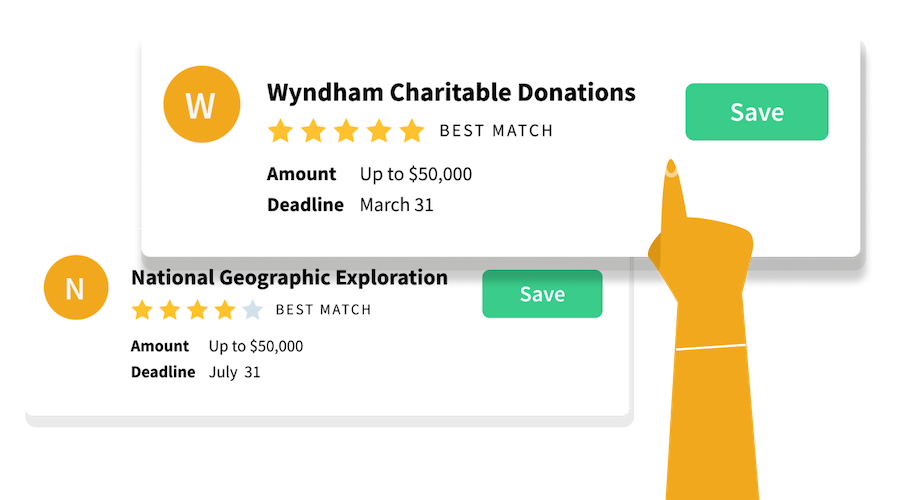 Get matched to similar grants
See how we help our customers save time and find new funding by trying out Instrumentl for 14-days free or learn more.