Ski Conservation Fund and Forest Stewardship Fund: White River National Forest
National Forest Foundation (NFF)
Predicted deadline: Dec 20, 2021 10:59pm PST
Grant amount: Unspecified amount
Fields of work: Forestry Habitat & Ecosystem Restoration Trail Creation & Maintenance Environmental Stewardship Outdoor Recreation Invasive Species Control
Applicant type: Nonprofit, Indigenous Group, Government Entity
Funding uses: Project / Program
Location of project: Counties in Colorado: Eagle County, Garfield County, Gunnison County, Mesa County, Moffat County, Pitkin County, Rio Blanco County, Routt County, Summit County Show all
Location of residency: United States
Overview:
National Forest Foundation
The National Forest Foundation is the leading organization working on behalf of the American public to inspire personal and meaningful connections to our National Forests, the centerpiece of public lands. Through direct field work, facilitation, grant programs and promotion of responsible recreation, the National Forest Foundation inspires people to get personally involved in caring for the 193 million acres of public lands that make up our National Forest System. We do this because we believe these lands are an American treasure and are vital to the health of our communities.
Ski Conservation Fund Program Overview
In partnership with Vail Resorts Management Company, Copper Mountain Resort, and Arapahoe Basin Ski and Snowboard Area, the NFF is currently soliciting proposals for its Ski Conservation Fund™ (SCF) grant program on the White River National Forest. SCF combines Federal funds provided through a cooperative agreement with the U.S. Forest Service with individual donations voluntarily made by guests of partner resorts. This leveraged funding measurably multiplies the resources available for nonprofit partners to implement projects that directly benefit the White River National Forest.
A common thread connecting NFF program areas is an interest in results-oriented projects that enhance the viability of natural resources while benefiting and directly engaging surrounding communities. The NFF accepts applications from non-governmental, nonprofit 501(c)(3) organizations, nonfederal government entities, and Native American tribes working on or adjacent to National Forests and Grasslands throughout the United States.
All SCF awards require a 50% nonfederal cash or in-kind match. Federal funds are not eligible to serve as match, but should be noted to show project leverage.
Outdoor Experiences
The NFF supports results-oriented, on-the-ground, projects that improve the quality, condition, and care of Outdoor Experiences on National Forests by:
Improving or maintaining recreation resource connectivity including, and similar to: trail maintenance, bridge and crossing construction or repair, and installation of trail drainage structures; and/or
Engaging youth, volunteers, or diverse, underserved or under-engaged populations in hands-on stewardship activities; and/or
Employing youth and/or veterans crews to implement on-the-ground conservation, stewardship and/or restoration work.
Projects should generate tangible conservation outcomes or enhance high quality recreational experiences for the users of the National Forest System. Funds cannot support improvements of hardened facilities including, and similar to: campgrounds, parking lots, restrooms, visitor centers, and major signage.
Forest Health
The NFF supports results-oriented, on-the-ground, citizen-involved projects that maintain and/or restore ecosystem resiliency on National Forests by:
Promoting ecosystem structure, function and diversity; and/or
Promoting forest health through the removal or control of non-native invasive species, and/or reintroduction of native plants and trees.
Projects should be consistent with or supportive of identified large-scale conservation initiatives. The NFF will only consider monitoring projects focused on determining the long-term effectiveness of previous NFF-funded on-the ground work.
Integrated Projects
The NFF encourages projects that cohesively integrate Outdoor Experiences and Forest Health program areas. Ideal projects will have a strong connection to each of the individual program areas, and effectively integrate both in a clear, direct manner.
Examples of integrated projects include, but are not limited to the following:
Engaging community volunteers to complete riparian plantings as part of a watershed-scale restoration project;
Utilizing youth crews from underserved communities to complete habitat stewardship work and forest stand treatments.
The most compelling projects will strongly integrate the Outdoor Experiences and Forest Health program areas, and will receive a weighted advantage in evaluation.
You can learn more about this opportunity by visiting the funder's website.
Eligibility:
SCF requires projects show a strong commitment to civic engagement and community involvement through direct public participation.

In order to be eligible for SCF funding, projects must contain significant, legitimate community involvement or civic engagement in the pre-implementation, implementation, or post-implementation phase.
Typically, this involves the use of volunteers in project implementation, or the implementation of projects selected as an outcome of a formal collaborative-planning process.

501(c)(3) nonprofits, universities, state and local governments, and federally-recognized Native American tribes are eligible to receive SCF grants.

If an organization does not meet this eligibility requirement, it must utilize an eligible fiscal sponsor consistent with the NFF Policy on Fiscal Sponsorship.
Preferences:
Ineligibility:
Education, interpretation, inventory, and monitoring are not priorities for the use of SCF funds.

Education and interpretation may only receive consideration as minor components of otherwise well-aligned larger projects.
Projects with inventory or monitoring components may only receive consideration if those components focus on determining the long-term effectiveness of previous NFF funded on-the-ground work.

The NFF will not consider proposals unless all environmental compliance work including but not limited to NEPA is complete at time of application
The NFF does not consider SCF applications from the following:

Federal agencies;
For-profit organizations;
Consultants;
Educational and research organizations proposing projects that do not show tangible, on-the-ground benefit;
Organizations seeking general operating or programmatic support;
Organizations seeking funding for litigation or advocacy;
Organizations that cannot produce a 50% match of non-federal, project-directed funds or in-kind contributions.
Organizations submitting a proposal for a work over a timeline longer than one year.

A project will not be eligible for full weighted advantage if it does not cohesively integrate the two program areas, or only does so nominally.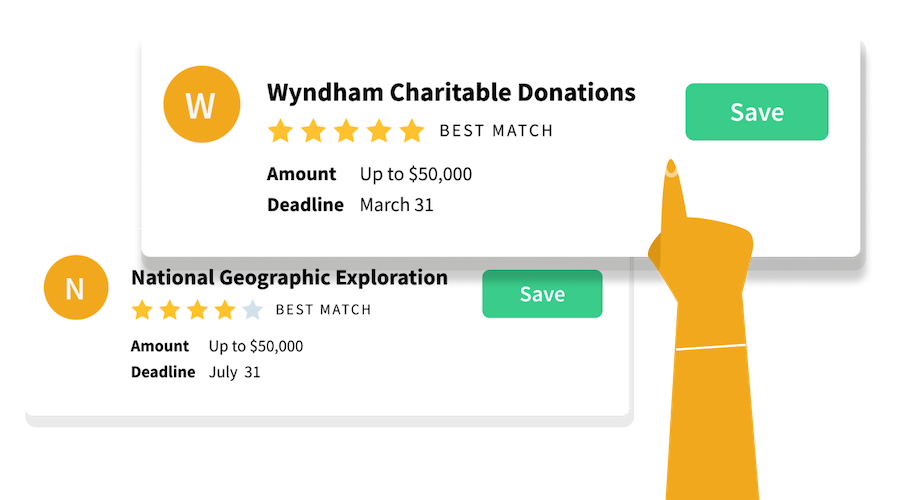 Get matched to similar grants
See how we help our customers save time and find new funding by trying out Instrumentl for 14-days free or learn more.