SVP Denver Capacity Building Engagement Grant
The Denver Foundation
Deadline: Rolling
Grant amount: Unspecified amount in in-kind support
Fields of work: Basic Human Needs Economic Services & Development Education Civic Leadership Development Diversity & Inclusion Social Justice / Human Rights
Applicant type: Nonprofit
Funding uses: Training / Capacity Building
Location of project: Counties in Colorado: Adams County, Arapahoe County, Boulder County, Broomfield County, Denver County, Douglas County, Jefferson County Show all
Location of residency: Counties in Colorado: Adams County, Arapahoe County, Boulder County, Broomfield County, Denver County, Douglas County, Jefferson County Show all
Overview:
NOTE: Applications will be accepted on a rolling basis for this period's priority areas.
Our Process
SVP Denver now provides a menu of capacity building services that represent the expertise of our current partner-members. Potential nonprofit and social venture investees may choose area(s) that will most benefit their organization's ability to increase its impact on the community.

We offer the following:
COHORTS: These two projects will run in a group setting. Investees will complete an eight- to 12-week process with three to six other organizations. It will include sessions led by an expert in the field and each organization will be paired with an SVP Denver partner-coach to guide them through the process. Investees will benefit from working alongside peer organizations.
Refine Your Organization's Pitch to Attract Funding
Create a Theory of Change to Demonstrate Your Impact
INDIVIDUAL PROJECTS: Leadership and staff from your organization will work directly with SVP Denver partners rather than in a cohort setting.
Improving Your Financial Management System
Mastermind: assemble a group of SVP Denver experts on a specific need (real estate, mergers/acquisitions, fundraising, etc.) to share expertise and solve problems.
Applications will be accepted on a rolling basis from organizations focused on basic human needs or economic mobility (e.g. housing, food security, education, job training, etc.). Selected organizations will participate in a one-on-one virtual discussion to better understand your goals. If you are selected to become a capacity-building investee, we will begin the matchmaking process of finding SVP Denver partners who have relevant skills and a passion for your mission.
Capacity Building Grants
Components of Capacity Building Engagements with SVP:
Targeted investments of our members' time, professional expertise, and resources
Dedicated pro bono consulting teams comprised of complimentary skill sets
A peer-learning dynamic
Access to other resources, including assessment, outside paid consultants, technical assistance, grant dollars
What SVP Will Bring to the Table
Targeted investments. Our SVP Denver partners' (members) time, professional expertise and resources include dedicated pro-bono consulting teams with relevant skill sets.
Skilled volunteers. Our dedicated and passionate SVP partners roll up their sleeves and help build your organization's capacity in areas that are keeping you from reaching your full potential.
Commitment to working in partnership. Often there's a power dynamic in capacity- building relationships; we do our best to mitigate that. We invite honest feedback, own up to our mistakes and strive to find a path forward that works for all. SVP Denver partners may have specific expertise and skills that can help you, but you're the expert in your mission. Thus, we see our investee engagements as peer-learning opportunities where we can learn from each other while working towards goals.
What SVP Denver Will Ask of the investee
Willingness to take a hard look at what's holding your organization back, and share those weaknesses openly. After honest conversations, we can get to work – together.
Flexibility and openness to working with our SVP Denver partners who have busy schedules, varied professional backgrounds and joined our organization to give back strategically to yours.
A commitment to calling us out when something's not working for you. That may be uncomfortable, but our best results come from honest relationships.
Identifying the capacity-building areas you want to work on with us and how they relate to your mission.
Be open to metrics/assessments throughout the process. We want to understand what impact our work together has so we can track our progress.
Employ a work plan that follows a logic model framework as outlined in this resource.
Develop impact metrics for each change project, both at the end of our engagement and one year later.
Successful Engagement Characteristics:
A strong interest in a peer-learning relationship.
Strong support & active involvement your board of directors within the engagement with us.
Strong, passionate, and stable organizational leadership.
A desire to "get to the next level" in your organization's evolution.
A willingness to self-reflect and accept external input.
An appetite for change, hard work and fun.
You can learn more about this opportunity by visiting the funder's website.
Eligibility:
What We Look for In Applicants:

Qualified Nonprofit Organization = your organization is a registered 501(c)(3) nonprofit, is operating under a fiscal agent or is a social venture (public benefit corporation).
Operating in the Denver Metro Region = you are located within and/or providing 51% or more of your services within Adams, Arapahoe, Boulder, Broomfield, Denver, Douglas, and/or Jefferson counties.
Mission and Impact = you understand how your services are meeting a clear community need.
Leadership Readiness = your executive director is a champion for change; and your board of directors both supports your application and will be active in our engagement. All of you have the desire to "get to the next level" in your organization's evolution. Armed with a willingness to self-reflect and accept external input, you have an appetite for change, hard work and fun.
Capacity to Work with SVP Denver = your organization is ready for a collaborative relationship with passionate volunteers and has strong interest in a peer-learning relationship. Your staff/board will dedicate time to assessing current systems, strategizing their desired future state and work to get there on top of day-to-day operations.
Alignment = your organization offers interesting opportunities for SVP Denver partners and your needs are aligned with our ability to help.
Financial Stability = over the past three years, your organization has shown consistent financial stability, or you have a credible plan demonstrating continued operations as well as growth.
Inclusiveness and Equity = your organization embodies values, policies and practices that ensure all stakeholders are engaged equitably.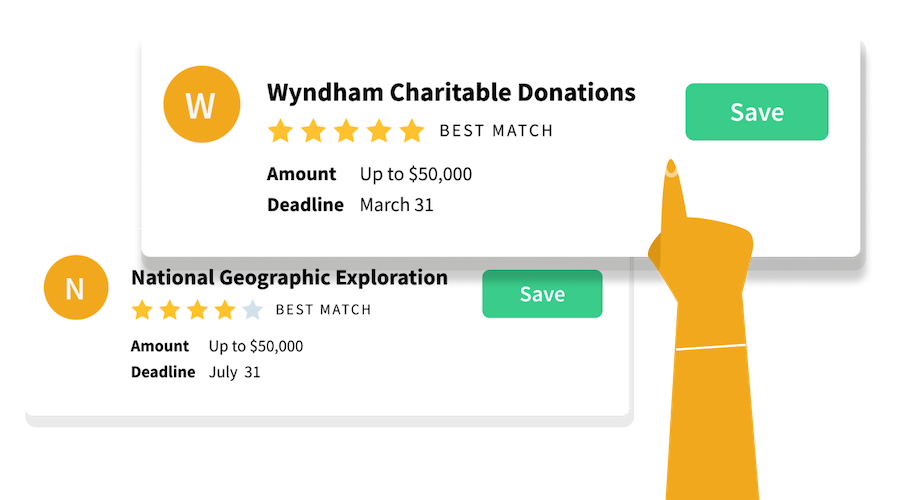 Get matched to similar grants
See how we help our customers save time and find new funding by trying out Instrumentl for 14-days free or learn more.