Community Ties Giving Program: Local Grants
Union Pacific Foundation
Suggest an update
Anticipated deadline: May 31, 2021
Grant amount: US $2,500 - US $25,000
Fields of work: First Responders Community Services Urban Planning Greening & Beautification Outdoor Recreation Art & Culture Vocational & Trade Education Environmental Education Workforce Preparation & Job Readiness Emergency Medical Care & Services Disaster Preparedness Crime Prevention & Justice Community/Public Safety Library Services Museums & Cultural Institutions Show all
Applicant type: Nonprofit, Government Entity
Funding uses: Training / Capacity Building, Project / Program
Location of project: Arkansas, Illinois, Iowa, Kansas, Louisiana, Minnesota, Missouri, Nebraska, Oklahoma, Tennessee, Texas, Wisconsin, Counties in Arizona: Cochise County, Maricopa County, Pima County, Pinal County, Santa Cruz County, Yuma County, Counties in California: Alameda County, Amador County, Butte County, Contra Costa County, Fresno County, Imperial County, Kern County, Los Angeles County, Madera County, Merced County, Modoc County, Monterey County, Nevada County, Placer County, Plumas County, Riverside County, Sacramento County, San Benito County, San Bernardino County, San Joaquin County, San Luis Obispo County, San Mateo County, Santa Barbara County, Santa Clara County, Shasta County, Siskiyou County, Solano County, Stanislaus County, Sutter County, Tehama County, Tulare County, Ventura County, Yolo County, Yuba County, Counties in Colorado: Adams County, Arapahoe County, Boulder County, Chaffee County, Cheyenne County, Delta County, Denver County, Douglas County, Eagle County, El Paso County, Elbert County, Fremont County, Garfield County, Gilpin County, Grand County, Gunnison County, Huerfano County, Jefferson County, Lake County, Larimer County, Lincoln County, Logan County, Mesa County, Moffat County, Montrose County, Morgan County, Pueblo County, Routt County, Sedgwick County, Weld County, Counties in Idaho: Ada County, Bannock County, Bear Lake County, Benewah County, Bingham County, Blaine County, Bonner County, Bonneville County, Boundary County, Butte County, Canyon County, Caribou County, Clark County, Elmore County, Franklin County, Gooding County, Jefferson County, Kootenai County, Lincoln County, Madison County, Minidoka County, Oneida County, Payette County, Power County, Counties in Montana: Beaverhead County, Silver Bow County, Counties in Nevada: Churchill County, Clark County, Elko County, Eureka County, Humboldt County, Lander County, Lincoln County, Pershing County, Storey County, Washoe County, Counties in New Mexico: Doña Ana County, Grant County, Guadalupe County, Hidalgo County, Lincoln County, Luna County, Otero County, Quay County, Torrance County, Counties in Oregon: Baker County, Clackamas County, Gilliam County, Hood River County, Klamath County, Lane County, Linn County, Malheur County, Marion County, Morrow County, Multnomah County, Sherman County, Umatilla County, Union County, Wasco County, Counties in Utah: Beaver County, Box Elder County, Cache County, Carbon County, Davis County, Emery County, Grand County, Iron County, Juab County, Millard County, Morgan County, Salt Lake County, Summit County, Tooele County, Utah County, Weber County, Counties in Washington: Adams County, Benton County, Columbia County, Franklin County, King County, Lincoln County, Pierce County, Spokane County, Thurston County, Walla Walla County, Whitman County, Counties in Wyoming: Albany County, Carbon County, Converse County, Goshen County, Laramie County, Lincoln County, Niobrara County, Sweetwater County, Uinta County Show all
Location of residency: Arkansas, Illinois, Iowa, Kansas, Louisiana, Minnesota, Missouri, Nebraska, Oklahoma, Tennessee, Texas, Wisconsin, Counties in Arizona: Cochise County, Maricopa County, Pima County, Pinal County, Santa Cruz County, Yuma County, Counties in California: Alameda County, Amador County, Butte County, Contra Costa County, Fresno County, Imperial County, Kern County, Los Angeles County, Madera County, Merced County, Modoc County, Monterey County, Nevada County, Placer County, Plumas County, Riverside County, Sacramento County, San Benito County, San Bernardino County, San Joaquin County, San Luis Obispo County, San Mateo County, Santa Barbara County, Santa Clara County, Shasta County, Siskiyou County, Solano County, Stanislaus County, Sutter County, Tehama County, Tulare County, Ventura County, Yolo County, Yuba County, Counties in Colorado: Adams County, Arapahoe County, Boulder County, Chaffee County, Cheyenne County, Delta County, Denver County, Douglas County, Eagle County, El Paso County, Elbert County, Fremont County, Garfield County, Gilpin County, Grand County, Gunnison County, Huerfano County, Jefferson County, Lake County, Larimer County, Lincoln County, Logan County, Mesa County, Moffat County, Montrose County, Morgan County, Pueblo County, Routt County, Sedgwick County, Weld County, Counties in Idaho: Ada County, Bannock County, Bear Lake County, Benewah County, Bingham County, Blaine County, Bonner County, Bonneville County, Boundary County, Butte County, Canyon County, Caribou County, Clark County, Elmore County, Franklin County, Gooding County, Jefferson County, Kootenai County, Lincoln County, Madison County, Minidoka County, Oneida County, Payette County, Power County, Counties in Montana: Beaverhead County, Silver Bow County, Counties in Nevada: Churchill County, Clark County, Elko County, Eureka County, Humboldt County, Lander County, Lincoln County, Pershing County, Storey County, Washoe County, Counties in New Mexico: Doña Ana County, Grant County, Guadalupe County, Hidalgo County, Lincoln County, Luna County, Otero County, Quay County, Torrance County, Counties in Oregon: Baker County, Clackamas County, Gilliam County, Hood River County, Klamath County, Lane County, Linn County, Malheur County, Marion County, Morrow County, Multnomah County, Sherman County, Umatilla County, Union County, Wasco County, Counties in Utah: Beaver County, Box Elder County, Cache County, Carbon County, Davis County, Emery County, Grand County, Iron County, Juab County, Millard County, Morgan County, Salt Lake County, Summit County, Tooele County, Utah County, Weber County, Counties in Washington: Adams County, Benton County, Columbia County, Franklin County, King County, Lincoln County, Pierce County, Spokane County, Thurston County, Walla Walla County, Whitman County, Counties in Wyoming: Albany County, Carbon County, Converse County, Goshen County, Laramie County, Lincoln County, Niobrara County, Sweetwater County, Uinta County Show all
View website
Save
---
About this funder:
Loading...
Overview:
NOTE: Any organization interested in receiving a Local Grant must complete a survey to determine eligibility. Organizations determined eligible to apply for a Local Grant through the Eligibility Survey are invited to submit, and are provided immediate access to, a full Grant Application. The eligibility survey and grant application are open until the deadline above.
Community Ties Giving Program
As part of the Community Ties Giving Program, Local Grants help us achieve our mission by providing small and medium-sized grants within our priority cause areas to local organizations spread widely across Union Pacific's footprint.
Funding Priorities & Objectives
Throughout its existence, the success of Union Pacific's business has been inextricably linked to the economic and community wellbeing of cities and towns across the nation. We take pride in the role we have played in helping communities thrive, and believe the impact we can have on local communities is greatest when it is authentic to our history and the company we are today. As such, we have carefully aligned our Local Grants cause areas to our company's unique heritage, strengths, and assets. Specifically, we prioritize funding for direct services and efforts that build the capacity of organizations focused on the following causes within our local operating communities:
Safety
In order for communities to thrive, residents must feel safe. Just as the safety of our employees and community members is paramount to how we operate, Union Pacific is committed to helping communities prevent and prepare for accidents and emergencies, so residents get home safe at the end of each day. As such, we prioritize funding for programs that seek to:
Encourage safe behaviors and prevent accidents through education and awareness, particularly projects which focus on rail, driver, bike, and pedestrian safety.
Eliminate risks and improve safe access to community spaces through infrastructure improvements, for instance signage, proper lighting, and public trail improvements.
Prepare and equip residents and emergency responders* to effectively respond to incidents and emergencies if or when they occur.
Prevent crime and incidents of violence through efforts that address the root causes of these issues and seek to mitigate their occurrence.
Provide homeless and at-risk populations

access to safe shelter and services that ameliorate and prevent homelessness.
Workforce Development
For over 150 years, Union Pacific has helped stimulate economic growth in cities and towns throughout the nation by training and providing employment to millions of workers. More than ever, we are committed to ensuring residents in our communities are able to achieve family-supporting careers like those offered by Union Pacific. As such, we prioritize funding for programs that seek to:

Put youth on the right track by creating awareness of family-supporting jobs like those Union Pacific offers, and building foundational skills, especially in Science, Technology, Engineering, and Mathematics (STEM) as well as necessary technical and life skills, to begin a trajectory toward these careers.

Raise awareness of, educate and prepare young adults for middle skills jobs like those Union Pacific offers, for instance through community colleges, vocational and career training programs, workforce readiness initiatives, and programs that assist with job placement and/or on-the-job experience. Programs that develop proficiency in areas of relevance to Union Pacific operations such as welding, electrical work, machine operations, and civil and electrical engineering are given priority.
"Up-skill" the existing workforce by providing training and resources that enable them to reach the next level of their career. Programs that develop proficiency in areas of relevance to Union Pacific operations are given priority.
Provide training and mentorship for nonprofit professionals to help them grow and advance their organizations.
Community Spaces
The vibrancy of a community is an essential ingredient in attracting businesses and tourism, and establishing a desirable place for skilled workers and their families to call home. Just as the railroad opened up avenues for sharing different cultures and experiences, we seek to ensure all citizens within our operating communities have access to special places in the community that celebrate cultural diversity, artistic expression, our natural environment, and the social interactions that enrich our lives. Ultimately, we are committed to supporting the local economy by building and enhancing community spaces that contribute to the distinct identity of a city or town, creating destinations where families, businesses, and visitors want to be. As such, we prioritize funding for programs and projects that achieve the following objectives:
Create, sustain or expand upon artistic and cultural experiences offered to a broad and diverse audience (e.g., museums, theatres, libraries, concerts, lectures, etc.).
Preserve and share the unique history of the local community, including projects related to train and/or Union Pacific history.
Provide clean, safe, and positive outdoor recreational and/or educational opportunities that foster an appreciation for our natural environment.
Beautify neighborhoods and main street areas in order to improve livability, promote commerce, and ultimately attract more residents, businesses, and visitors to town.
Plan for, create or enhance unique spaces that reflect the character of a place and take into account community members' diverse needs and desires.
Local Needs
Because no two communities are exactly alike, a small portion of our funding is allocated to assist local communities thrive in ways unique to them and meet vital local needs. As such, we prioritize funding for programs that achieve the following:
Improve the quality of life among the general public.
Address a critical challenge among those most in need.
You can learn more about this opportunity by visiting the funder's website.
Eligibility:
In order to be considered for a UPF Local Grant, your organization and the program or project for which you are requesting funds must meet the following eligibility requirements:

Public Charity Status

All grant recipients must be non-profit, charitable organizations tax-exempt under section 501(c)(3) of the Internal Revenue Code and further, be classified as an organization described in sections 509(a)(1) or 509(a)(2) under 170 (b)(1)(A)(vii) of the code.
Emergency service providers such as fire and police departments must apply under their own public charity with 501(c)(3) designation.
Religious organizations such as churches, mosques, and synagogues may qualify only if they have established a separate 501(c)(3) organization to operate the funded program AND the outreach program is offered to the general population regardless of religious affiliation.

Geographic Eligibility

The program or project for which grant funds are sought must primarily benefit a community that is served by Union Pacific; further it is preferred that the organization requesting funds be located in a community served by Union Pacific.

Applicants will be required to include which community/communities the proposed grant will serve in their grant applications.
Preferences:
Workforce development: Programs with a focus on cultivating a diverse and inclusive workforce (e.g., women, veterans, and/or minority populations), as well as those with a focus on rural communities, will be given special consideration.
Ineligibility:
Elementary and secondary schools cannot be funded directly; programs administered within a school environment by a separate 501(c)(3) organization may be considered.

Applications will not be accepted from private foundations or a disqualified supporting organization with the meaning of section 4966(d)(4) of the Internal Revenue Code.

The Foundation does not accept applications for programs that do not primarily serve a Union Pacific community.
Additionally, the following types of organizations and activities are INELIGIBLE for funding:

Programs and projects that do not fit within the Foundation's funding priorities
Requests for general operating support

with the exception of grants made in response to COVID-19

Event sponsorships, fundraising events and campaigns (e.g. conferences/seminars, galas, golf tournaments, annual awards ceremonies, raffles, telethons, walk-a-thons, auctions, endowments, memorial campaigns, parades, etc.)
Social, labor, alumni and fraternal organizations (e.g., higher education alumni groups, sororities, fraternities, workers' unions, exclusive membership clubs limited to a specific constituency, etc.)
Professional and amateur sports events, organizations, and teams (e.g., Little Leagues)
Political organizations and organizations whose dominant purpose is to influence legislation or participate/intervene in political campaigns on behalf of or against any candidate for public office
Organizations that channel UPF Local Grant funding to third parties; local United Way chapters are the only exception to this restriction
Organizations requiring a fiscal sponsor because they do not have their own 501(c)(3) status
Organizations that discriminate based on a person's race, color, sex, national origin, age, disability, religion, veteran status, sexual orientation, gender identity, genetic information, pregnancy, or any other ground prohibited by law ("protected status").

Notwithstanding the foregoing, religious organizations such as churches, mosques, and synagogues are eligible for funding if they have established a separate 501(c)(3) organization to operate the funded program AND the outreach program is offered to the general population regardless of religious affiliation

Terrorist organizations or those not compliant with the USA Patriot Act
Non US-based charities or organizations whose program activities are mainly international
Individuals
Fellowships or Research
Leadership gifts or requests for which UP is asked to be the sole funder
Loans, debt reduction and operating deficits
Projects that include proposed changes or improvements to Union Pacific Railroad-owned property
Requests for railroad equipment
Organizations having received three consecutive years of UPF Local Grants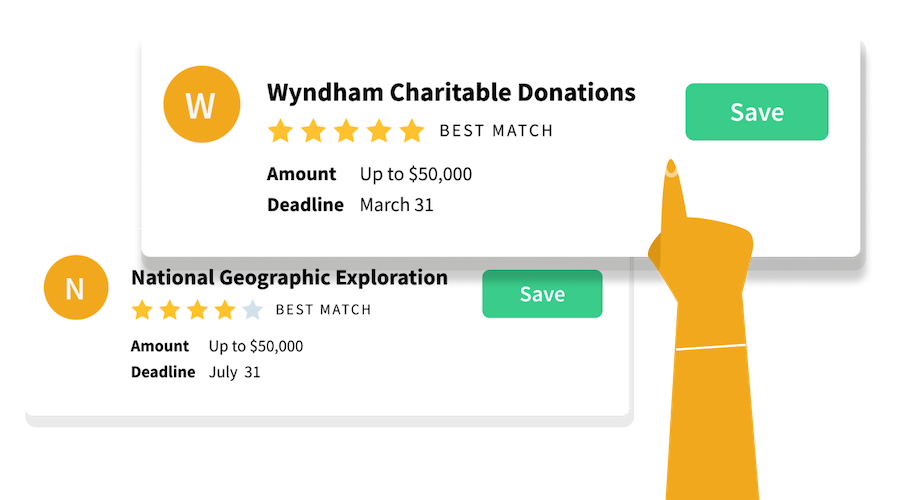 Get matched to similar grants
See how we help our customers save time and find new funding by trying out Instrumentl for 14-days free or learn more.